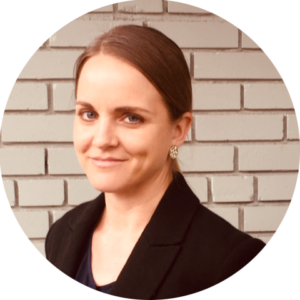 Emily Schweninger is the Director of Thriving Communities. A public health professional by training, Emily leverages her diverse programming and research expertise to support the National Complete Streets Coalition, Rural Communities Development, and other projects within the Thriving Communities team, to build stronger, healthier, more resilient communities by promoting health and equity through the built environment.
Emily began her career in New Orleans, working in disaster response and recovery after Hurricane Katrina. There she conducted research on human rights abuses among migrant laborers, supported peer education programs to increase healthcare access for immigrant communities, and served as the Director of Research and Evaluation at Market Umbrella, a nonprofit dedicated to local food system development. After leaving New Orleans, Emily worked in global health, conducting research in the Andean Region, coordinating a CDC project in Mozambique with Global Health Communication, and lastly managing UNICEF's HIV portfolio in Equatorial Guinea.
She holds a Bachelor of Arts from the University of North Carolina at Chapel Hill and a Master of Public Health from Tulane University's School of Public Health and Tropical Medicine.
Emily can be reached at eschweninger [at] smartgrowthamerica [dot] org.