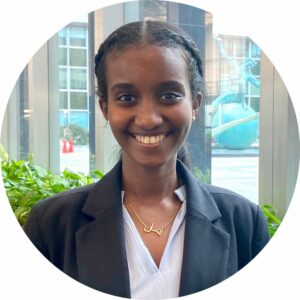 Iman Mekonen is the Communications Associate at Smart Growth America. In this role, Iman advances SGA's mission through thoughtful communication and informed advocacy.
At the core of her work, Iman believes in uplifting and advocating for underrepresented communities. She first saw this passion blossom while volunteering as a youth mentor for to Black girls from underprivileged backgrounds in Richmond, VA. With this in mind, her interest areas include public health, racial equity, and human rights. Iman believes that Smart Growth principles are integral to equitable advocacy.
Before joining the SGA communications team in November 2022, Iman worked in the government, journalism, and nonprofit sectors. She most recently interned with the U.S. Department of State and the Virginia House of Delegates, communicating domestic and international policy. She was also the Editor-In-Chief of The Commonwealth Times, where she fine-tuned her communications skills and diversified news coverage to include Black and Brown voices.
Iman holds a B.A. in International Studies with minors in Political Science and Middle Eastern & Islamic Studies from Virginia Commonwealth University. Originally from Chicago, Illinois, she is based in the DC-metro area. Outside of work, Iman enjoys hiking National Parks, going to concerts, and learning languages.
You can reach Iman at imekonen [at] smartgrowthamerica [dot] org.