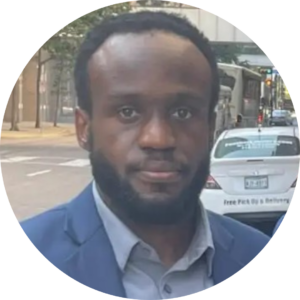 Anaeto Chinemere is the Land Use and Development Intern at Smart Growth America. Before joining Smart Growth America, Anaeto served seven years as a helicopter crew chief in the United States Navy. During his service, he witnessed the consequences of inequitable housing and land development around the world. Anaeto earned his Master's in Diplomacy and Global Commerce, served as the Squadron Diversity, Inclusion, and Equity Committee Associate, and has experience as a consultant.
Anaeto became passionate about community development after returning home to Baltimore and studying the Baltimore vacant housing epidemic. Anaeto continues to serve in the Navy Reserves, while he finishes his MBA at Johns Hopkins University – Carey Business School.
Anaeto can be reached at achinemere [at] smartgrowthamerica [dot] org.