The Equity Summit is a virtual gathering of thought leaders and practitioners who come together to discuss insights and strategies to ensure that racial equity is a key priority in any smart growth approach. The Equity Summit took place virtually, February 7-9, 2023. 
Equity Summit Recordings
Day 1: Equitable Community Development
Day 2: Reconnecting Communities
Day 3: Equitable Decarbonization
Day 1 Speakers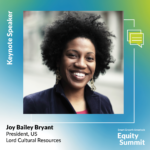 Day 2 Speakers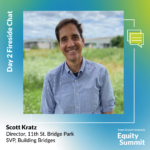 Day 3 Speakers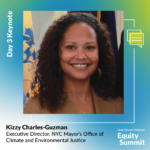 2023 Equity Summit Sponsors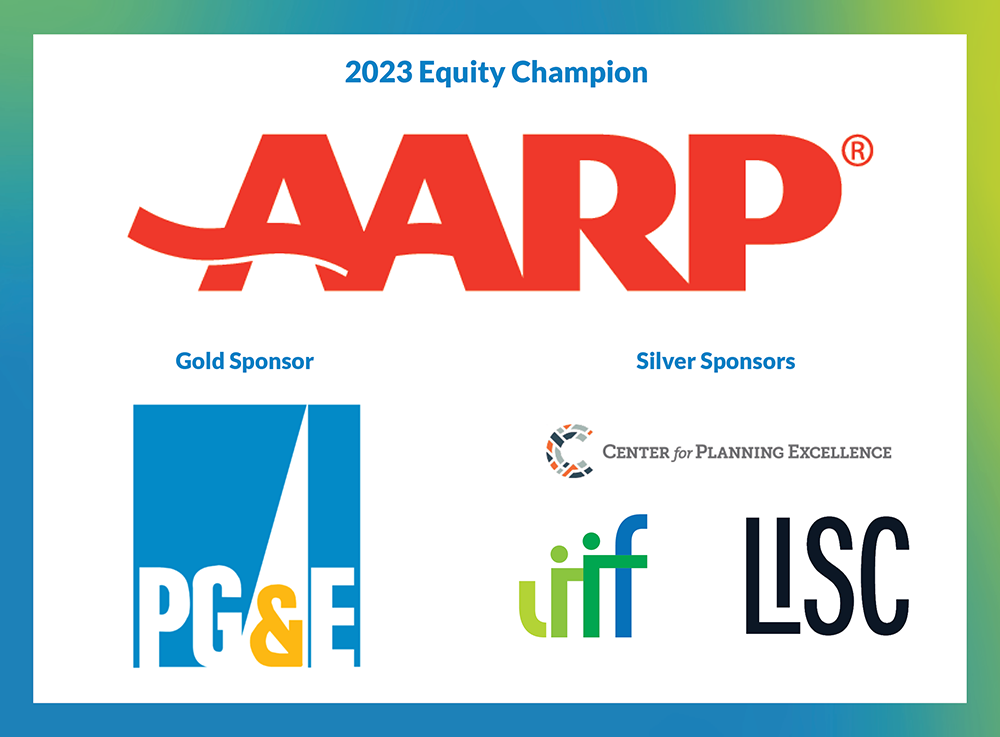 Thank you to our 2023 Equity Summit Sponsors:
Equity Champion
AARP
Gold Sponsor
Pacific Gas and Electric
Silver Sponsors
Center for Planning Excellence, Low Income Investment Fund, and Local Initiatives Support Corporation.
Smart Growth Allies
Opticos Design, Inc, Oregon Department of Land Conservation and Development, and Toole Design.
AGENDA
Day 1: Tuesday, February 7

Equitable Community Development


Day 2: Wednesday, February 8





Reconnecting Communities

Day 3: Thursday, February 9

Equitable Decarbonization


Theme: Empowering communities by dismantling exclusionary zoning, supporting wealth-building among historically disenfranchised communities, and prioritizing attainable housing.

Theme: Rethinking transportation to support and repair communities that continue to be harmed by divisive infrastructure and car-dependent design.

Theme: Ensuring that the benefits and costs of cutting emissions in the transportation and building sectors are equitably distributed across society.

11:15 a.m. - SUMMIT KEYNOTE presentation by Joy Bailey Bryant

11:10 a.m. - Fireside chat: Mitigating Displacement in Projects that Reconnect Communities


What does it mean to experience displacement? Join us for an energizing fireside chat with practitioners Scott Kratz and Veronica P. McBeth, where our speakers will interview each other about the equity challenges in reconnecting communities programs. The speakers will also share important context on what it means to be displaced, including when it's caused by current reconnecting communities projects.

Featuring:




Scott Kratz | Director of 11th St. Bridge Park and SVP of Building Bridges

Veronica P. McBeth | Senior Advisor,
Federal Transit Administration

Moderated by Steve Davis, Assistant VP of Transportation Strategy at Smart Growth America

11:10 a.m. - Keynote presentation by Kizzy Charles-Guzman | Executive Director, NYC Mayor's Office of Climate and Environmental Justice

Hear from Charles-Guzmán about how a multi-hazard approach to climate adaptation can advance equity and climate justice and how dense housing, housing preservation, and transit play key roles.


Featuring discussion with: Calvin Gladney, CEO & President of Smart Growth America

12:15 p.m. - Panel discussion: Advocacy & Community Leadership for Zoning Reform

The civic engagement process and the way we design our communities are broken. Hear how communities, advocates, and artists took steps to address and eliminate exclusionary zoning barriers, demand a just and equitable community development process, and expanded affordable housing within their communities.





Regina Celestin Williams
| Executive Director SV@Home

Meg McMahan | Director of Planning, City of Minneapolis

Adam Susaneck | NYC Based Architect, Founder of Segregation by Design

Moderated by Toccarra Nicole Thomas, AICP, Director of Land Use and Development at Smart Growth America

12:00 p.m. - Panel discusssion: Notes from the Front Lines of Reconnecting Communities: a Conversation with Community Advocates

To truly discuss reconnecting communities, you need to include community voices. These community leaders—Adah Crandall, Paulo Nunes-Ueno, and Ally Smither—are actively working toward building better-connected communities.


Adah Crandall | Organizer, Sunrise Movement PDX

Paulo Nunes-Ueno | Transportation and Land Use Policy Lead, Front and Centered

Ally Smither | Co-organizer, Stop TxDOT I-45

Moderated by Benito Pérez, Transportation Policy Director at Smart Growth America

12:10 p.m. - Panel discussion: Developing the Built Environment for a
Low-Carbon Future

Hear from our expert panelists about how they have advocated for, designed, built, and funded low-carbon or Net-Zero interventions, what synergies they see across sectors, and what policies are holding back equitable decarbonization.


Jose Bodipo-Memba | Chief Diversity Officer, Sacramento Municipal Utility District (SMUD)

Anyeley Hallova | Founder, Adre

Athena Motavvef | Legislative Representative, Policy and Legislation, Earthjustice

Moderated by Katharine Burgess, Vice President, Land Use & Development at Smart Growth America

1:10 p.m. - Panel discussion: Strategies for Wealth-building



Homebuilding and landowning is the American Dream and the fastest way for Americans to build generational wealth—but many communities were intentionally left out of these opportunities due to exclusionary home-owning policies and practices. Although those policies are no longer enacted by law, the structural and institutional racism built into those practices remains.


Our panelists and their organizations work to identify obstacles and provide strategies to ensure that all communities have the opportunity to own homes and build generational wealth.




Chris Herrmann, Chief Investment Officer and Fund Manager, Real Estate Equity, Enterprise Community Investment

Julius Tillery, Founder of Black Cotton and the North Carolina Black Farm Trust Representative

Moderated by Christopher Brown, Senior Vice President for U.S. Business Partnerships & Policy at Citigroup.

This day ends at 2 p.m. Eastern

1:00 p.m. - Closing Remarks











1:15 p.m. - "Call to Action" Breakout Groups




This day ends at 2 p.m. Eastern

1:00 p.m. - Closing Remarks









1:15 p.m. - "Call to Action" Breakout Groups




This day ends at 2 p.m. Eastern