The inaugural National Opportunity Zones Academy is comprised of seven participating cities around the country, and also includes Smart Growth America/LOCUS's previous/ongoing work with six communities in Massachusetts. Learn about these 13 communities and their Opportunity Zone challenges and Academy goals below.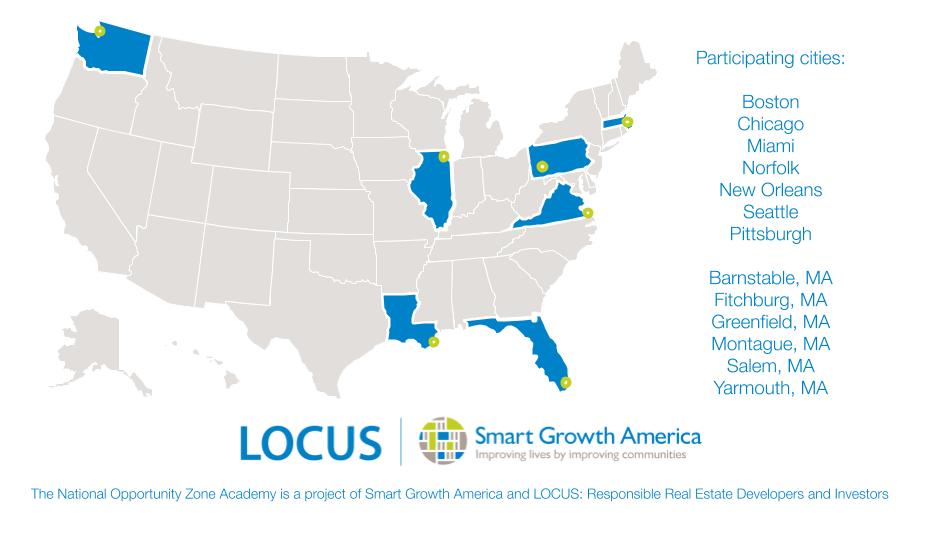 Barnstable, MA
In Massachusetts, Barnstable serves as the center of year-round economic activity on Cape Cod. The town's potential for redevelopment and revitalization is high because of its historic main street, transportation center, regional hospital, and ferry service to neighboring Nantucket and Martha's Vineyard. During the 2019 Massachusetts Opportunity Zones Academy, Barnstable sought to use its newly designated Opportunity Zone to leverage improvements in its urban form, generate development of multifamily housing and mixed-use development, and catalyze year-round economic activity and residency. 
Planning staff identified a gateway area at the center of Hyannis' historic downtown and a block away from Hyannis Harbor with significant potential to support new investment and improvements to the urban form as the catalytic focus of their Massachusetts Opportunity Zones Academy participation. Read about how Barnstable used its Opportunity Zone to improve its walkable urban form here. 
Boston, MA
The City of Boston is home to twelve (12) federally-designated Opportunity Zones; these census tracts were intentionally selected to help further the city's commitment to equitable development and inclusive economic growth, while protecting Boston residents and businesses from any potential shortcomings of the new tax incentive. 
With this strategy in mind, the City of Boston is looking forward to adding Opportunity Zones to its equitable development toolkit. The Office of Economic Development, in partnership with the Boston Housing Authority, Boston Planning & Development Agency, Office of Resilience and Racial Equity, and the Department of Neighborhood Development, seeks to operationalize its Opportunity Zones to help meet the stated goals of Imagine Boston 2030, its first city-wide plan in more than fifty years. Additionally, the city is seeking to strengthen its understanding of the effect Opportunity Zone funding has on the financial return for different types of development, how Opportunity Funds can be most efficiently paired with other investment tools, and whether Opportunity Zone funds will draw capital away from other tools in the market. 
Chicago, IL
The City of Chicago and Cook County's neighboring suburbs are home to 181 federally-designated Opportunity Zones. Since these designations came into effect, Chicago has organized its leadership and economic, community, and real estate development resources around Opportunity Zones' potential for creating jobs and local wealth in the city's most vulnerable census tracts. The Chicago Community Loan Fund (CCLF) has been tasked with organizing key stakeholders with existing projects, programs, partnerships, and other initiatives in newly designated Opportunity Zones around inclusive development and investment strategies there.
Chicago would like to acquire the tools, skills, and knowledge necessary for articulating a representative, geographically diverse equitable development project pipeline to a national network of social impact developers and investors; furthermore, the coalition would like to begin to facilitate networking and matchmaking efforts that connect projects to Opportunity Zone and other patient capital, as well as provide its members and stakeholders guidance on how Opportunity Zones can be used for local business development, job growth, and wealth creation. 
Fitchburg, MA
The City of Fitchburg is located in the north of Worcester County on the Route 2 and I-495 Corridors, approximately one hour from Boston, MA. Featuring a commuter rail connection to Boston, collaborative anchor institutions, and a lower cost of living compared to inner-core communities, the City of Fitchburg is well positioned to take advantage of the growth in demand for walkable, transit-oriented neighborhoods that are affordable to a range of individuals. 
During the 2019 Massachusetts Opportunity Zones Academy, the City of Fitchburg focused on evaluating its existing land-use policies' fiscal impacts on development patterns, conducting site suitability analyses for Opportunity Zone districts that assessed the value per acre performance of blocks in each Opportunity Zone, and creating a triaged project development pipeline. Learn about Fitchburg's Massachusetts Opportunity Zones Academy outcomes here and check out its Opportunity Zone Investor Prospectus here. 
Greenfield-Montague, MA
In the past decade, the former manufacturing strongholds of Greenfield and Montague in western Massachusetts have seen historic buildings renovated and cultural and entertainment venues popping up in their respective downtowns. During the 2019 Massachusetts Opportunity Zones Academy, the two communities sought to better understand gaps in Opportunity Zone project costs, the fiscal impacts of downtown and peripheral development, and policy and financing strategies for encouraging equitable real estate and local business development. Read about how Greenfield and Montague used its Opportunity Zones to aid in historic revitalization and mixed-use development here. 
Norfolk, VA
The City of Norfolk is home to sixteen (16) federally-designated Opportunity Zones. Since their inception in 2017, Mayor Kenny Alexander and his economic development, planning, and real estate teams have prioritized capacity-building for city staff and education for local residents and businesses in an effort to position the city as a national model for equitable Opportunity Zone management and development. 
The City of Norfolk would like to strengthen its position as a resource for local businesses and residents on the benefits of Opportunity Zones and their equitable development outcomes. The city is further seeking to operationalize its Opportunity Zones in ways that drive inclusive economic growth and expand attainable housing supply. Additionally, the city would like to better understand the possible mechanisms and strategies for its community to achieve these equitable outcomes, including building equitable development project pipelines and encouraging minority and legacy business participation in Opportunity Zone activity. 
New Orleans, LA
The City of New Orleans is home to twenty-five federally-designated Opportunity Zones; these census tracts were selected to capture short-term Opportunity Zone interest in the city's mature real estate markets and to help further its long-term commitment to equitable development and inclusive economic growth. 
Over the past year, the City of New Orleans has been working on developing an Opportunity Zone strategy that supports its long-term goals around economic development, economic mobility, and revitalization without residential or commercial displacement; while the city has yet to finalize its Opportunity Zone strategy, one goal of the National Opportunity Zones Academy is to produce an equitable development vision and framework for the city that will be scalable beyond Opportunity Zone projects and the lifespan of the incentive. This strategy will include successfully revitalizing priority neighborhoods and businesses, creating community-backed visions for transformative development projects on publicly-controlled Opportunity Zone sites, encouraging the growth of local Opportunity Funds that support sustainable infrastructure, green energy, and public transportation, and aligning the benefits of the Opportunity Zone tax incentive with existing real estate and economic development incentives. 
Greater Miami and the Beaches, FL
Miami-Dade County is home to 67 federally-designated Opportunity Zones, both in the City of Miami and its outlying neighborhoods. Since their designations in 2018, both the City of Miami and the Miami-Dade Beacon Council have been overseeing all Opportunity Zone education and activity across the city and county. At the county level, the Beacon Council has been working to educate residents and county commissioners on the mechanics of Opportunity Zones and their role in future economic development and investment activity throughout the county. Concurrently, the City of Miami has been working on defining their role in local Opportunity Zone activity. 
The City of Miami and Miami-Dade County are both eager to add Opportunity Zones to their equitable development toolkit and hope to partner with real estate developers and investors, community groups, and other Opportunity Zone cities facing similar market pressures to maximize responsible real estate projects and equitable development outcomes in its priority Opportunity Zone census tracts.  
Salem, MA
The City of Salem is home to two newly designated Opportunity Zones; one is located in its downtown corridor and is the site of the city's proposed South Salem Commuter Rail station. The city was eager to leverage the development and investment potential of the Opportunity Zone tax incentive to build economic activity and housing choice in Salem, particularly around the  proposed South Salem Commuter Rail station. Read about how Salem explored the TOD potential of Opportunity Zones during the Massachusetts Opportunity Zones Academy here.
Seattle, WA
Coming soon! 
Pittsburgh, PA
The City of Pittsburgh is home to 27 federally-designated Opportunity Zones; over the past two years, city leadership focused its Opportunity Zone attention on internal education, capacity-building, and consolidating Opportunity Zone resources into a publicly-available web platform for residents, businesses, developers, investors, and outside communities and organizations to access. 
Today, the City of Pittsburgh is interested in understanding the ways in which its leadership can leverage Opportunity Zones alongside the Pittsburgh Housing Opportunity Fund, Microenterprise Loan Fund, Equitable Empowerment Program, and other longstanding small business, storefront, and incubator initiatives to help further the city's equitable development goals and alleviate residential and commercial displacement concerns. Specifically, the City would like to build its Opportunity Zone capacity and operationalize its Opportunity Zone strategy in a way that drives economic growth, expands attainable housing supply, encourages legacy and other Opportunity Zone business participation and development, and revitalizes neighborhoods within a responsible and equitable development and investment framework. 
Yarmouth, MA
The Town of Yarmouth is an important economic and tourist hub on Cape Cod in Massachusetts. Route 28 cuts through the edge of town and its designated Opportunity Zone, bringing vehicle and visitor traffic from the peninsula to the town's commercial corridors. During the Massachusetts Opportunity Zones Academy, the town's planning and economic development staff identified the local Bass River Sports World site as the focus of its Opportunity Zone and catalytic redevelopment conversation. The town sought guidance on how to use Opportunity Zones as a tool for moving this catalytic development project forward. Read about the outcomes of Yarmouth's time in the Massachusetts Opportunity Zones Academy here.