Nuclear Communities Forum 2022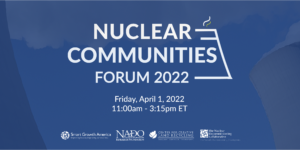 The Nuclear Communities Forum will place the issue of nuclear decommissioning in a national context and bring together communities from across the country for a series of engaging discussions around the various impacts that host communities and regions experience when a local nuclear facility shuts down. 
Share:
Absent major changes, the majority of the nuclear power plants in the U.S. may close in the next few decades. This represents a major energy transition and economic shock, akin to any major employer leaving town. During the 40-plus-year operational life of most plants, the towns, cities, and counties surrounding them derive hefty economic benefits—as much as $400 million in gross regional product. There's millions in direct tax payments, the provision of goods and services to the plant, and hundreds or thousands of well-paying jobs, plus the many industries that are intertwined in the operations of a plan. Aside from the economic shock that can occur as a result of decommission, there can be social and community impacts as well as issues related to safety, maintaining the site itself, and managing nuclear waste.
During the Forum, speakers will share insights from the field on a wide range of socioeconomic impacts of closure; the nuts and bolts of the decommissioning process; prioritizing meaningful, consistent community engagement in planning; and the importance of early planning for a successful economic transition.
Register today and stay connected with the Nuclear Communities TA Team to receive updates on the program, speakers, and more. You can reach us at [email protected] with any questions. We're looking forward to seeing you there!
---
PROGRAM
Looking Back Before Moving Forward
11:00 AM – 11:30 AM Eastern
What exactly does nuclear decommissioning mean, why does it matter, and who should it matter to? Hon. Marge Kilkelley, former Senior Advisor to Senator Angus King and former Maine State Senator and State Representative, and Dr. John Mullin, author of "The Closing of the Yankee Rowe Nuclear Power Plant" and Emeritus Professor at UMass Amherst will share how the field has changed over time and what is needed moving forward. The discussion will frame nuclear power as a national issue of energy transition and economic shock; outline the importance of planning for socioeconomic impacts; and demonstrate how utilities, communities, and key stakeholders have begun tackling this massive issue.
Hon. Marge Kilkelly, Owner and Operator, Dragonfly Cove Farm; Former Senior Advisor to Senator Angus King; Former Maine State Senator and State Representative
John Mullin, PhD, FAICP, Emeritus Professor of Regional Planning, University of Massachusetts Amherst
Jim Hamilton, Executive Director, Nuclear Decommissioning Collaborative
The Lay of the Land
11:30 AM – 11:45 AM Eastern
Description coming soon.
Site Reuse and Regional Planning
11:45 AM – 12:15 PM Eastern
Hear perspectives from two nuclear host communities and their experiences with decommissioning—the good, the bad, and the ugly. Julie Sinton Pruniski of REACH Central Coast and City of Zion Mayor Billy McKinney will share their challenges encountered and strategies employed to make progress, specifically around regional planning and site reuse.
Impact Analysis and Mitigation
12:15 PM – 12:40 PM Eastern
The communities of Southern Vermont began preparing for the closure of the Vermont Yankee Nuclear Power Station early, and took a regional approach in doing so. Jennifer Stromsten of the Brattleboro Development Credit Corporation and Chris Campany of the Windham Regional Commission will share the challenges they have faced along the way and share what other communities can do early in the process to plan for, quantify, and mitigate the impacts of closure.
Outreach and Coalition Building
12:40 PM – 1:05 PM Eastern
The closure and decommissioning process is a long term activity and generally not well understood by the broader public. How communities become aware of decommissioning and its impacts is important for a successful transition. Nancy Norton of the Grundy Economic Development Council and John Egelhaaf of the Southwest Michigan Planning Commission will share how they have engaged a broad swath of stakeholders and built buy-in.
Nancy Norton, President & CEO, Grundy County Economic Development
John Egelhaaf, AICP, Executive Director, Southwest Michigan Planning Commission (SWMPC)
Cindy Winland, FAICP, Director of Community Revitalization, Nuclear Decommissioning Collaborative (NDC)
Discussion Rooms
1:25 PM – 2:15 PM Eastern
Spent Fuel and Environmental Justice
Heather Westra, Consultant to the Prairie Island Indian Community, will lead a conversation about how we got to where we are on spent and stranded fuel, and strategies to address it. Communities can share their experiences and other information about spent fuel and environmental justice issues.
Tales from the Field: Grantees taking action
Hear from two grantees share their story of pursuing funding, and how they hope the projects will benefit their communities.
Stephen Cole, Executive Director, The Plymouth Foundation

Dave Allen, Vice President, Regulatory Compliance and Gas Operations, Midwest Energy & Communications
Funding: EDA Q&A
Bring questions about EDA Nuclear funding and broader federal funding opportunities to this room. We will be joined by members of EDA's Research and National Technical Assistance (RNTA) Team.
Connect with the TA Team
Drop in to get to know the folks behind this event and find opportunities to connect and collaborate.
Jean Hamerman, Executive Director, Center for Creative Land Recycling
Jordan Howard, Economic Development Specialist, Smart Growth America
What Comes Next?
1:25 PM – 2:15 PM Eastern
We'll recap the key topics from the day before shifting to a national perspective. Councillor David Moore, Chair of Nuleaf, the UK's Nuclear Legacy Advisory Forum, will then share how the UK is addressing the issues around nuclear decommissioning and waste management, as well as what could be on the horizon for the US as more plants close. Scott Morris, Regional Administrator, Region IV, of the US Nuclear Regulatory Commission will review NRC's role, the issues they're hearing, and their ongoing work with stakeholders.
Brett Schwartz, Associate Director, National Association of Development Organizations (NADO) Research Foundation
Jim Hamilton, Executive Director, Nuclear Decommissioning Collaborative (NDC)
---
SPEAKER LINE-UP
---
GET INVOLVED
---
MORE RESOURCES
Share:
---
Learn more about the team
---
The Nuclear Communities Forum 2022 is part of a partnership between Smart Growth America, NADO Research Foundation, the Center for Creative Land Recycling, and the Nuclear Decommissioning Collaborative, supported by the U.S. Economic Development Administration.
This effort utilizes Federal funds under award ED20HDQ3030068 from the U.S. Economic Development Administration (EDA), U.S. Department of Commerce. The statements, findings, conclusions, and recommendations are those of the project team and do not necessarily reflect the views of EDA or the U.S. Department of Commerce.