Newly released maps show the rapid rate of Complete Streets policy adoption across the country from 2000 to 2020, showing a crystal clear progression of Complete Streets policies across the country. By the end of 2020, almost 1,600 communities across the country had demonstrated their commitment to providing safe access to destinations for everyone, regardless of age, ability, income, race, ethnicity, or mode of travel.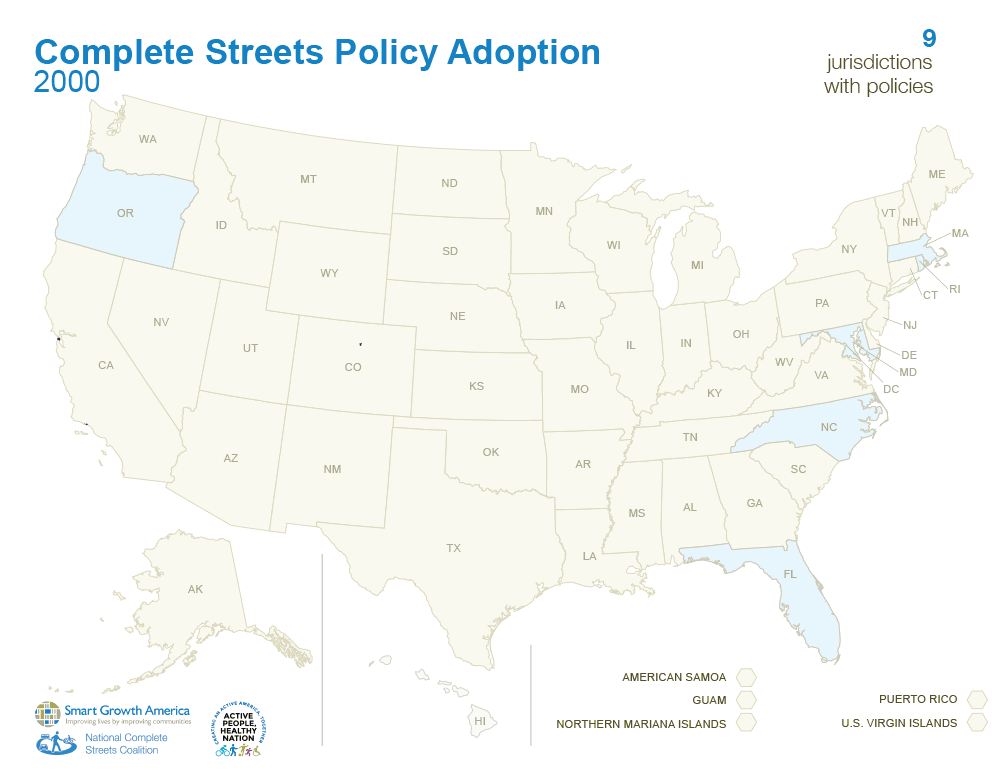 The new maps were produced in partnership with the Centers for Disease Control and Prevention's Active People, Healthy Nationsm Initiative. Click here to view a PDF version of these maps showing the year-by-year progress in one downloadable PDF document.
From humble beginnings as a term of art coined within Smart Growth America in the early 2000s as we sought to prioritize people on our streets, Complete Streets policies have been gaining traction over the last two decades as communities sought to do the same. Complete Streets policies are a vital tool in helping create livable, physically active communities where individuals can safely and easily walk, cycle, roll, or move actively with assistive devices to nearby essential destinations. This especially improves the lives of the most vulnerable people who use our streets, including children, people living with disabilities, older adults, and people who cannot afford or do not have access to a car. 
Complete streets are needed to improve health and physical activity:
One bit of good news: According to the CDC's Progress and New Directions in Physical Activity Surveillance report, the prevalence of leisure-time inactivity among US adults has decreased from 40.5% (1998) to 25.6% (2018).  As adults throughout the US are becoming increasingly active in their down time, this is a major opportunity to enact comprehensive and viable Complete Streets policies to expand access to activity-friendly routes to everyday destinations. Though on the other side, high-school students are reporting less physical activity. In 2019, only 31% of boys and 15% of girls did enough aerobic physical activity, and these were the lowest values observed going back to 2011. Complete streets may offer better access to safe and convenient places for physical activity.
It is incredibly encouraging to see the progress that has been made over the years in such stark visual form! Immense progress has been made over the last two decades, but we still have a long way to go. Many of the earlier Complete Streets policies did not actually produce safer streets, failing to impact what gets built, where, and how. And the deaths of people struck and killed while walking have reached numbers not seen since 1990. 
Along with a lack of emphasis on equity, those policies weren't making streets safer, especially for the most vulnerable. We celebrate this progress, but policies alone won't create safer streets unless communities implement them in ways that change what gets built, where it gets built, and how it's designed. That's why, in 2018, the National Complete Streets Coalition raised the bar on what makes a good Complete Streets policy, creating a new policy framework that focuses on putting policies into practice and ensuring they benefit the most vulnerable communities of people who use our streets. 
We look forward to continuing to support communities in adopting and implementing Complete Streets policies that support and protect the needs of their communities.
We regularly track progress on Complete Streets
The National Complete Streets Coalition tracks the progress of Complete Streets policies across the country in our policy atlas. You can view and explore the current policies in that atlas here.