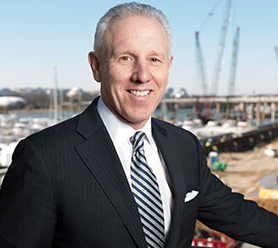 LOCUS is pleased to announce Monty Hoffman, Founder and Chief Executive Officer of Washington, DC-based real estate development company PN Hoffman, as the keynote speaker during the 2018 LOCUS Leadership Summit: Rebuild America's Neighborhoods. Fresh off the late-2017 grand opening of his most recent project, The District Wharf, Mr. Hoffman will share with Summit attendees more about his decades of experience building and improving walkable urban neighborhoods. Register here >>>
About PN Hoffman
Mr. Hoffman formed PN Hoffman in 1993 with a single townhouse conversion. Since then, the company has become a market leader in mixed-use, residential, office, and retail development in the Washington Metropolitan area. From The Alta, the first LEED® Certified residential high rise in DC, to The District Wharf, the city's recently unveiled mixed-use Southwest waterfront neighborhood, Mr. Hoffman has spent the past 25 years creating vibrant urban communities that excel in function and form. This year, PN Hoffman is a finalist for the LOCUS Leadership Award: Company of the Year.
Sustainable Mixed-Use Development at DC's Southwest Waterfront 
His latest project, The District Wharf, is transforming the city's once-neglected Southwest waterfront into an intimate, vibrant, highly walkable urban neighborhood for all. With an understanding of the boldness needed to take risks and the importance of working with local governments and communities, Mr. Hoffman has demonstrated a remarkable commitment to improving lives by improving communities. Once completed, The Wharf will generate millions of dollars in tax revenue, create thousands of permanent job opportunities, support sustainable infrastructure and public spaces, and provide new forms of transportation that connect the waterfront to the region and DC.
More about Monty
Mr. Hoffman's design initiatives and business development and market strategies have earned him spots on Washington's SmartCEOs Future 50 list and the Washington Business Journal's Power 100. Outside of PN Hoffman, he has dedicated his time to providing education and apprenticeship opportunities for District of Columbia students interested in design, engineering, and construction as a founding board member of the DC Students Construction Trades Foundation and a member of the DC Public Schools' Engineering Advisory Board. Mr. Hoffman is also a Trustee on the Federal City Council.
We look forward to you joining us for Mr. Hoffman's keynote address during the 2018 Summit's LOCUS Leadership Awards Luncheon. Following the address, LOCUS will announce the winners of the LOCUS Leadership Award for Company of the Year and Developer/ Investor of the Year. Read our blog post to learn more about the finalists>>>