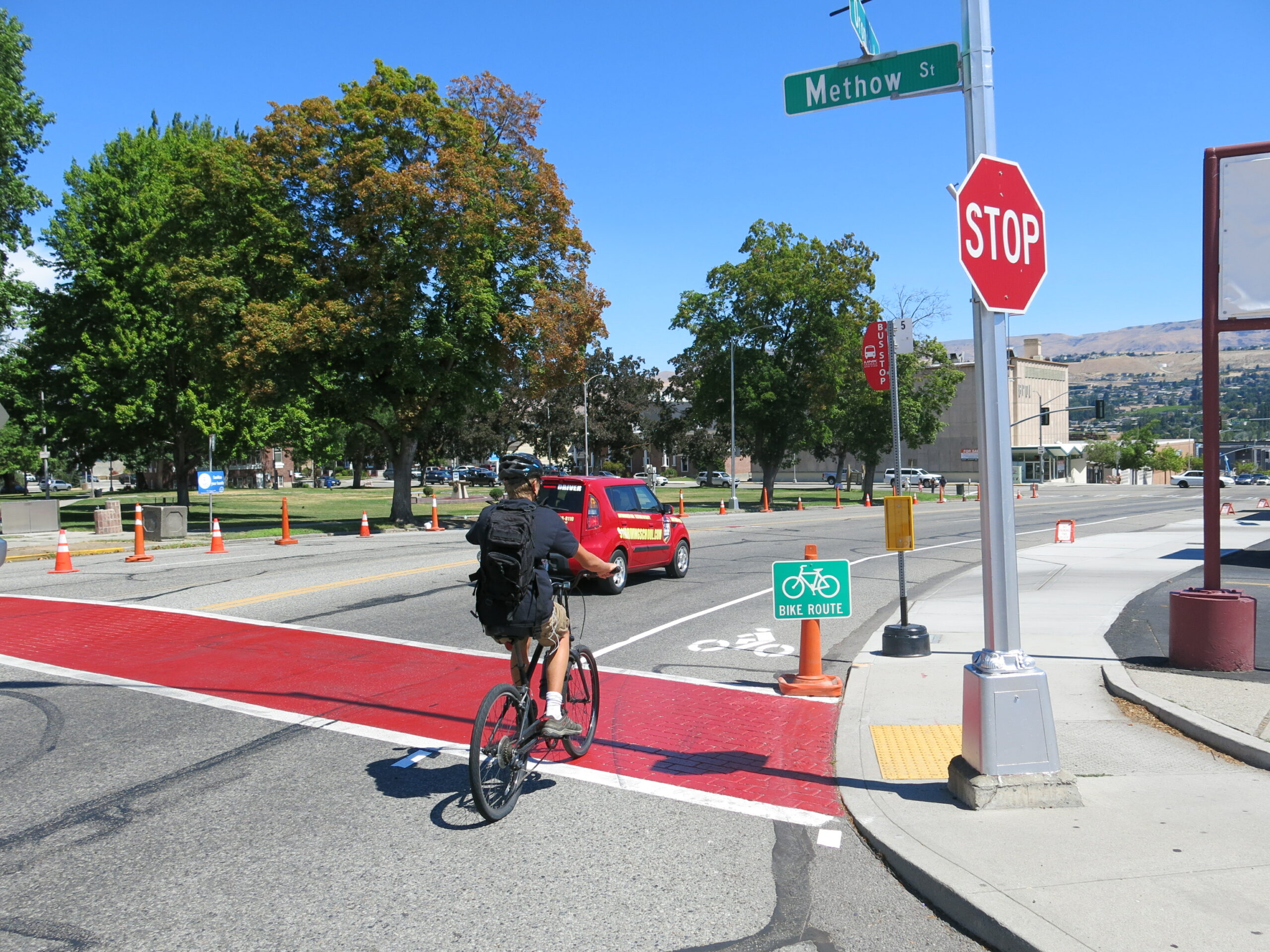 A Complete Streets demonstration project in Wenatchee, WA installed during our recent Complete Streets Leadership Academy in Washington State. Photo by Nathan Polanski, MIG | SvR.
Applications are now open for up to three state Complete Streets Leadership Academies. These free technical assistance programs are designed to help state DOTs and local communities work together to put Complete Streets into practice, engage in peer learning, and improve cross-jurisdictional coordination. Participants will learn through a series of workshops and plan and launch "quick-build' Complete Streets demonstration projects on state roads using subgrants for materials from Smart Growth America, temporarily transforming dangerous streets or intersections into safer, activity-friendly routes.
Apply for the Complete Streets Leadership Academy
Watch the 2022 Complete Street Leadership Academy informational webinar recording
This informational webinar provides applicants with an opportunity to learn more about the Complete Street Leadership Academy, the application process, and alignment with FHWA's Complete Streets initiative. The webinar features Beth Osborne, Director of Transportation for America, a program of Smart Growth America, Hatidza Zaganjor, Behavioral Scientist, CDC, Barbara McCann, Senior Advisor to the Associate Administrator, FHWA Office of Safety, and Rayla Bellis, Smart Growth America's Director of Thriving Communities.
About the program
Complete Streets Leadership Academies are free, several-month technical assistance programs designed to help state DOTs, state health partners, and three localities within the state work together to make streets safer and more inviting. Through a series of virtual and in-person workshops over several months, the state and localities will learn about Complete Streets implementation and identify policy barriers and strategies for cross-jurisdictional coordination, all while planning and implementing "quick-build" temporary street safety demonstration. Local jurisdictions will each receive a subaward of $10,000 directly from SGA for materials for their demonstration project. This technical assistance is provided through a partnership between SGA and the Centers for Disease Control and Prevention.
Each selected state (up to three states) will have its own Complete Streets Leadership Academy program. Academies will include participation from the state department of transportation, the state health department, and multidisciplinary teams from three local jurisdictions.
What will states and localities gain from participating? 
State and local participants will learn from each other and national experts through a series of workshops, discussing everything from street design to community engagement, performance measurement, and messaging. They will apply what they learn as they plan and install their temporary safety projects on the ground.
Temporary Complete Streets pilot projects can be highly effective tools to generate enthusiastic local buy-in for safety improvements and engage the community in conversations about the need for safe streets. They can also be great tools for activating public space through creative placemaking, and one selected state will receive funding to hire local artists to support each demonstration project through support from the Kresge Foundation! SGA staff with expertise in integrating the arts into transportation projects will support the artists' participation in the demonstration projects.    
 Read about our past "quick-build" projects from a recent Complete Streets Leadership Academy in Washington State.

State departments of transportation have a crucial role to play as leaders in making Complete Streets happen, which is why state DOTs must be the lead applicants for this technical assistance opportunity, and why we are seeking states ready to do these Complete Streets "quick-build" projects on state roads. 

As announced in March, FHWA has committed to working with state, regional, tribal and local agencies to advance widespread implementation of the Complete Streets Design Model to improve safety and accessibility for all users. As states work to implement new federal requirements around Complete Streets, we at Smart Growth America are also seeking leading states we can promote and hold up as models to others around the country.
Program timing and commitment
Selected state and local participants will form a cohort and attend approximately 30 hours of workshops together spread over several months, some virtual and some in-person. While time will be provided during the workshops to plan each local jurisdiction's demonstration project, participants will also need to conduct some planning for their projects between sessions.

Workshops will launch in mid-fall, and take place over several months culminating in the demonstration projects in mid-spring.
Participation and eligibility 
Complete Streets Leadership Academies are multidisciplinary. Each program will include participation from the state DOT, state health partners, and three local jurisdictions in the state.

Up to three states will be selected to receive technical assistance, and each state will have its own Complete Streets Leadership Academy program, with its own three local demonstration projects.

State departments of transportation must be the primary applicant. Each state DOT must have at least one local jurisdiction as a co-applicant and are strongly encouraged to have three jurisdictions identified in their application. Strong preference will be given to applications with state departments of transportation that are willing to implement demonstration projects on a state-owned road.

Once states are selected, each participating local jurisdiction will engage a cohort of approximately 10 city or county staff, engineers, planners, public health practitioners, community advocates, and related professionals from their towns, cities, and/or tribal communities to attend the workshop sessions and help plan their demonstration projects.
How to apply
View detailed program information and application requirements here. Applications are open and can be completed using the application form below. The deadline to submit applications is Friday, July 29th at 11:59 p.m. ET. Pre-application assistance and inquiries should be directed to: [email protected].

You will need to download and complete the attached detailed application information and upload the completed forms as pdfs:

You will receive a confirmation by email when your application is successfully entered and received.
Apply for the 2022-2023 Complete Streets Leadership Academies