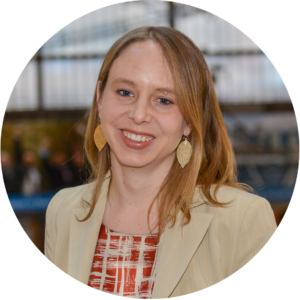 Katharine Burgess is the Vice President of Land Use and Development at Smart Growth America, where she oversees SGA's Land Use programs including LOCUS, the Form-Based Codes Institute, and the National Brownfields Coalition.
Prior to Smart Growth America, Katharine led the Urban Resilience Program at the Urban Land Institute. At ULI, she built up the organization's program of work addressing how buildings, cities, and communities can be more prepared for the impacts of climate change, considering topics ranging from climate risk to built environment adaptation strategies addressing sea level rise, extreme heat, wildfires, and other climate hazards.
An urban planner, Katharine has fifteen years of experience practicing in the US, UK, and Germany. She began her career managing post-Katrina hurricane recovery charrettes commissioned by the States of Louisiana and Mississippi and the City of New Orleans and subsequently worked in masterplanning and land use consulting. Her research work has included landscape performance research for the Landscape Architecture Foundation, as well as international urban policy research for the Robert Bosch Foundation Fellowship program. She holds an MSc in Regional and Urban Planning from the London School of Economics and a BA from Williams College.
Katharine can be reached at kburgess [at] smartgrowthamerica [dot] org .