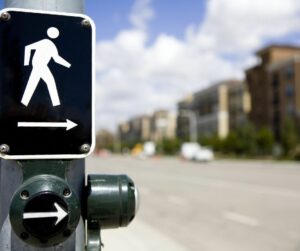 Courtney Cole, Program Associate
Automobiles are often seen as the most convenient mode of transportation — and the way American communities are structured right now, that is often true. America loves cars —The Federal Highway Administration reported that there were over 275 million registered motor vehicles in the U.S. in 2020.
For many, this extreme prioritization of cars is not only an inconvenience, but an immense danger. Multiple studies have found that people of color, children/elderly Americans, and people with disabilities represent a disproportionate portion of pedestrian deaths. As someone with a significant vision disability, becoming one of those statistics is a thought I can't ignore.
I remember being so disappointed as a teenager when everyone was getting their driver's licenses — I couldn't. In the suburbs, public transit was nearly nonexistent. Driving a car meant independence, and not having that luxury left me stuck riding the bus during my senior year of high school. Over the years, I began to realize that the barriers I faced had little to do with me and more to do with inaccessible and ableist systems—one of them being community development that caters to cars. Throughout my life, the realities of under-maintained and nonexistent sidewalks, lack of crosswalks, and inadequate transit have been huge obstacles I'm forced to traverse to live an independent life.
But I face a much greater challenge than inconvenience—for me, traveling can be extremely dangerous.
If we change the way we think about travel, and create communities that don't force people to rely on cars, more people can thrive and live the lives they want to live. Making it convenient to walk, take the bus, bike, and use other forms of transportation benefits those who primarily rely on cars, too. Having fewer cars on the road means a reduction in pollution, which means a healthier earth—and who doesn't want to breathe cleaner air? There's a financial angle too—cars and car maintenance are expensive, costing an average of approximately $10,000 per year just to own and maintain one automobile.
As a self-advocate and disability activist, I know that making change isn't easy. It takes grit and hard work and relentless people who are passionate about making a positive impact. As I jump into the world of transportation advocacy, I think about accessibility. People often think about accessibility as special treatment for an individual—but really, it's all about options for everyone. And that's exactly what we need for the future of our transportation systems—quality sidewalks, clear crosswalks, audible crossing signals, abundant curb ramps, and more robust public transit services.
Investing in these types of changes will give communities more options and have a positive impact on everyone's health and happiness.
Sources:
Majority of Pedestrian Deaths Happen to Those in Wheelchairs, Often at Intersections | Georgetown University
To Prevent Pedestrian Fatalities, We Need Better Data | Urban.org
Wheelchair Users Say States Should Spend New Road Money on Safety | Pewtrusts.org
Highway Statistics 2020 – Policy | Federal Highway Administration
Average Cost of Owning and Operating an Automobile | Bureau of Transportation Statistics