PARIS TAILORS FIXED-ROUTE SERVICE TO COMMUNITY NEEDS
Location: Paris, Texas
Population: 24,814 (2020)
Typology: Traditional Main Street community
Key takeaway: Through community partnerships, Paris's fixed-route service was kept affordable for residents, and was tailored to the needs of the sponsoring partners.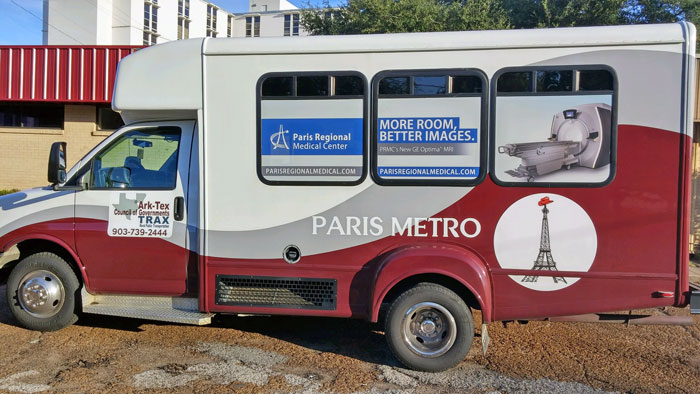 ---
Paris is a town of 25,000 people located in northeastern Texas along the border of Oklahoma. It is part of a 10-county area serviced by the Ark-Tex Council of Governments Rural Transit District (TRAX), which only operated an on-demand service requiring reservations. Though the on-demand service was critical for residents who used it, the advanced notice required, limited availability of rides and small fleets were major limitations.
In 2016, Paris and other local partners supported TRAX to launch an affordable fixed-route bus service called Paris Metro. It costs 50 cents a ride, and 25 cents for students. They also recently partnered with the Texas Veterans Commission to provide free six-month ride passes for veterans living in a transitional shelter. The service, which includes four routes in Paris running hourly between 6:30 a.m. and 6:30 p.m. Monday through Friday, has filled a critical need in allowing residents to access jobs and social services. The Paris Metro was created with the specific transportation needs of each sponsoring partner in mind. For example, the Paris Regional Medical Center, the largest employer in the city, is located outside the city center and was previously inaccessible by transit. Now, the Paris Metro allows residents to get to scheduled appointments rather than coming in through the emergency room.
Lack of access to reliable transit was a barrier for students with disabilities at Paris Junior college. To give students the support they needed to reach classes and other daily destinations, TRAX and the college created a discounted semester pass for students, subsidized by Pell grant funds. Reliable, affordable transit allows more students to enroll and attend their classes.