OSAGE NATION TRIBAL COMMUNITY DEVELOP A VISION FOR THE FUTURE
Location: Pawhuska, OK
Population: 3,456 (2020)
Typologies: Gateway; Traditional main street; Edge; Tribal and Native American
Key takeaway: With a clear vision, shaped based on an understanding of their history and identity, the Osage Nation implemented a series of projects that worked together toward a common goal of improving the health of the Osage community, and by extension, the surrounding community of Pawhuska.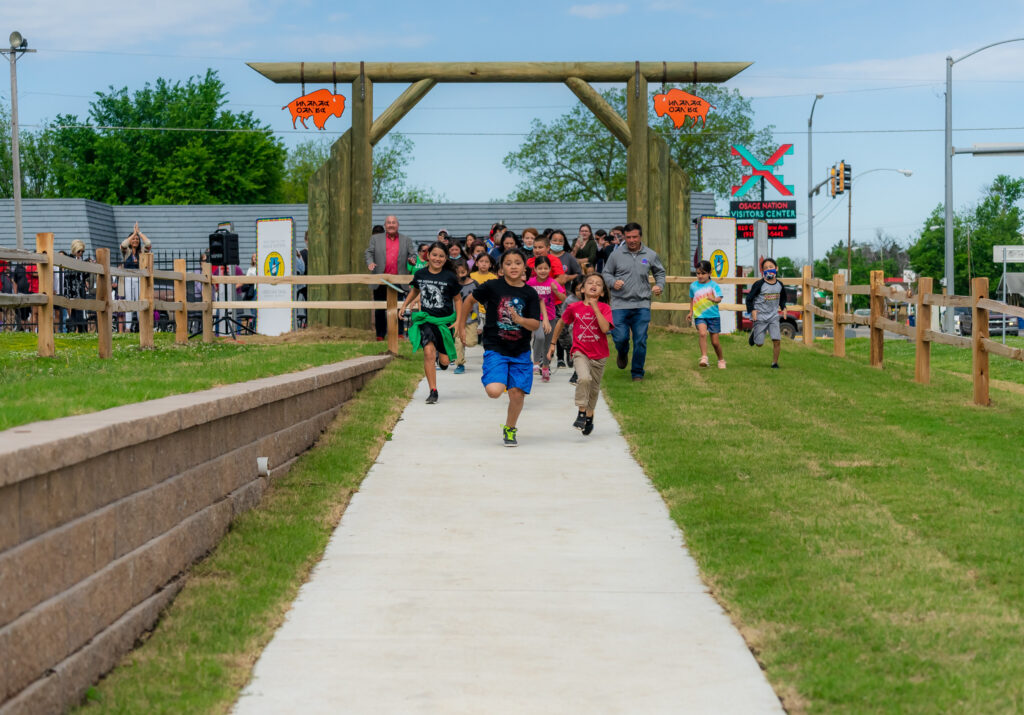 ---
The leaders of the Osage Nation of Oklahoma had a vision for improving the health of the Osage community, and they have strategically taken on projects in recent years that align with that vision. One such project was the completion of the WahZhaZhe Heritage Park and Trails in 2021. Completed during the COVID-19 pandemic, this ecopark and trail system near the downtown area was particularly successful as a place for community members to safely socialize, and it continues to serve not only the Osage Nation but also the City of Pawhuska, providing a community asset that improves the quality of life and health for residents.
WahZhaZhe Heritage Park and Trails includes 2 miles of trails, workout stations, a playground, a frisbee golf course, a picnic area, and an outdoor classroom to teach about the nation's culture and history. The park is also adjacent to Harvest Land, a tribe-owned working farm and food store, which provides access to healthy food options, including native species the Osage has traditionally harvested. The Nation plans to expand on the success of this project with a large health and sports complex nearby. The Nation has also partnered with the City of Pawhuska in applying for a streetscape project to revitalize the downtown area with new sidewalks to make walking safer, improving traffic flow and vehicular safety, and updating street infrastructure, a step that has benefited the economic development of not only the tribe but of the entire region.