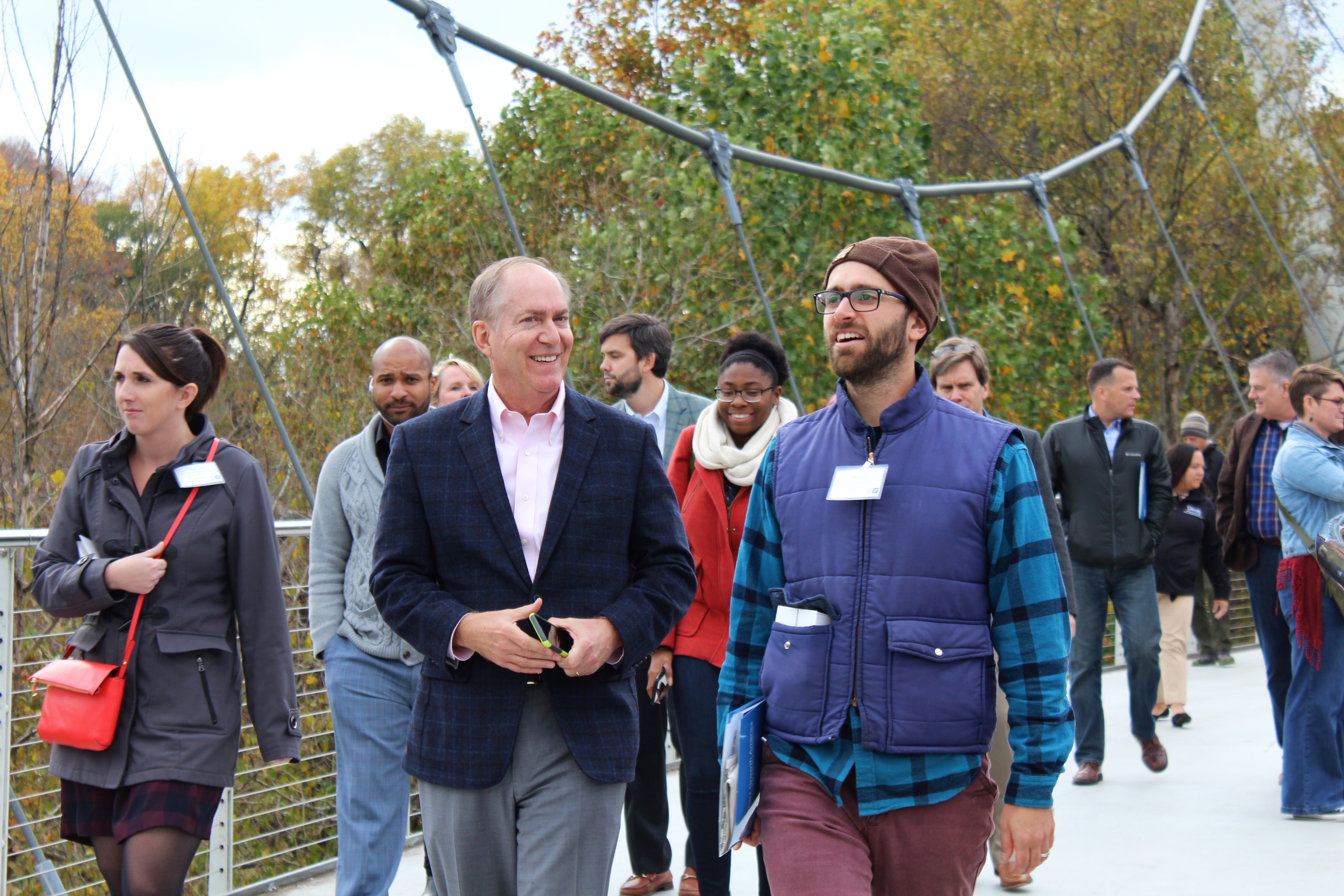 On November 13-16, 2017, leadership teams from Macon, GA; Columbia, SC; Akron, OH; Charlotte, NC; and Wichita, KS came to Greenville, SC to learn about the placemaking strategies the city took to successfully create a vibrant, walkable downtown. The convening was the final half of the Amazing Place Ideas Forum, an experiential gathering of city leaders to learn how investing in a unique sense of place and vibrant, walkable neighborhoods is at the heart of a new economic development strategy.
The Amazing Place Ideas Forum was presented by Smart Growth America with support from the John S. and James L. Knight Foundation. Read about the five participating cities, and catch up on the Denver, CO meeting.
Greenville is rated one of America's most beautiful downtowns, but it hasn't always been that way; a four-lane highway, blighted buildings, and surface parking lots once dominated main street activity. Thanks to a four-decade vision from Greenville's commited leaders, the city slowly attracted mixed-use developments and catalytic investments such as a riverfront park, a pastoral bike trail, and a downtown baseball stadium. Today, Greenville's Reedy River Falls, a stunning natural waterfall and riverfront, draws scores of visitors daily to downtown.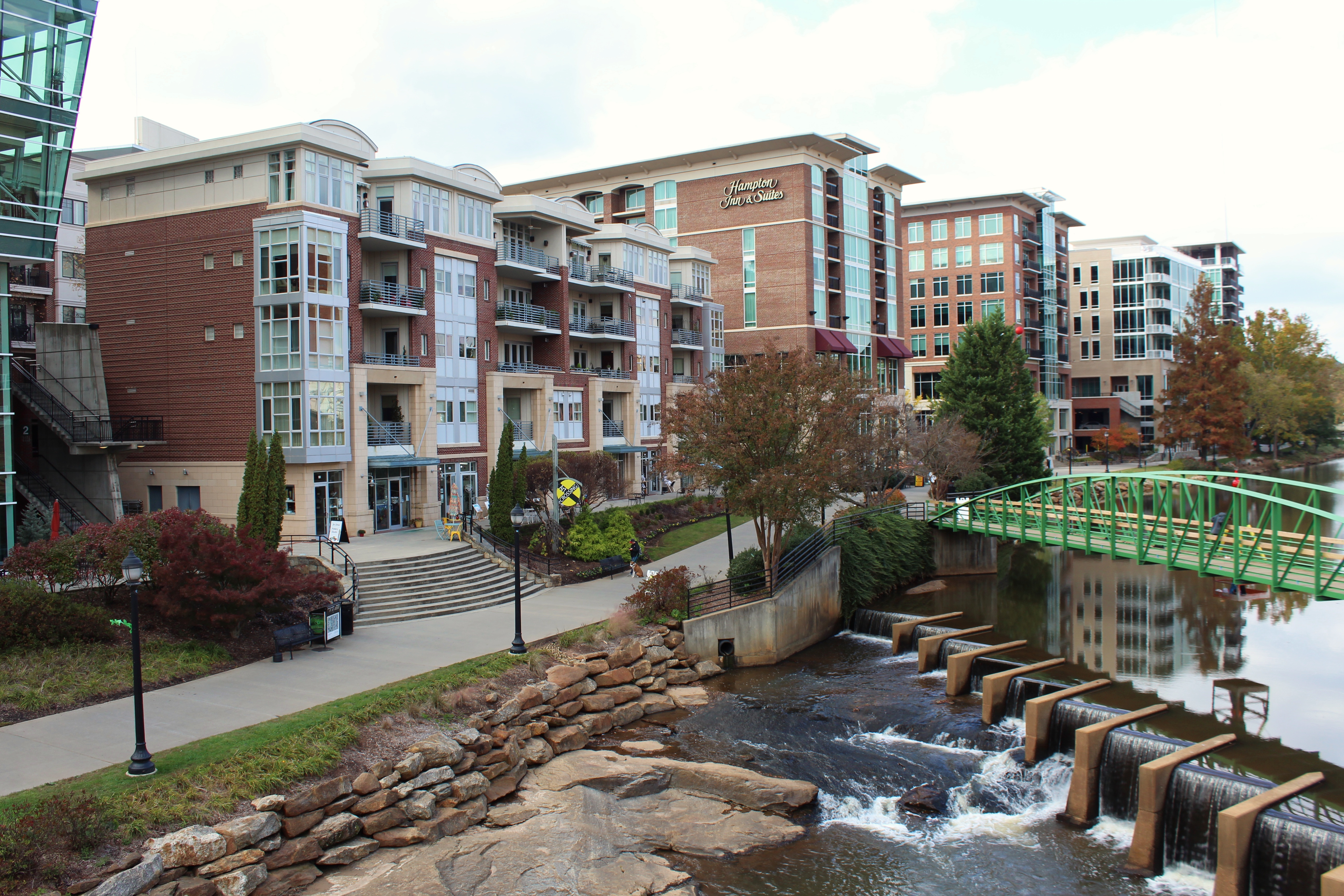 Amazing Place leadership teams fall into Greenville, SC
During the first half of the Amazing Place Ideas Forum in Denver, CO, the leadership teams learned why cities should adopt the new recipe for economic development. This time in Greenville, they learned how a city with limited resources can turn itself around and invest in itself.
Thanks to the generosity of the City of Greenville, Mayor Knox White participated in nearly every aspect of the program. Beginning in 1995, Mayor White's leadership and dedication to supporting Greenville's investment in itself has been at the forefront of the City's revitalization.
"Good urban planning doesn't need to be partisan. Nor does it need to be political," explained Mayor White during a welcome at City Hall.
Before-and-after photos of downtown provided perspective on just how far Greenville has come and emphasized the importance of the City's catalytic anchor projects, which kicked off downtown reinvestment. "It's not luck that this downtown is what it is," explains Mayor White. "There's a method to Greenville's success." So much of the City's success is due to long-term thinking and dedicated leadership.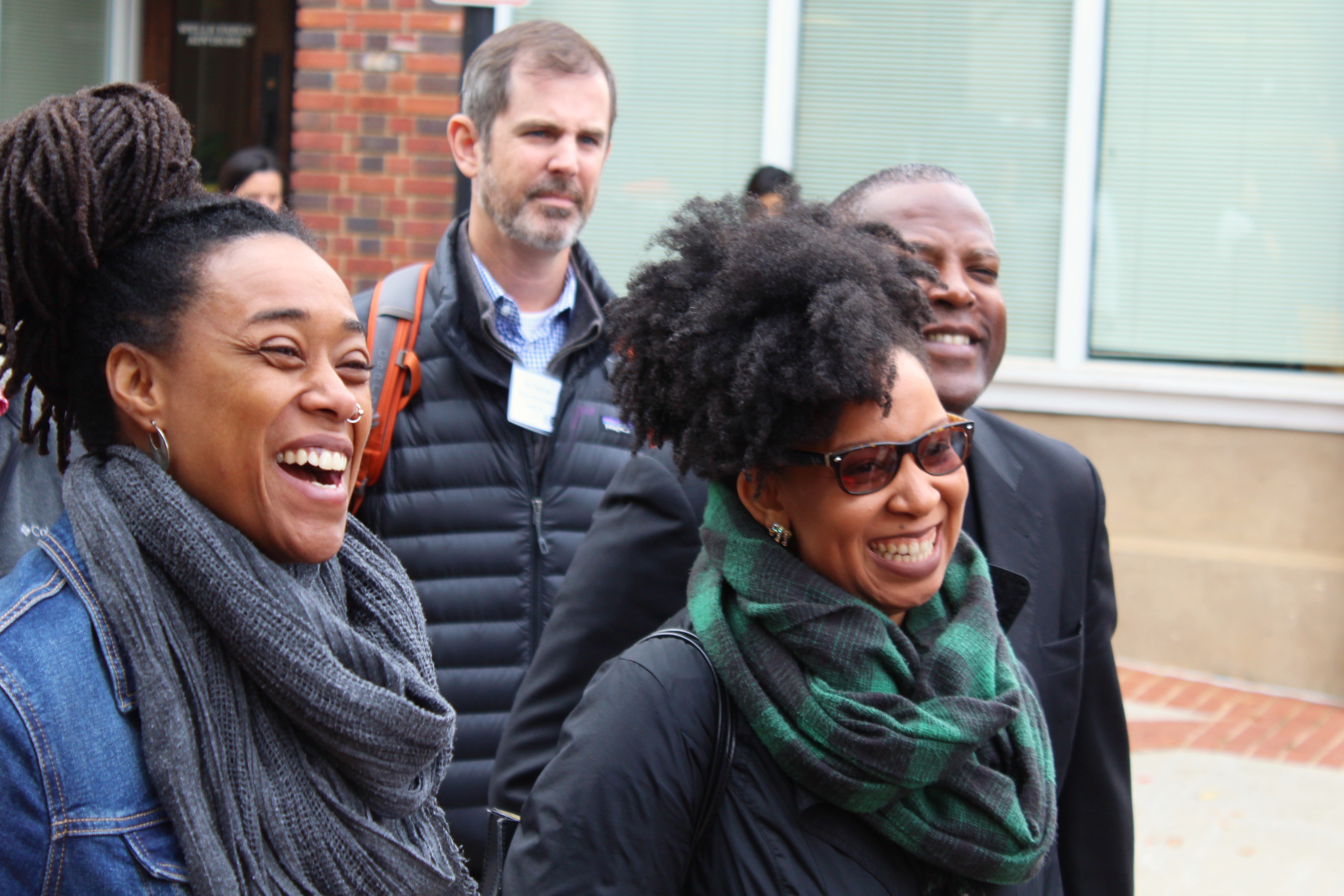 A walking tour of downtown gave the leadership teams an opportunity explore the city's impressive tree canopy, street art installations, and public spaces. Mayor White shared his favorite spots, and the places that the City is still working to improve.
The group visited the Peace Center, a state-of-the-art performing arts center in the heart of downtown. The Peace Center, which booked 365 shows in the last fiscal year, overlooks the Reedy River and is surrounded by multitudes of restaurants, bars, and hotels. 
"Anchor investments have economic impact you never see, since they support entrepreneurs in all industries, hospitality, and even babysitters," explained Phil Hughes, whose development group completed many of the projects along Greenville's Main Street. 
Hughes also expressed the importance of getting more people on the City's sidewalks: "When you take cars away and add more people you have a safer city. More people is safer than fewer people on sidewalks. Narrow streets have driven street life here."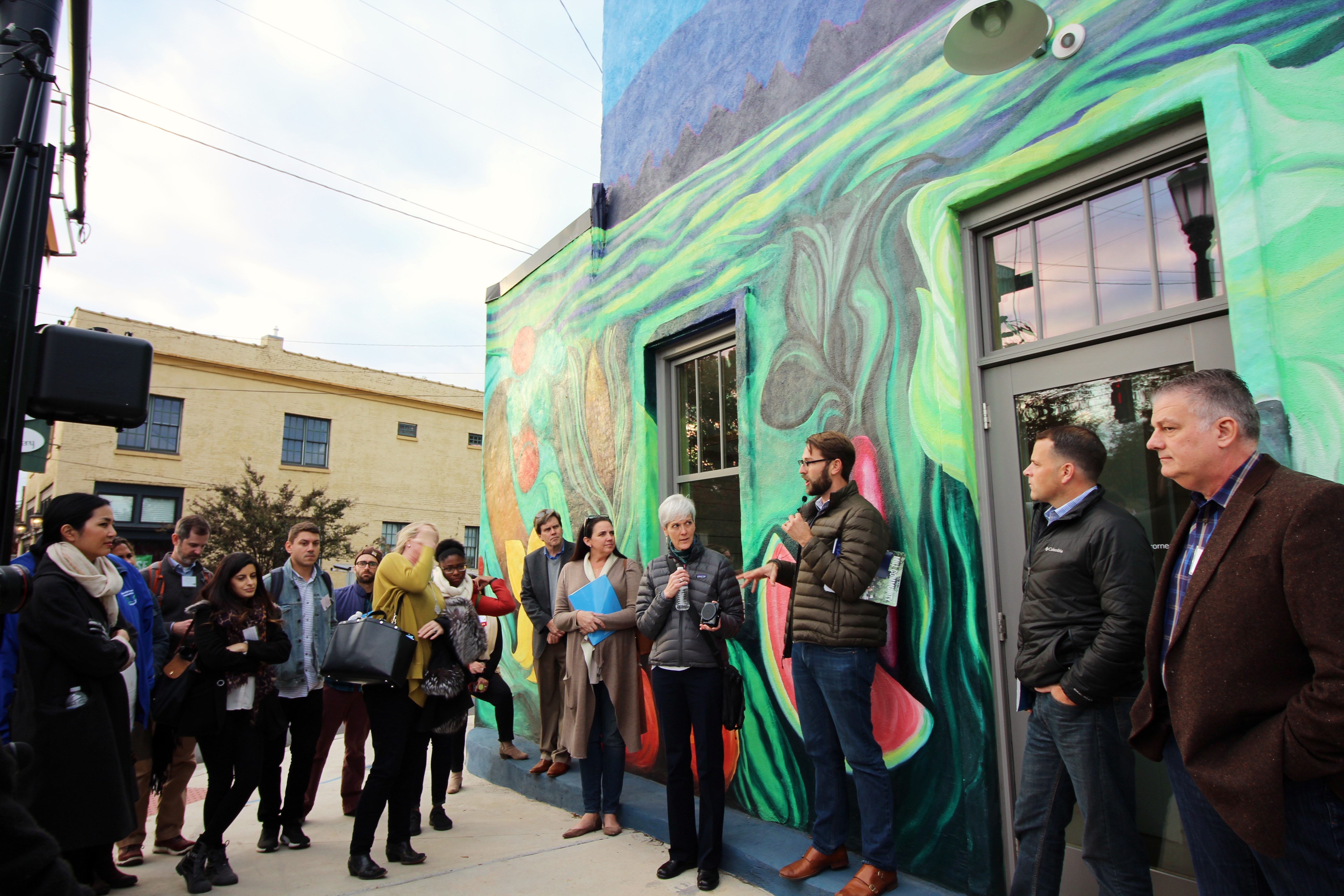 Amazing Places should be affordable and engage diverse communities
Successful downtown revitalization can create new economic opportunities for communities, but can also lead to displacement and exclusion. To deal with these unintended consequences, Greenville is working with developers to create affordable, quality housing options. The leadership teams toured a neighborhood of newly constructed affordable housing units, and remarked that it was difficult to tell the difference between affordable properties and market rate properties—affordable properties were mixed into the neighborhood and were just as attractive and well-designed as the market-rate ones.
At Fluor Field, the home of the Greenville Drive, Mayor White, team owner Craig Brown, and local pastor James Speed told the story of how the City attracted the team and transformed the West End neighborhood with a baseball stadium that's activated year-round and built into the existing neighborhood. Reverend Speed, whose congregation once spearheaded the ardent opposition of the project, expressed the great importance of community collaboration. The City told the community the baseball stadium would be built despite their opposition, so the community opted to embrace the development process and support sustained growth in their neighborhood.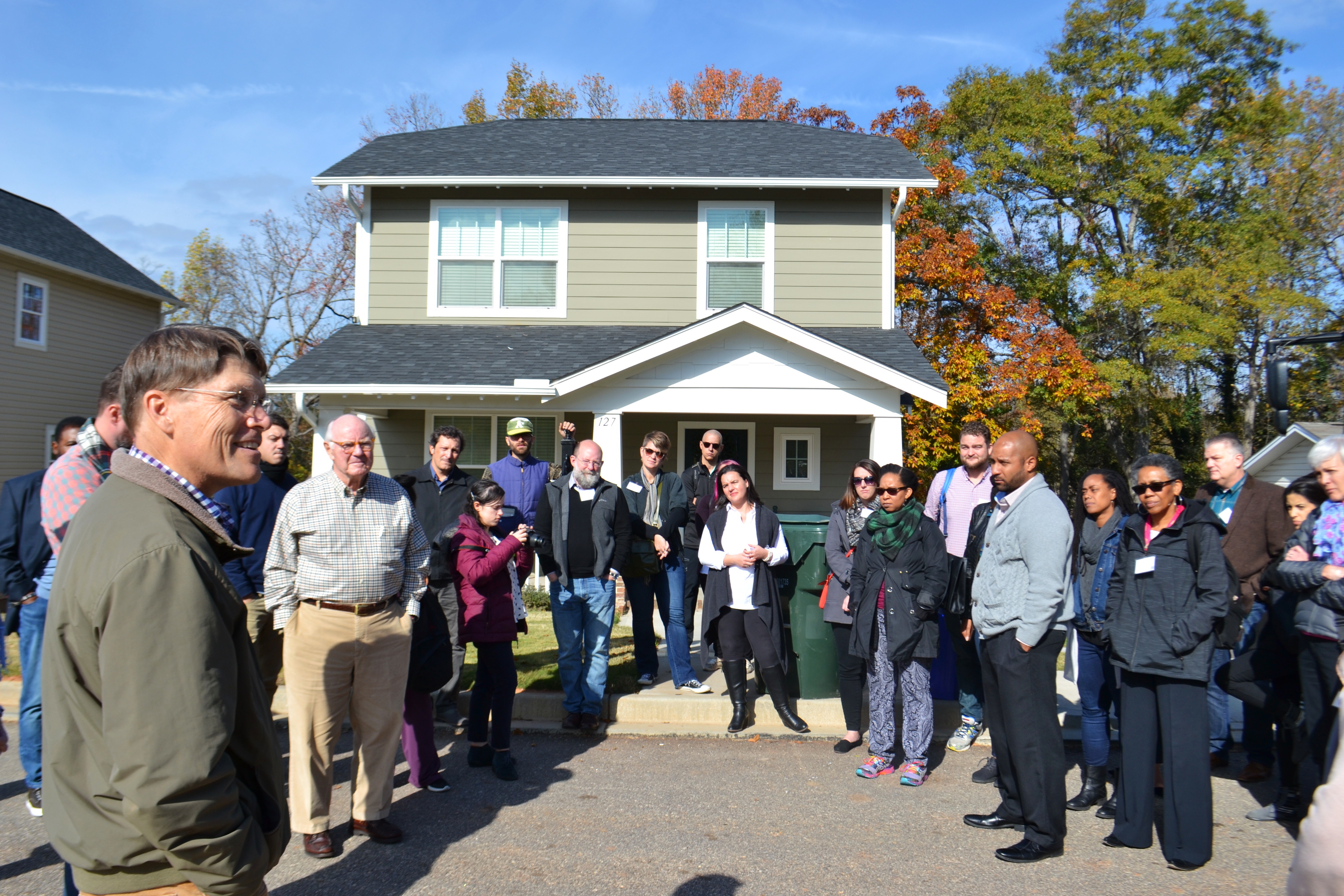 A bikeable Southern city
Half of the group joined Ty Houck, the Director of Greenways, Natural and Historic Resources, for a bike tour along the Swamp Rabbit Trail. The trail, a 19.9-mile former railbed, links downtown Greenville to the nearby town of Traveler's Rest and showcases the first examples of bike-oriented development in the region. When the owner of the Swamp Rabbit Inn, bought the property, she wasn't quite sure what kind of bed and breakfast she wanted to create. When she realized that the property was adjacent to the Swamp Rabbit Trail, which was nearing completion, she themed the entire Inn around bikes, offers rental bikes, and provides indoor bike storage and maintenance facilities. Farther down the trail, the trail has also contributed to the development of popular family-oriented food and drink spots, including the Swamp Rabbit Cafe and Grocery and the Birds Fly South Ale Project.
Councilmember Amy Ryberg Doyle originally became an elected official when she realized there was no one with young kids that could represent families like hers on the City Council. With Greenville's bike-oriented development families can safely go on outings year-round without ever having to get in a car. One of Greenville's coolest ordinances: "Every new business is required to install bike parking, even if it's a big box store on a suburban corridor."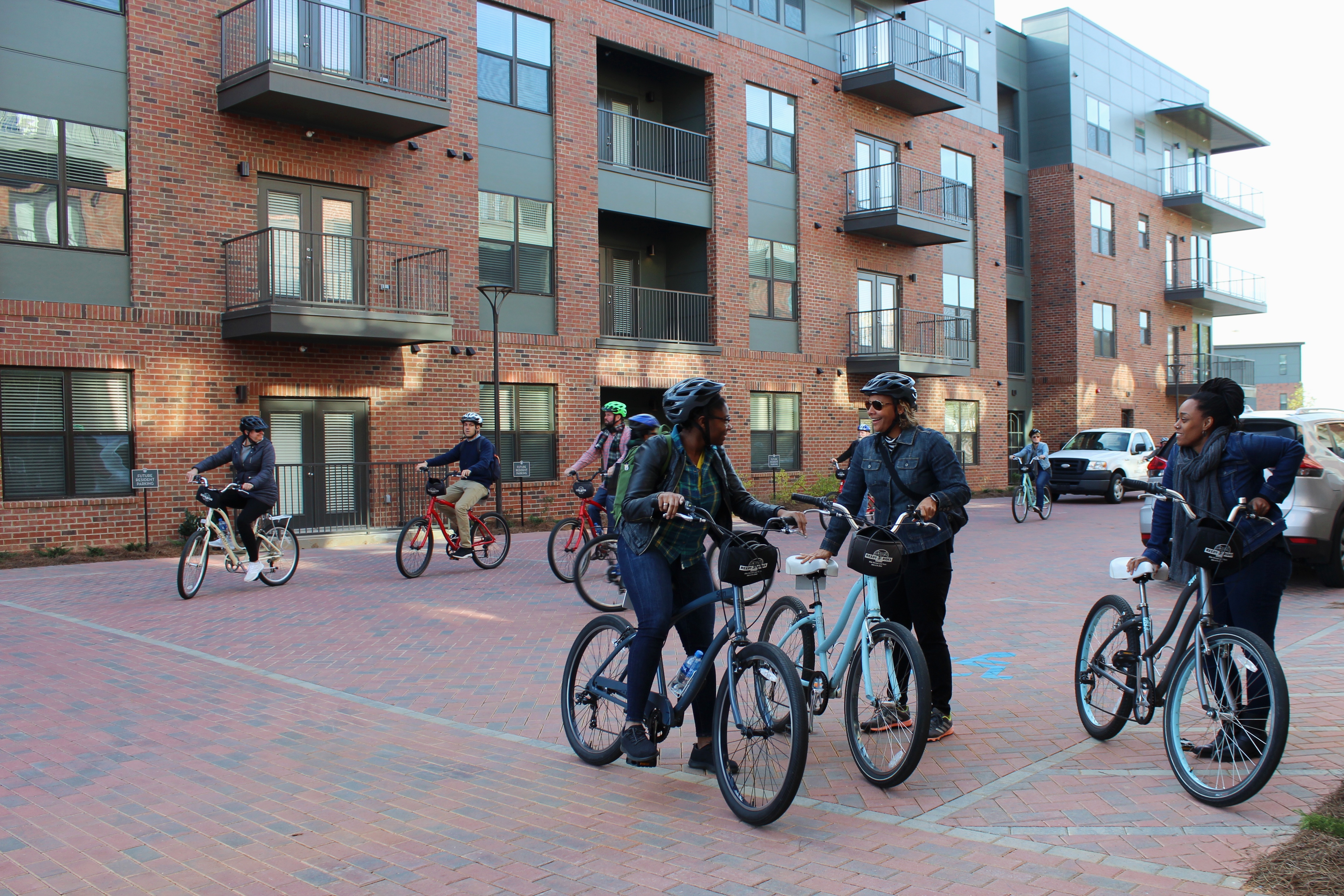 Beyond the Forum: putting ideas into practice
On the last day of the Forum, each team presented on the action plan for their downtowns that they've been developing since the Denver visit. These action plans will support their teams' goals to revitalize their downtowns and attract talent. Mayor White, Councilmember Ryberg Doyle, and the City's Director of Public Information and Events, Angie Prosser, listened to each presentation and offered feedback and advice on each team's ideas.
To one team trying to improve their bus system, Prosser emphasized, "If you're trying to fix transit without first actually riding it, you're doing it wrong." She, along with other City employees, spent some time on the buses and talking to regular bus riders when Greenville was working to overhaul its bus system, although she admits they've still got a long way to go. Mayor White also offered up some advice to make public meetings accessible to all, which may not be intuitive to most people—"When you're hosting neighborhood meetings, you must have babysitting services or the average age will be 70 or older."
Teams were thankful for the valuable advice these leaders of Greenville had to offer. Next, each team will take the action plans that they drafted, the lessons they've learned from Denver and Greenville, and the feedback from the panel and their fellow participants and finalize their action plans. They'll begin working to implement these plans in the coming year, with help from the Knight Foundation and SGA; stay tuned for updates on these efforts.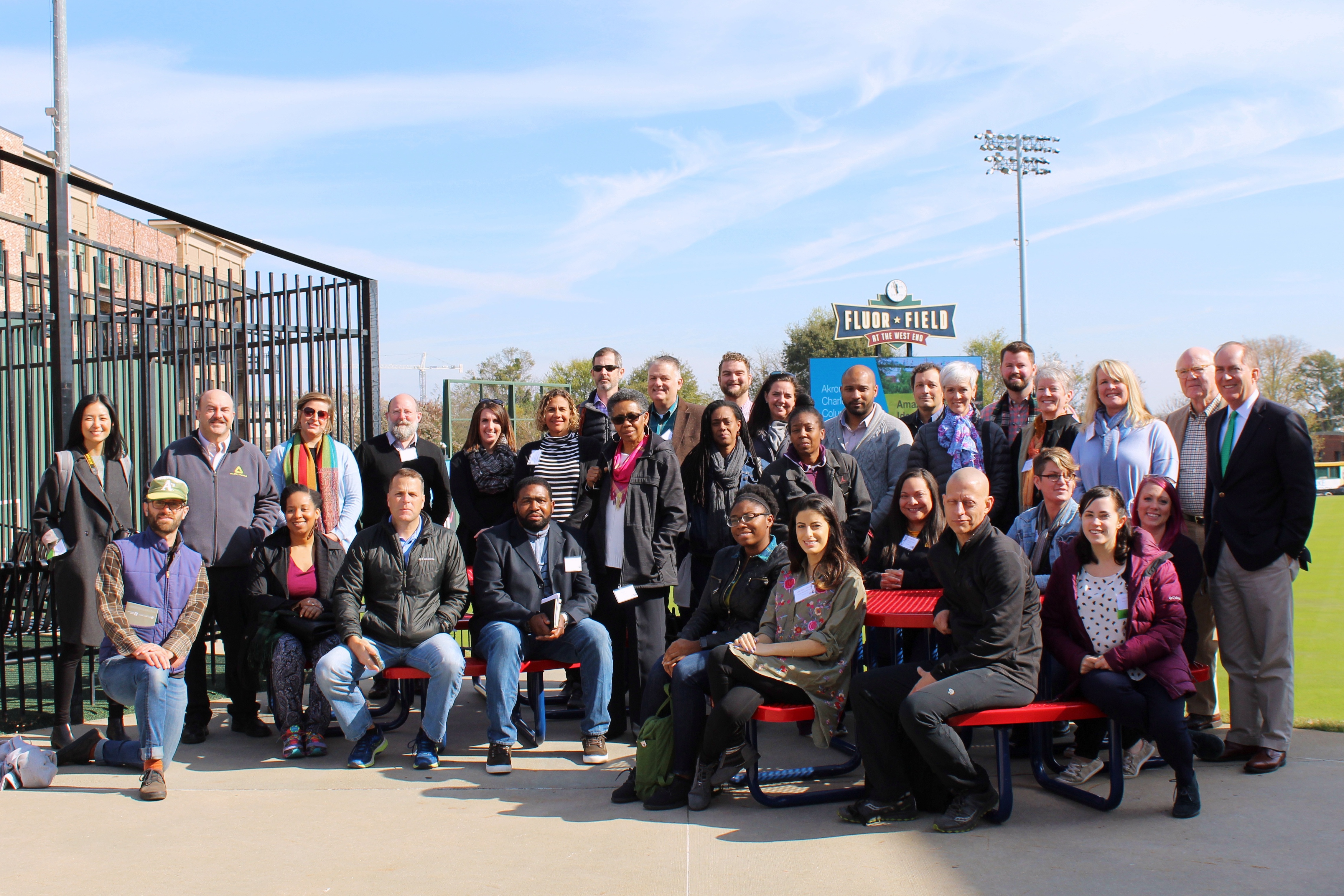 If you found this blog post to be helpful, consider making a donation today to support Smart Growth America's work in the new year.
Donate >>