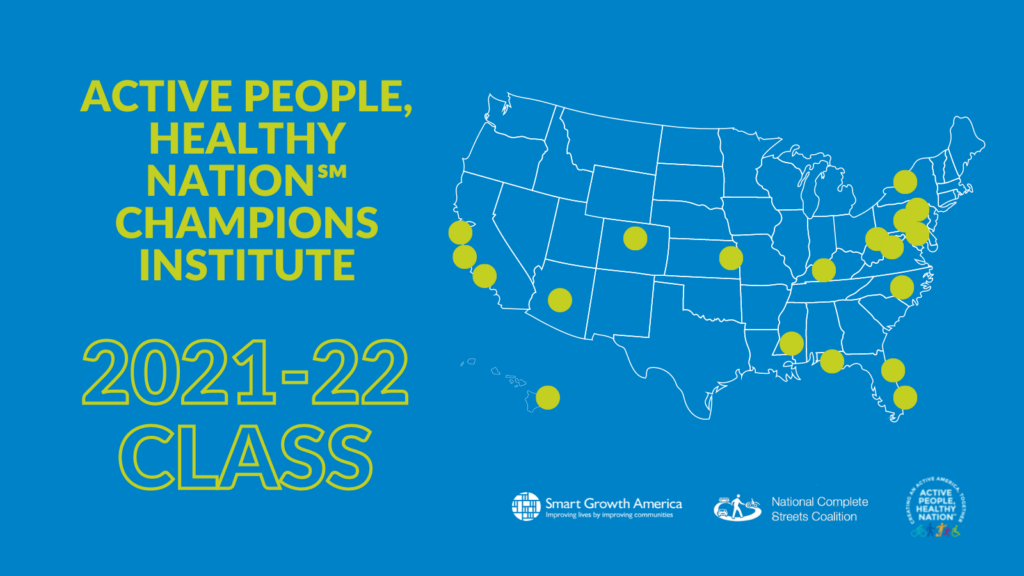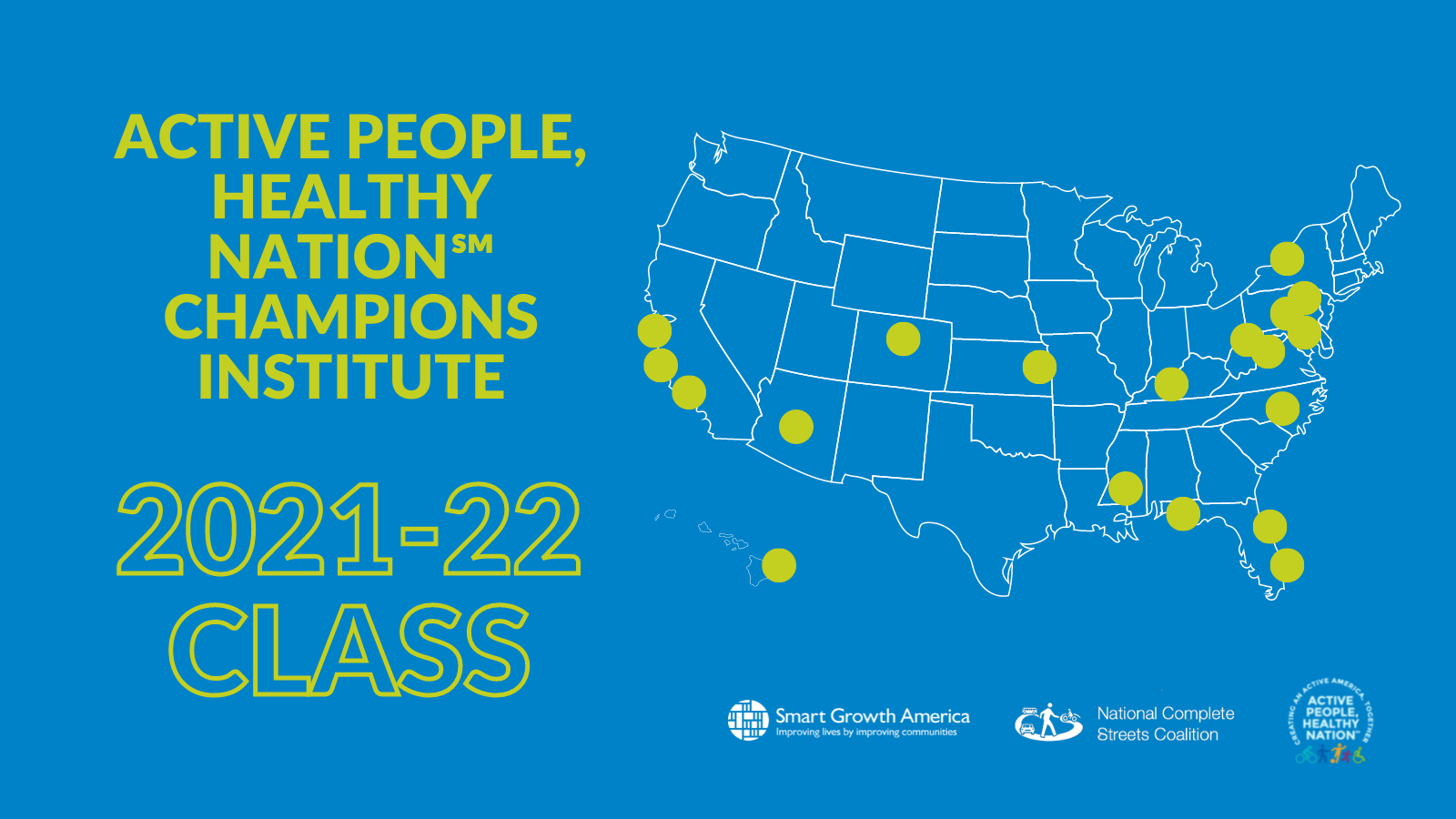 The Active People, Healthy Nation℠ Champions Institute—launched in 2020 — is our initiative to equip a hand-picked group of elected officials to effectively advocate for and support safer and more complete streets in their communities. Today, we are proud to announce the second cohort of champions: 20 local elected officials who will receive comprehensive training to help them become champions in their communities to promote activity-friendly routes to everyday destinations.
"We are pleased to welcome this second class of Champions," said John Robert Smith, Senior Policy Advisor at Smart Growth America, and the former mayor of Meridian, Mississippi. "These 20 leaders have compelling reasons to position their hometown to become a more accessible, equitable, and economically viable community for all residents. Experts in their field will provide them with valuable skills throughout the program, and share their own insights in developing more activity-friendly routes to everyday destinations."
While there has been miles of progress over the last ten years as more than 1,600 communities have passed Complete Streets laws or ordinances, many communities still don't have even the most meager of policies on the books. Or, as we often see now, communities have outdated laws on the books that are sorely in need of an upgrade, or they have laws that have been ineffectual in making a concrete impact on what gets built and where. In these communities, a champion is invaluable. In many of the places that possess the strongest Complete Streets policies, those efforts began in the office of an elected official who saw the need and pushed the issue forward.
Over the next several months, all participants will attend virtual learning sessions that will make them experts in equity-based principles and train them on the fundamental steps to take to achieve Complete Streets in their community, from envisioning to implementation. Participants will also learn about best practices and challenges from across the country, as they grapple with different strategies in a collaborative and supportive peer-learning environment. At the completion of the institute's program, champions will be experts in promoting community reforms to create safer streets for all users, including pedestrians, cyclists, transit riders, and motorists. Champions will be prepared to support plans, policies, and funding that promote the CDC's Active People, Healthy Nation℠ Initiative of expanding activity-friendly routes to everyday destinations, in their communities.
Communities of all sizes urgently need to find ways to prioritize people when it comes to designing and building streets in order to give everyone an option for staying active and healthy while getting where they need to go safely and conveniently each day.
These leaders, representing 13 different states and places of almost every size, will learn how Complete Streets can help them address multiple crises at the same time, among other vital lessons. Safer streets that anyone can use provide more space for socially distanced and affordable transportation options during and after the COVID-19 pandemic. They can help us reduce emissions and fight climate change by making it possible for more people to walk, bike, or take transit. They can save thousands of lives each year by reducing the growing number of people who are struck and killed while walking on dangerous roads. And they can help us create more equitable public spaces by ensuring that people of all ages and abilities can access our streets.
We are eager to get started with this impressive roster of participants over the coming year and plan to share what they are learning throughout the process through a new portal that will be open to the public. Stay tuned for more information on how others can get involved in the Champions Institute.
The participants are:
Vice Mayor Jennifer Duff  — Mesa, Arizona
Councilmember Yassamin Ansari — Phoenix, Arizona 
Councilmember Chaps Poduri — Pacific Grove, California 
Mayor Pro Tem Emily Francis — Fort Collins, Colorado 
Councilmember Anthony J. Vallee — DeFuniak Springs, Florida 
Vice Mayor Chelsea Reed — Palm Beach Gardens, Florida 
Councilmember Heather Kimball — Hilo, Hawaii
Councilmember Julie Sayers — Lenexa, Kansas 
Councilmember Toshie Murrell — Elizabethtown, Kentucky 
Councilmember Christiana Rigby — Ellicott City, Maryland 
Councilmember  Sue D.  Honea — Magee, Mississippi 
Councilmember Conor T. Flynn — Orchard Park, New York 
Councilmember April Gaulden — Dunn, North Carolina 
Mayor Tarah Probst — Stroudsburg, Pennsylvania 
County Commissioner Josh Maxwell — West Chester, Pennsylvania 
Mayor Jerry Marco — Elkins, West Virginia
Councilmember Rosemary V. Ketchum — Wheeling, West Virginia 
Councilmember Jonathan Weinberg — Los Altos, California
Mayor Nancy Sikes-Kline — St. Augustine, Florida
Mayor Alex Fisch — Culver City, California 
---
Smart Growth America envisions a country where no matter where you live, or who you are, you can enjoy living in a place that is healthy, prosperous, and resilient. We empower communities through technical assistance, advocacy, and thought leadership to realize our vision of livable places, healthy people, and shared prosperity. For more information visit www.smartgrowthamerica.org.
Active People, Healthy Nation℠ Initiative is a national initiative led by CDC to help 27 million Americans become more physically active by 2027. Increased physical activity can improve health, quality of life, and reduce health care costs. These improvements can help reduce the risk of at least 20 chronic diseases and conditions and provide effective treatment for many of these conditions. Other potential benefits include better school performance and improved military readiness. Building active and walkable communities can help support local economies, result in less air pollution, and create more cohesive communities. Learn more here.
The Centers for Disease Control and Prevention's Division of Nutrition, Physical Activity and Obesity protects the health of Americans at every stage of life by encouraging regular physical activity, good nutrition, and healthy weight. Through support of state and community partners, they provide data, programs that work, and practical tools so that Americans have the best possible chance to achieve healthier lives and avoid chronic diseases.