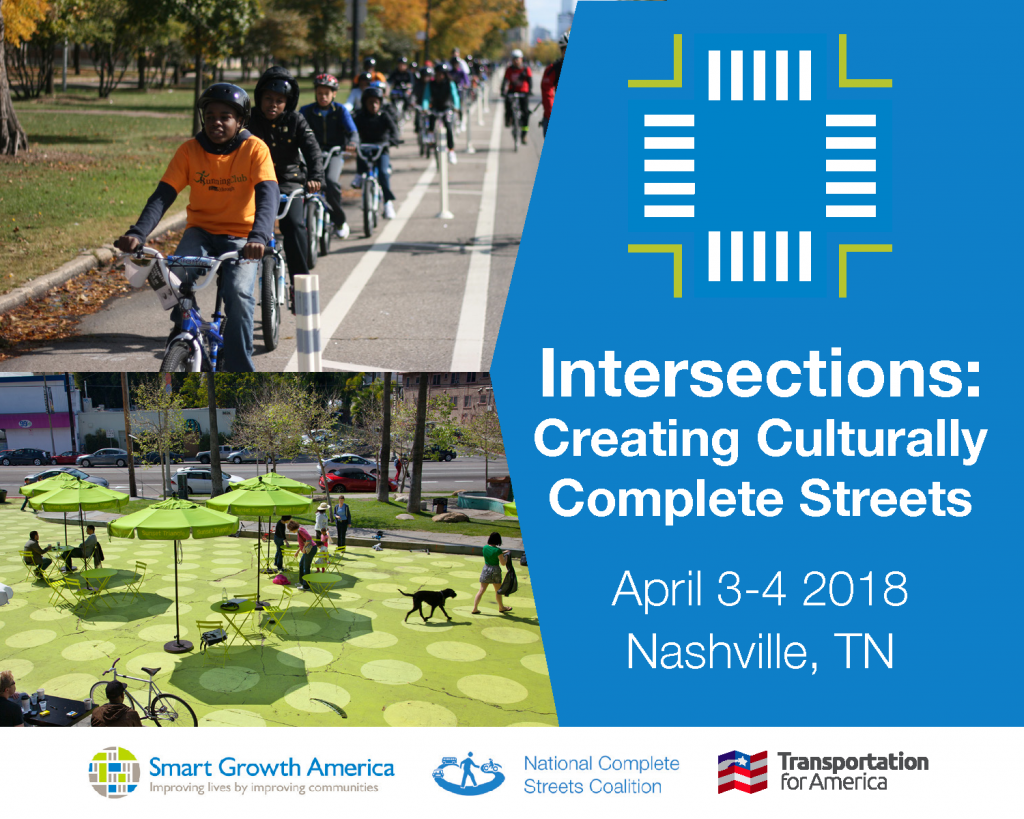 The National Complete Streets Coalition is proud to partner with Transportation for America's Arts & Culture team for our second national Complete Streets conference.
Announcing Intersections: Creating Culturally Complete Streets, the premier convening of national leaders in Complete Streets and creative placemaking. Save the date and take part in the movement on April 3-4, 2018 at the Nashville Music City Center.
Registration is now open!
Building on the momentum from Street Lights, our first Complete Streets conference in November 2016, Intersections will take our implementation and equity work to the next level. But how can arts and culture help us get there?
Scores of communities are finding practical ways to integrate arts and culture to create streets that not only are safe for everyone, but also better reflect the unique character of their communities. Community leaders want to know:
How can engineers, designers, and advocates produce better projects by bringing art into the planning process?
How can artists contribute their cultural knowledge and creative practice to the implementation of Complete Streets?
How can public health proponents create active transportation networks that integrate community health goals?
And what are the opportunities for collaboration among these different groups to create places that are not only safe and attractive, but are also culturally reflective and equitably distributed?
Join us as we explore the answers to these important questions – mark the date on your calendar today.
Registration is now open. Stay tuned for more information about featured speakers and sessions. If you're interested in sponsorship opportunities for this premier event, feel free to reach out to us directly – email Nimotalai Azeez at [email protected].
We're looking forward to seeing you in April!