The State Legislator Champions Institute is our initiative to equip state legislators from across the country to effectively advocate for and support more activity-friendly transportation in their states. Today, we are proud to announce our first cohort of Champions: 20 state legislators who will receive comprehensive training to help them become Complete Streets Champions by promoting roadway safety, equity, and public health priorities in their communities. The State Legislator Champions Institute builds off the success of three cohorts of locally elected Complete Streets.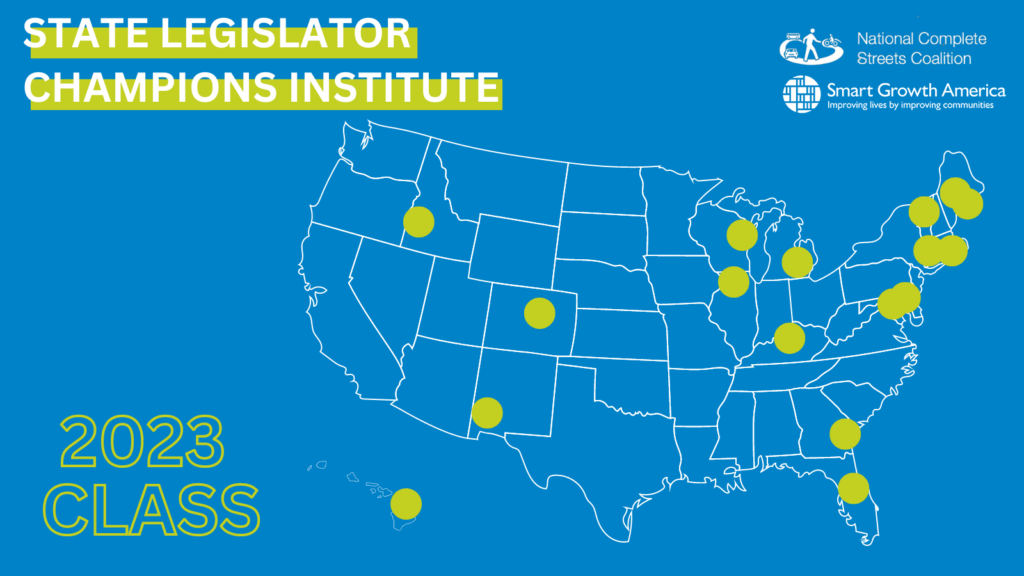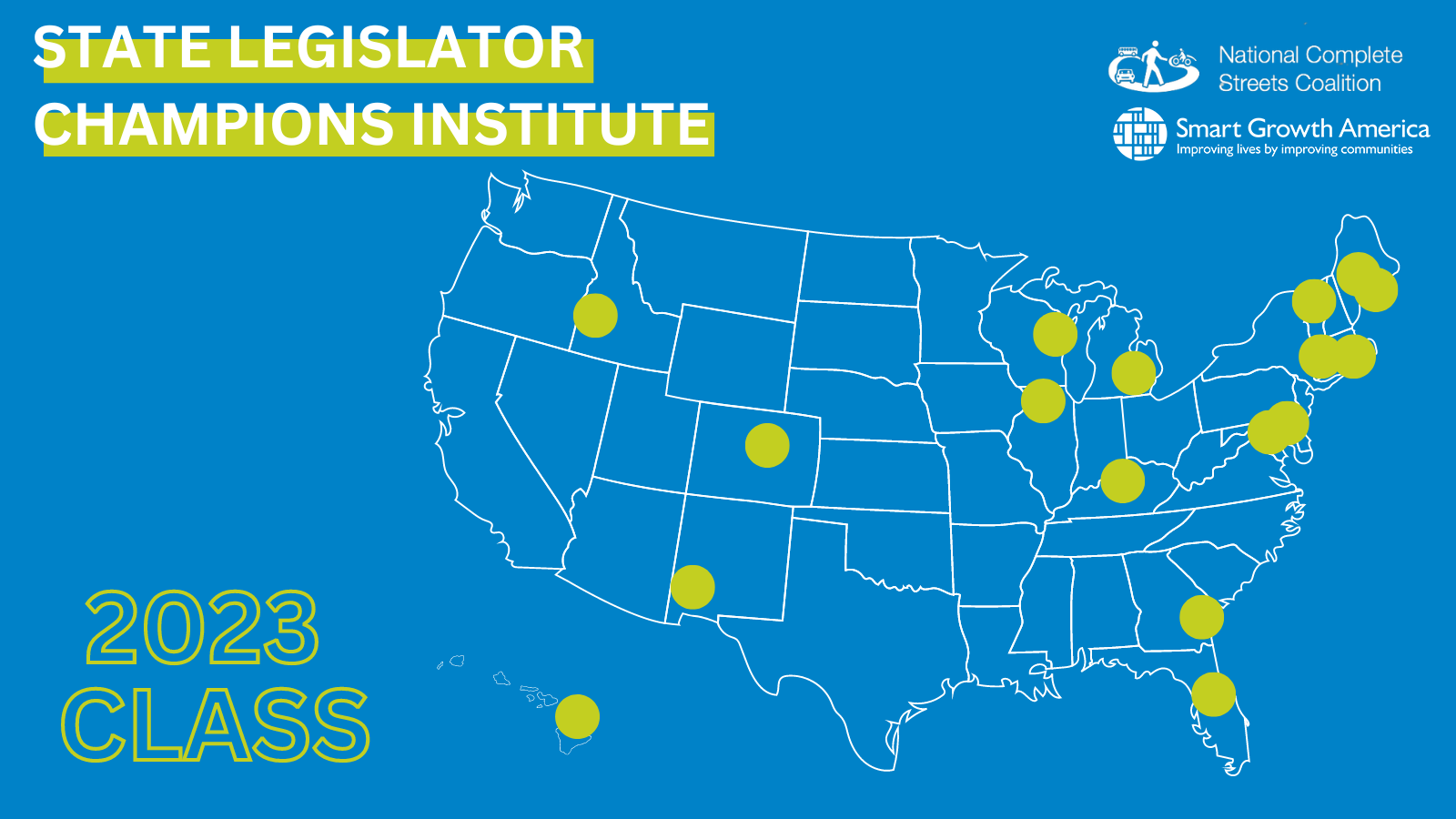 "I am so pleased to welcome the first class of the State Legislator Champions Institute," said Beth Osborne, Vice President of Transportation and Thriving Communities at Smart Growth America, and former Acting Assistant Secretary for Transportation Policy at the U.S. Department of Transportation. "State legislators are in key positions to set transportation policy and oversee transportation spending. Through the Champions Institute, SGA will work to support participants in making their state's transportation system more activity-friendly, and help advance their vision of more accessible, equitable, and economically viable communities for all residents."
The Champion's Institute's hand-selected state legislators represent 15 states from across the country. Through a series of workshops, our team will help the Champions learn how Complete Streets policies can help create healthy, prosperous, and resilient communities—including important tools to help reduce emissions and fight climate change—by making it possible and safer for more people to walk, bike, roll or take transit. The Institute will also discuss additional components of an activity-friendly transportation system that improves public health, such as land use policy, passenger rail, and public transit.
State legislators play a vital role in supporting this goal—over half of all deaths in urban areas occur on state-owned roads—state legislators can affect these and rural roads through policy choices, funding levels, and oversight of their states' DOTs.
States across the country urgently need to prioritize people when it comes to designing and building their transportation systems so that everyone has the option to stay active while getting where they need to go safely and conveniently. As announced in March 2022, the Federal Highway Administration (FHWA) has committed to working with state, regional, tribal, and local agencies to advance the widespread implementation of the Complete Streets Design Model to improve safety and accessibility for all users.
The selected participants of the 2023 State Legislator Champions Institute are:
State Representative Adam R. Lee — Auburn, Maine
State Representative Aimee Berger-Girvalo — Ridgefield, Connecticut
State Senator Andrew Perchlik — Plainfield, Vermont
State Representative Anna Eskamani — Orlando, Florida
State Representative Anne Allen Westbrook — Savannah, Georgia
State Representative Barbara Ann Fenton-Fung — Cranston, Rhode Island
State Representative Christopher Todd — Hilo, Hawaii
State Senator Cory McCray — Baltimore, Maryland
State Representative Cristin McCarthy Vahey — Fairfield, Connecticut
Delegate Jared Solomon — Kensington, Maryland
State Representative Jeff Keicher — Sycamore, Illinois
State Representative Kate Farrar — West Hartford/Newington, Connecticut
Delegate Kevin Hornberger — Cecil County, Maryland
State Representative Kristina Shelton — Green Bay, Wisconsin
State Representative Lynne Williams — Bar Harbor, Maine
State Senator Mary Cavanagh — Redford, Michigan
State Representative Nima Kulkarni — Louisville, Kentucky
State Senator Rick Just — Boise, Idaho
State Representative Ruby Dickson — Greenwood Village, Colorado
State Senator Siah Correa Hemphill — Silver City, New Mexico
Throughout March and April, our Champions will attend virtual learning sessions that will make them experts in equity-based principles and train them on the fundamental steps to take to create transportation policy that supports public health, climate, and equity goals. Participants will also learn about best practices and challenges from across the country, as they explore different strategies in a collaborative and supportive peer-learning environment.
At the completion of the Institute's program, the Champions will be experts in using policy, funding, and oversight to reshape their states' transportation systems. Champions will be prepared to support plans, policies, and funding that promote the CDC's Active People, Healthy Nation℠ Initiative of expanding activity-friendly routes to everyday destinations in their communities.
We are eager to engage and work with this impressive roster of participants over the coming year and look forward to sharing more about their communities and their progress in implementing Complete Streets throughout the process.