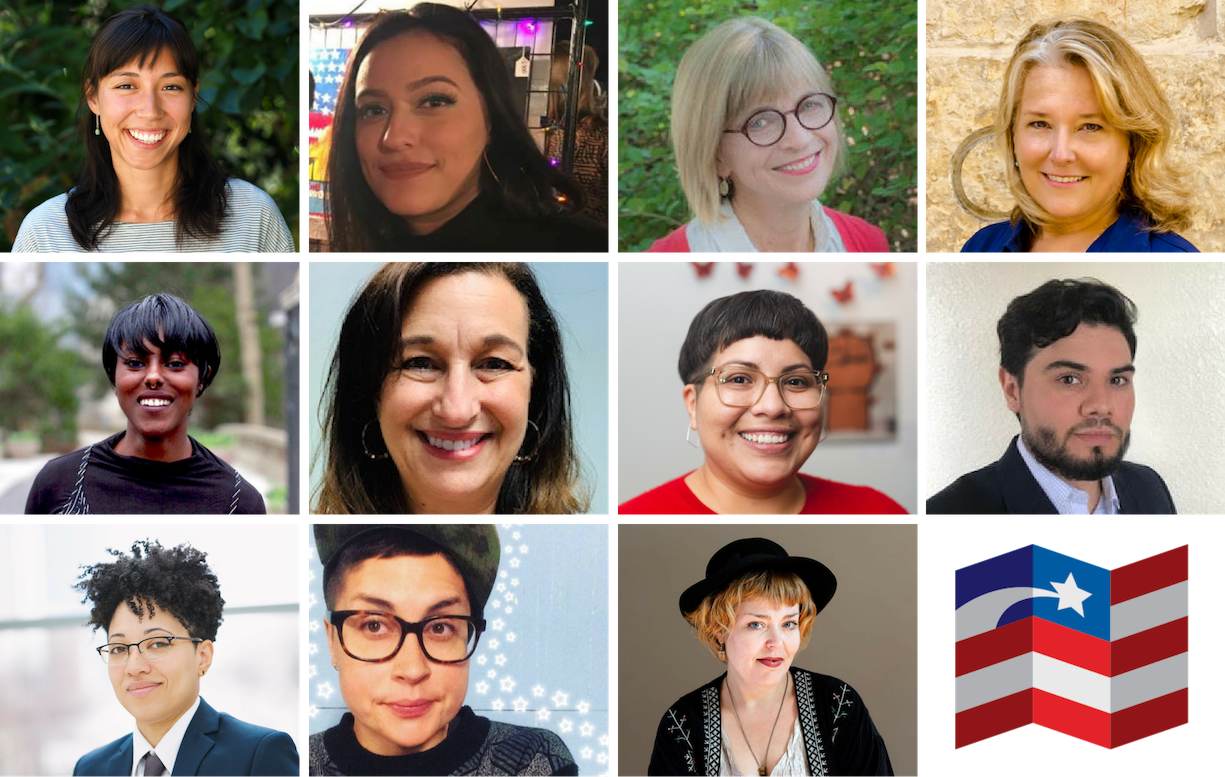 Transportation for America, a program of Smart Growth America, has selected the fellows for its inaugural Arts, Culture and Transportation Fellowship to help 11 individuals in four cities take their work at the intersection of arts and transportation to the next level.
The fellows are (pictured alphabetically from left to right in the image above, starting at the top):
Keiko Budech, Communications Manager, Transportation Choices Coalition (Seattle/Puget Sound, WA)
Cecelia DeLeon, Visual Artist and Teaching Artist (Seattle/Puget Sound, WA)
Katherine Gregor, Principal, Katherine Gregor Communications / Communications, Austin Transportation Department (Austin, TX)
Sue Lambe, Manager, City of Austin Art in Public Places Program, City of Austin (Austin, TX)
Danicia Monét Malone, Urban Planner, Programs & Facilities Manager, Purdue Black Cultural Center  (West Lafayette, IN and Indianapolis, IN)
Jackie Nirenberg, Community Engagement Manager, Capital Metropolitan Transportation Authority (Austin, TX)
Jessica Ramirez, Director of Community Engagement, Puget Sound Sage (Seattle/Puget Sound, WA)
Antony Ramos, Director of Digital Marketing, Fruit of Business (Springdale, AR)
Brittanie Redd, Principal Planner for Land Use Strategy, Department of Metropolitan Development (Indianapolis, IN)
Shann Thomas, Visual Artist and Teaching Artist: Film & Photography (Seattle/Puget Sound, WA)
Erika Wilhite, Artistic Director, En Masse Arts (Springdale, AR)
About the ACT Fellowship
The ACT Fellowship is a new opportunity for professionals to increase their knowledge of the transportation planning and design process while developing creative placemaking skills to better integrate artistic and cultural practices in transportation projects. With generous funding from the Kresge Foundation, T4America will provide hands-on, curated learning opportunities. T4America and SGA staff, as well as a team of national experts, will educate fellows on best practices, while fellows will have an opportunity to share their own challenges and learn from one another.
"Transportation for America's arts & culture team has supported the integration of artists and the arts into transportation projects around the country for the past three years. We're thrilled to now move into the next phase of this work with the launch of our inaugural class of Arts, Culture, and Transportation Fellows," explains Ben Stone, director of arts & culture for Smart Growth America. "These fellows include artists, planners, arts administrators, and advocates representing some of the country's most innovative organizations and agencies, and I look forward to supporting their work, providing an opportunity for them to learn from one another, as well as to learn from each of them."
The fellowship is also designed to cultivate new national leaders in this arena. After the fellowship concludes, several graduating fellows will be offered the opportunity to assist with the next round of T4America's State of the Art (SOTA) Transportation Trainings in communities across the country. By serving as consultants on these trainings, participating fellows will have the opportunity to develop new leadership, facilitation, and presentation skills.
About the fellows
Seattle/Puget Sound, Washington: The four-person team of Keiko Budech, Cecelia DeLeon, Jessica Ramirez, and Shann Thomas aims to co-create artworks at new light rail stations to create new community hubs that will preserve and celebrate each neighborhood's history and culture in the  Seattle/Puget Sound area. With the passage of Sound Transit 3, a ballot initiative that is raising $54 billion for light rail expansion and the most significant transit expansion package in Washington State history, this is an exciting opportunity for this group of fellows to undertake an arts, culture, and transportation project and gain skills to execute this work.
Austin, Texas: Sue Lambe, Jackie Nirenberg, and Katherine Gregor will work together to capitalize on the momentum of Capital Metro and the City of Austin's Art in Public Places (AIPP) program. Capital Metro, Austin's regional public transportation provider, is in the process of launching an art program that the team will work to formalize through new policies and processes. The AIPP program also has a new, historic opportunity to create public art projects on major streets through a percent-for-art program and the current $482 million Corridor Improvement Program.
Springdale, Arkansas: The duo of Antony Ramos and Erika Wilhite will incubate their project En Route, a creative placemaking initiative on buses and along bus routes in Springdale. Their work will center the perspectives and stories of the people who will be most impacted by transit development in Springdale. They hope to inform Connect Northwest Arkansas, a 10-year transit development plan that will create a blueprint for improving and expanding transit in the Northwest Arkansas region.
Indianapolis, Indiana: Danicia Monét Malone and Brittanie Redd are undertaking a tactical urbanism and equitable design initiative called #MyRide.  This emancipatory data/design project will address a bus rapid transit development corridor in Indianapolis, directly confronting infrastructure changes, challenges, and concerns around how details are translated to residents.
The fellowship is generously funded by the Kresge Foundation, which defines creative placemaking as an approach to community development and urban planning that integrates arts, culture, and community-engaged design strategies to expand opportunities for low-income people in disinvested communities in American cities.