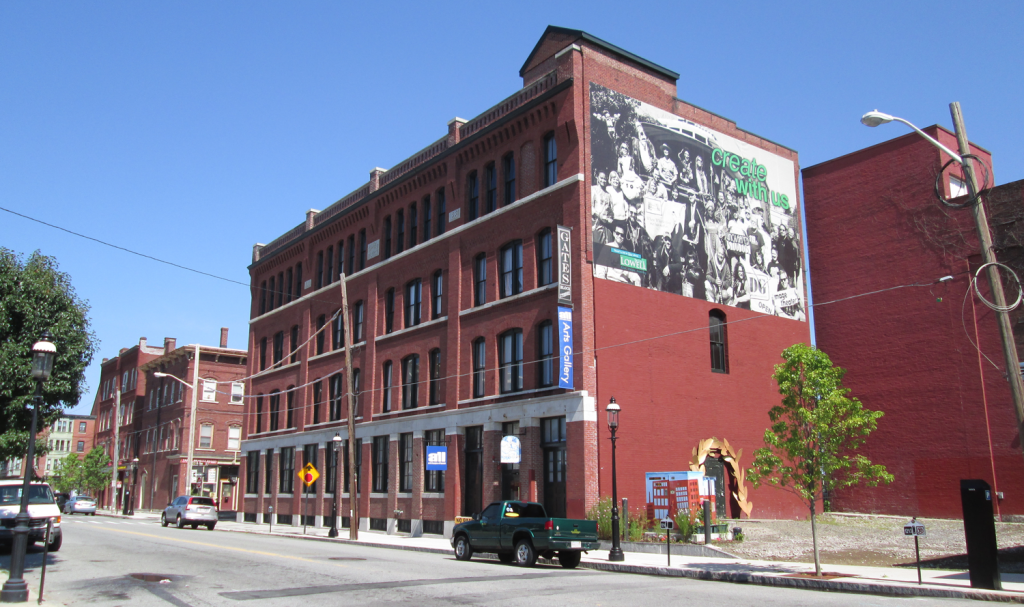 The Gates Art Gallery building in Lowell, MA's Acre neighborhood. Lowell is hoping to support small-scale manufacturing in the neighborhood. Photo by Richard Howe via Flickr.
Four communities are using small-scale manufacturing for downtown revitalization to create economic opportunity, and will receive free technical assistance from Smart Growth America, made possible by the U.S. Economic Development Administration (EDA).
Small-scale manufacturing has emerged as an innovative strategy in today's urban economic development toolbox. For many cities, this new industry can connect residents to good paying jobs and economic opportunity in the neighborhoods they call home. Smart Growth America's newest technical assistance program helps cities integrate small-scale manufacturing spaces into their economic development work.
Fifty-nine organizations and communities in 28 different states with diverse geographic, economic, and demographic backgrounds applied for the four free engagements. The applicants included municipal governments, local non-profits, and regional- and state-level organizations.
Communities varied in how active they have already been in promoting small-scale manufacturing, but nearly all had a strong understanding of its potential for economic development and spurring downtown and neighborhood revitalization. Many communities have previously relied on large scale manufacturing attraction and retention strategies to sustain their communities. Communities around the country, including our selected co-hort, are now pivoting to reposition and diversify their economies while recognizing their talent base and existing workforce clusters.
Ultimately, we selected four communities to receive this free technical assistance:
Knoxville, TN — Knoxville is already using numerous programs to foster revitalization through small and local business ownership. The manufacturing community has a direct voice in local government through the "Mayor's Maker Council". As the first designated "Etsy Maker City", Knoxville is looking to maintain the supply of industrial and warehouse zoning designations in the Magnolia Avenue Warehouse District while also repurposing the district to accommodate small-scale manufacturing.
Lowell, MA — Lowell, a historic large scale manufacturing city with roots in the textile industry is revisiting its land uses to allow light industrial uses in and nearby traditional neighborhoods. The City specifically wants to address community development in the Acre neighborhood, which has a poverty rate of nearly 50%. Lowell seeks to redevelop vacant/underutilized properties to promote job opportunities and small business development.
Twin Falls, ID — Buoyed by a strong agriculture and food processing industry, Twin Falls seeks to find uses for its underutilized warehousing district in unison with other downtown redevelopment initiatives. The City, the smallest and most remote of the four to be selected, now wants to diversify its economic base, with a focus on outdoor recreation products given their location and beautiful surroundings. Twin Falls is also a refugee resettlement community, and would like to provide skill-based training programs to this disadvantaged population.
Eastgate Regional Council of Governments, OH — Eastgate Regional COG seeks technical assistance to tie place-based strategies to advanced manufacturing in Youngstown, OH and Warren, OH. These communities, which have suffered since declines in the regional steel industry economy are now home to burgeoning advanced manufacturing research centers with specialties in 3D printing and energy. Youngstown University, the Tech Belt Energy Innovation Center and other downtown anchors are working to grow the small business community in multiple industries including energy, finance, food production, and high-tech production.
Congratulations to the successful applicants! We are looking forward to working with each of you.
In addition to our free opportunities, our technical assistance workshops are also available for hire.You can find additional resources on small-scale manufacturing in Recast City's newsletter, Urban Manufacturing Alliance's non-profit development toolkit, Etsy's Craft Entrepreneurship program, and the Equitable Innovation Economies report from the Pratt Center for Community Development.
Smart Growth America is committed to providing the tools and training to help community leaders keep their cities and towns livable, sustainable, and economically prosperous places. We are excited about working with each of this year's winning communities to support thriving neighborhoods now and for generations to come.