The Community Connectors program offers technical support and funding for communities working to repair the damage of divisive infrastructure in an effort to reconnect communities. The new Community Connectors program is supported by the Robert Wood Johnson Foundation and conducted in partnership with Equitable Cities, the New Urban Mobility Alliance, and America Walks.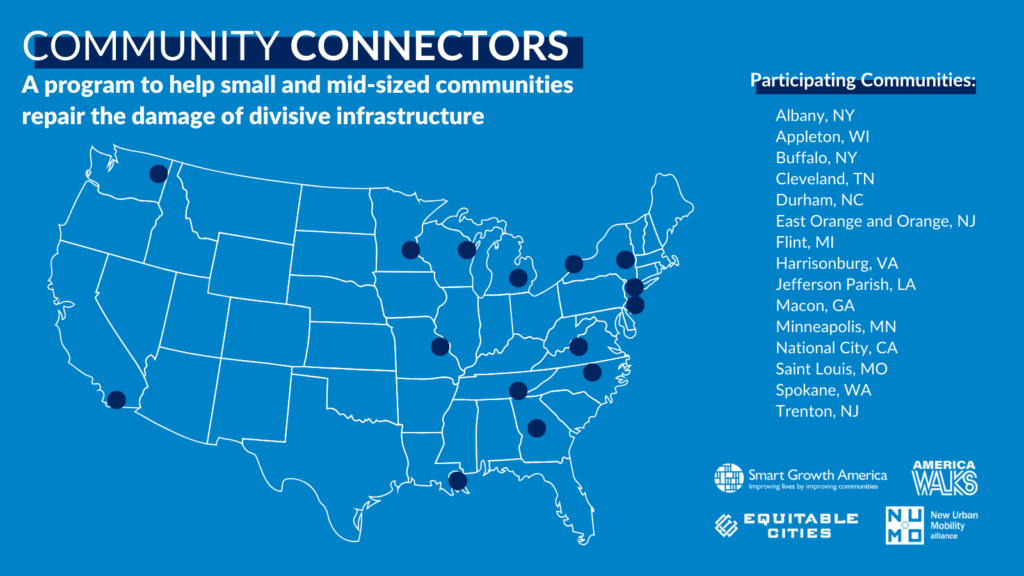 Smart Growth America has selected 15 community-focused projects to participate in the new Community Connectors program which aims to repair the damage of divisive infrastructure in small and mid-sized cities. Divisive infrastructure presents a barrier to safe transportation and economic opportunity, particularly for communities that have been historically marginalized.
These projects will receive grants of up to $130,000 to build local capacity to co-design projects alongside impacted communities to advance new transportation infrastructure projects that repair damage from divisive infrastructure. The Community Connectors program will take place over the next two years and features a learning exchange this November in Atlanta, GA and links local leaders to experts and other cities attempting to accomplish similar objectives in reconnecting communities. 
"These locally-led projects aim to remove divisive transportation infrastructure that has too long created barriers to access and economic opportunity," said Beth Osborne, Vice President of Transportation and Thriving Communities at Smart Growth America. "The Community Connectors program will accelerate these communities' efforts by supporting strong community-based partnerships, providing capacity building grants, and offering technical assistance from national transportation leaders through workshops and direct support to advance their projects' goals."
The 15 selected projects include:
Albany, NY | Together We Can: Repairing the Damage of Interstate 787
Appleton, WI | Redesigning College Avenue Corridor
Buffalo, NY | Building a Better Bailey Avenue with Bus Rapid Transit
Cleveland, TN | Putting East Inman Street Back Together
Durham, NC | Seeking Transit Solutions for Black Communities in Durham
East Orange and Orange, NJ | Remedying the Problem of Interstate 280 and Freeway Drive
Flint, MI | A Community Vision for the Interstate 475 Corridor
Harrisonburg, VA | Reconnecting Harrisonburg's Northeast Neighborhood to Downtown
Jefferson Parish, LA | Realigning On-Street Rail Crossings in Jefferson Parish
Macon, GA | Reconnecting Pleasant Hill to Downtown Macon
Minneapolis, MN | Bring Back 6th! Transforming Olsson Memorial Highway
National City, CA | The National City Southeast Greenspace Corridor Project
Saint Louis, MO | Connecting Historically Underserved Neighborhoods to Arts & Business Districts
Spokane, WA | Addressing the Harms of Interstate 90
Trenton, NJ | Reconnecting to the River: Converting Route 29 into a Boulevard
Learn more about the Community Connectors program and read full project descriptions here