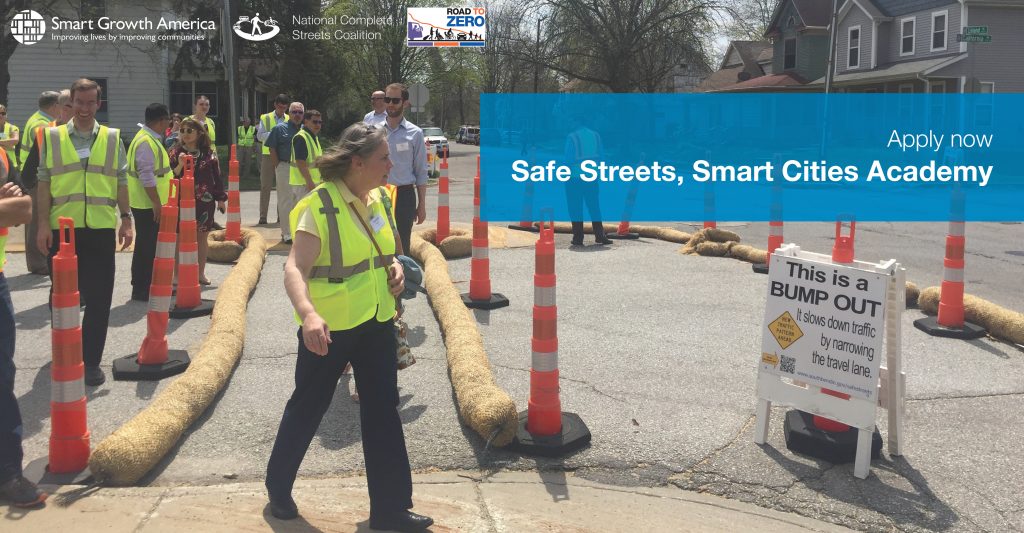 Following the success of our inaugural Safe Streets Academy, the National Complete Streets Coalition is excited to announce a new opportunity for free technical assistance. The Safe Streets, Smart Cities Academy will help three cities transform their commitment to traffic safety into practice. Applications are now open. Learn more about how to apply below or read the applicant FAQ.
Over the last nine months, we worked with three cities—Lexington, KY; South Bend, IN; and Orlando, FL—on building safer streets with the Safe Streets Academy. Teams from each city worked together to evaluate their project development processes, test new forms of community engagement, and ultimately roll out physical demonstration projects on their streets to slow traffic and improve safety. Now, we have the opportunity to work three more jurisdictions as part of the Safe Streets, Smart Cities Academy
This Academy will bring together ten-person teams from three cities across the country for a series of three in-person workshops and six distance learning modules. The Academy will build the skills necessary to create safer, slower streets, including proven safety countermeasures, tactical urbanism, and community engagement. Participants will also learn about how emerging smart cities technologies provide opportunities to prevent crashes and save lives. Over the course of the Academy, each city will apply these new and improved skills to plan and implement safety demonstration projects in their communities.
This free technical assistance program is made possible thanks to a Safe System Innovation Grant from Road to Zero, a coalition of more than 700 organizations committed to eliminating traffic fatalities in the United States by 2050. As part of the Safe Streets, Smart Cities Academy, jurisdictions will receive travel assistance and a $8,000 subgrant to support the demonstration project.
How to apply
Applications can be completed using our online form (preferred) or by downloading and submitting the PDF version of the application via email. In order to apply, jurisdictions must fulfill the following requirements:
Have a population of at least 100,000
Join the Road to Zero Coalition
Previously adopted a bicycle and pedestrian master plan, Vision Zero policy, Complete Streets policy, or related design guidance
Commit to hosting one in-person workshop, including providing venue space, transportation to the demonstration project site, and catering
Commit to the full participation of their ten member team at all workshops and distance learning modules
Commit to completing a demonstration project within the duration of the Academy and working with the National Complete Streets Coalition to create a case study about the demonstration project
Commit to raising $8,000 in funds or in-kind donations to match the demonstration project subgrant
Commit to presenting safety recommendations to your DOT and/or elected officials at the conclusion of the Academy
Submit a letter of support from a local elected official
Applications are now open. The deadline for submission is Sunday, August 19 at 11:59PM ET. We will conduct interviews with finalists the week of September 3.
Want to learn more?
We hosted an informational webinar about the Safe Streets, Smart Cities Academy. You can watch the recording of the webinar on our FAQ page.
You can also contact us directly with questions at [email protected]. We look forward to reviewing your applications!