If you're looking for the 2022-2023 application, you can find it here.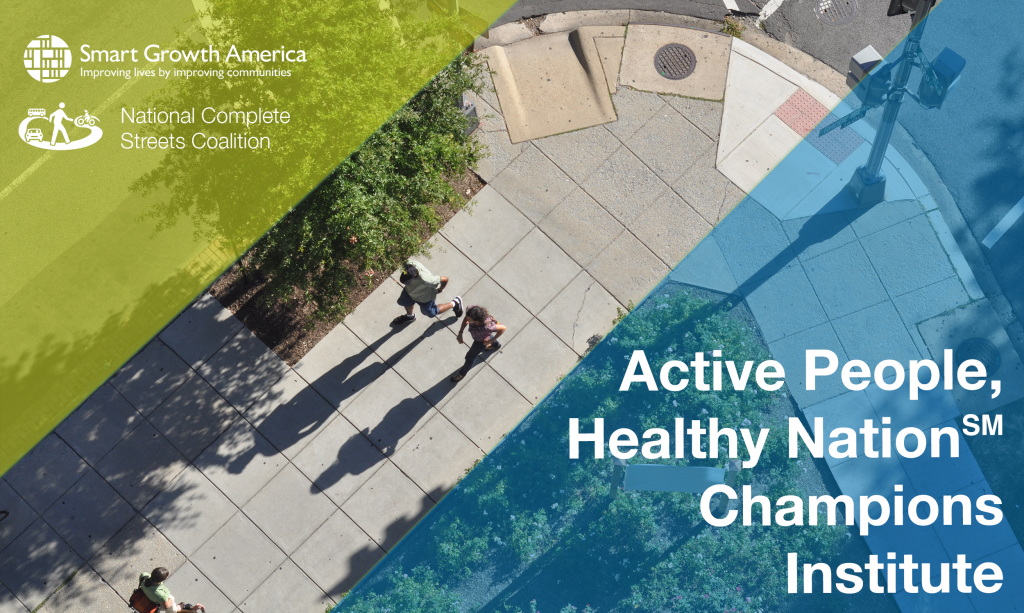 Applications are open for the second round of our Active People, Healthy NationSM Champions Institute, an opportunity for local elected officials to gain the knowledge needed to effectively advocate for and support safer and more Complete Streets. Building on this year's inaugural class, this second cohort will receive comprehensive training to help them become champions in their communities to promote activity-friendly routes to everyday destinations.
Want to learn more?
We hosted an informational webinar on June 30 at 4:00 p.m. ET, hosted by Smart Growth America's Senior Policy Advisor, Hon. John Robert Smith, and Deputy Director of Thriving Communities, Emily Schweninger. The webinar provided applicants with an opportunity to learn more about the Champions Institute and the application process.
Watch the webinar
Smart Growth America (SGA) and the Centers for Disease Control and Prevention's Division of Nutrition, Physical Activity, and Obesity are now accepting applications for the Active People, Healthy NationSM Champions Institute, the second round of our initiative for elected officials focused on Complete Streets and healthy communities. The Champions Institute has a track record of preparing mayors, city council people, tribal representatives, and other local elected-officials to become champions for promoting activity-friendly routes to everyday destinations, as part of the Active People, Healthy NationSM Initiative.
Apply for the Champions Institute
What is the Champions Institute?
Selected participants will form a council of local leaders, attending six interactive learning modules beginning in September running through December, with readings and other work between modules, followed by a practicum in early 2022. The learning sessions will include equity-based principles and cover all steps from envisioning to implementation to achieve networks of more Complete Streets. Champions will also learn from the other members of their cohort in a collaborative and supportive peer-learning environment.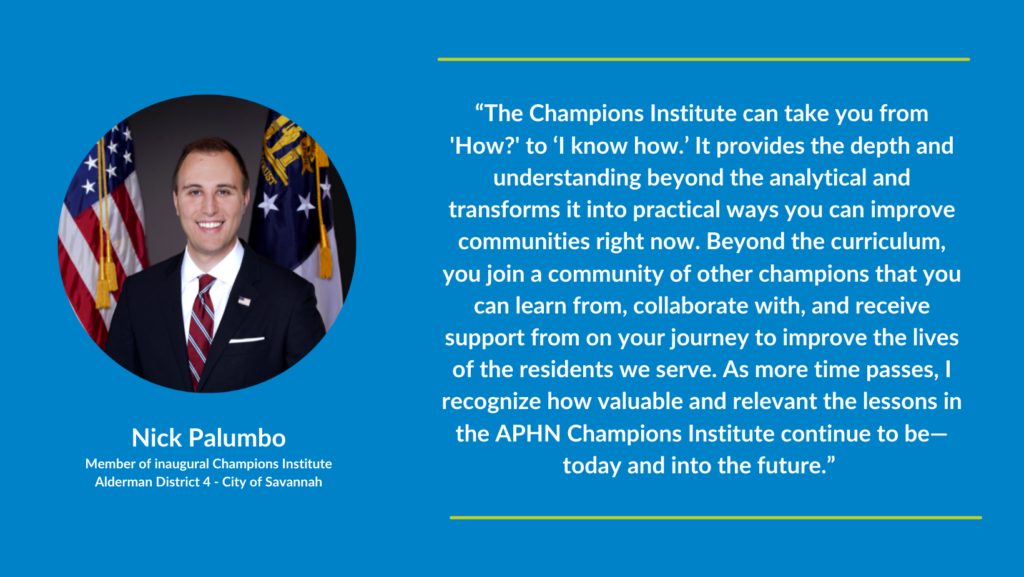 What will I gain from participating?
Local leaders who are selected for the Champions Institute will have the opportunity to learn from a broad array of national experts and former elected officials in the areas of public health, policy, street design, and project implementation. Champions will become experts in promoting community reforms to create safer streets for all users including pedestrians, cyclists, transit riders, and motorists. Champions will be prepared to support plans, policies, and funding that promote the CDC's Active People, Healthy Nation℠ initiative and activity-friendly routes to everyday destinations. Smart Growth America will provide continuing support to these local champions as they serve their communities and act as emissaries to other local leaders, growing a network of champions across the country.
Eligibility
We seek a diverse range of local leaders for the Champions Institute. There are a few eligibility requirements:
Eligible participants in the Champions Institute include: mayors, city council members, county commissioners and tribal representatives, and other local elected-officials.
Applicants should be able to commit the time required to actively participate in the Institute. Champions must attend Institute events, and may not delegate attendance to staff or other persons.
Applicants don't need to be experts, but should have an interest in developing their capacity and expertise in establishing Complete Streets and activity-friendly routes to everyday destinations.
Applicants should demonstrate a body of work and/or an interest in improving safety and access for road users who are on foot, bicycles, or other mobility devices, such as Complete Streets policies or other tangible efforts toward making streets and other public spaces safe for all users.
How to apply
Applications for the Champions Institute are now open and can be completed using the application form below. The deadline to submit applications is July 15 at 11:59 p.m. ET. Preapplication assistance and inquiries should be directed to [email protected]
TIP: For the form below, we recommend compiling all of your information for the questions below in a separate document ahead of time so you can easily insert them into the fields below, allowing you to retain a backup of your information should something happen before you complete the application. You will receive a confirmation by email when your application is successfully entered and received.
Watch the webinar here: