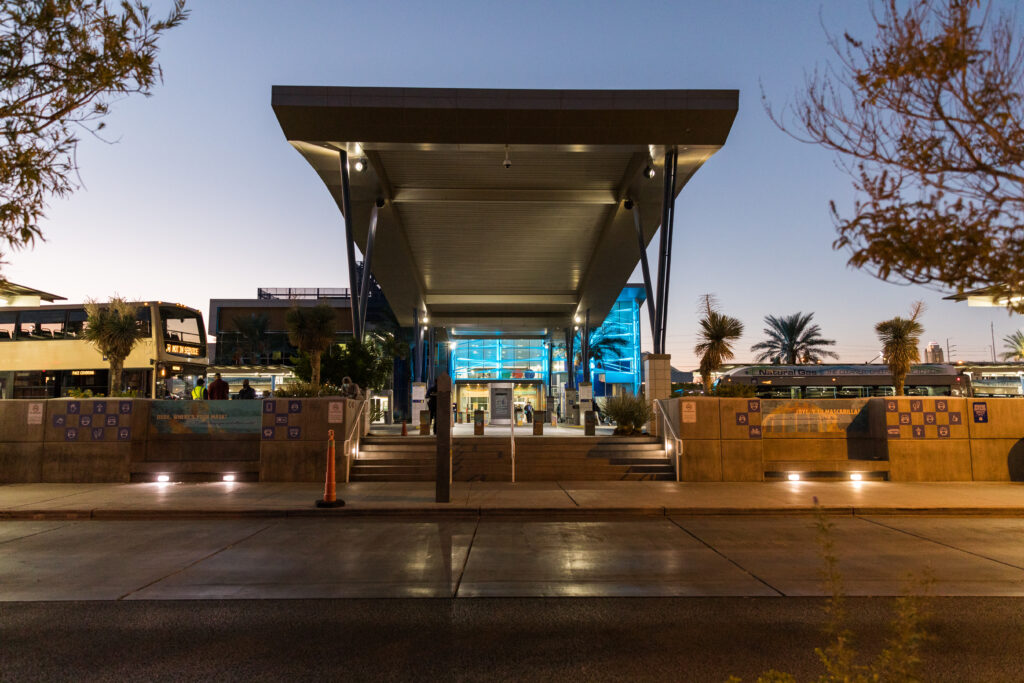 With support from the Kresge Foundation, and in partnership with Forecast Public Art, Smart Growth America (SGA) is now accepting applications for the second round of the Arts & Transportation Rapid Response, an initiative for transit agencies looking to creatively and quickly address pandemic-related transportation challenges. Interested agencies may apply using the form here.
Smart Growth America (SGA) is excited to announce that applications are now open for the second round of the Arts & Transportation Rapid Response initiative. For round two, beginning in February 2021, SGA will be focusing exclusively on public transit related-projects.
Why the new focus?
While all forms of transportation are facing new challenges due to COVID, transit has been especially hit hard by the pandemic. Transit agencies across the country have put in place new safety protocols, additional cleaning regimens, employee shift changes and more to ensure that communities—especially essential workers—can continue to rely on this public service. At the very same time, transit is facing an unprecedented financial crisis due reduced ridership numbers and revenue from state and local sources, like sales taxes. While emergency COVID funding from Congress in March temporarily staved off disaster, since then transit agencies have either had to cut service or are predicting future service cuts—with some small and rural transit operators even preparing to permanently shut their doors.
To regain riders and survive today's financial challenges, transit agencies need to make riders feel safe and welcome on transit vehicles and in and around stations. Artists can help with that. As we saw first hand, artists' creative practices can enhance agencies' responses to quickly shifting new demands related to mask-wearing, social distancing, and communicating rapidly changing rules and regulations.
SGA also sees immense value in narrowing the initiative's scope to transit as it will allow for a more unified cohort. Because the selected artists and agencies team will only be tackling transit challenges—unlike the first round which also included slow streets, wayfinding and safe routes to school projects—teams will be better situated to support each other as they brainstorm solutions and approaches.
How will the initiative work?
Starting in February 2021, selected agencies will be matched with an artist who will work with the agency over the next several months on their proposed project. Participating artists will receive up to $8,500 to support their time and project materials, as well as a series of training sessions to prepare them to work with the transit agencies. Agencies applying for this opportunity should submit project ideas that can be addressed within this scale of funding, though additional matching funds provided by the agency are welcome and encouraged.
Smart Growth America will also provide project management support, a photographer to document each selected project, and a stipend of $1,000 to the selected agencies to ensure that this is a benefit rather than a burden to their ongoing work. This stipend is intended to support agency staff's time, additional project materials or fabrication, or other related project expenses.
SGA will select applications based on the following criteria:
Appropriateness of selected challenge or opportunity, and its relationship to the COVID-19 pandemic.
Connection to addressing of inequities in transit access, service, and planning.
Connection to community needs, and connection to local organizers, advocates, and stakeholders.
Level of creativity exhibited by the explanation of how an artist or designer might help.
Relevance of an artistic intervention to support the selected challenge or opportunity.
SGA will select cities that represent a diverse range of population sizes, geographic locations, and transportation challenges and opportunities.
The deadline for submission is Monday, December 21, 2020 at 11:59PM ET. Agencies will be notified of their status by the end of January, 2021.
---
Want to learn more?
Check out our frequently asked question blog post. If you still have an outstanding question, you can submit it here and we'll get back to you with a response as soon as possible.
Are you an artist looking to get involved? Stay tuned: Once SGA has selected the three agencies, requests for qualifications will be issued to help find artists in those three locations.
To learn more about the first round of SGA's Arts & Transportation Rapid Response initiative, including summaries of the projects completed by the five participating artists and transportation agencies, click here.