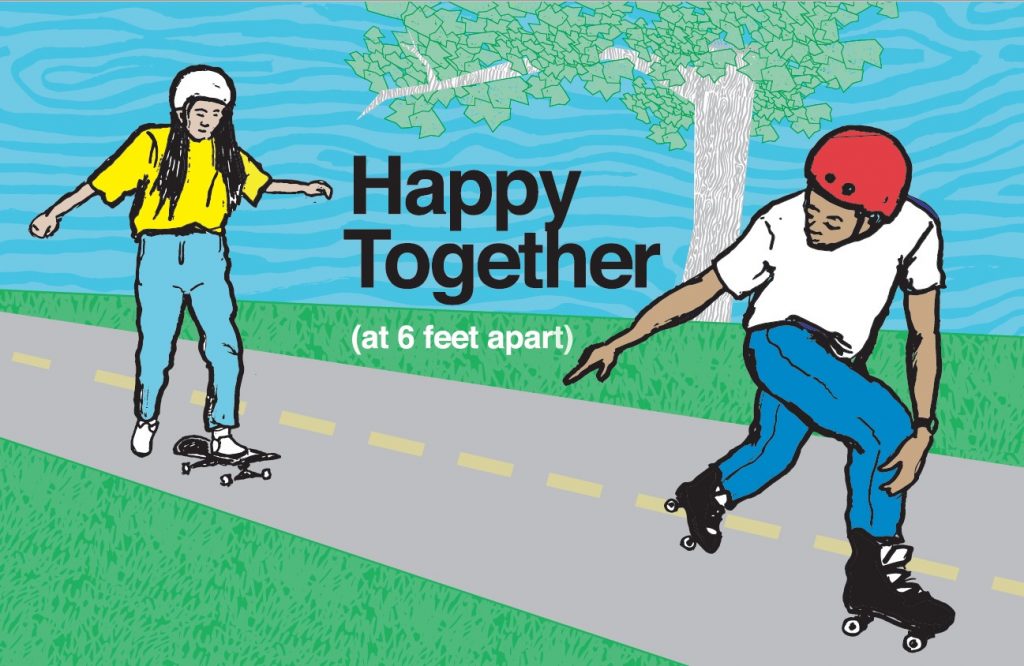 Tree Hugs is a project by Amanda Lovelee, Park Ambassador at the Metropolitan Council and Design/illustration by Witt Siasoco.
Smart Growth America (SGA) is now accepting applications for the Arts & Transportation Rapid Response, a new opportunity for cities looking to creatively and quickly address pandemic-related transportation challenges. We hosted a webinar to answer questions about the opportunity. You can view the webinar recording below, access the pdf of the presentation slides, or read the FAQ to learn more. 
Frequently Asked Questions
What do I need to do to apply?
Complete and submit an application online. Applications will be accepted on a rolling basis through May 26. Applications will be reviewed starting on May 14. The deadline for submission is Tuesday, May 26 at 11:59PM ET.
Who can apply?
Jurisdictions of any size are eligible to apply. Jurisdictions must apply to work with an artist directly on a COVID-19 related transportation challenge.
What counts as a jurisdiction?
A jurisdiction must be a single government body responsible for overseeing their constituency's transportation (ie a transit agency, a department of transportation, or a department of public works). This includes cities, counties, tribal governments, or regional planning agencies.
My organization is not a "jurisdiction," but we have been authorized by the government to take responsibility for some aspect of transportation in our community. Can we apply?
Yes.
Will the Arts & Transportation Rapid Response offer a stipend for agency staff time required to complete the project?
Yes, SGA will provide a stipend in the range of $2,500 – $7,500, based on project scope and size, to the selected agencies to ensure that this is a benefit rather than a burden to their ongoing work.
Will my agency receive the core project funds directly?
No, SGA will pay the artists directly for their time and required materials.
Is a local funding match required?
No.
I'm an artist and I'm interested in participating. How can I get involved?
You can add your name to our artist list using this form. We also encourage all artists to get in touch with their local jurisdiction, which can submit an application to the Arts & Transportation Rapid Response. In the jurisdiction's application under #3 (or the "any additional information" question,) they can list you and any other artists they'd like to work with. We cannot guarantee that we will select any particular artist, but we welcome that information to be included in the application.
Does the jurisdiction get to provide the project parameters to the artist?
The jurisdiction will provide information on what they are hoping to achieve through the project to SGA, who will produce a project explanation document for the selected artist. Together, the artist and jurisdiction will work together, along with assistance from SGA, to design and implement the project.
Do you look to community artists where the grant is awarded or do you have a pool of national artists you are drawing from?
We will prioritize selecting artists in or near the selected communities whenever possible. In some cases, where a non-local artist provides a better fit, and the work can be completed remotely, we will expand our search.
What are the reporting requirements for the selected jurisdictions?
Each selected jurisdiction will sign an MOU stating that they will implement the project. The selected jurisdictions will also need to:
Participate in a summary webinar at the conclusion of the project.
Sit for a short (~1 hour) interview with SGA's communications staff about the project.
Document the project visually. This does not need to be done professionally and could be as straightforward as documenting with a phone camera.
When do the projects need to be completed?
Projects need to be launched by the end of September 2020.
You didn't answer my question! Where can I go for more information?
You can email your questions to Mae Hanzlik at [email protected].