Pedestrian deaths are on the rise, with 76 percent of fatalities occurring at night. We know that the dangerous design of our roadways emphasizes speed over safety. Reduced visibility at night also drastically increases risk. Improved lighting can help keep pedestrians safe, but if we want long-term solutions, we need to reevaluate the priorities deeply embedded in our transportation infrastructure.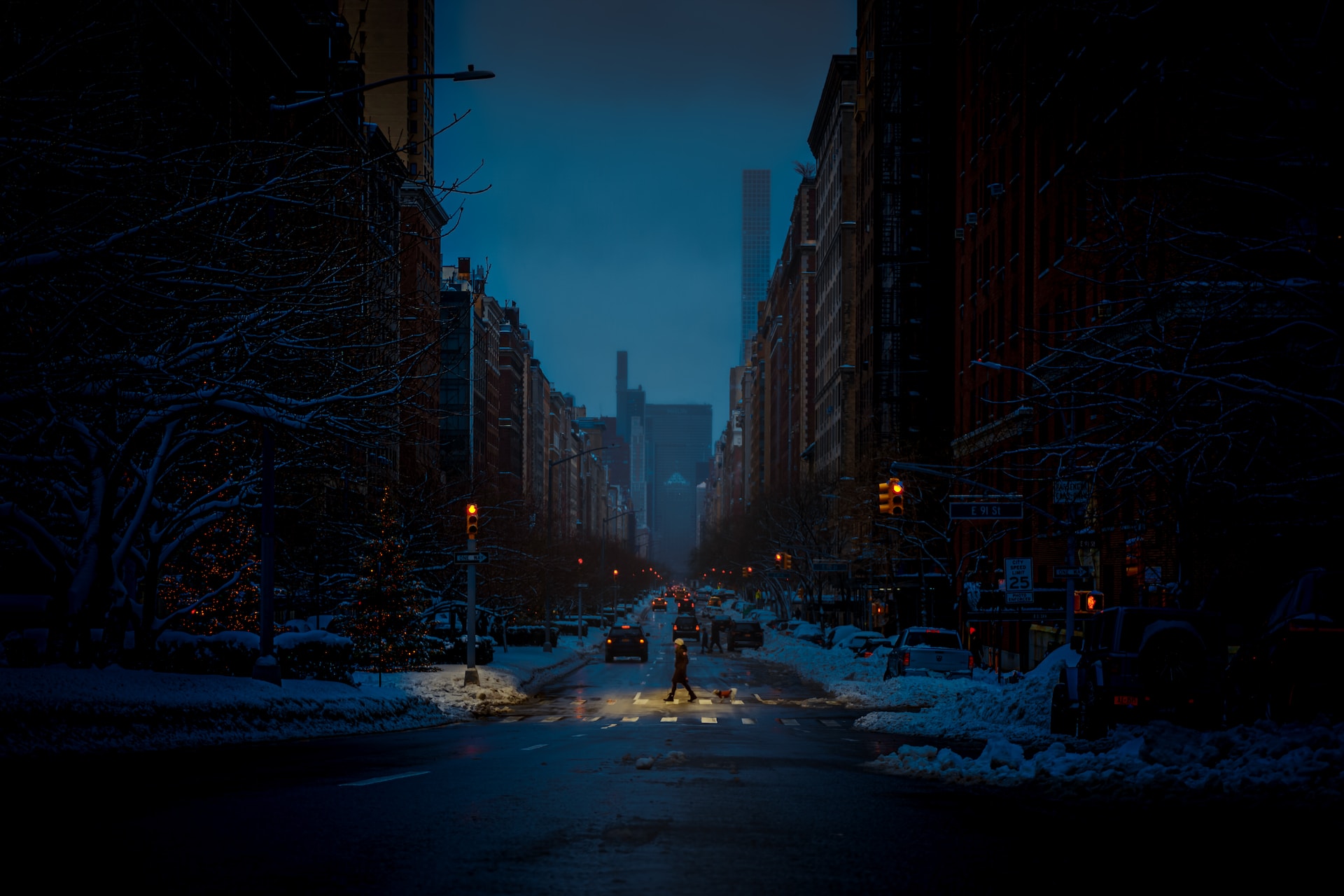 October is Pedestrian Safety Month, a National Highway Traffic Safety Administration initiative which brings together stakeholders to create a transportation system that is safe for all people to walk. Despite continued efforts to improve pedestrian safety, fatalities from drivers striking pedestrians is on the rise, reaching an average of 20 deaths per day in 2022. An annual month of recognition is not enough, so what should we be doing differently?
To understand this epidemic, we need to first look at the dangerous design of our roadways. Street design almost always prioritizes car speed over pedestrian safety, resulting in longer, more dangerous trips for people walking.
The risks are drastically heightened at night. The rate of pedestrian deaths is 3 times higher at night than during the day, accounting for 76 percent of all pedestrian fatalities.
Coupled with access to safe infrastructure to walk and roll, brighter streets are safer streets, resulting in reduced pedestrian fatalities and crashes, increased usability for people with vision impairments, and improved perceived comfort for pedestrians.
People who walk deserve access to safe walkways any time of the day or night. We need to take action and get at the root of this problem—design.
What's getting in the way?
With improved illumination, pedestrian injuries are reduced by half with improved illumination, nighttime crash rates decrease significantly, and instances of crime decrease. Improved lighting also helps pedestrians spot obstacles and enhances their sense of safety as they travel. So, if this solution seems obvious, why does the problem only seem to get worse?
If you ask a transportation engineer why lighting issues haven't been addressed, they'll likely cite comparatively high lighting costs. For example, improving the visibility of crosswalk striping usually costs approximately $5,000 and a large-scale project such as traffic signal installation typically costs approximately $400,000 per intersection. On the other hand, pedestrian-scale lighting systems of 34 poles spaced 50 feet apart in San Francisco cost $610,000 in total.
But cost isn't as great a barrier as it might seem. Technology like LED lighting and Smart/Adaptive Lighting, can improve efficiency and decrease the cost of street lighting. The federal infrastructure law, passed in 2021, released billions of dollars for infrastructure investments across the country, much of which could have been spent on safety improvements that enhance visibility and safety on our nation's roadways. However, the majority of those funds have gone to projects like highway expansions, which prioritize the speed of cars over the safety of people who walk, bike, and roll.
Beyond brighter streets
New technology and more equitable allocations of funding are needed, but it's going to take more than that to provide a safe nighttime experience for pedestrians. A shift in priorities is key.
The National Complete Streets Coalition, a program of Smart Growth America, works to advance smart design solutions that enhance safety for everyone. Learn more about how Complete Streets solutions prioritize safety over speed.
Any transportation agency can install more lighting, but done incorrectly and the spacing or height could negate the potential positive impacts of that lighting system. Also, obstructions, such as bushes or street furniture, are another risk factor to pedestrian safety. If the angle of the lighting or position of the person walking hides them from the vehicle's view, they may not be seen until it is too late.
Wide, overbuilt roads are unsafe for pedestrians, even in daylight, pointing to the incompatibility of safety and speed. All road users deserve safe routes of travel, regardless of time of day. Pedestrian safety can improve, and we know how to get there.