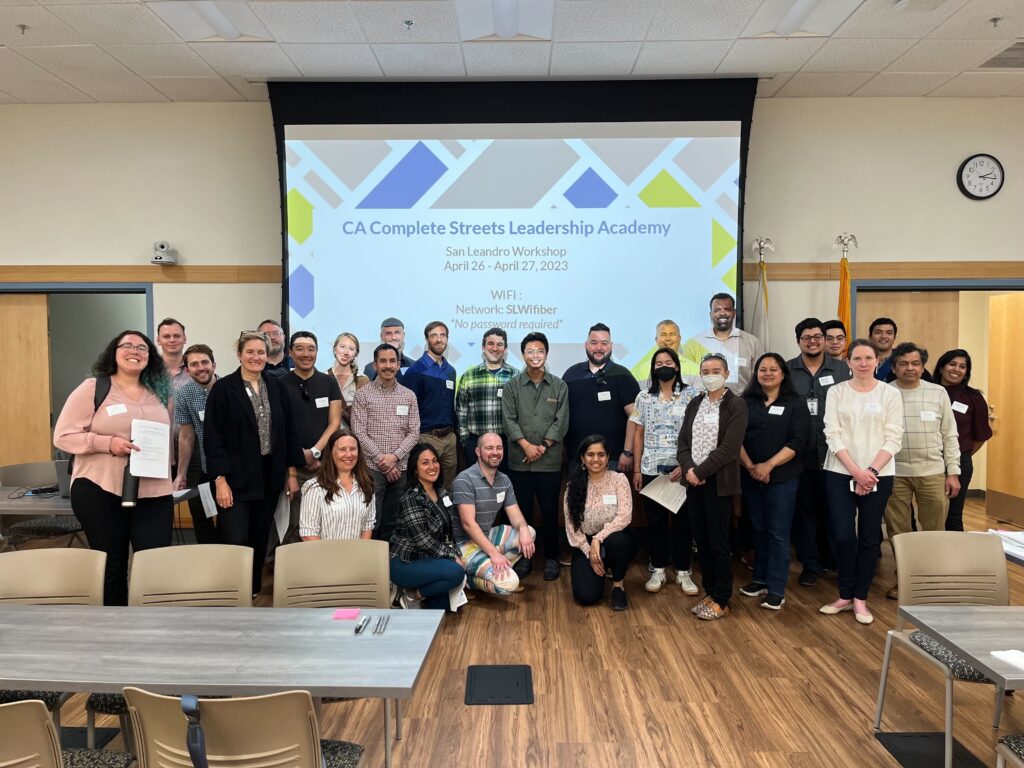 By Marian Liou, Director of Arts and Culture
Members of the SGA team were in San Leandro, California last week as part of the Complete Streets Leadership Academies (CSLA). California is one of 4 states chosen to participate in the CSLA program, which includes a series of virtual seminars and a two-day in-person workshop. The Leadership Academies are technical assistance programs designed to support state departments of transportation (DOTs), state health partners, and localities within each state as they collaborate, identify policy barriers, collectively problem-solve, and build skills and relationships needed to create safer and healthier places. 
Near the eastern edge of San Leandro, California, two large metal cat sculptures guard the fenced-in asphalt triangle formed by the intersections of E. 14th Street, Hesperian Boulevard, and 150th Avenue. The "Purr Pods" are the quirky invention of East Bay artist Paige Tashner, and are meant to be illuminated with LED lights that change colors and react to sound. The Purr Pods, which are a temporary installation as part of placemaking efforts by the City of San Leandro, may attract a curious glance walking or rolling by, but are practically invisible to anyone occupied with navigating the intersection's treacherous angles. Dwarfed by the scale of their surroundings, these Cheshire-esque cats serve as a metaphor for the challenge that San Leandro faces in designing a temporary street safety demonstration project at this very site—ensuring that the idea being tested is commensurate with both the problem and the desired outcome.
As it rises to meet this meaningful opportunity, San Leandro is not alone. With nearby Bay Area municipalities Berkeley and South San Francisco, San Leandro is part of the California cohort of cities participating in Smart Growth America's Complete Streets Leadership Academies. These Leadership Academies are groundbreaking technical assistance programs designed to support state departments of transportation (DOTs), state health partners, and localities within each state as they collaborate, identify policy barriers, collectively problem-solve, and build skills and relationships needed to transform streets into safer and healthier places. The California cohort recently came together for an in-person workshop to advance plans for their demonstration projects and continue to build working relationships. 
Prior to this two-day workshop, several months of virtual seminars facilitated by Smart Growth America and Toole Design Group instructors provided training for participants on implementing Complete Streets projects and identifying barriers and strategies for coordinating across jurisdictions and with Caltrans, California's State DOT. Through the in-person gathering, attendees were further equipped to plan and develop specific next steps to install the "quick-build" temporary street safety demonstration projects this summer. The workshop featured project presentations by city staff, group discussions, and tabletop exercises led by SGA and Toole Design Group instructors, followed by a group tour and walk audit of the San Leandro quick-build site and extensive guidance on implementing quick-builds and evaluating project performance. 
Key themes that emerged over the two days included:
The importance of building relationships with project collaborators;

The necessity of asking clearly for what you need in order to advance meaningful outcomes, and;

The breakthroughs can occur simply through a shared commitment to remaining open, present, and curious. 
Each is essential to generate the transformative change and lasting impact sought by this year's Complete Streets Leadership Academies.
Sharing project challenges, and working through each others' scenarios in mixed teams in the same room provided a safe space and productive environment to speak plainly and honestly about past difficulties and present barriers. Unraveling calcified ways of interaction to lay new pathways for partnership and collaboration is key to making progress on project plans. Successfully overcoming long-held assumptions that every proposal or request will be met immediately with "no" requires a commitment to staying open and curious. Understanding that each participant, while representing a certain institution, organization, lived experience, or perspective, is foremost another individual and a likely partner, cheerleader, and champion within their institution or group, can ease any initial ambivalence. 
An essential element to successfully confronting barriers, streamlining processes, and prioritizing collaboration is asking clearly for partner support, ideas, and leadership to clear up inconsistencies, provide guidance that may be lacking, or shepherd projects through internal delays. The consistent presence and willingness of Caltrans staff to engage and find solutions around specific project needs was helpful and productive, as was the ability and initiative demonstrated by various city staff to articulate those needs and concerns.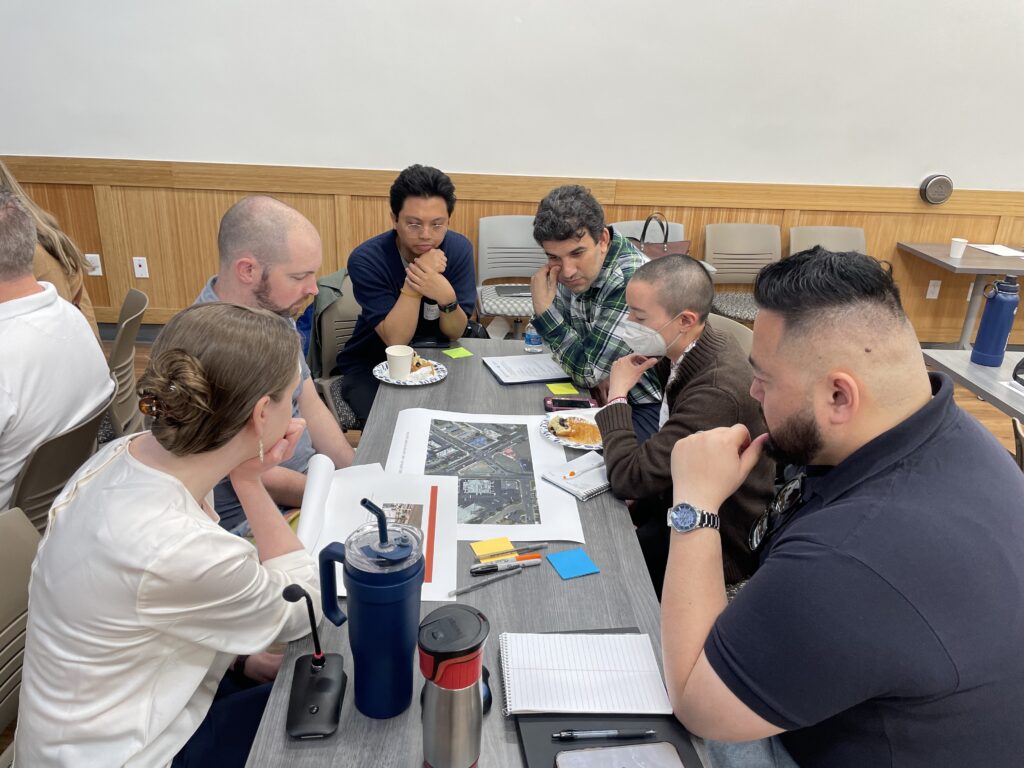 A palpable sense of camaraderie also developed among the California cohort. Approval by the South San Francisco City Council of the grant, which enabled the temporary project, was scheduled for the first night of the two-day workshop. The morning of the second day, the room erupted in cheers when Senior Planner for the City of South San Francisco Chris Espiritu announced city council members not only approved the SGA grant but also supported a project combining two contiguous segments that had been submitted as alternatives for council consideration. Although the project has now effectively doubled in length, the celebratory atmosphere affirmed the optimism of the group that each project could lead to a meaningful and lasting impact.
Such a foundation of trust is essential to building goodwill, collaboration, and encouragement to push through undeniably onerous obstacles and writing new rules, pushing boundaries, and co-creating landmark solutions to entrenched rules, procedures, and behaviors. Nurturing this spirit of shared purpose and collective support that was established during two days spent working closely together will be vital to the success of the California Complete Streets projects. 
These Complete Streets Leadership Academies are supported by the Centers for Disease Control and Prevention under cooperative agreement OT18-1802 supporting the Active People, Healthy Nation SM Initiative, a national initiative led by the CDC to help 27 million Americans become more physically active by 2027. Learn more.