During the 2020 Transportation Research Board meeting, the National Complete Streets Coalition hosted the Tenth Annual Complete Streets Dinner in Washington, DC. We were joined by over 70 Complete Streets partners, advocates, supporters, and friends who came together to share a meal, get to know each other or catch up, and celebrate another eventful year at the Coalition.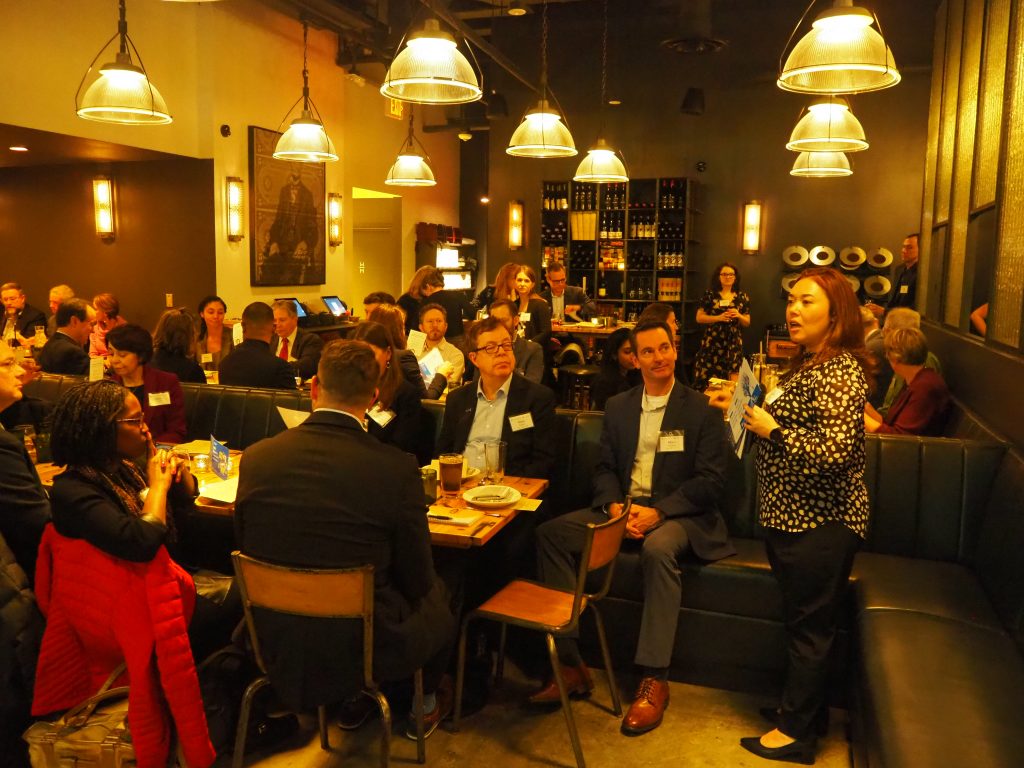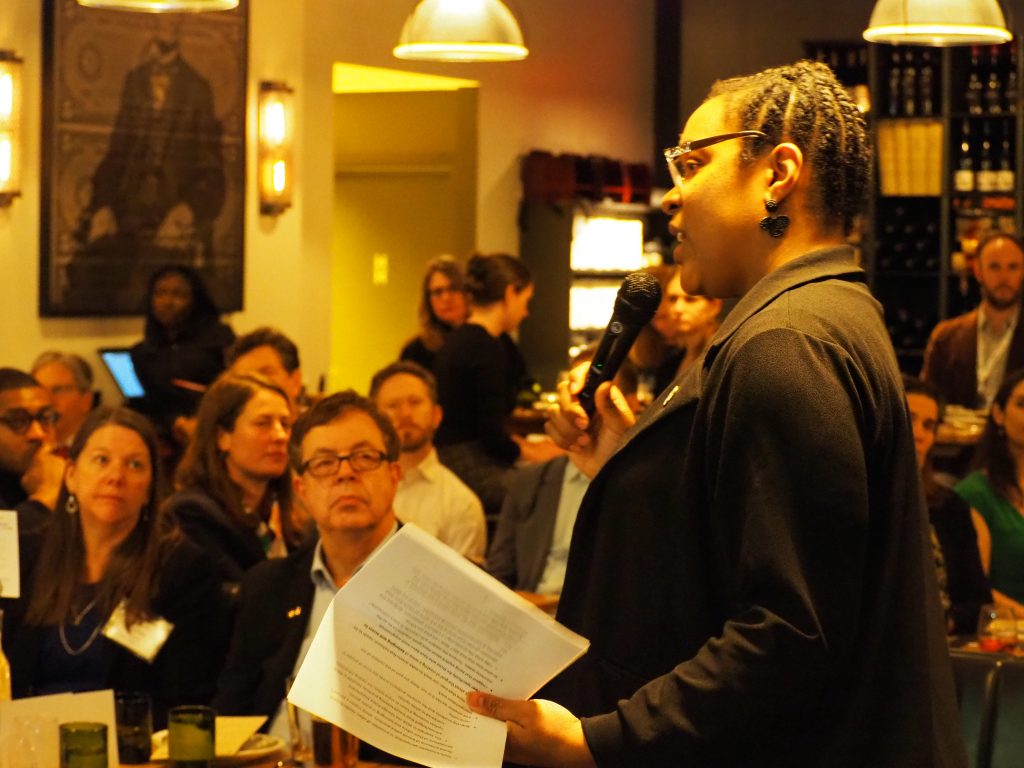 The evening began with Emiko Atherton, director of the Coalition, welcoming the group and reflecting on the significant progress the Complete Streets movement has made in the last year, and over the last decade. While we still have a long way to go, she noted that our progress towards safer streets would not have been possible without the hard work of advocates, practitioners, elected leaders, and other Complete Streets partners.
Smart Growth America President & CEO Calvin Gladney then thanked attendees for their continued contributions to the movement and emphasized the importance of Complete Streets in creating an equitable transportation system.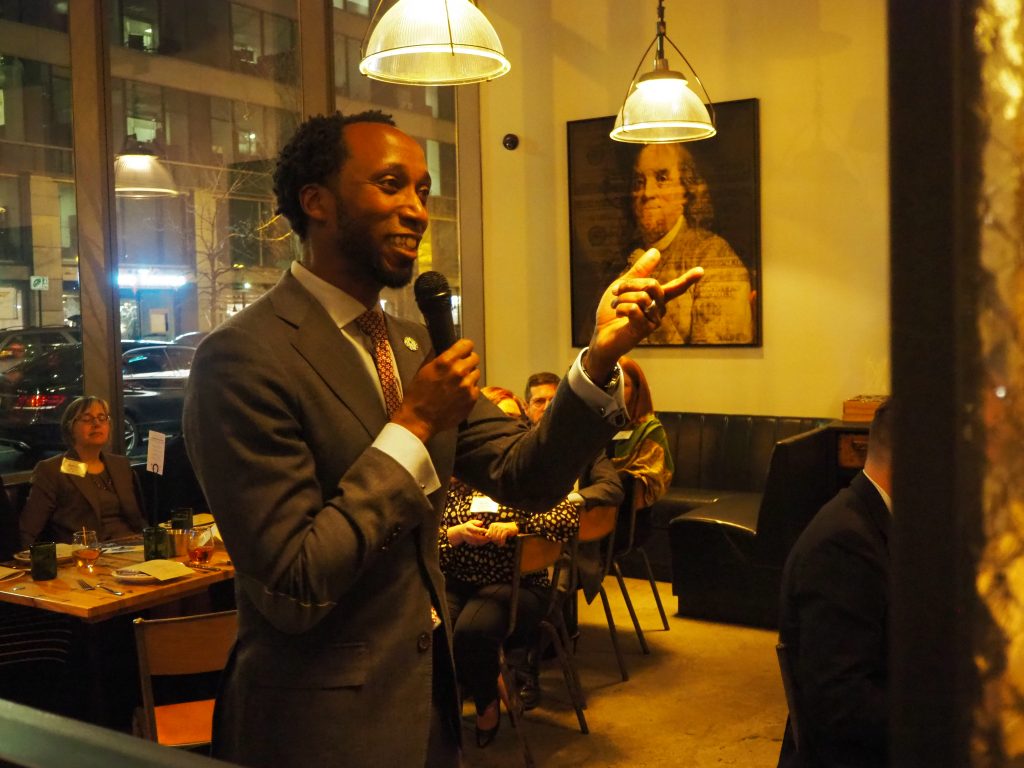 "If you care about equity, all roads lead to Complete Streets."
– Calvin Gladney
We were honored to have Anita Cozart join us for the evening as our featured speaker. Anita is a well-known expert in equitable development, community planning, and transportation equity. As the founder and former chair of the Transportation Equity Caucus, former managing director at PolicyLink, and current deputy director of community planning and design for the District, her expertise is as deep as it is wide.
Anita grounded her remarks in PolicyLink's Equity Manifesto, a policy statement outlining what equity looks like and what it requires. To achieve equity in transportation, Anita asserted that "we can't shy away from looking at Complete Streets, transportation-oriented development (TOD), and related issues through a lens of race. We have to think about this through an experience perspective as well as a leadership perspective."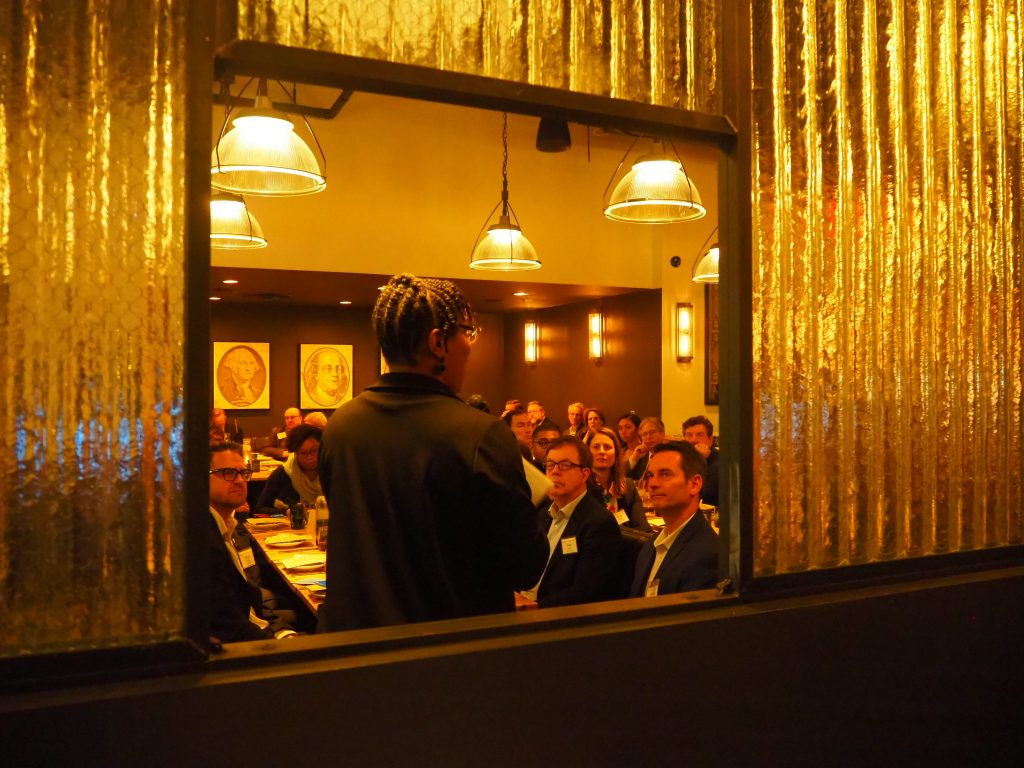 She reminded the audience that the harmful, racist policies of the past, like redlining, still impact Black and Latinx communities today. And as transportation advocates, it is our responsibility to understand the impact of those policies and work to undo their impact.
"What we are trying to do is counter historic, systemic efforts to erase identity and wealth for black and indigenous people of color. That's the tide we're working against. How does that fit into the work we're trying to do?"
– Anita Cozart
Anita also reflected on a recent tweet by Veronica Davis, co-owner and principal of Nspiregreen, who asked transportation advocates "What is one thing you are going to do this year to disrupt the whiteness of the movement?" Anita spoke to the racism and oppression, both overt and covert, that plays out every day in our policies, systems, and decision-making. She encouraged the audience to ask themselves "What is my contribution to countering racism and oppression?"
Dear safe streets peeps… what is one thing you are going to do this year to disrupt the whiteness of the movement? BIPOC peeps, you are exempt from answering, but you are welcome to share!

(Inspired by last night's convo and tweet this morning)#VisonZero #SafeStreets pic.twitter.com/FkLNtH5sa0

— Veronica (@VeronicaODavis) January 10, 2020
Thank you Anita for your powerful words and contribution to the movement. And thank you to everyone who joined us this year and helped advance Complete Streets in 2019. We're grateful you are a part of this movement with us and can't wait to see what we accomplish in 2020.