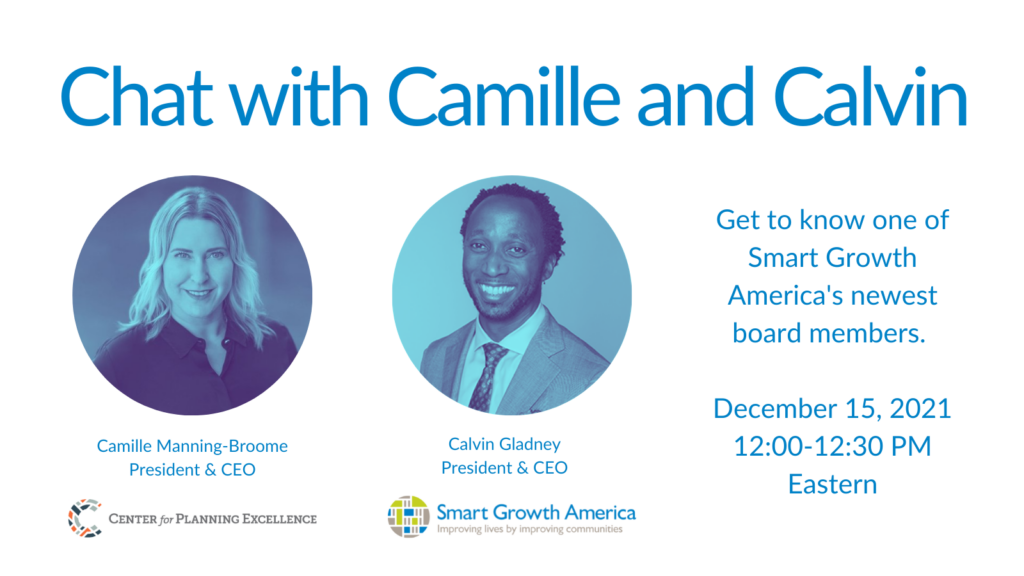 The newest board member of Smart Growth America brings expertise in resilience and adaptation planning to the smart growth movement. Wondering how? Join Camille Manning-Broome and Calvin Gladney for a 30-minute chat over coffee (or lunch) on December 15, 2021 beginning at noon.
Watch the chat:
A native Louisianan, Camille Manning-Broome is internationally recognized for her expertise in resilience and adaptation planning. Her leadership on issues of land loss, coastal community sustainability, climate change resilience and adaptation as well as resident-led community planning has contributed to the transformation of cities, towns and parishes throughout Louisiana and has created knowledge of interest to peers throughout the U.S. and the globe, from South Africa to Scotland to Denmark. With her inclusion on Smart Growth America's board, we're looking forward to fast-tracking our climate change and resilience priority.
Her organization, the Center for Planning Excellence in Louisiana just completed their own Virtual Smart Growth Equity Summit In seven sessions over three days, leaders and attendees from around the world shared bold concepts and actionable strategies around transformative placemaking, integrative practices for renewable energy, people-first mobility, climate-resilient communities, stormwater management, and healthy community planning and design.
Join us on December 15, 2021 at 12 p.m. ET for a brief 30-minute chat between SGA president and CEO Calvin Gladney and the newest SGA board member: Camille Manning-Broome, president and CEO of the Center for Planning Excellence in Louisiana.
For you east coasters—take your lunch break with us! For the rest of you moving westward—consider taking a coffee break with Calvin and Camille to listen in for this short chat.
Calvin will be asking Camille about why she joined the SGA's board, what you need to know about SGA that you might not see from the outside, and what CPEX learned during their own Smart Growth Summit just last week. They'll also talk about our upcoming Equity Summit in January (register now for early bird discounts) and why you should take part.
Have specific questions for these two? You can submit them before the chat to Helen Hope at [email protected] for consideration.