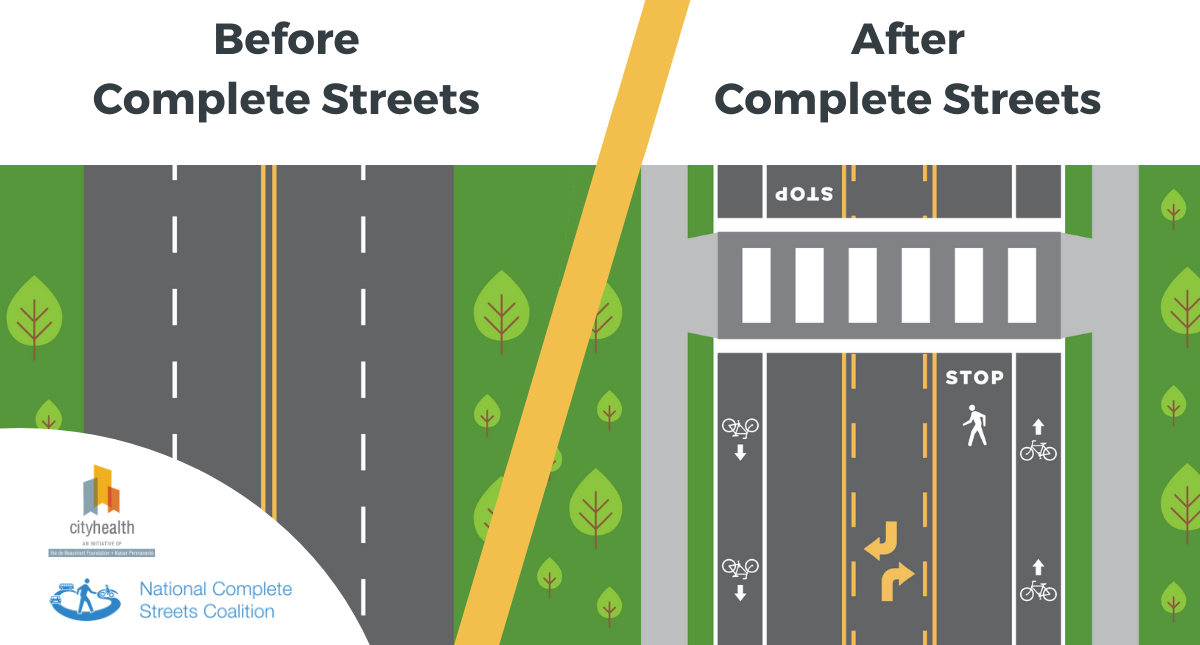 A new report from CityHealth finds that 90 percent of the nation's 40 most populous cities have medal-worthy Complete Streets policies on the books. The report makes a case for building safer streets to improve the overall health of cities, especially in the era of COVID-19.
In the last six months, our public streets have been through a lot. They have alternately been ghost towns, devoid of (non-essential) people at the height of stay-at-home orders, and the epicenter of mass protests over the murder of George Floyd and systemic racism in American policing. People trying to keep safe distance while walking or exercising have been forced to flee too-narrow sidewalks and compete for road space with cars and SUVs, while many cities are now opening streets up for people to create safe space for socially-distanced activities, including outdoor dining.
All of this is to say our streets are not immutable. Streets that have been designed first and foremost for cars can and should be redesigned for people—people walking, rolling, scooting, biking, driving, or taking transit. That was true before the pandemic, but it has taken on new importance today. It's a matter of saving lives, improving health, and creating safer, more equitable public spaces.
Complete Streets policies are guiding these redesigns in many places, and should provide the framework for other cities considering doing the same.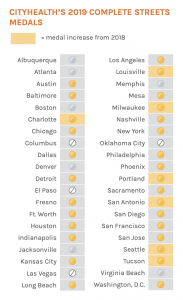 In a new report, CityHealth partnered with the National Complete Streets Coalition to evaluate the Complete Streets policies in the nation's 40 most populous cities, finding that 36 of them, or 90 percent, had medal worthy policies on the books. The other four cities—Columbus, El Paso, Las Vegas, and Oklahoma City—did not have strong enough policies in place to be awarded any medal.
There's certainly still more progress to be made, but CityHealth has charted significant advances in this report since their first city assessment in 2017, when only 16 cities had gold medal policies in place. This year, a total of 29 cities reached gold.
 Watch a recording of our webinar about the report to learn more.
Fundamentally, Complete Streets make communities safer and healthier by better protecting everyone who uses the road. As we noted in Dangerous by Design, the number of people struck and killed by drivers while walking has risen in recent years, reaching levels not seen in nearly three decades. And the victims of this traffic violence are disproportionately Black and Native Americans.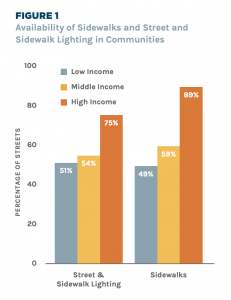 The impacts of dangerous streets are also felt more strongly within low & middle-income communities where streets have fewer design features that increase safety—like sidewalks, crosswalks, or street lights. By making streets safer and inviting for active transportation like walking and biking, Complete Streets policies can help improve people's health.
CityHealth's report, in the same vein as our annual Best Complete Streets Policies reports, shines a spotlight on all the great work that is being done in cities across the country to retire the 1950s street design mindset and instead build great places with streets that can be safely used by everyone. Doing so is yet one more vital tool to help improve public health by making just a little bit easier for more people to be active as part of their daily lives.
But we also need to go farther and raise the bar, something that both the National Complete Streets Coalition and CityHealth are aiming to do.
Starting back in 2017 or so, the National Complete Streets Coalition started to recognize the wide variability between the passage of a policy in a community and the likelihood of that community seeing tangible change in how they build and design their streets, because of how well these policies were written, and how well they were put into practice and implemented. So after more than a decade of pushing localities to pass new Complete Streets policies and cataloguing the thousands that were subsequently passed, we released new guidance for Complete Streets policies in 2018 to more stringently grade the policies based on their concrete commitment to implementation and improving disparities.
Just as the Coalition did in 2018, CityHealth will be embarking on creating new criteria for their Complete Streets medals in 2021. We look forward to continuing our work with CityHealth and our local partners across the country pushing for safer streets and the policies that can get us there.