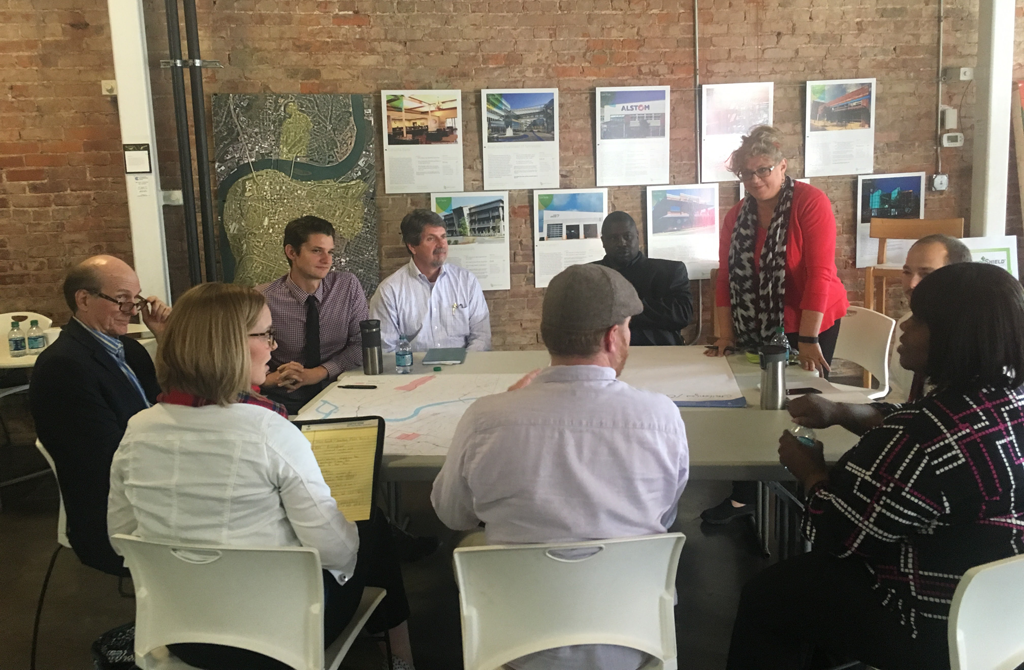 Participants at our 2016 workshop in Chattanooga, TN.
Last week we announced the six new communities that will receive one of our free standard technical assistance workshops in 2017. This program, now in its sixth year and funded by the U.S. Environmental Protection Agency's Office of Sustainable Communities' Building Blocks for Sustainable Communities Program, has helped more than 70 communities across the country use development strategies to meet their goals.
As we look forward to working with next year's communities, we wanted to take a moment to look back on the diversity of faces and places we've visited this year.
City-building efforts have taken flight in Huntsville, AL following our visit there last spring. We brought our National Complete Streets Coalition team to the southern rocket science hub to brainstorm ways that Huntsville could launch more active transportation projects and propel the city into a more walkable, bikeable, and prosperous future.
Officials with the city's master plan commission have reported that Huntsville has drafted a vision statement for a future Complete Streets policy, set a policy of commitment to include Complete Streets projects in its annual Capital Improvement Plan, and finalized a deal to acquire greenway spaces. Future bike lanes, sidewalks, and trails will link those greenway spaces together, in effect merging the city's Greenway Master Plan vision with its commitment to safer streets.
Last May, the famously long days in Anchorage, AK gave us plenty of time to stroll the frontier metro's streets and brainstorm ways to awaken downtown neighborhoods from economic hibernation. Since then, Anchorage has begun a series of revitalization pilot tests called "A Few Good Blocks" that takes a block by block approach to neighborhood revitalization. Each pilot turns a city block into a laboratory for economic development strategies that, once shown to be effective, could apply to the rest of the downtown.
Anchorage Mayor Ethan Berkowitz signed off on the creation of a redevelopment district where tax incentives will attract new infill development and building renovations, shining a light on development possibilities through public and private partnerships. That program stacks on an aggressive new revitalization ordinance that allows the city to help owners of vacant properties maintain and improve their holdings.
A new multi-family apartment complex on the site of an abandoned waterfront nursery in North Little Rock, AR is the vanguard of 15 years of riverside commercial development. At our late summer workshop, the community gathered to talk ways to integrate more walkable, sociable public spaces and reinvigorate the city's Baring Cross neighborhood around that crop of economic growth.
An animated group of citizens are hard at work in Pittsburg, KS restoring downtown buildings and imagining a new future for the site of a former clay plant through brownfield redevelopment. Workshop participants mapped out ways to connect development on the 400 acre brownfield to Pittsburg's downtown and the campus of Pittsburg State University. Their productive and visionary energy has the heartland mining town primed to stay ahead of its rapid and historic growth.
New development has the potential to dramatically transform Longwood, FL in the coming years, and our Planning for Fiscal and Economic Health workshop in March focused on what that transformation can and should look like. Participants discussed the city's current layout and where new development could potentially go. Through these conversations, participants agreed that the downtown district—which includes the SunRail station and a proposed city hall revitalization project—has the greatest potential to grow into a destination for visitors and current residents alike.
The city of Kansas City, MO is solve a parking puzzle in the River Market neighborhood, where our Parking Audit workshop in September took detailed stock of the area's parking supply and demand—down to the frequency of use of individual spaces. The city's new streetcar is bringing new interest in River Market, and the city is being proactive to make visiting the neighborhood as convenient as possible.
This fall, we went to Royal Oak, MI to help the city diversify its housing stock and create world-class stormwater infrastructure at the same time. With population projected to grow in the next 10 years and housing that won't necessarily meet those needs, Royal Oak is being proactive and planning ahead.
Chattanooga, TN already has a vibrant downtown. The city asked for our help in how to keep areas around downtown affordable for people of all income levels. Our Fiscal and Economic Health workshop outlined the costs and benefits of different development strategies, and we helped city leaders brainstorm ways to help more people live closer to downtown.
And our last workshops of the year will happen in the next two weeks: We're headed to Lowell, MA next week to help the city with its Complete Streets work. And we'll go to Quitman, MS the week after to help that small, rural community with planning efforts there.
These 10 communities are among the more than 70 we've worked with as part of our free standard technical assistance program. The support of the EPA's Office of Sustainable Communities has made all this possible and helped so many people and communities along the way.
We've enjoyed working with each of these communities over the last several months, and look forward to working with our next six communities in the year ahead. Most of all, we're looking forward to seeing how all these places continue to grow in coming years and use these strategies to improve life for everyone who lives there.