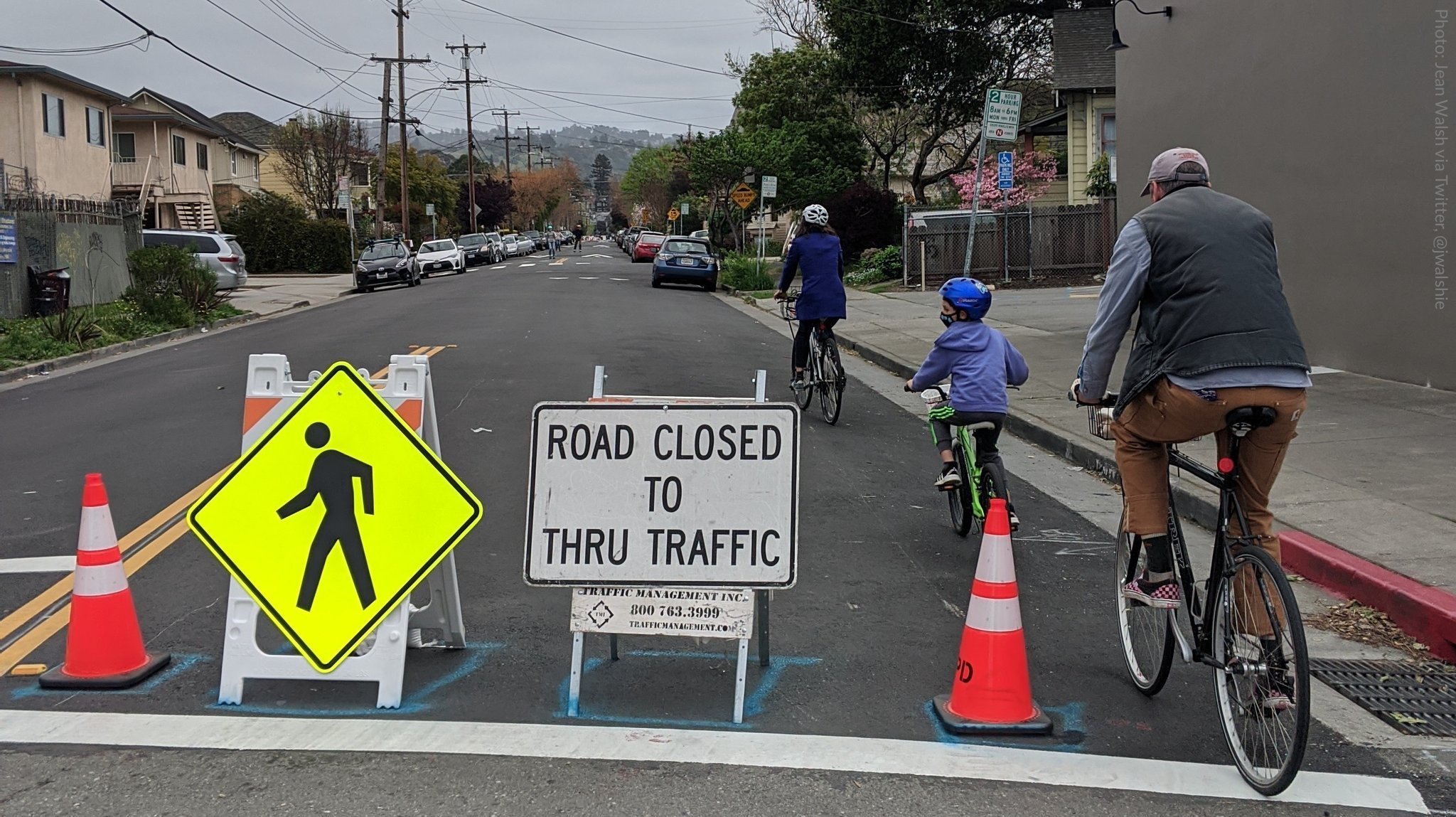 Some cities around the country are responding to COVID-19 by opening up more street space for people as traffic has dwindled and more space is needed for people to safely be outside. But could these temporary changes lead to more public space for people even after the immediate threat has subsided? Possibly, but only if cities start acting to realize that future now.
Around the country, communities are adapting to a new reality. With many businesses shuttered, schools closed, and people confined to their homes, our streets look a lot different than they did a month ago. Car traffic has evaporated and more people are biking, walking, and rolling down our streets for essential trips, exercise, and fresh air.
The pandemic has also made it obvious how much public space our cities have ceded to cars, and how little space we have left for people. Around the country, calls to close streets to cars and open them to people are growing louder, and some cities are beginning to respond. On Friday, April 10, Oakland announced plans to open 74 miles of streets for people walking, biking, and rolling, the largest of such plans in the country, by far.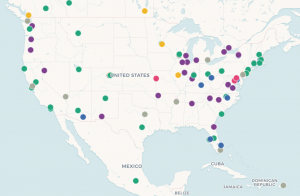 A multitude of such efforts are underway and a new map from the National Complete Streets Coalition is tracking them. The map shows how dozens of communities are changing their parking policies to carve out new space for more pickups and deliveries outside of restaurants, designating bike shops as essential businesses to help with the surge in demand, and (like Oakland) opening streets to people so they can safely get outside while maintaining physical distance. 
The pandemic may have spurred these temporary changes, but what if we were able to gain some benefit for our communities that would last long beyond this catastrophe? What if, after all this is said and done, we were able to make our communities safer, cleaner, quieter, and more pleasant with more streets dedicated to people? 
Realizing a new normal
We can't just open streets or extend sidewalks in wealthier, whiter neighborhoods while communities of color are overlooked. African Americans are more likely to live in neighborhoods that lack green space or recreational facilities, are more likely to be struck and killed by drivers while walking, and are dying from COVID-19 at a disproportionate rate. Open streets are one small step that we can take right now to create healthier communities; creating a network of such streets so that everyone can benefit will be key.
There are two things happening right now that make it possible to imagine how forward-thinking places could come out of this with a network of active, car-free streets that benefit their residents and visitors long after this crisis has subsided. 
First, is the rapid rollout of new transportation policies and opening street space to people. Temporary pilots and tactical urbanism are proven ways to help people understand proposed changes to streets by allowing them to experience the change before supporting a permanent overhaul; essentially, try it before you buy it. Cities should do what they can to engage specific neighborhoods and find out: what do you want? What should we change to improve your safety and comfort? What begins now as a street temporarily opened to people could turn into a street that remains that way; quick-build bike lanes could be turned into world-class bike infrastructure; sidewalks briefly extended into empty street parking could be filled in with actual sidewalks. This of course depends on public feedback and the political will of city leaders, but once we allow people to experience so much more public space to bike, walk, run, roll, or just sit and exist, it may be hard to convince them that they should relinquish their space to cars and be relegated to slim sidewalks again (if sidewalks even exist).
Some things I've heard from ppl who live on #OaklandSlowStreets
– it's so quiet
– we used to have to load the bikes up on the car and drive somewhere
– better quality of life
– happy kids can have a 70's childhood where they can play in the street
– I hope they keep it this way

— Jean Walsh (@jwalshie) April 13, 2020
Second is the disruption of the normal routine. Research has shown that it's often easiest for people to make changes to their commute after a disruption like moving to a new home, school, or job. COVID-19 has certainly been disruptive and it's pushed people to pull their bike out of storage or dust off their walking shoes. Given that our economic "reopening" will almost certainly be slow and gradual, it's possible this disruption could push people to try a new commute to work and/or school. If cities consider how they could build upon these changes to continue making it safer and more convenient to walk, bike, or take transit, they could see a big increase in trips taken by those modes, which means fewer cars and less air pollution for all of us.
Our city leaders need to be thinking about this right now—those that are putting forward ambitious plans and thinking ahead have the potential to be the biggest beneficiaries. Yes, lots of attention and resources are currently going into responding to this crisis and trying to minimize the damage—and rightly so. But let's not pretend we can't also be planning for the future. Politicians rarely make great policy when they're reacting under pressure and community leaders certainly won't be able to create and preserve space for people unless the plans are being made and acted upon now. 
In the end, this is also about creating healthier, more equitable communities. The pandemic has laid bare the health disparities that persist in communities of color, and reducing them will require every level of government to confront decades of discriminatory policies. That work, while necessary, won't be easy or quick. But creating a network of open streets to facilitate access to fresh air and space for essential exercise is one relatively simple action city leaders can take to improve every community today—and potentially for the long-term. It's even more essential in neighborhoods where green space is at a premium and basic amenities like sidewalks are lacking. Here's to hoping that we can eke something positive out of this tragedy.