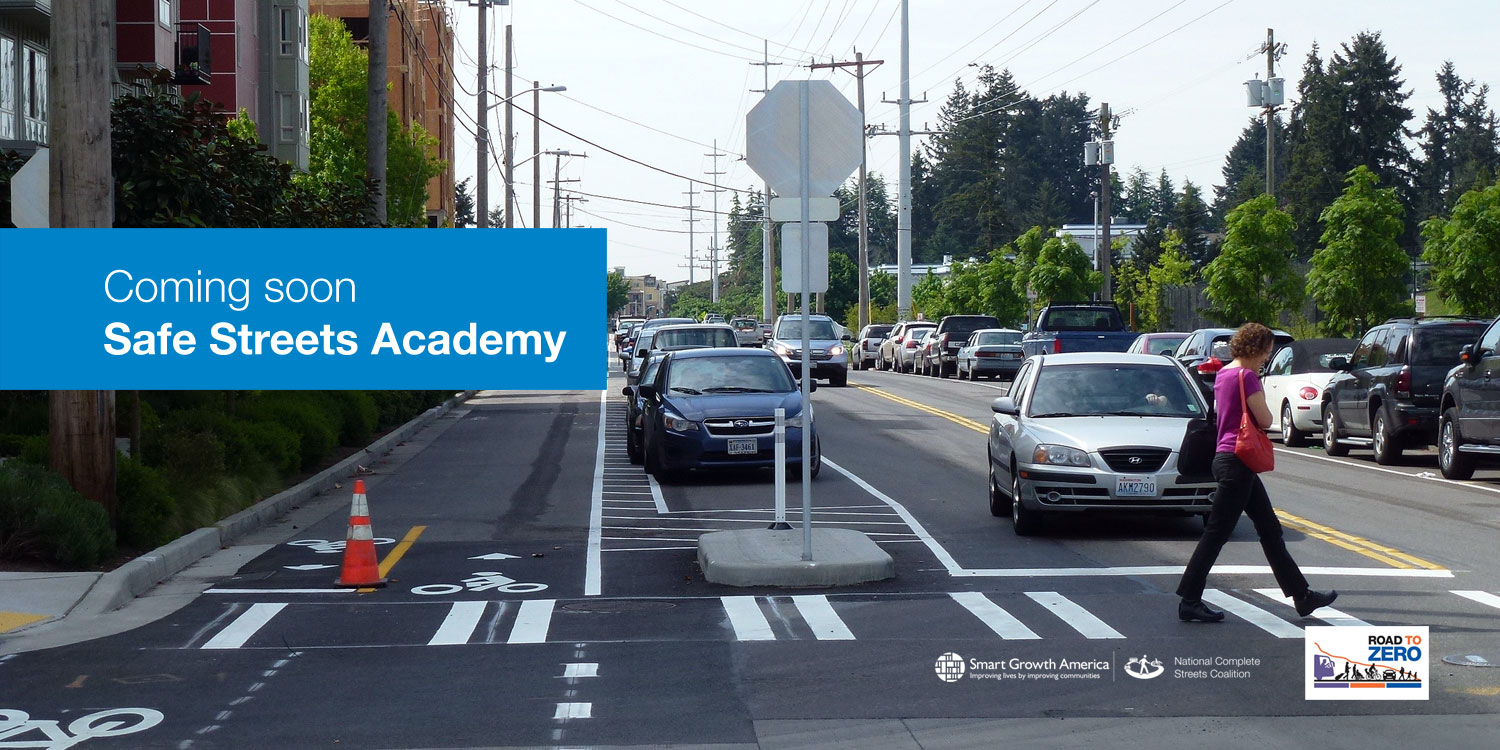 A new technical assistance opportunity is coming soon to help communities make streets safer for everyone—no matter their age, race, ethnicity, income, physical ability, or how they choose to travel.
The National Complete Streets Coalition is excited to announce our brand new Safe Streets Academy, a free technical assistance program that will provide education and training on how to redesign and engineer roads to reduce traffic speeds and save lives. This competitive selection opportunity will provide three jurisdictions with in-person workshops, distance learning, and guidance implementing a demonstration project on a dangerous corridor. The program will aim to help planners and engineers use creative placemaking, public engagement, innovative project implementation, and proven engineering countermeasures as well as best practice roadway design to create safer streets for all users.
This program is made possible through a grant from Road to Zero, a coalition of more than 250 members including advocacy organizations, associations, businesses, government agencies, and educational institutions. The initiative launched last October through a collaborative effort by the National Safety Council, the Federal Highway Administration, the Federal Motor Carrier Safety Administration, and the National Highway Safety Traffic Administration. Road to Zero's mission is to reduce the number of traffic fatalities in the United States to zero within the next three decades. To achieve this mission, Road to Zero awarded a total of $1 million in Safe System Innovation Grants to implement groundbreaking new programs to reduce roadway fatalities. The National Complete Streets Coalition was one awardee. Other awardees include the Chicago DOT, the Los Angeles Police Department, the National Association for County Engineers, the Roadway Safety Foundation, the San Francisco MTA, and the University of Michigan Traffic Research Institute.
How to apply
Jurisdictions with populations of at least 100,000 are eligible for the Safe Streets Academy. Applicants must also have previously adopted either a bicycle and pedestrian master plan, a Vision Zero policy, a Complete Streets policy, or related design guidance, and they must commit to sending a cohort of 10 implementers to each in-person workshop, hosting one workshop, implementing and partially funding a demonstration project, working with us to produce a case study based on their demonstration project, and presenting recommendations for safety improvements to their DOT and local community.
Applications for the Academy will open soon. If you have questions in the mean time, email us at [email protected]. We look forward to working with three communities on this exciting opportunity!