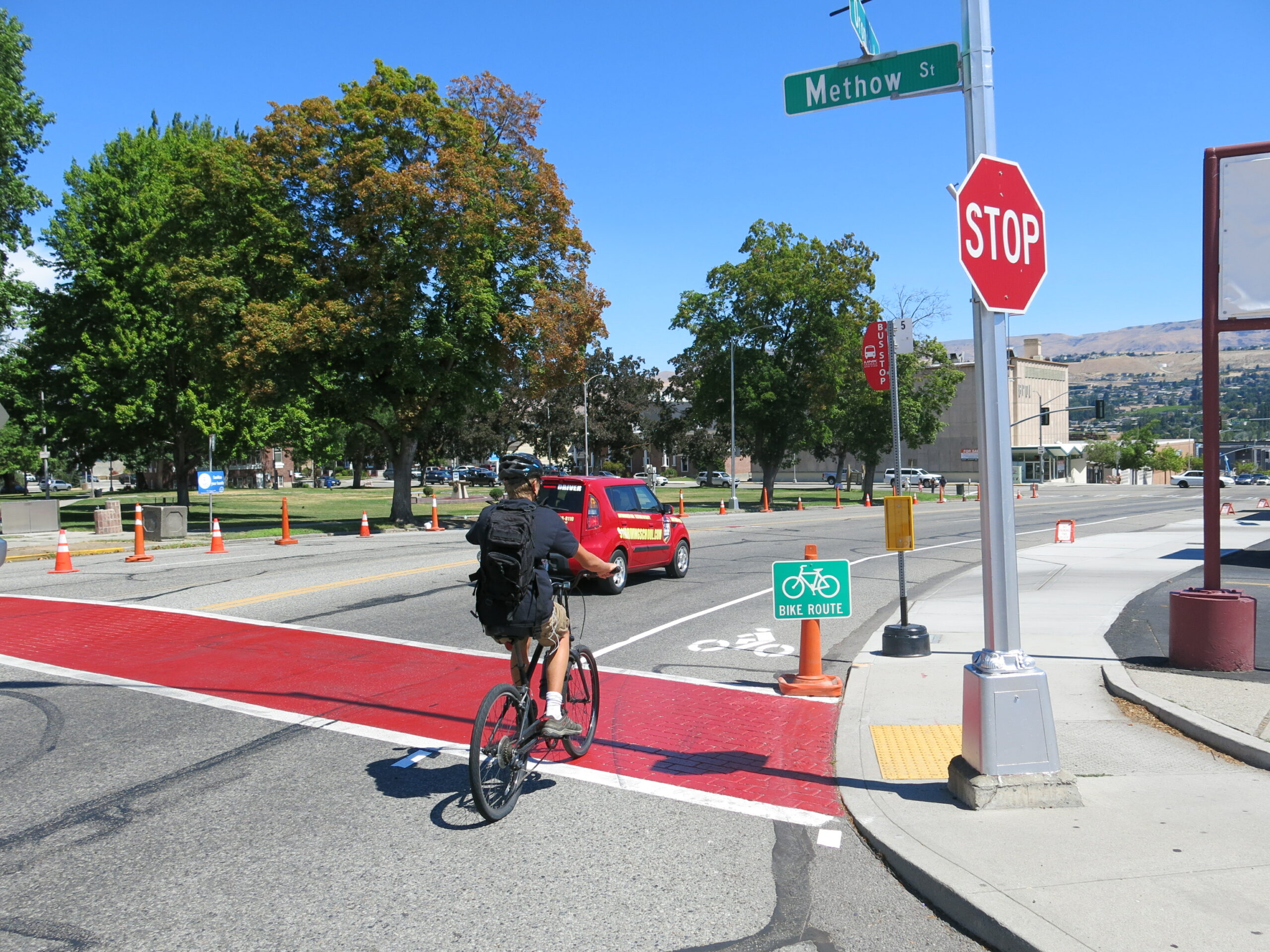 With the use of a pop-up event that pulled in local stakeholders and a well thought-out  engagement strategy, a small city with a history of successful quick-build Complete Streets projects gained a better understanding of community goals and created a strong case  for funding a project to improve safety and health outcomes. 
This is one of three stories from our yearlong Washington Complete Streets Leadership Academy, conducted by our National Complete Streets Coalition in partnership with the Washington Department of Transportation (WSDOT) and Washington Department of Health (DOH) and Washington Transportation Improvement Board (TIB). Three smaller cities—Airway Heights, Arlington, and Wenatchee— came together to learn from the Coalition and one another while building their skills in safer street design, creative placemaking, and community engagement through quick-build pilot projects.


View the full package of profiles
Wenatchee, WA
Methow and Orando demonstration project
Budget: Less than $5,000 / Demonstration length: One week
Wenatchee, WA is a small city of about 35,000 people a few hundred miles upstream of Portland, OR on the  Columbia River, just east of the Cascade Mountains. The city adopted a Complete Streets policy in 2016  and has done several quick-build Complete Streets demonstration projects in the years since to engage  residents, help drive a cultural shift, and raise awareness of the benefits of Complete Streets. Several of those  demonstration projects ultimately led to permanent change at the sites. 
With those successes under the city's belt, the Wenatchee project team turned to the complicated intersection  of Orondo Avenue, Methow Street, and Okanogan Avenue. Orondo Avenue, the largest of the three streets,  typically has two lanes of westbound traffic and one lane of eastbound traffic, with parking strips on either side.  Pedestrians crossing Orondo in the crosswalk have to travel through all four lanes of traffic, plus parking, in an already dangerous intersection. The Wenatchee team wanted to reduce conflict points for both nondrivers and drivers and reduce car speeds to make active transportation a safer and more convenient option. Methow  Street, a 35-foot wide one-way street perpendicular to Orondo Avenue, resembles an alley, but provides a  connection between the city and county government campuses. It is flanked by businesses, on-street parking,  and low-income housing. The Wenatchee team hoped to make it easier to access the businesses and services  along the street and provide an improved option for non-motorized transportation users. 
To ensure their project properly met the community's needs, the team created an engagement plan that took  into account the largely Spanish-speaking population residing in this neighborhood. Their plan included a pop up market event at the intersection and neighboring park to attract people to the area and collect feedback  about the temporary street design changes in real time. By the end of their project, they hoped to improve  access to local destinations, increase active transportation in the area, and improve safety in this dangerous  corridor for users of all modes.
Building an engagement strategy for a successful project
To help determine who to reach out to at different stages of the project, the Wenatchee team first created an  engagement timeline. They identified 1) who would be affected by the project, like local residents, 2) who would  need to have a say in the project, like the mayor, and 3) who would help design and build the project, like the  team's partners. Once they knew who they needed to ask and why, they were able to decide when and how to  reach out to each group.  
So that they could effectively incorporate input, the Wenatchee team knew that they needed to maintain  some flexibility in the implementation of their project. They thought about what types of feedback they could  incorporate at different stages of the project's design and implementation, and what feedback they'd need  to save and address after the pop-up was finished. Late feedback was part of the process, too. The team  discovered that when reaching out to local businesses, input could change as they moved up the level of  command. Because of this, they received important feedback that altered a significant part of their pop-up later  than they expected. However, because they'd started the engagement process early and had planned to be  flexible based on community input, they were able to be responsive and incorporate the feedback successfully  before the event took place. 
Thanks to their timeline, by the time the pop-up project was set up, the team had already gone through several  stages of design, incorporating the feedback they'd received early on from a pre-event survey and input from  multiple local sectors, helping ensure the project's success.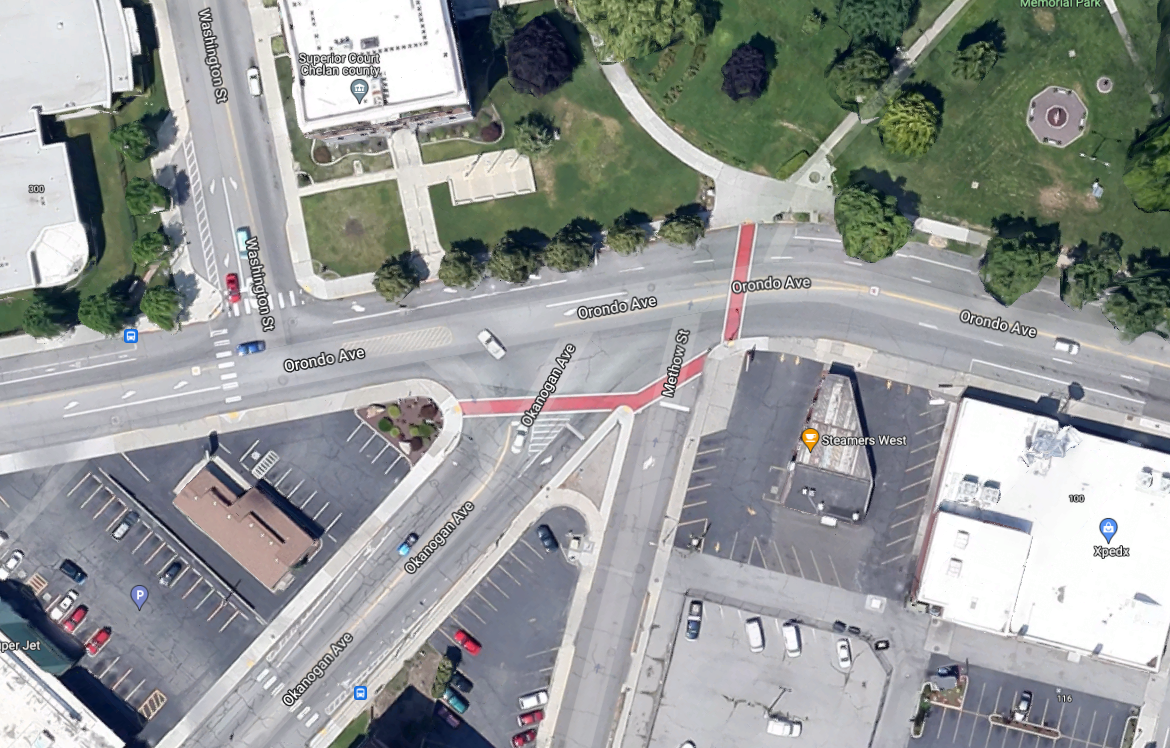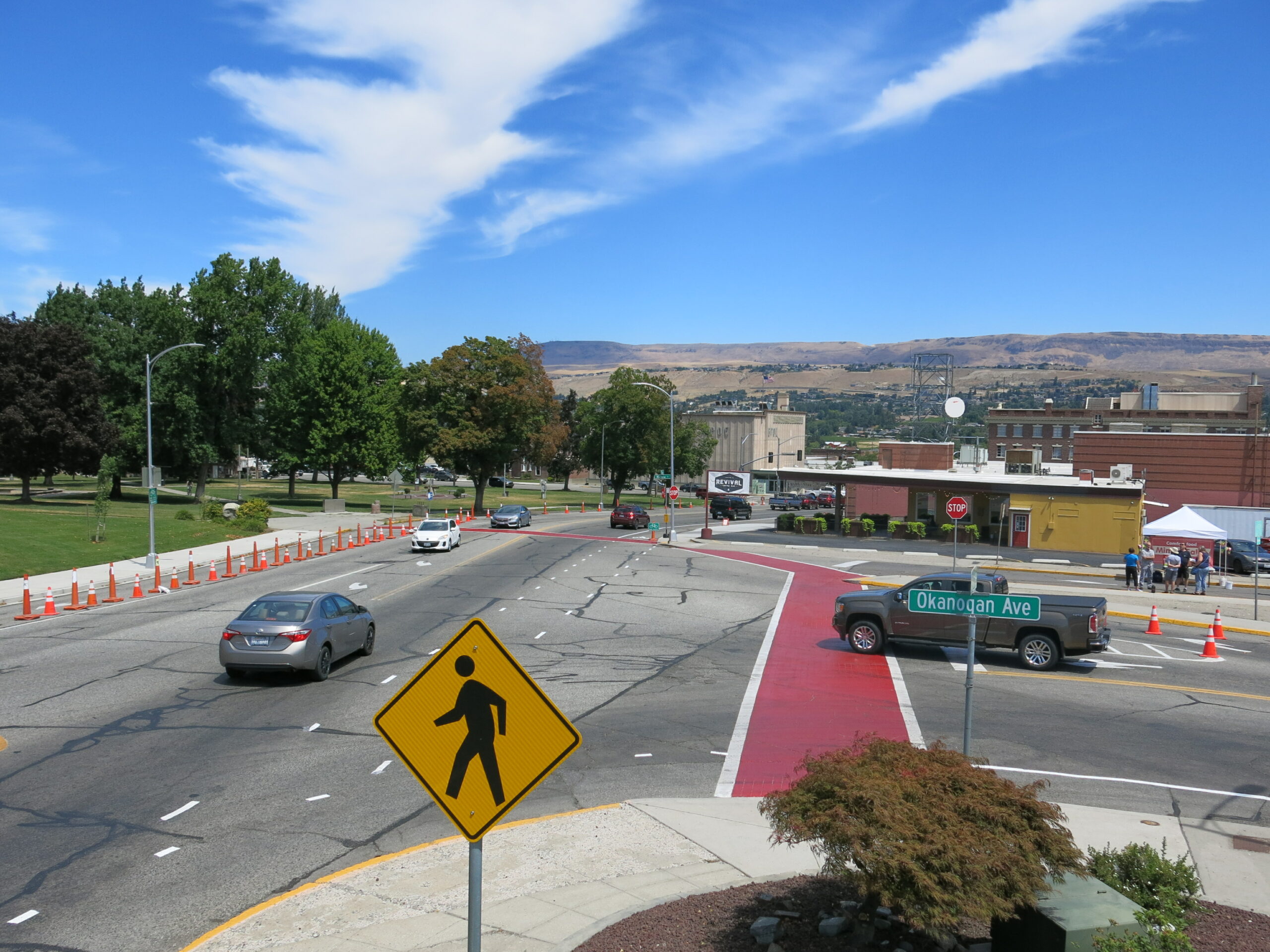 An aerial (top) from Google Maps shows the complex intersection with street names. The red crosswalks visible here are from the demonstration project, pictured on the bottom.
Planning safer, healthier, and more convenient corridors
This four-way intersection required complex changes. Orondo has two westbound lanes. The left is a through  lane, and the right lane becomes a right-turn only lane in the middle of the intersection forcing through vehicles  to merge before exiting the intersection at this point for a right-turn at the next intersection to the west.  Drivers would often misuse the right-turn only lane to cut off drivers in the through lane, creating a chaotic  scene. In addition, with four lanes and curb parking, Orondo was a particularly wide street for pedestrians to  cross, putting them in harm's way for an unnecessarily long time.
To enhance safety for drivers and pedestrians, the team merged the two westbound lanes prior to vehicles  reaching the crosswalk. This allowed them to enter the intersection in a single lane with right-turning vehicles  creating a natural reduction in overall speed of vehicles. They also used the parking to provide a protected bike  lane and extended the reach of the curb which ultimately reduced crossing distance for pedestrians. 
Though the community was concerned that reducing the number of lanes would increase traffic, there was no  noticeable difference in traffic over the course of the pop-up. Instead, many community responses described  a more pleasant driving experience, because they no longer had to worry about being cut off by drivers in the  right lane. In addition, by simply merging these lanes, the team drastically reduced speeds on two streets. The team also added an eastbound bike lane on Orondo Street which reduced the lane width and increased the  need for drivers to take additional caution when turning right from Orondo onto Okanogan. 
The team also altered the route from Orondo to Methow Street. Methow connects county facilities on the  north side of Orondo and city hall to the south on Methow, and is bordered by a bank, restaurant, insurance  agency, parking, and low-income apartment complex. To ease the flow of traffic to these locations, the team  closed a half-block of Methow Street. This provided space for a community plaza environment, removed  a conflict point of traffic onto Orondo and reduced the crossing demand for pedestrians traveling east or  west along Orondo. The half-block option maintained vehicle access and parking for the local businesses and  apartments from their normal route off of Yakima Street. Because the one-way Methow Street had a dead end,  the team rechanneled it to be a two-way cul-de-sac. 
Successfully reducing speeds and sparking an important conversation
The Wenatchee team planned a pop-up market event during the demonstration project. They planned to collect significant feedback from local residents about the reconfigured streets during the pop-up, so it was important to make sure residents would attend. Before the event, the Wenatchee team issued a press release about the site selection and the project. To encourage attendance, they distributed bilingual flyers, postcards, and posters to the 52 percent Spanish-speaking local community and encouraged residents to share their input. They did their best to include groups that might not think to join a transportation event, including dance groups, cultural performers, zumba instructors, artisans, food  vendors, and local community-based organizations. Throughout their engagement, the team made it clear that they wanted to take each group's experiences and  ideas into account.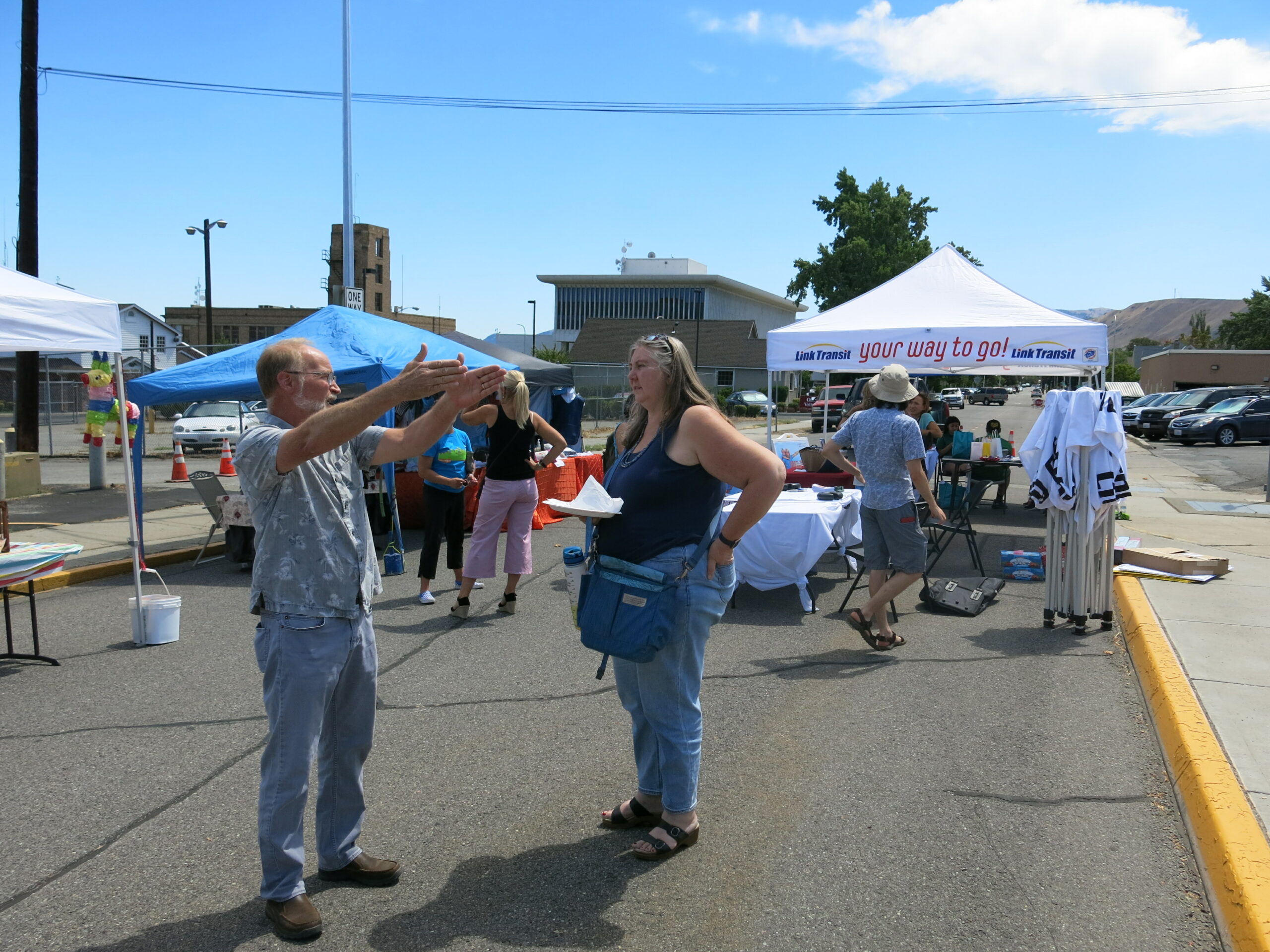 During the event, the Wenatchee team made sure they created space for community ownership. Local vendors,  sponsors, and organizations sold products, danced, and otherwise made use of the new plaza space on Methow.  Throughout the project, they supported a bilingual team of communicators to mingle with the crowd and  encourage input. 
The Wenatchee team built a clear, highly visible process to engage the community and keep accountability at  the event through a simple exercise. The team collected ideas during the event on a sticky note board. When  a resident raised a concern, the team used it as an opportunity to work with that resident to come up with a  solution in real time. They asked residents how the design could be updated to address the concern, and next  to each complaint, they placed a sticky note with the solution. In some cases, if the requested changes were  minor, the team made them while the project was up. For larger changes, the project team will be able to point  to those tangible examples of community recommendations to show how they responded to local feedback and  strengthen their case for future funding to implement something permanent. 
At all stages of the pop-up demonstration, the Wenatchee team emphasized that the pop-up was temporary,  and a key opportunity for the community to make their voices heard before permanent change. At the end of  the event, the team thanked the volunteers, sponsors, community organizations, and local residents who came.  By demonstrating that they valued community input and describing how they would incorporate the feedback,  the team built trust within the community in which these projects would be implemented. These efforts  before and during the pop-up event paid off—the week-long demonstration received zero formal complaints, a  testament to the power and success of the Wenatchee team's engagement efforts.
Lessons learned
Encourage community ownership—and make it fun 
At every stage of their project, the Wenatchee team touched base with local stakeholders to make sure they  had a strong understanding of the community's goals. They made sure to bring in as many different voices  as possible, from local businesses to cultural groups. This combined input helped them build trust, but most  importantly helped them create a better pop-up experience and develop an even stronger final design. By  bringing in dancers, local food, and vendors to their market event, the team made it feel like a true community  gathering, and a fun evening out. They created a setting where people wanted to stay and enjoy themselves  while providing feedback.
Keep implementation flexible 
Before the pop-up was installed, the Wenatchee team went through multiple rounds of feedback, adjusting  their plan each time. By developing an engagement strategy and thinking critically about what types of changes  could be made at different stages of implementation, the team was able to maintain the level of flexibility necessary to effectively incorporate feedback—even when they received feedback later than they expected. 
Be solution-oriented 
The team was intentional about collecting feedback during the pop-up event, and whenever they heard a  concern, they figured out how the issue could be addressed. Focusing on solutions helped show that they were  listening to community input and also helped the team turn concerns into recommendations they could apply to their final design.
—
These demonstration projects and case studies were supported in part by the Centers for Disease Control and Prevention under cooperative agreement OT18-1802 supporting the Active People, Healthy NationSM Initiative. Active People, Healthy NationSM is a national initiative led by the CDC to help 27 million Americans become more physically active by 2027. Learn more.
Smart Growth America would also like to thank the Washington Transportation Improvement Board and Barr Foundation for their additional funding support for the demonstration projects in these case studies, as well as the Washington State Department of Health and Washington State Department of Transportation for their partnership throughout this program.