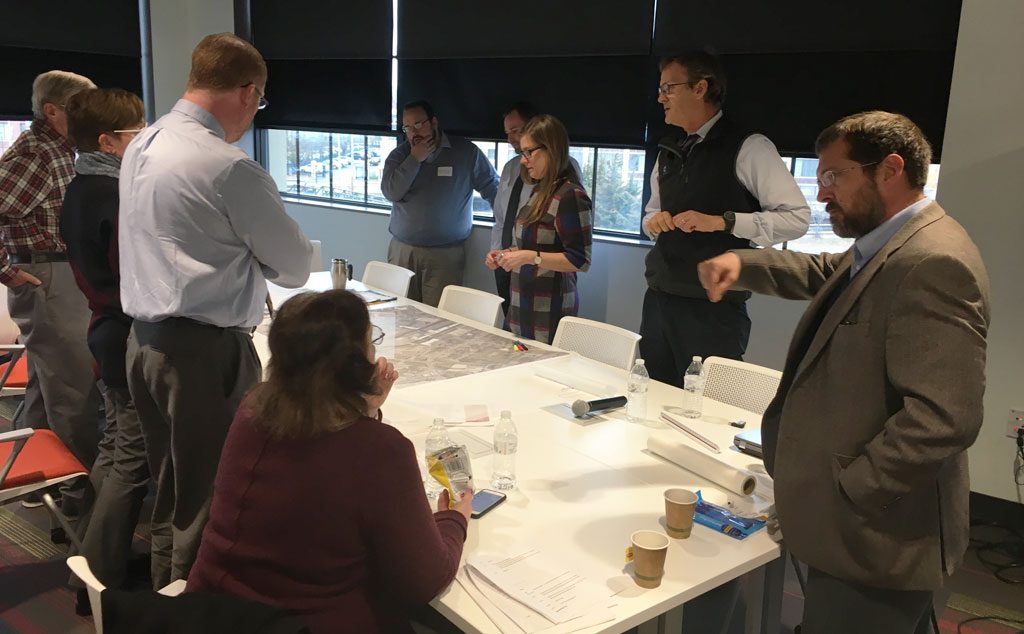 Mike Jelen (far right) helping deliver a Complete Streets technical assistance workshop in Lowell, MA last week.
The National Complete Streets Coalition is just that—a coalition—and our success is made possible by our many partner organizations. VHB is one of the newest members of our Steering Committee and we're proud to welcome them. We sat down with Mike Jelen, VHB's Vice President & Managing Director, to learn more about their work and what drives their commitment to Complete Streets.
—
NCSC: So what is VHB?
MJ: VHB is a team of about 1,300 professionals including engineers, environmental scientists, designers, and planners. We work with transportation, real estate, energy, and institutional clients to improve mobility, enhance communities, and balance development and infrastructure needs with environmental stewardship. We are particularly interested in solving the problems that arise out of the tension between land development needs and the infrastructure requirements to support that land development, especially when there's limited space—largely the problems associated with rapid urbanization. We also align ourselves with organizations that are trying to advance design thought and design principles consistent with what we believe in, and the National Complete Streets Coalition is one of those.
What kinds of projects has VHB been doing lately?
We do land use planning and design and master planning for cities, campuses, and regions. That includes transportation planning and design, corridor planning, and design of highways and multimodal streets. We're particularly good at urban multimodal projects, and we do these for both public sector clients like governments and for developers. A great example of a private sector project here in Washington, D.C. is the new community of Cathedral Commons over on Wisconsin Avenue. The whole site, including the road network, bicycle, and pedestrian accommodations as well as the freight connections to the new buildings where the loading docks would be, was permitted and designed by VHB.
"Complete Streets is a spot-on way to make people's lives easier and healthier."
Why does VHB use a Complete Streets approach?
We know that improving the ways that people can get around their communities has a direct impact on their quality of life—Complete Streets help make transportation easier for people in cars, on bikes, on foot, and in buses. At VHB, we're passionate about making meaningful contributions to the world through the work we do. We 100 percent believe that Complete Streets is a spot-on way to make people's lives easier and healthier. We're very, very happy and proud to support and advance that cause.
What is VHB's role in the broader effort for safer street design?
As an integrated services firm, our engineers, scientists, planners, and designers are used to working together to solve problems—that makes Complete Streets projects, or projects with Complete Streets elements, second nature. We also support the movement through our Corporate Social Responsibility program. Over the last several years, we have organized and sponsored symposiums on community health and transportation in major cities. We hosted one last fall in Boston in partnership with Tufts University and the Boston Metropolitan Planning Organization. The year before that, we sponsored a similar symposium in partnership with the University of Central Florida and the Central Florida Regional Commission. We are planning one for 2017 here in Washington, D.C.—we're in discussions with Georgetown University to host in the fall. These symposiums are a way for us to give back to the cities, towns, and communities that we serve.
How do you feel about VHB's new role on National Complete Streets Coalition's Steering Committee?
I'm really excited to be working on the Steering Committee and helping to further the relationships between VHB and the other member organizations. Just this last week I was able to assist the Coalition with an EPA-funded workshop in Lowell, MA. As a professional engineering practitioner and a former city official myself, I think that I can add a different, helpful perspective to the Coalition in conducting more workshops like that.
Thank you so much to Mike Jelen for sitting down to talk with us about VHB's work. Partner spotlights shine a light on the great work being done by our member organizations. Learn more about joining the National Complete Streets Coalition ››