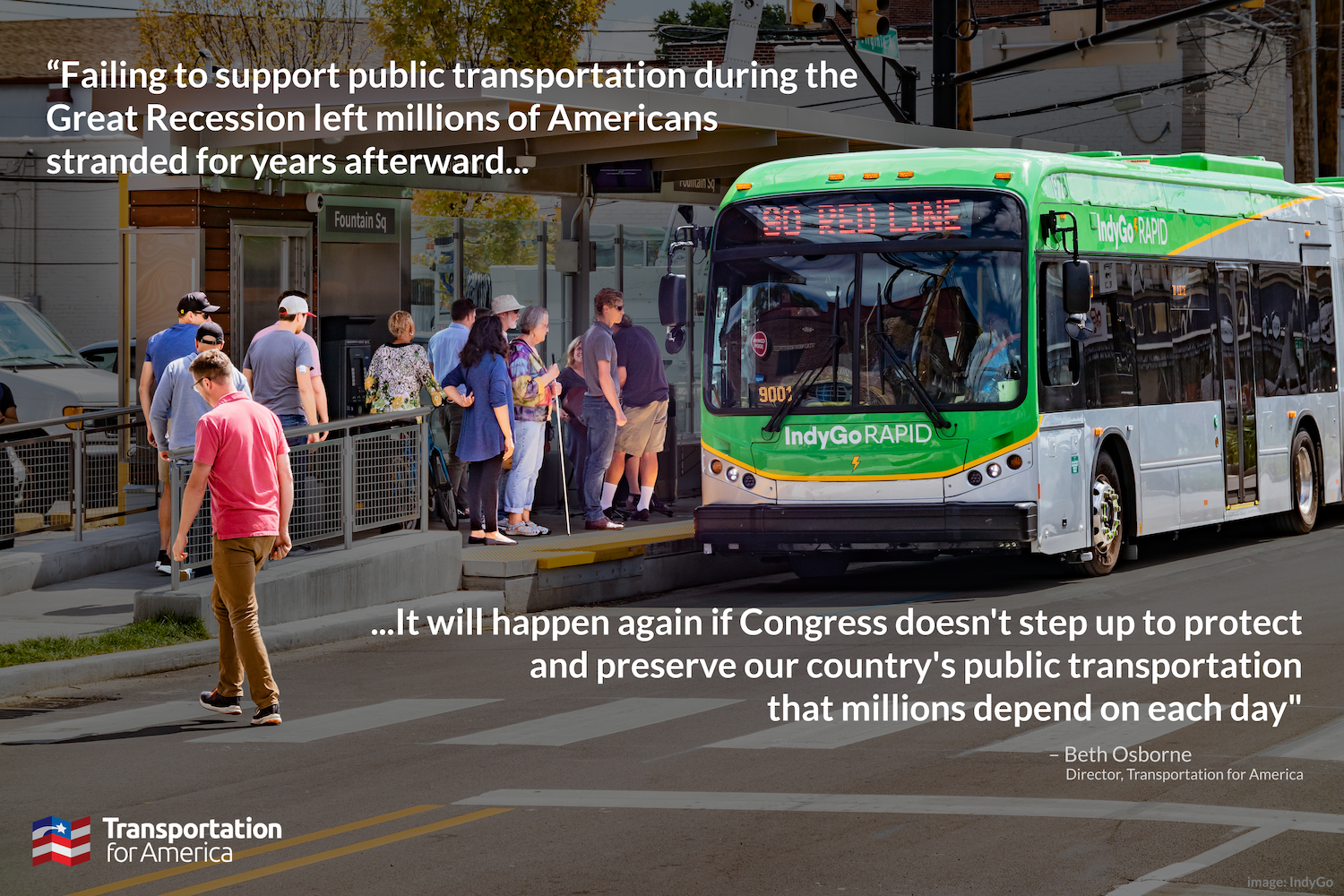 Senate republicans have unveiled their $1 trillion economic stimulus plan and not a single dollar is dedicated to supporting transit or Amtrak. This is unacceptable. Without action now some of the hardest-hit transit agencies won't be able to recover, even if transit is included in a fourth stimulus package.
Tell Congress to support transit before it's too late. Service in small towns and rural places is taking a hit just as it is in big cities.
Along with dozens of cities, mayors, and organizations, we have been calling on Congress to allocate at least $13 billion to help sustain the most critically endangered transit systems reeling from unprecedented ridership declines topping 75, 80, or even 90 percent. But transit agencies will likely need more. As local economies come to a halt, sales tax revenues are also drying up. With huge losses in fare and tax revenue, strained transit budgets are close to buckling.
Yet the Senate's first proposal ignores this reality. While $200 billion in loans is included to support private industries like the airlines, public transit gets a cold shoulder and it's not clear why. Public transportation supports the same number of jobs across America as the airline industry and transports 20 times as many people on weekdays (under normal conditions). Even during this crisis, transit is still helping health care professionals get to and from their jobs; it's connecting people to grocery stores and pharmacies. Transit isn't a "nice to have," it's an essential industry that necessitates public support now.
If Congress can find $200 billion for corporations, then $13 billion for transit should be a no-brainer. Tell your members of Congress to fight for transit.
We know how this ends
During the Great Recession, Congress also ignored transit and agencies across the country were forced to slash service. Even as the economy recovered, it took the better part of a decade for transit service to return to pre-recession levels.
But COVID-19 is much more acute. The ridership drop can be measured in days, not weeks or months. Even though 80 percent of riders are able to stay home, many critical employees still rely on it to get to work—as a public service transit has to keep running, even during a pandemic.
And here's the biggest irony: transit agencies have been applauding riders for staying home. As public officials have urged people to observe social distancing, agencies have been among those thanking people for staying home so that trains and buses are less crowded for those who need them. Transit agencies are doing their part—now Congress must do its job.
Congress can't leave transit high and dry again. Waiting for another round of stimulus will be too late. Without immediate operating support, short-term service cuts will turn into long-term damage to our transportation system.
Don't let Congress get away with this. Send your representative and senators a message: we must allocate at least $13 billion to transit.