A street in downtown Knoxville.
With the recent release of Made in Place: Small-Scale Manufacturing & Neighborhood Revitalization, we're spotlighting a few standout examples of cities that have fostered a small-scale manufacturing sector to revitalize their local economy. Knoxville, Tennessee benefits from a strong community of makers, real estate developers, and residents with longstanding roots and connections to the city. We spoke with Derek White about his experience owning a makerspace in Knoxville's Magnolia Avenue Warehouse District.
A creative coalition
"Instead of retiring, I decided to become an artist. I had always wanted to be an artist, and I figured that at 45 years old, it was time to do it," declared Derek White, owner and operator of Bird on the Wire Studios.
After living in various cities across the country, White ultimately decided relocate to and open a studio in Knoxville, a thriving epicenter for the small-scale manufacturing sector and maker community. Recently, the Magnolia Avenue Warehouse District reemerged as one of the hubs for the local maker community. The district bridges the downtown with nearby residential neighborhoods, with Magnolia Avenue serving as a neighborhood main street.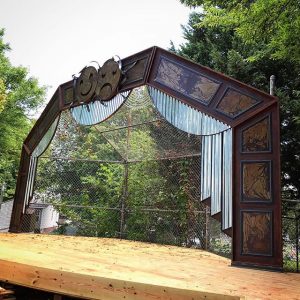 Bird on the Wire Studios began three years ago, based out of White's basement. He began with the theater and music scene, building stages and entrances as well as customized goods. In working with local businesses, White recognized a niche that needed to be met: while people can generally envision what they want, from branded tap carts to sculptures and installations, many don't know how to realize it. Over time, he worked with small businesses and companies to extend their vision, and hired a couple of artists to provide additional support.
Today, Bird on the Wire Studios is located in the heart of downtown Knoxville's warehouse district. It serves as a collaborative makerspace where clients can participate in the creative and construction process, and even work on projects of their own. With almost 200 members, Knox Makers is another community makerspace in Knoxville that has been around for seven years. It hosts lectures, workshops, and outreach programs, and has dedicated zones for woodworking, metalworking, 3D printing and scanning, electronics, arts and crafts, fabric arts, leather working, and laser cutting. Makerspaces such as Knox Maker and Bird on the Wire Studios help catalyze business growth and development; they eliminate many of the initial financial barriers to entrepreneurs who are just getting started.
"It's very difficult when you're first getting started to buy all the equipment, get the space, and get access expertise," White recalled.
Makerspaces provide small business with space and access to resources such as tools and expertise. This setup enables creators to produce their visions and collaborate with skilled craftsmen. Makers learn simply from being around other makers and acquire skills through collaboration; as people help others to achieve their goals, a valuable sense of community develops.

White offered a personal anecdote to illustrate the invaluable camaraderie among the maker community: even though he was still relatively new to Knoxville, 11 people showed up on Monday morning to help him move into his new studio space. Nine of the volunteers were competitors of Bird on the Wire, yet had closed their own studios to help White set up.
"The community really wants you to succeed, to explore the possibilities, realize your own becoming – they want to play a part of it. We advance as long as I am investing in your success and vice versa; we share our failures and successes together."
Recognition and responsiveness
In 2016, Etsy officially named Knoxville as the first "Etsy Maker City" and the Mayor's Maker Council voted to adopt the motto "The Maker City" in 2017. Knoxville's motto as 'The Maker City' isn't just a marketing campaign — it speaks to a true revisioning of the city, one that inspires entrepreneurial initiatives and promotes a creative and collaborative lifestyle. As demand and opportunities increase for locally-based, small-scale manufacturing businesses such as microbreweries, metalworking, food production, and other crafts, Knoxville recognizes the need to build infrastructure and create policies that support them. Mayor Madeline Rogero formed a Maker Council to develop a shared vision for the city's diverse maker community, and address policies and regulatory issues that impact maker businesses. The results have been rapid and the responses positive; small scale manufacturers have lauded the city's role in incentivizing infrastructure restoration through facade improvement programs.
The city is also focused on rezoning to accommodate mixed-use development. As White puts it, "there's no reason a small manufacturing shop can't exist on your way to coffee or have events on a Saturday night."
Knoxville has events throughout the year where local residents can support the maker community. These events provide opportunities for businesses to market themselves and distribute their products. Regular events such as Minority Enterprise Week, First Friday, and the downtown farmer's market combine with festivals such as the Kuumba Festival and weekly spring festivals to create distinct experiences for residents. These events help deepen the Knoxville brand and create an opportunity to promote maker markets that include start-up production businesses.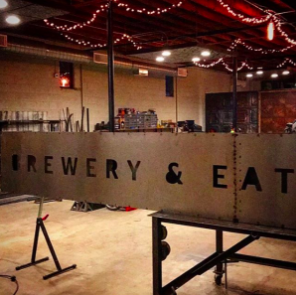 The future of the first Maker City
Just as the City embraced "The Maker City" mantle, so have community members. Local consumers and producers prioritize the purchase of local goods over cheaper alternatives. "We buy all of our steel and products locally, always with the idea of investing back into community," explained White. "It's grounded in this idea that our successes are intertwined. Buy locally, invest in small businesses, and we can have a real microeconomic impact."
Looking ahead, the city is now determining if there are other neighborhoods or corridors that are key to the long-term viability of the maker business community. Ultimately, the goal is not to simply promote small-scale manufacturing, but to build an inclusive and resilient community.