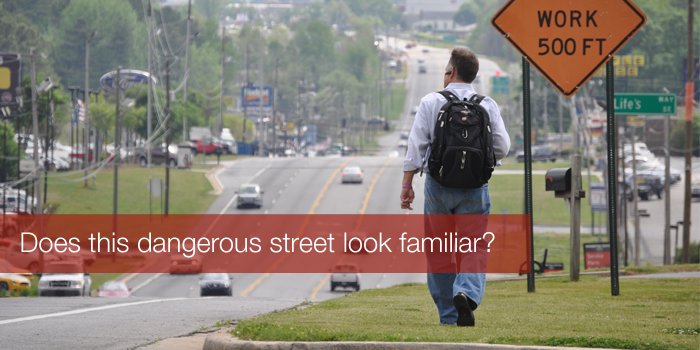 We need your help.
For too many people, a walk is a deadly risk. Poorly designed streets have led to an epidemic of pedestrian fatalities, especially among people of color and in our nation's poorest neighborhoods.
You might live near or have to use one of these dangerous streets or intersections every day. We want to see what you see.
This fall, Smart Growth America's National Complete Streets Coalition will release Dangerous by Design 2016, a report that will again rank the nation's most dangerous places to walk using the Pedestrian Danger Index. This year's report will dive deep into how income, race, and place play an outsized role in how likely people are to be killed while walking.
Help us illustrate the hazards you face everyday. Send us photos of streets in your neighborhood that are "dangerous by design." Streets like these:
Poorly designed streets like these above—often built or designed with federal dollars or guidelines—endanger pedestrians, cyclists and drivers alike. And as Dangerous by Design will continue to illustrate, people of color and census tracts with below average income are disproportionately represented.
Here's how you can help:
Send in photos via email to

[email protected]

. This email address can only receive 10MB of attachments at a time.
High-resolution photos are preferred for maximum quality.
Please indicate how photos are to be credited if used online or in the report.
Provide information about the photo. Where was the photo taken? Is this a street that you have to use regularly?
We want to see the missing crosswalks, missing curb ramps, and the long and dangerous treks along busy highways. We want to see every way that our current road designs have failed to provide for the safety and convenience of everyone that needs to use them. View photo submissions from our past reports.
Send us photos of the deadly conditions for pedestrians near you. We're preparing our report now, so please pass them along as soon as you can. And stay tuned for more about Dangerous by Design 2016.