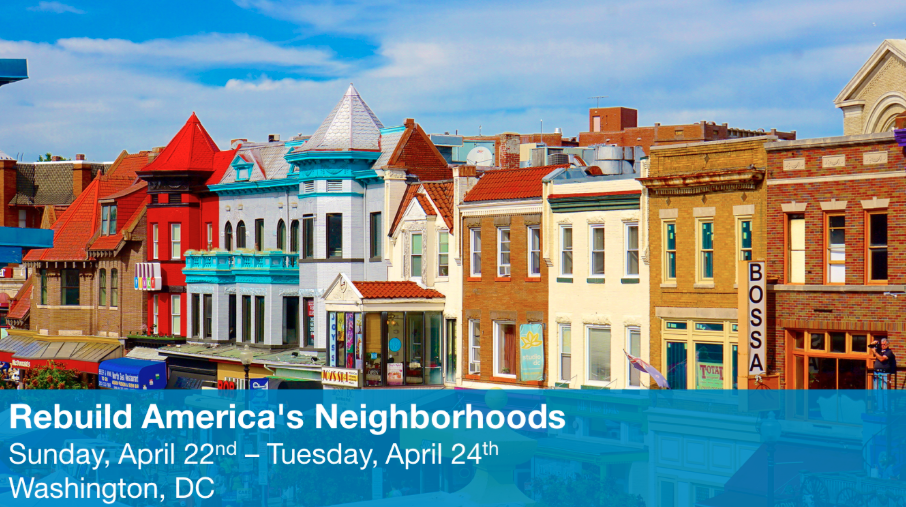 Join the nation's leading real estate developers, investors, and local elected officials to learn about important housing and tax policy changes, the future of infrastructure and real estate finance, the impact of technology on mobility, and the role of equity in neighborhood redevelopment at this year's LOCUS Leadership Summit.
The three-day event will feature dynamic sessions with top industry insiders and elected officials and in-person meetings with federal policymakers to discuss policies that affect triple bottom line development and walkable communities. Summit participants will leave with the tools, policies, strategies, and business connections necessary to successfully navigate America's changing real estate and policy environment.
The 2018 LOCUS Leadership Summit: Rebuild America's Neighborhoods will take place from April 22-24 at the National Press Club in Washington, DC. 
---
2018 Leadership Summit Sessions
Community as Corporation: Talent Retention Strategies for Sustainable Growth
Majora Carter, Majora Carter Group
Rebuilding Neighborhoods Post Federal Tax Reform
Left to Right: Annie Donovan, US Department of the Treasury; Emily Cadik, Enterprise Community Partners; Gary Heidel, Michigan State Housing Development Authority; Richard Allen, HRI Properties

Emerging Trends in the Real Estate Market
Left to Right: Michael Neal, National Association of Home Builders; Patrick Phillips, Urban Land Institute; Dr. Rolf Pendall, Urban Institute
Leveraging the Civic Commons to Rebuild America's Neighborhoods 
Left to Right: Carol Coletta, The Kresge Foundation; Alexa Bush, City of Detroit; Arthur Jemison, City of Detroit; Ceara O'Leary, Detroit Collaborative Design Center; David Alade, Century Partners
Best Practices: Zoning for Revitalization without Displacement 
Left to Right: Aaron Miripol, Denver's Urban Land Conservancy; The Hon. Christopher Zimmerman, Smart Growth America; Stephanie Gidigbi, Natural Resources Defense Council
Self-Gentrification through Community-Driven Real Estate Innovations
Left to Right: Erin Barnes, ioby; Rodrick Miller, Ascendant Global; Tayyib Smith, Little Giant Creative
Beating the Odds – Overcoming the Obstacles that Face Economically Challenged Downtown Mixed-Use Projects 
Left to Right: Bob Stevens, M&S Development; Craig Miskovich, M&S Development
Expert Roundtable 
Left to Right: Brandon Palanker, 3BL Strategies; David Grannis, pointC; Duane Callender, US Department of Transportation; Shannon Morgan, HRS Communities
Closing Plenary
Buwa Binitie, Dante Partners
More Sessions Coming Soon!
---
LOCUS President's Reception & Dinner
Sunday, April 22, 2018
5:30pm – 7:30pm 
Acadiana – Bayou Room 
901 New York Avenue
Washington, DC 2001
Washington Marriott at Metro Center
Summit participants are able to secure discounted hotel accommodations under the 2018 LOCUS Leadership Summit room block until Friday, March 23, 2018. Space is limited.
Washington Marriott at Metro Center is located at 775 12th Street NW, Washington, DC, 20005.