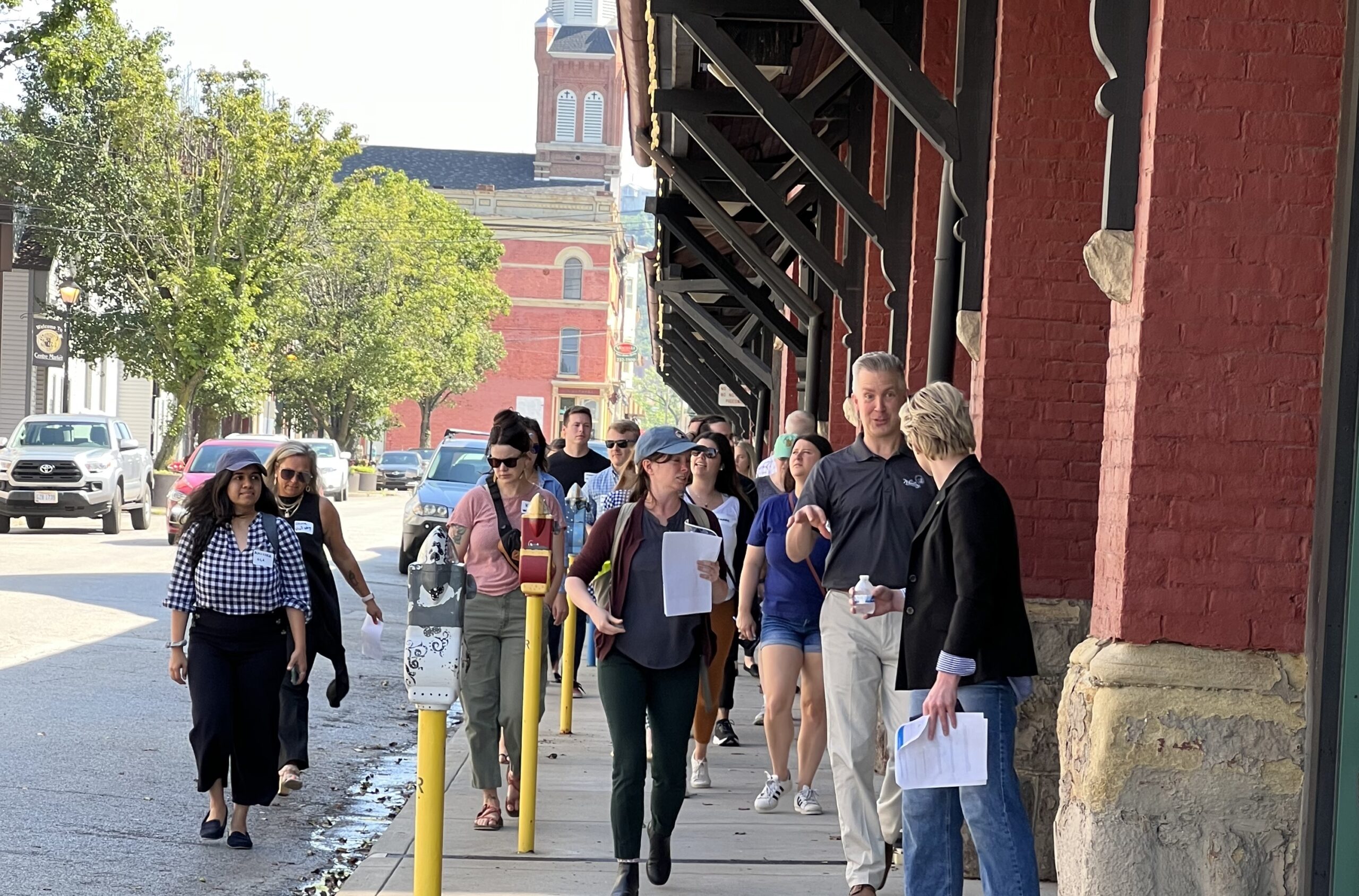 Walk Audit of the streets surrounding Center Market in Wheeling, West Virginia
Our Champions Institute alumni are finding success across the country in advocating for Complete Streets! In June 2022, SGA concluded the second year of the Active People, Healthy Nation℠  Champions Institute where we trained local leaders to advocate for Complete Streets and safer activity-friendly routes to everyday destinations. While these efforts take time to come to fruition, many Champions have already achieved significant milestones.
The Active People, Healthy Nation℠ Champions Institute—launched in 2020—is a competitive technical assistance and peer learning program designed to help local elected officials become effective champions for Complete Streets, downtown revitalization, and other local initiatives to build activity-friendly communities. 
The institute wrapped up the second class of Champions in June 2022 with a closing session that allowed our Champions to share their early successes, plans in motion, and visions for the future. While many of the initiatives proposed by the Champions will take time to complete and show results—often significantly longer than the duration of the Champions Institute program—many Champions have already achieved significant milestones, from doubling the funding allocated to safety projects to an official commitment to Vision Zero. These champions are stepping out as national leaders committed to building active, healthy communities, and FIVE of our recent cohort have already adopted Active People, Healthy Nation℠ proclamations in their local communities: Pacific Grove CA, Lenexa KS, Orchard Park NY, Stroudsburg PA, and Wheeling WV.
Our Champions' efforts demonstrate that when committed leaders are equipped with the right tools, they can effectively implement and advocate for activity-friendly communities and their approaches can be valuable models. 
Building support and funding for Complete Streets and physical activity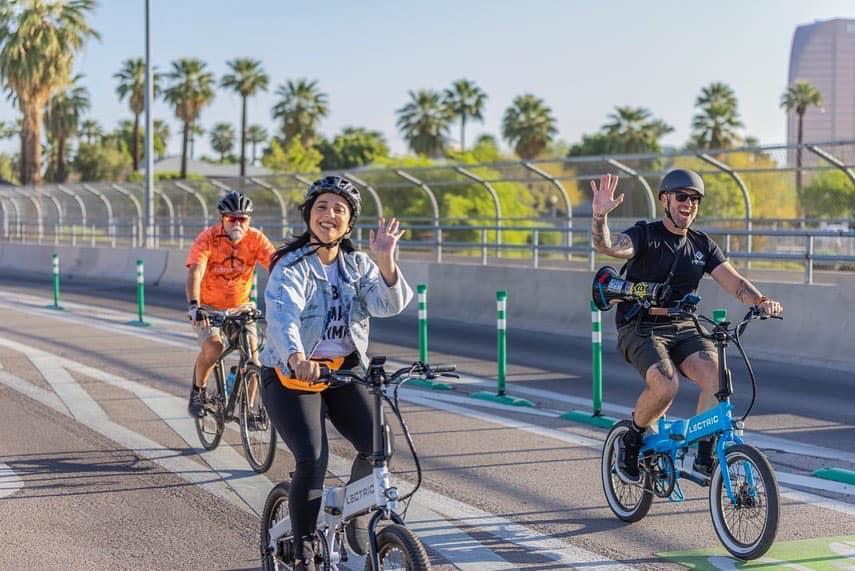 Making streets safer for everyone often requires education campaigns and building coalitions to support policy change. Local elected officials are well-positioned to lead in building that support. This year, several Champions proposed projects that focused on campaigns to raise awareness, engage the community, or influence their city's commitment procedurally or financially to Complete Streets and active transportation.
Mayor Chelsea Reed's efforts resulted in a public commitment to Vision Zero by the City Council of Palm Beach Gardens, FL.
Councilmember Yassamin Ansari led a public engagement campaign to build support for roadway safety, resulting in an increase in funding from $600,000 to $1.2 million for the Roadway Safety Action Plan in Phoenix, AZ.
Mayor Alex Fisch partnered with the Livable Communities Initiative to showcase the envisioned transformation of a currently car-centric street into a bustling, mixed-use corridor in Culver City, CA.
County Commissioner Josh Maxwell is leading a successful bicycle and pedestrian safety campaign i.e. the CHESCO Walk Ride Drive Safe in West Chester, Pennsylvania
Councilmember Christiana Rigby is building support to fund Complete Streets investments in an underserved area of Howard County, MD.
Making streets and intersections safer and more inviting
Several Champions proposed projects that support infrastructure changes to dangerous corridors or intersections near essential destinations such as schools. Some of these projects also propose changing zoning policies to support more walkable development.
Councilmember Conor T. Flynn secured grant funding from the state to fund the installation of sidewalks at a dangerous intersection next to the local high school in Orchard Park, NY.
Councilmember Sue D. Honea is building support from residents and city leaders to create a safer walking connection from a historically underinvested African American community to local schools, downtown, and healthcare in Magee, MS.
Vice Mayor Jennifer Duff received overwhelming support for a proposed bike lane project to provide safe connections to transit routes and key destinations in a lower-income part of Mesa, AZ.
Councilmember Heather Kimball is building support for a Complete Streets corridor plan for a dangerous road in Hilo, HI that connects residents to tourism jobs. The project would improve access to more local economic opportunities near housing. Councilmember Kimball is also working to designate the road as a "scenic corridor"—the first of its kind in the community—to help enable these changes.
Councilmember Julie Sayers is working with other council members to revitalize the historic Old Town area in Lenexa, KS, and to create safer active transportation connections to other parts of the community.
Councilmember Toshie Murrell of Elizabethtown, KY secured funding for new "share the road" signs and an ongoing project to connect sidewalks and install more benches to make it easier to reach destinations in the community by walking.
Councilmember Chaps Poduri successfully led the City of Pacific Grove CA to pass a Complete Streets resolution and helped secure $1.5 million in regional funding for safety improvements at a dangerous five-way intersection near a school.
Councilmember Anthony J. Vallee introduced an accessory dwelling unit policy in the DeFuniak Springs, FL's Comprehensive Plan and received funding for a pedestrian bridge over Highway 331 that links their downtown to other bikeable areas. 
Revitalizing public space and activity-friendly connections
Several Champions proposed projects focused on revitalizing and activating public spaces and improving active transportation connections to those destinations to support more lively downtowns.
Mayor Jerry Marco built public support to replace condemned bridges and create easier access to downtown Elkins, WV.
Mayor Tarah Probst is campaigning to transform the historic Old Jail in downtown Stroudsburg, PA into a small business incubator and tourist attraction.
Councilmember Rosemary V. Ketchum is working closely with Wheeling, WV's newly formed Centre Market Commission to enliven and attract people to the historic market by piloting open streets in the area, making streetscaping improvements to create a sense of place, and improving active transportation connections to other parts of downtown.
Councilmember April Gaulden is working to improve a city park and provide safer access to the park for residents in Dunn, North Carolina.