Three Mile Island (TMI) nuclear power plant played an integral role in stimulating the economy of Dauphin County, Pennsylvania, and the surrounding Harrisburg metropolitan region from its opening in 1974 until its 2019 shutdown. TMI contributed approximately $1 million in annual tax revenue and an annual $60 million in payroll to the local economy. However, regional leaders are investing in assets and growth sectors, such as transportation and logistics, to bolster economic resilience in the wake of the plant becoming inoperable.
The Greater Harrisburg region is a national logistics hub and sits at a strategic crossroads between Philadelphia, Pittsburgh, Washington, D.C. & and New York. Covering three counties (Dauphin, Cumberland, and Perry) the Tri-County Regional Commission operates the regional Metropolitan Planning Organization (MPO), the Harrisburg Area Transportation Study (HATS). The HATS region is located within one day's drive for 40% of the U.S. population, 60% of the nation's buying power, and 50% of Canada's population. The region is home to a unique confluence of interstate highways, in addition to rail service from Norfolk Southern, CSX, and York Railway. The Susquehanna Area Regional Airport Authority (SARAA) also operates four airports across South Central Pennsylvania, including Harrisburg International (HIA) which hosts commercial and freight air traffic. Due to this strategic geographic location and transportation infrastructure, the region has become a major distribution and goods-movement hub for national and global companies– including nine of the top fifty logistics companies in North America—and is home to some of the largest warehouse facilities in the nation. Over 100 warehouses and distribution centers are located in Dauphin and Cumberland Counties alone, totaling around 10 million square feet of facility space and including prominent companies such as Amazon, FedEx, UPS, and DHL.
According to the regional Comprehensive Economic Development Strategy (CEDS) completed by Harrisburg Chamber & Capital Region Economic Development Corporation, Warehousing and Storage was by far the largest growth sector in new jobs from 2011-2022 for the region at 22,270 new jobs. To build on this growth and to utilize the region's competitive advantage, the CEDS also lists Transportation and Warehousing as one of the four top target industries best fit for the region to attract and retain jobs.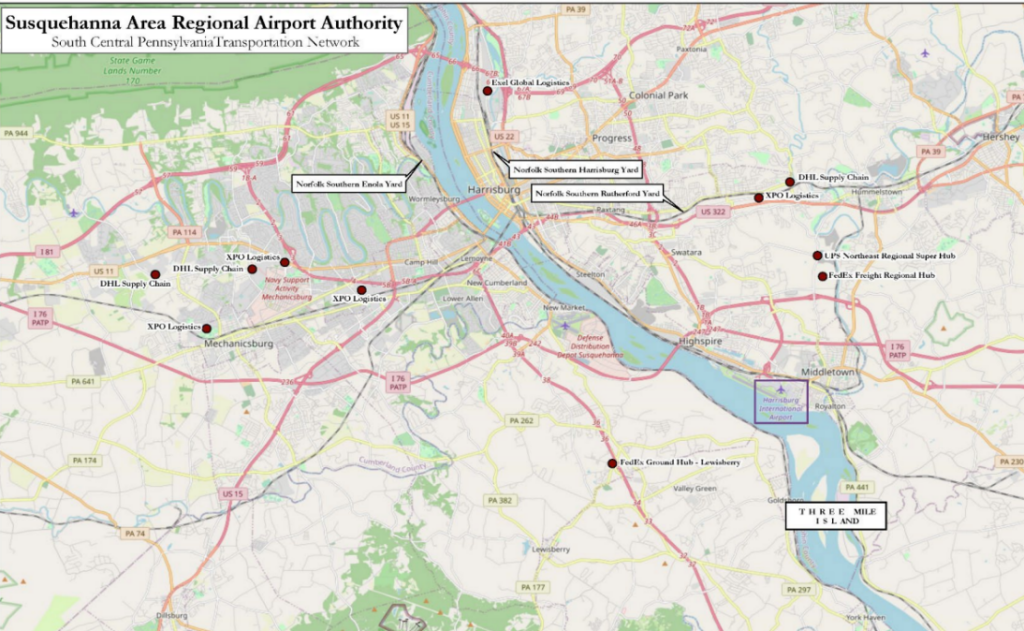 Air cargo is used to haul lightweight, but high-value and time-sensitive goods, such as medical devices and supplies, pharmaceuticals, and electronics. HIA—located 2.5 miles from the Three Mile Island plant site– provides critical infrastructure to ensure the success of the current supply chain and growing logistics industry. However, HIA's air cargo facilities are presently functioning at near capacity, and the growth in freight being received and total air cargo is expected to increase to 69,000 tons by 2032, a 1.5% annual increase. To support this growth, SARAA recognized the value of improved access and connectivity between HIA and the region's supply chain infrastructure and enterprises. Thus, major improvements to airport infrastructure are in progress to support increased air cargo traffic at HIA and the efficient movement of goods, supporting the region's most in-demand industries: warehousing and logistics.
To support SARAA in this capital project, the U.S. Economic Development Administration (EDA) invested $3.75 million in August 2021 as a part of the Nuclear Closure Communities (NCC) funding. Specifically, this funding will improve and realign the primary roadway artery (Third Street) from the cargo facilities connecting to airport ingress/egress.
"Third Street now is a very dangerous, narrow, steep, intersection. The scope of this project will be to realign the road and include a rotary component so traffic doesn't have to stop and will make it easier to access the cargo sortation facility," said Timothy Edwards, Executive Director of SARAA.
This rotary component will be a roundabout traffic pattern, in which the perpetual movement and traffic calming feature should help with efficiency, in addition to traffic safety by reducing conflicts, according to Louis Pirozzi, SARAA Deputy Director for Engineering & Planning. SARAA worked directly with Delta Development Group on this project development and application.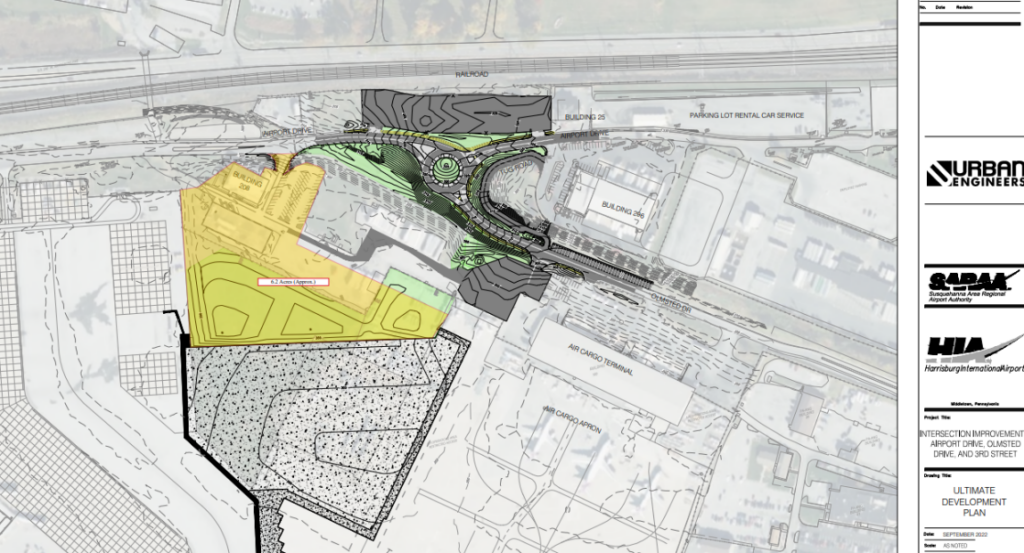 This investment on the 'landside' of the airport fence (access roads, parking, sortation, and support facilities) will allow the airport to add capital investments on the 'airside' of the fence, including expansion of the cargo ramp to accommodate three additional wide-body cargo aircrafts, which is expected to increase freight capacity by 30 percent and enable more than $50 million in airside investment by FAA and air cargo handling companies.
"We have calculated that by expanding the cargo ramp, adding sortation facilities, and improving access points that we would create an additional 350 jobs…offsetting some of those losses from the power plant closure," said Edwards.
Once this project is fully completed in late 2025 or early 2026, it is expected to infuse over $23 million annually into the regional economy, add $4.5 million in property tax revenues for regional school systems, and generate nearly $70 million in landing fees and other fee and lease revenues for HIA.
---
This resource is part of the Community Economic Diversification Roadmap, a new tool created by Smart Growth America and the Nuclear Communities TA team, to support communities in planning for the challenges and opportunities that stem from hosting energy infrastructure.