The 52-year-old Palisades Nuclear Power Plant, located in Van Buren County on the scenic shores of Lake Michigan, formally closed in May of 2022 and was sold to the nuclear decommissioning company Holtec. First announced for a 2018 closure, the Palisades decision was amended, extending its operation until 2022. As Palisades provided approximately 600 well-paying jobs and served as one of the largest taxpayers in Van Buren County, the plant closure announcement led key partners and stakeholders across Southwest Michigan to jolt into action to plan for the closure impacts on the regional economy.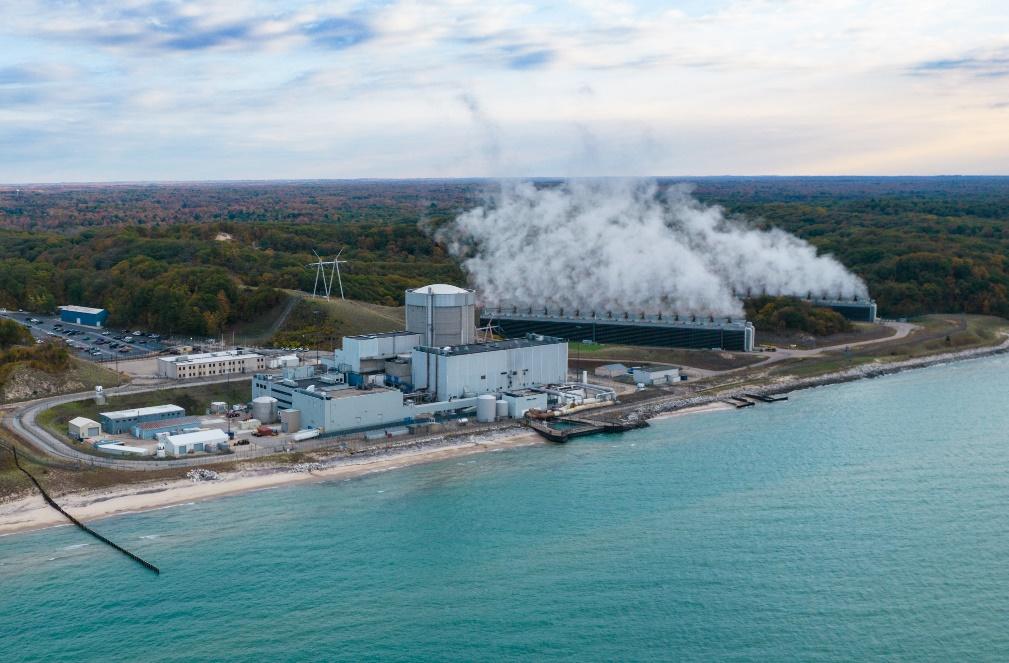 "We knew that planning needed to happen," said John Egelhaaf, Executive Director of the Regional Economic Development District: Southwest Michigan Planning Commission (SWMPC). While the negotiated closure timeline extension gave the region and its communities a brief exhale of relief, the newly developed Nuclear Closure Communities (NCC) program of the U.S Economic Development Administration (EDA) emerged as a strategic and timely avenue for SWMPC and partners such as Market Van Buren (the economic development organization for Van Buren and Cass Counties) to prepare for economic resilience and recovery before the plant closed.
Through the EDA NCC funding program, a federal grant of nearly $970,000 was awarded in June of 2021 to SWMPC, and a collaborative of partners including Market Van Buren (Kinexus Group), the University of Michigan Economic Growth Initiative, and the State of Michigan Department of Treasury—to support the Palisades Closure Recovery Strategy Initiative. The Michigan Department of Treasury's Energy Transition Impact Project (ETIP) provided supportive match funding of over $242,000 for the initiative. The Palisades Closure Recovery Strategy was designed as a three-year, multi-phase effort to 1) gather and analyze data on the impacts of the plant closure; 2) develop an assessment of data findings and weave them into a 'story of closure' and; 3) turn the assessment closure story into an action strategy with identified action steps to respond to impacts and pursue new opportunities. Community engagement and transparency with the public, including media interaction and social media presence, were central to the project kickoff phase to "build a scaffolding on the front end" for the plan and will continue to serve as a core pillar throughout the project, John Egelhaaf highlighted. "We wanted to make sure we are as accessible as we possibly can be."
As of August 2023, the initiative is into the final third of the project timeline and into the action strategy phase: the Palisades Economic Recovery Initiative. According to the assessment, for example, the total impact of closure (direct, indirect, and induced effects) is estimated to be 739 jobs lost and a reduction of $259 million in total output (GDP). For the action strategy, a recovery specialist will be hired to help in the process of building action steps and ultimately shepherding the plan to implementation. "Planning is not the end. All too often we think we succeeded when the plan is done and it's not even close…it is really about what happens afterwards," said Engelhaaf. While this action strategy will be completed in Fall of 2023, prior planning work from the regional COVID-19 Economic Recovery & Resilience Plan and Comprehensive Economic Development Strategy (CEDS) have spotlighted growth opportunities in tourism, value-added agriculture, and potential in other value-chain opportunities, including asset of Whirlpool's world headquarters in the region to pursue more strategic investments in the research and development (R&D), technology, or advanced manufacturing sectors.
Throughout the recovery strategy initiative, there has been an increasing discussion and movement towards a reopening of Palisades—an unprecedented move for a decommissioning nuclear plant. While this decision looms, community and local leader support for economic diversification and the recovery strategy remains committed.
"In some ways, that's an interesting twist of fate and we're right back to where we wanted to be at the very beginning…diversifying the economy and preparing for an eventual closure, but doing it in an environment where it's not an emergency anymore," Egelhaaf said of a potential Palisades reopening.
SMART Park
Midwest Energy & Communications (MEC), born of a 1998 merger of two Great Depression-era rural electric cooperatives, MEC has since continued the rural co-op spirit to "provide innovations and solutions to create vibrant, relevant, and sustainable rural communities…where others won't." The concern of diminishing rural populations and quality-of-life drives MEC to fill those critical gaps of rural services, noted Dave Allen, Vice President with MEC. The closure announcement of the Palisades power plant further fueled MEC's creative and expanding community role to retain jobs and talent in rural Michigan.
The Southwest Michigan Advanced Research & Technology (SMART) Park is a 400-acre center for technology and industry nestled in the rural Cass County village of Cassopolis (pop. 1,700), 45 miles from the Palisades plant. MEC was awarded $6 million from the U.S. EDA NCC program in September 2021 to support the development of SMART Park, including water and sewer lines, stormwater management system, and access road construction. Adjacent to MEC's headquarters and their recent community solar energy array, this park will target enterprises focused on technology, R&D, advanced manufacturing, and sustainability. This target focus is directly aligned with the larger regional vision for economic development strategies and is identified in the regional CEDS completed by SWMPC and complements the longer-term regional Recovery Strategy efforts with short-term wins.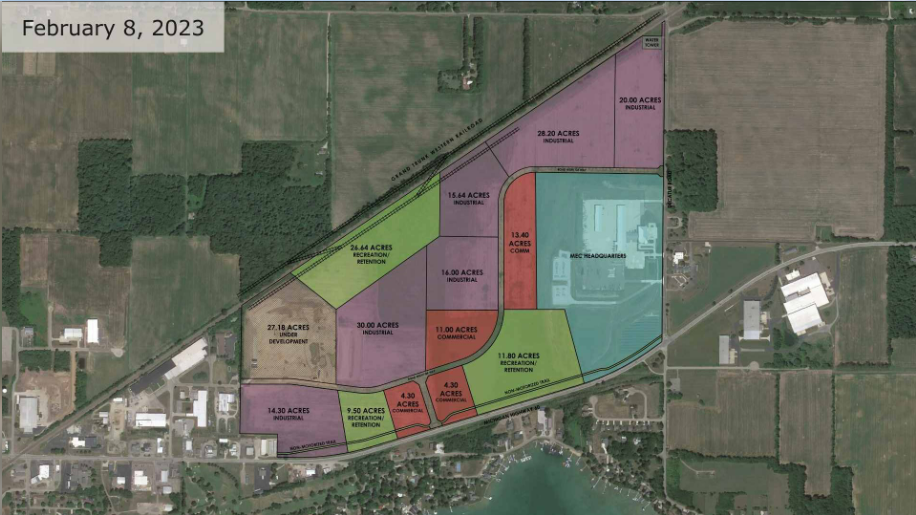 The first tenant for SMART Park is Hydro, a Norwegian company focused on a sustainable future, which will open operations in late 2023 or early 2024 with a state-of-the-art aluminum recycling plant. Hydro is investing $150 million in the project, which at full capacity will create 70 jobs and produce 120,000 metric tons of low-carbon aluminum extrusion ingot per year. Additional site investments will soon connect the park to rail via the Canadian National Railway that runs along the site property. In total, the SMART Park project is expected to create 250 new jobs. MEC is also coordinating with Market Van Buren and institutions of higher education on proactive workforce training and development partnerships in advance of Hydro and future tenants of the park.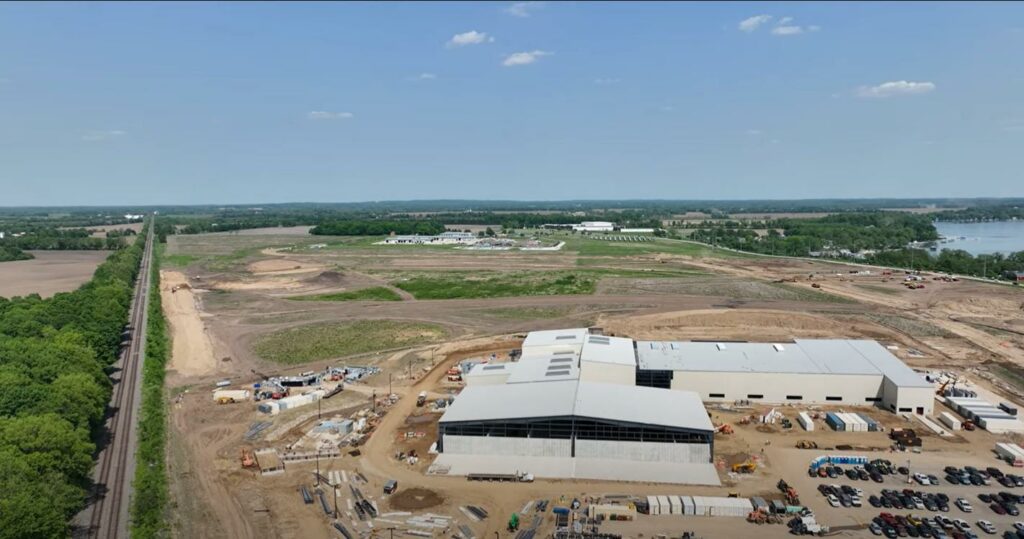 A dedication to community engagement and being good neighbors has helped get SMART Park off to a promising start and will remain a 'north star' for the future. Immediately south of the park site sits Diamond Lake, which is home to residential and vacation home communities. MEC and community leaders have strived to balance the park business development with the preservation of the bucolic landscape, with covenants including aesthetics and dark-sky lighting standards as just one approach. This community engagement and relationship-building also has the potential to prove fruitful in securing future investment from interested Diamond Lake residents and second-home owners from Chicago. "You never know where the next gem will come from… so keep mining," Allen offered in reference to the importance of engagement, partnerships, and patience in economic development.
---
This resource is part of the Community Economic Diversification Roadmap, a new tool created by Smart Growth America and the Nuclear Communities TA team, to support communities in planning for the challenges and opportunities that stem from hosting energy infrastructure.