Our Intersections conference, heading into its second day in Nashville today, is helping to show hundreds of local advocates and policymakers how arts and culture can help contribute to building safer, more complete streets that better serve—and reflect—the local community.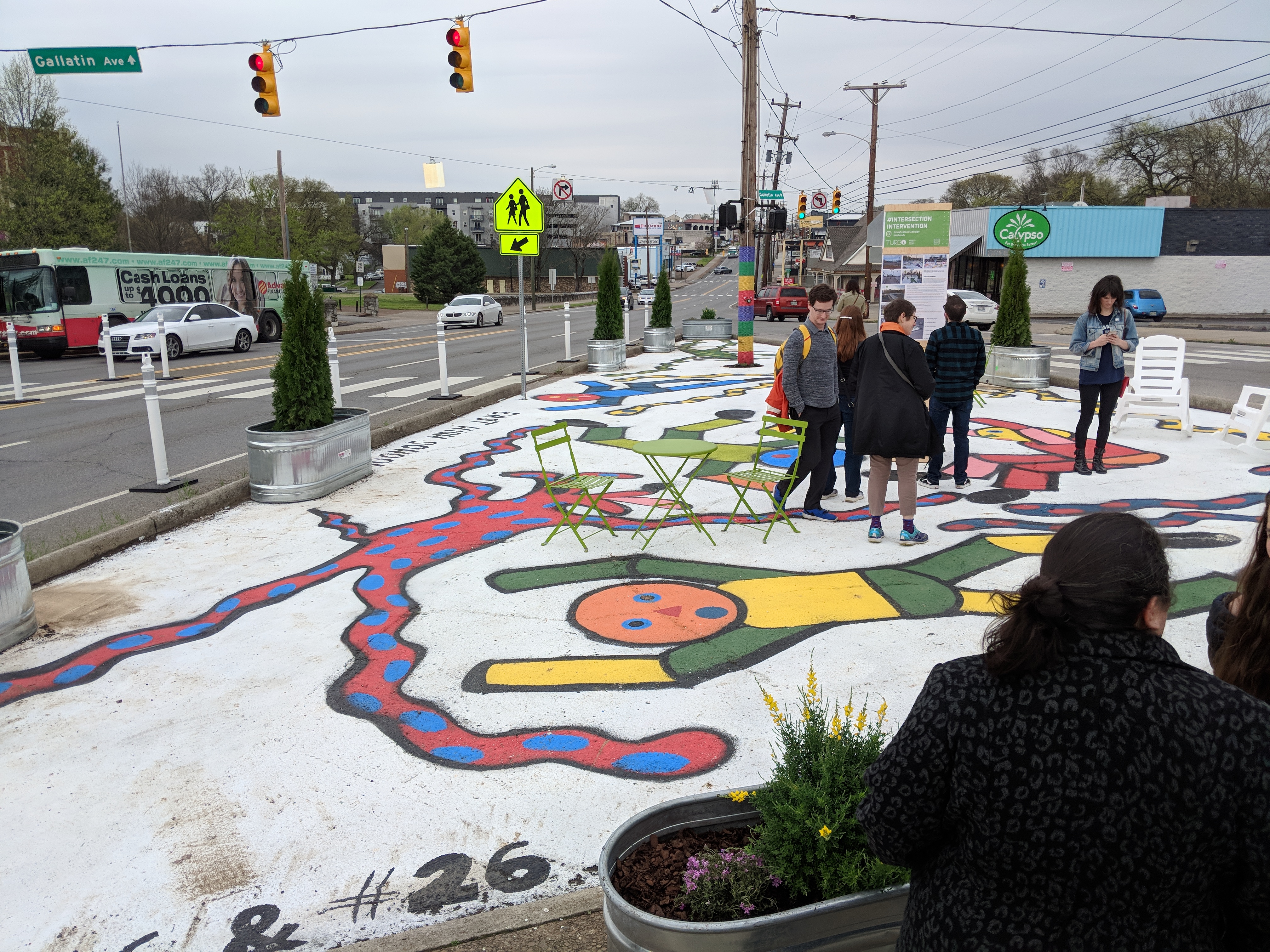 Last Friday, Ben Stone, Director of Arts & Culture at Smart Growth America, was in Nashville taking pictures of the city's newest tactical urbanism installation on Gallatin Pike. The project, pictured above, installed a temporary crosswalk and mural among other safety features at an existing intersection across the street from a local high school. Two people waiting at the adjacent bus stop noticed Ben taking pictures and asked, "Did you paint this?" When Ben told them he didn't, one of the people started talking about how the community has been considering a roundabout at the intersection.
"What do you think about that?" Ben asked. That question led to a discussion about how dangerous the current intersection was and how a roundabout might not be a bad idea—"I'd never thought about it," the man admitted.
The conversation turned to street design which naturally led to this May's crucial transit referendum in Nashville. Then the bus arrived and the two men got on, still talking about transit funding and street design.
Neither of them had probably ever given much thought to how their dangerous streets could be made safer or why improving the transit system they depend on is vital for the region's economic success, but that's just one small example of the power of arts and culture. It's more than just aesthetics; it's about sparking curiosity, bringing more people into the conversation about how we build the transportation networks we all depend on, and ultimately helping make our streets work better for everyone. And that is what Intersections: Creating Culturally Complete Streets is all about.
Where are all the people?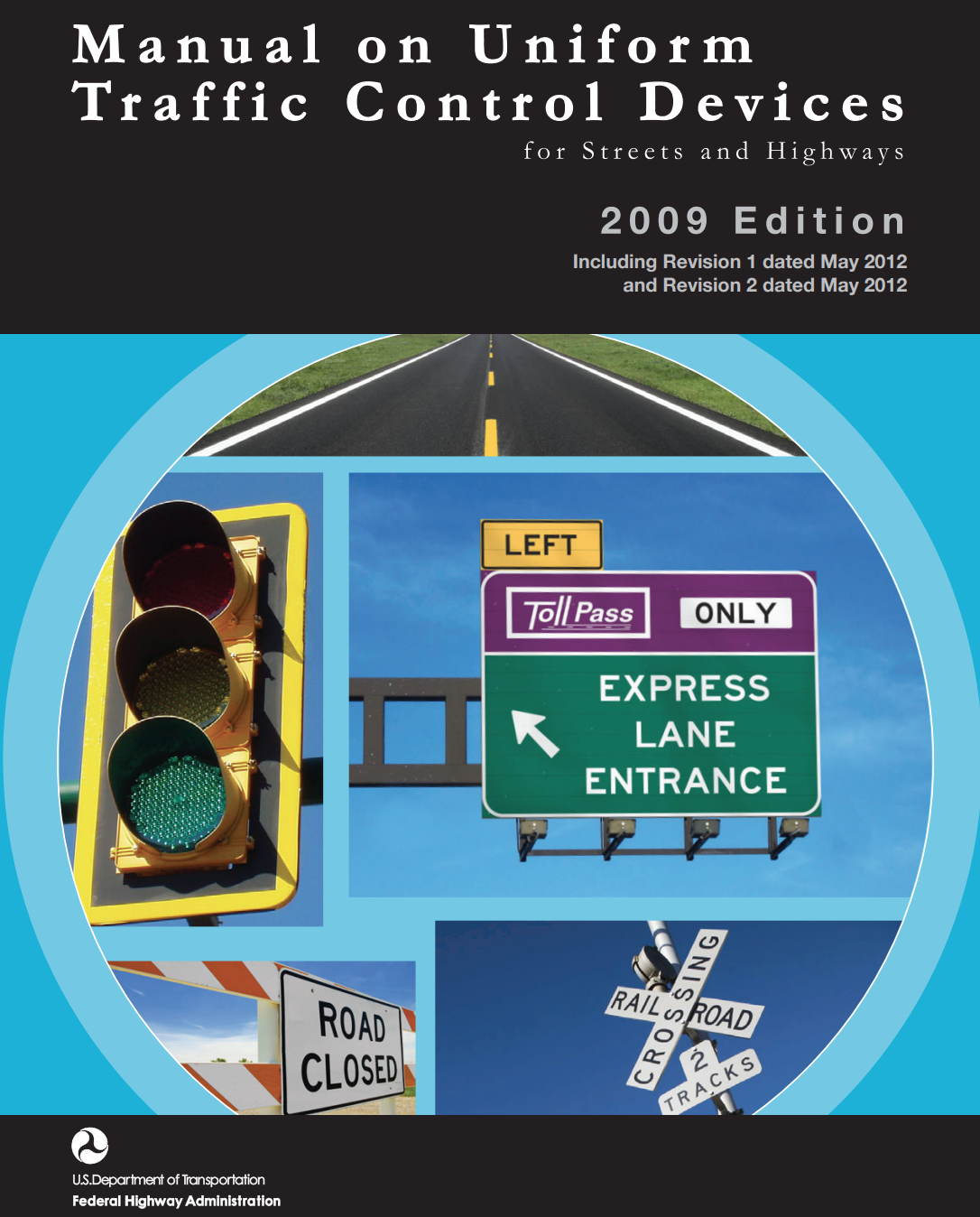 Janette Sadik-Khan kicked off Intersections Tuesday morning as the first keynote speaker. At one point, her presentation featured a slide with an image of the the federal government's Manual on Uniform Traffic Control Devices for Streets and Highways, 2009 Edition. Between jokes about the clipart cover, she made an important point: Where are all the people? In a guide that's supposed to assist in creating our transportation networks there isn't a single person pictured (the guide is over 800 pages long).
This total lack of people in the very design guidelines governing the systems we use to move people is symbolic of the larger issues of exactly who and what we're designing our transportation systems to serve. For too long, we've designed infrastructure that doesn't work for people. Bringing the conversation back to the people and communities our transportation systems are built to serve is at the heart of #Intersections2018.
The Complete Streets movement was born from a simple, yet radical idea. That our streets should work for all users. Since the movement began, more than 1,300 communities have passed Complete Streets policies. The growth of the movement has been tremendous, but there's more we can do—and more we need to do.
This year's Intersections conference is both about the next step in Complete Streets: an explicit focus on equity and implementation, and then how arts and culture can help make that a reality.
We're ready for the final day of Intersections and look forward to sharing more with those of you who weren't able to attend in the days ahead. Be sure to follow along with us at @CompleteStreets and @SmartGrowthUSA on Twitter.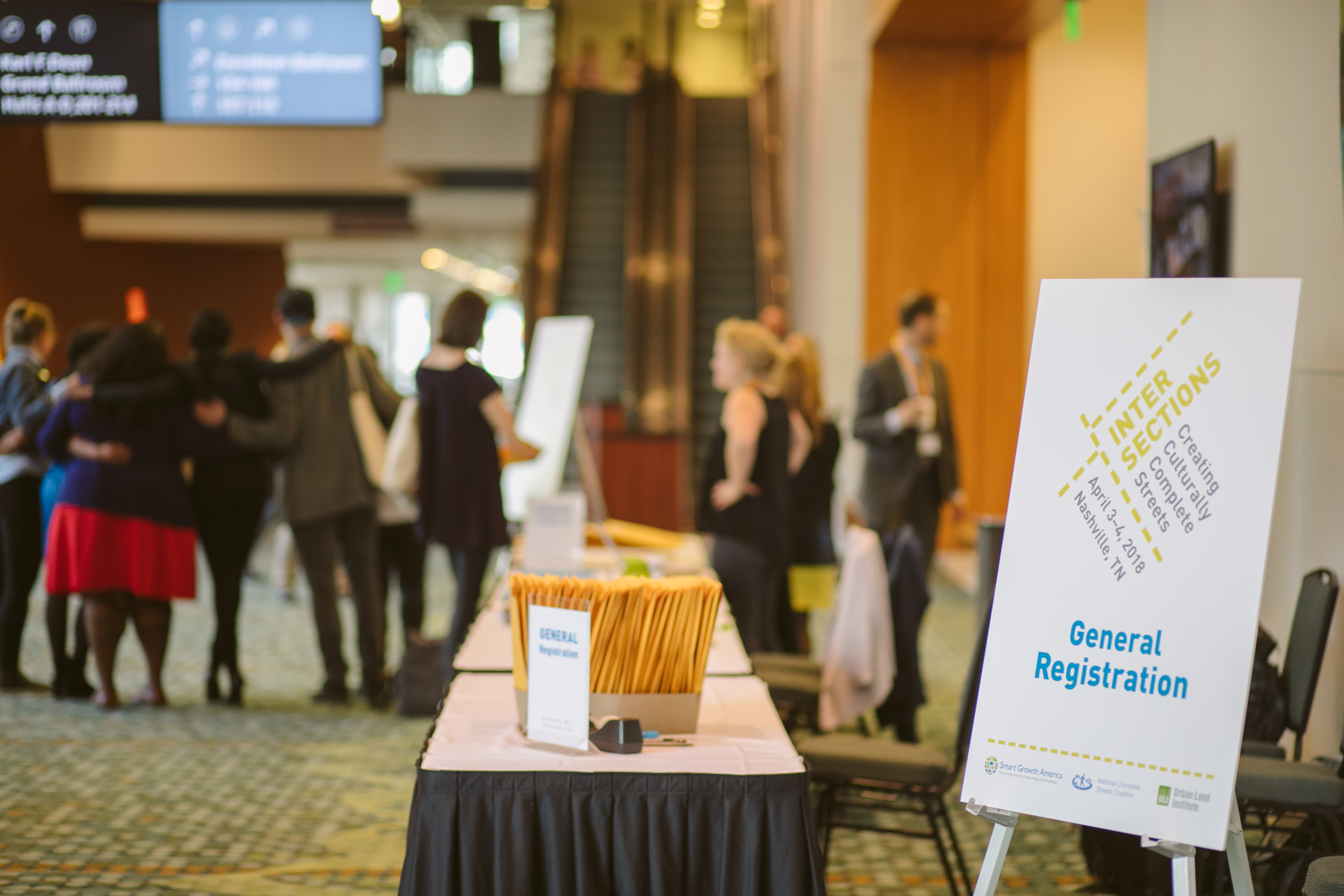 Photo Credit: LeXander Bryant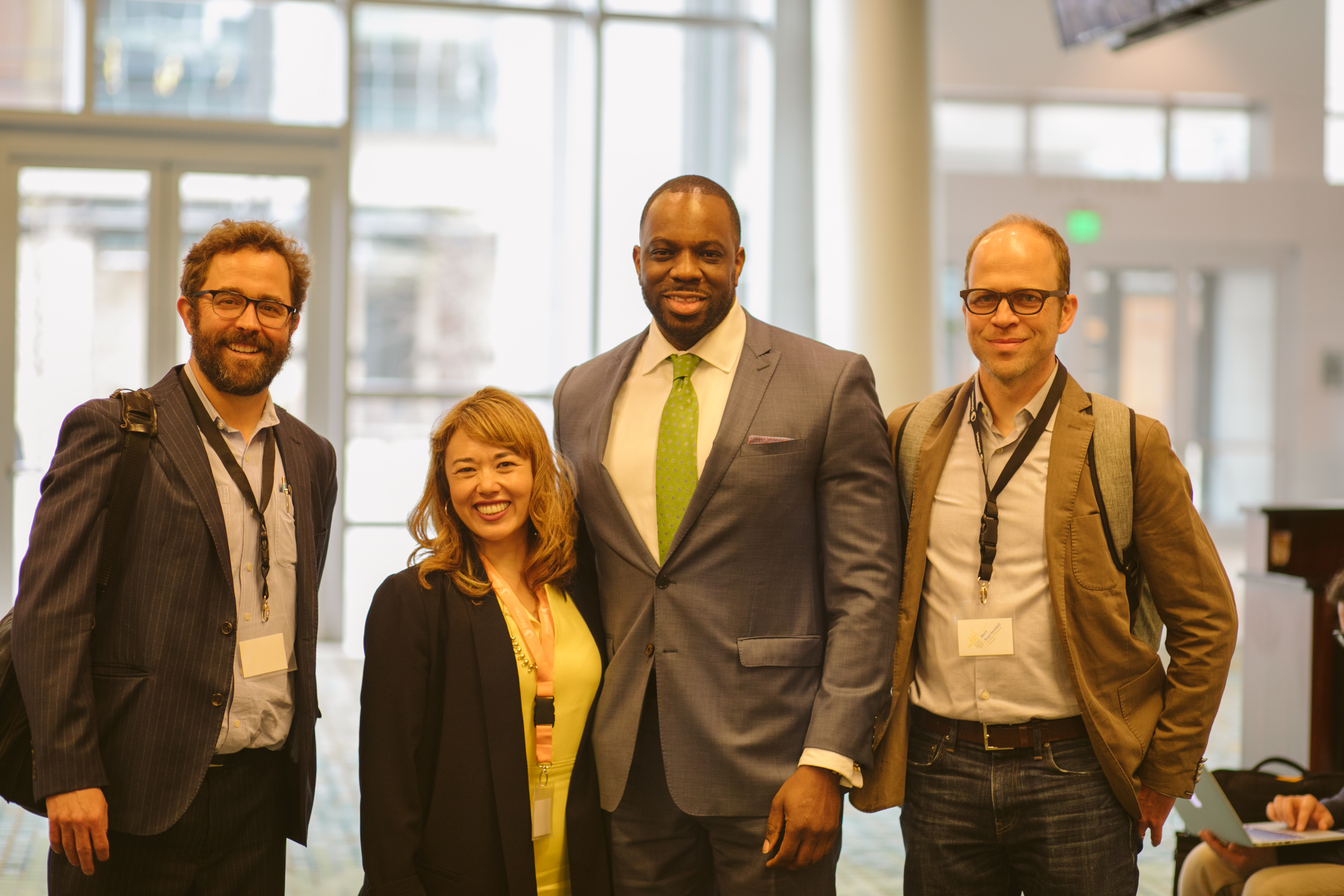 From left to right: Blythe Bailey, Administrator, Chattanooga Department of Transportation; Emiko Atherton, Director, National Complete Streets Coalition; Toks Omishakin, Deputy Commissioner & Chief of Environment and Planning, Tennessee Department of Transportation; Bert Kuyrkendall, Senior Transportation Engineer, Gresham Smith & Partners. Photo Credit: LeXander Bryant
Public works, arts administrators, artists, elected officials, transit providers, social workers, parks and recreation, and so many more are represented here at #Intersections2018 pic.twitter.com/UCjXzApoAb

— Complete Streets (@completestreets) April 3, 2018
When we talk about integrating arts and #completestreets, we're talking about more than just public art. It's about collaborating to create culturally relevant spaces, and safe streets that the community can own. #Intersections2018 pic.twitter.com/aJceS2SjlR

— Complete Streets (@completestreets) April 3, 2018
Paraphrasing @JSadikKhan at #Intersections2018 in Nashville this morning: "They say [enter US city name] has a love affair with the car. Is it really a love affair, or more of an arranged marriage?" pic.twitter.com/oYiio7Xg3z

— Bike Ped Memphis (@BikePedMemphis) April 3, 2018
.@JSadikKhan: The projects that change a city aren't always huge. They're the ones that people choose for themselves. Like the #TacticalUrbanism project in #Nashville #Intersections2018 pic.twitter.com/tLy1WWzyto

— Complete Streets (@completestreets) April 3, 2018
One big obstacle to creating more equity in how we build communities: often times the community outreach person is the only person of color on staff" -Zahra Alabanza at #Intersections2018 #Tokenization pic.twitter.com/nrURdjatfG

— Complete Streets (@completestreets) April 3, 2018
People (in NYC) are so hungry for public space, as soon as you put out cones to create a new plaza, people just materialize out of nowhere…it's like #StarTrek! –@JSadikKhan pic.twitter.com/jCRpXw3kUn

— Smart Growth America (@SmartGrowthUSA) April 3, 2018
"You can't retrofit equity" – my peeps @dizzyluv25 of @Nspiregreen #droppingknowledge @smartgrowthamerica's #intersections2018 conference! #realestate #neighborhoodrevitalization #urbanmosaic #letsgo https://t.co/UEZ4RYn93S pic.twitter.com/OuTaYkePPh

— Calvin Gladney (@mosaicurban) April 3, 2018