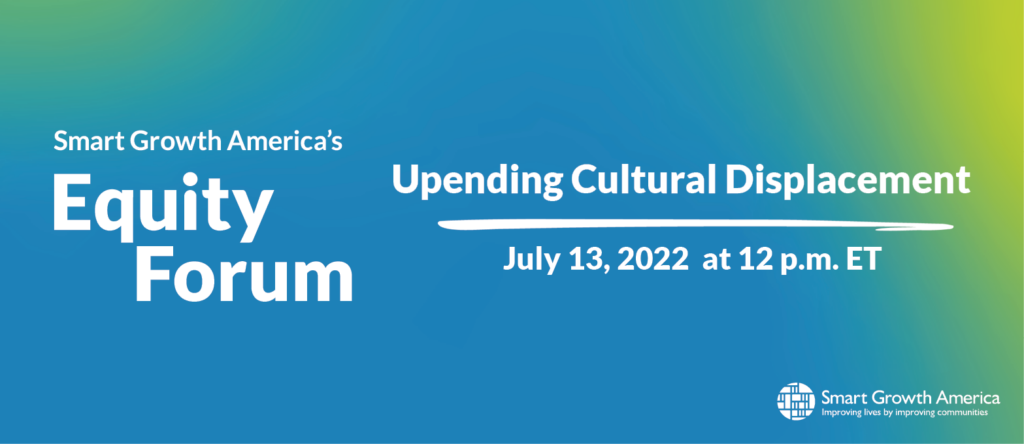 Smart Growth America's Equity Forum: Upending Cultural Displacement is a continuation of our year-round equity programming—anchored by the Equity Summit programming focused on advancing racial equity through smart growth. Our speakers will share their unique stories and key strategies to assist advocates, planners, developers, and elected officials in better understanding and mitigating the various forms of cultural displacement affecting communities across the country.
Want to join Smart Growth America for this free event? You can register
here
.
In conjunction with our Equity Forum: Upending Cultural Displacement event, SGA will for the first time offer a free one-hour technical assistance workshop during the event for teams who are working on projects related to upending cultural displacement in their communities. Our Equity Forum panelists, as well as selected SGA staff members, will participate in the workshop, offering their expert advice to the selected team. The workshops will be public, and all Equity Forum attendees will be automatically registered for the workshop, where they'll be able to listen in and participate via the chat function.
What's the schedule?
Join us on Wednesday, July 13th at 12 p.m. Eastern for this free program. Below is a tentative schedule:
12:00 – 1:00 p.m.
Keynote presentation by Dr. Maria Rosario Jackson, National Endowment for the Arts (NEA), Chair
BREAK
1:10 – 2:30 p.m.
Panel discussion with Jupiter Peraza, Director of Social Justice & Empowerment Initiatives at The Transgender District and Benny Starr, Hip-hop artist and Artist-in-residence with the US Water Alliance moderated by Kristen Jeffers, Founder, and Editor-in-chief, The Black Urbanist
2:30 – 3:30 p.m.
Workshop with selected participants (see application here)
The keynote, panel discussion, and workshops will be recorded and archived for post-event viewing.
---
Apply to have your community project participate in the workshop session
The application period is now closed. If you're interested in discussing alternative, more in-depth technical assistance opportunities related to cultural displacement? Contact SGA's arts & culture director, Ben Stone, at [email protected].