Smart Growth America's Equity Summit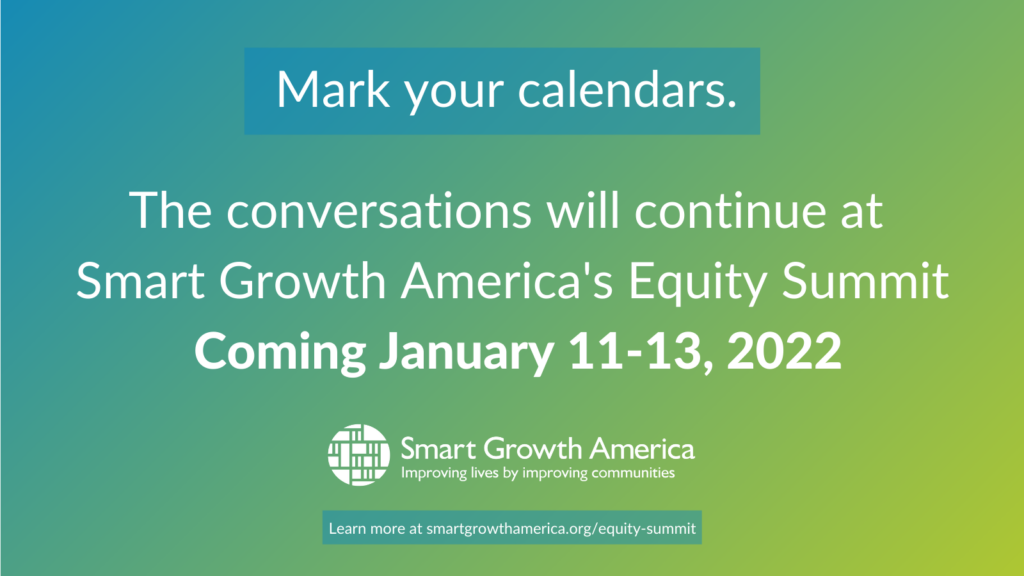 Save the date for the 2022 Equity Summit on January 11-13, 2022
Join our email list to be notified when registration opens this Fall.
---
At Smart Growth America, we deeply believe that improving racial disparities is at the core of a smart growth approach. But what does that mean? How does it work in practice? And how can smart growth advocates do it better?
Smart Growth America is once again holding a three-day virtual summit in January 2022 to discuss how to center improving racial equity in smart growth work. With a roster of experts from around the country, we'll be discussing a range of issues, spanning the universe of smart growth, including land use and development, economic development, transportation, and helping all communities thrive.
Interested in sponsoring the 2022 Summit? 
---
In the meantime, learn from our first-ever Equity Summit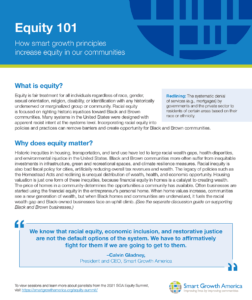 Whether you were one of the 4,000 people who joined us or not for the first edition in January 2021, you can still learn from the Summit and turn the content into action and tangible change in your community with this set of four discussion guides (plus an extra guide with instructions for using them). If your office, community, or friends have never walked through a discussion about equity, this can provide a good starting point. For those that have, these guides can deepen your understanding.
Consider the Summit's implications for your smart growth advocacy where you live or work.  You can certainly do this on your own, but to maximize the impact, we recommend doing this with a small group of colleagues, friends, or other people in your community. Think of it like a book discussion group. Listen to the Summit's content, read the summaries of each session, and then think about the discussion questions together as a group—perhaps over a few weeks. For those of you that are ready to take the next step, you can put together a plan of action.
Download the full set of discussion guides (.pdf)
What did we discuss at the 2021 Summit?
Get a slice of the 2021 summit content with these four short videos:
You can also watch the full three days of the Summit in this playlist on Youtube: