Smart Growth America's Equity Summit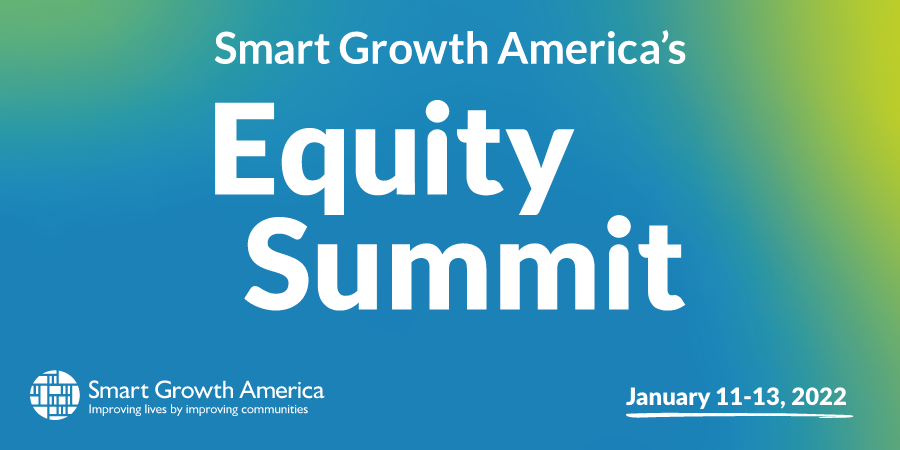 At Smart Growth America, we deeply believe that improving racial disparities is at the core of a smart growth approach. But what does that mean? How does it work in practice? And how can smart growth advocates do it better?
Last year Smart Growth America (SGA) hosted our first-ever Equity Summit to bring a discussion of racial equity to the smart growth movement and make the case that smart growth without a focus on equity isn't smart growth at all. Speakers discussed how to promote equity in housing and land use, why strong Black and brown businesses are key to neighborhood vitality, and how to right the wrongs of past damaging transportation decisions and promote restorative justice. 
The 2022 Equity Summit was held (virtually) from January 11-13, 2022. Over three days, we heard keynotes on equitable development and panels curated by our economic development, transportation, and land use teams.
Closed-captioning was provided during the Summit, thanks to the support of AARP
Questions? Read our FAQ. If you don't find your answer there, send an email to [email protected]
Recap materials will be available soon.
---
2022 Summit information
The Summit will begin at 11 a.m. Eastern each day.
Majora Carter will give the Equity Summit primary keynote during the first half of day one (January 11, 2022). Majora Carter is a real estate developer, urban revitalization strategy consultant, MacArthur Fellow, and Peabody Award-winning broadcaster. Read her full bio in the "speakers" tab.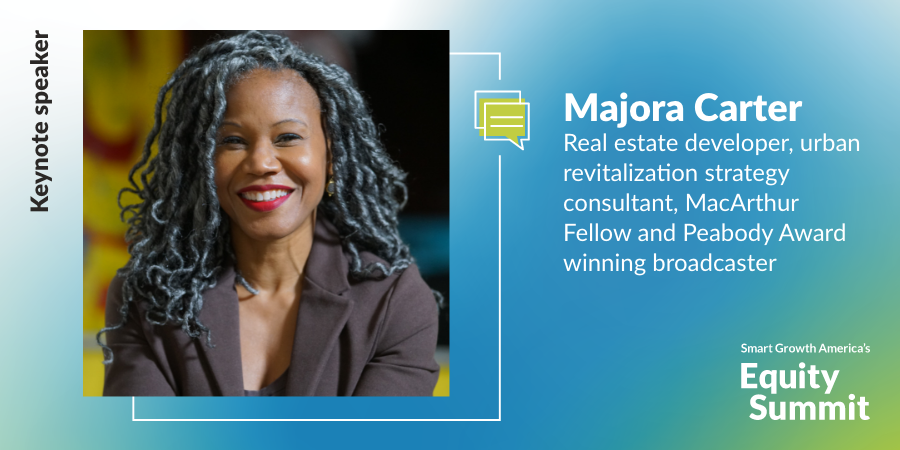 Day 1: Tuesday, January 11

Land use and development


Day 2: Wednesday, January 12





Transportation and thriving communities

Day 3: Thursday, January 13

Economic development


Theme: Historic injustices in land use and development have led low-income communities and communities of color to be disproportionately impacted by climate change. Learn about the science behind understanding climate and community vulnerability, and discover how leading practitioners are advancing racial and social equity through land use strategy and climate adaptation.

Theme: Transportation planning continues to use decades-old models and tools that contribute to a legacy of harm for communities of color, whether by directing limited resources away from them, bisecting and destroying those communities, or failing to connect them to opportunities to build wealth. Join a conversation about ways technology can be used to replace those outdated tools to better identify and address racial inequities and elevate community voices in transportation decisions.

Theme: The decades-long rise in demand for living and working in walkable places—especially with good access to transit—is good news for the fight against climate change, our health, and our economy. But too often, current residents of these neighborhoods are left behind—or pushed out. For future growth and development decisions, how can these mistakes be avoided and instead support economic mobility, wealth-building, and shared prosperity?

11:15 a.m. - SUMMIT KEYNOTE presentation by Majora Carter

11:08 a.m. - Keynote presentation by Vignesh Swaminathan ("Mr. Barricade"), CEO and President at Crossroad Lab. This will be followed by a fireside chat with Beth Osborne, Director, Transportation for America

11:08 a.m. - Keynote presentation by Martin Muoto, Founder and Managing Partner of SoLa Impact

12:15 p.m. - Keynote presentation by Dr. Marshall Shepherd, Distinguished Professor, University of Georgia Atmospheric Sciences

12:00 p.m. - Panel discusssion, moderated by Dr. Regan F. Patterson, Transportation Equity Research Fellow, Congressional Black Caucus Foundation, featuring:




Tiffany Chu, SVP at Via, CEO and Co-Founder, Remix

Bob Dean, CEO, Center for Neighborhood Technology

Kim Lucas, Acting Director of Pittsburgh Department of Mobility and Infrastructure


Day ends at 1 p.m Eastern

12:00 p.m. - Panel discussion, moderated by Calvin Gladney, President and CEO of Smart Growth America, featuring:

Michelle de la Uz, Executive Director, Fifth Avenue Committee, Brooklyn, NY

Mayor Keith James, Mayor of West Palm Beach Florida

Marla Bilonick, President & CEO, NALCAB


You'll also be hearing from The Hon. Chris Zimmerman, Vice President of Economic Development, Smart Growth America


Day ends at 1 p.m. Eastern

1:00 p.m. - Panel discussion, moderated by Camille Manning-Broome, President and CEO, Center for Planning Excellence

Zelalem Adefris, VP, Policy and Advocacy, Catalyst Miami

Gary Gero, Chief Sustainability Officer, Los Angeles County

Sharai Lewis-Gruss, Lead Adaptation Specialist, First Street Foundation

Throughout the day, you'll also hear from:

Calvin Gladney, President and CEO, Smart Growth America

Katharine Burgess, Vice President of Land Use and Development, Smart Growth America

This day ends at 2 p.m. Eastern
More agenda info
Detailed information on all confirmed speakers can be found under each day's respective tab. 
Sign up for email updates
Keynote + Land use and development
Special guests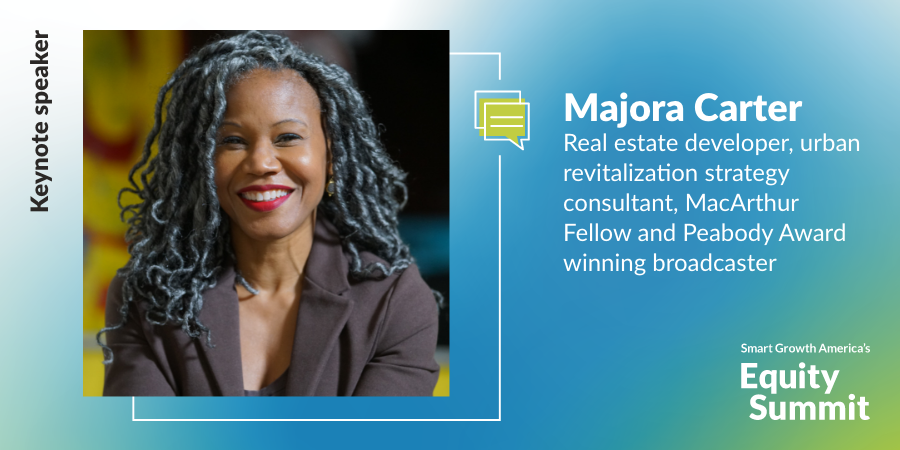 Majora Carter
Majora Carter is a real estate developer, urban revitalization strategy consultant, MacArthur Fellow and Peabody Award winning broadcaster. She is responsible for the creation and successful implementation of numerous economic developments, technology & green-infrastructure projects, policies and job training & placement systems, and is currently serving as Senior Program Director for Community Regeneration at Groundswell, Inc. Read more about Majora here.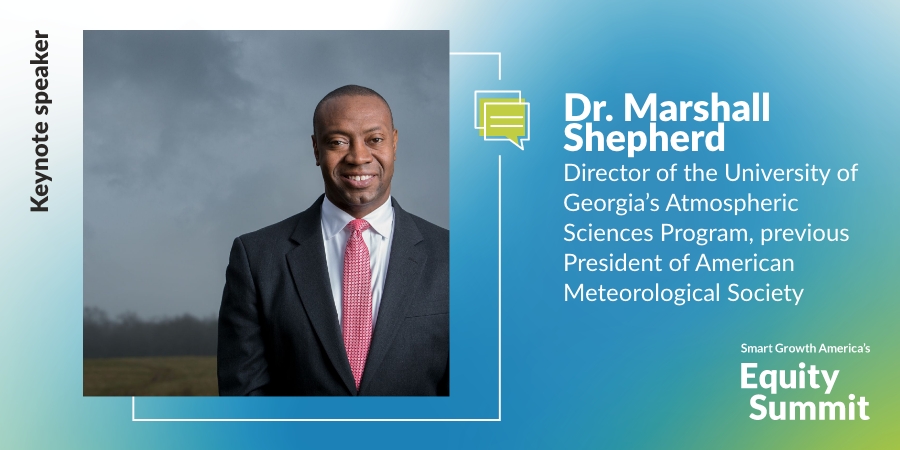 Dr. Marshall Shepherd
Dr. J. Marshall Shepherd is a leading international expert in weather and climate and is the Georgia Athletic Association Distinguished Professor of Geography and Atmospheric Sciences at the University of Georgia. Dr. Shepherd was the 2013 President of American Meteorological Society (AMS), the nation's largest and oldest professional/science society in the atmospheric and related sciences. He serves as Director of the University of Georgia's (UGA) Atmospheric Sciences Program and Full Professor in the Department of Geography where he is Associate Department Head.
Shepherd is also the host of The Weather Channel's Weather Geeks, a pioneering Sunday talk show dedicated to science, and he is a contributor to Forbes Magazine. Dr. Shepherd routinely appears on national media outlets like CNN, The Weather Channel, CBS's Face The Nation and more. He also provides expertise to NASA, NOAA, The White House, Congress and other stakeholders. In 2021, he was elected to the National Academy of Sciences, National Academy of Engineers, and the American Academy of Arts and Sciences. He is the first faculty member in the history of the University of Georgia to achieve this trifecta, and the first African American to do so.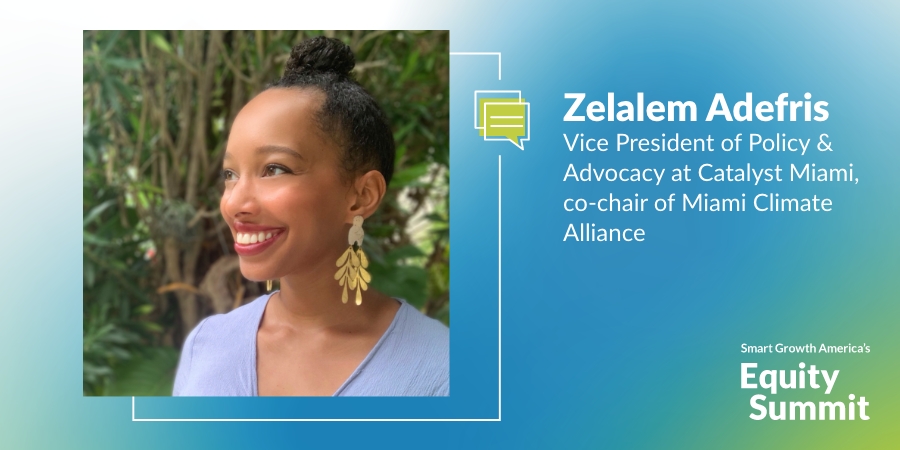 Zelalem Adefris
Zelalem Adefris is the Vice President of Policy & Advocacy at Catalyst Miami, where she oversees Catalyst's Policy & Engagement Department. Zelalem joined Catalyst Miami in 2016, directing the organization's climate justice work. Her previous work experiences include environmental justice organizing at the Environmental Justice League of Rhode Island and conducting emergency preparedness research at the United States Centers for Disease Control and Prevention. She holds an MPH in Global Environmental Health from Emory University and a bachelor's degree in Community Health from Brown University. Zelalem serves as a co-chair of the Miami Climate Alliance, a philanthropic trustee of the Solutions Project, as well as a board member of the Miami-Dade College Earth Ethics Institute.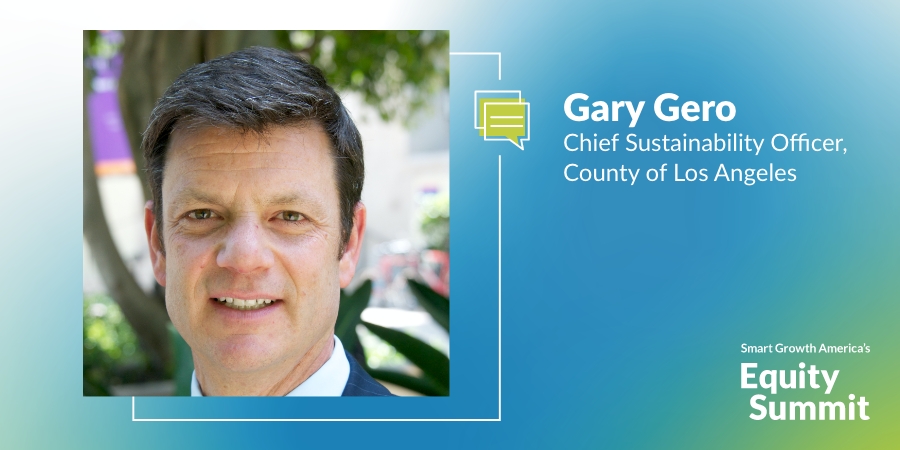 Gary Gero
Gary Gero was appointed LA County's first Chief Sustainability Officer in November 2016.  Gary previously served as the President of the Climate Action Reserve and he now serves as the Vice-Chair of its Board of Directors. Gary's career includes service as the Assistant General Manager for the City of Los Angeles Environmental Affairs Department, and he also managed renewable and energy efficiency programs at LADWP.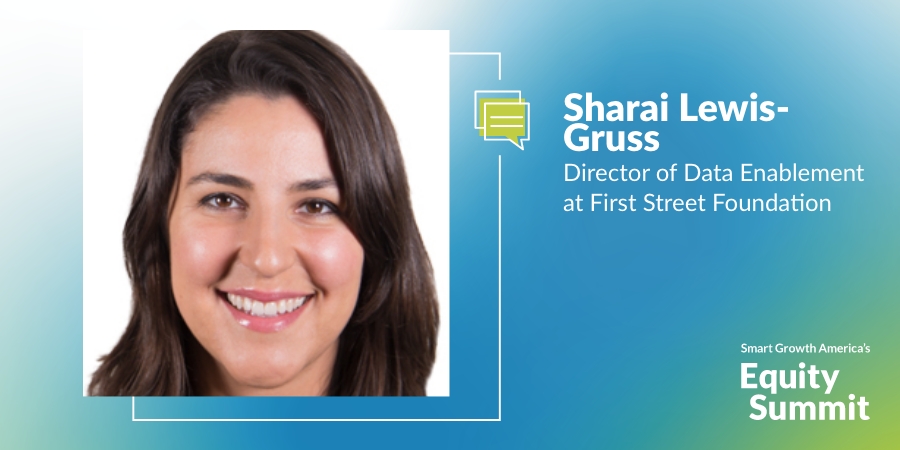 Sharai Lewis-Gruss
Sharai Lewis-Gruss is the Director of Data Enablement at First Street Foundation. In this role, she applies her background in environmental policy and GIS to help support those seeking to access the First Street data.
Before joining First Street, Sharai was a GIS Specialist and Project Coordinator at COWI North America, where she mapped shorelines in an effort to help reduce vulnerability to sea level rise, major storms, and other events. She coordinated teams in multiple countries to deliver an interactive mapping platform and products that were used for the City of New York projects, which included the Waterfront Maintenance Management System and Rebuild by Design Living Shoreline. Prior to that, Sharai was a GIS Manager for the Regional Plan Association of Greater New York. In that position she created the "Access to Jobs" interactive map, using it to present the findings of an associated study on the state of the tri-state region to private organizations and federal agencies, such as the Department of Transportation and the U.S. Census Bureau. In addition, Sharai worked for the Federal Emergency Management Agency (FEMA) as a GIS Specialist for the Superstorm Sandy recovery effort, the New York City Department of Environmental Protection, and the New York City Department of Parks and Recreation.
She holds a Masters in Geography-GIS from Hunter College of the City University of New York and a Bachelor of Arts in Environmental Policy from Middlebury College. In addition, Sharai holds certificates in GIS from Hunter and in Spanish from the University of Buenos Aires.
Transportation and thriving communities
Special guests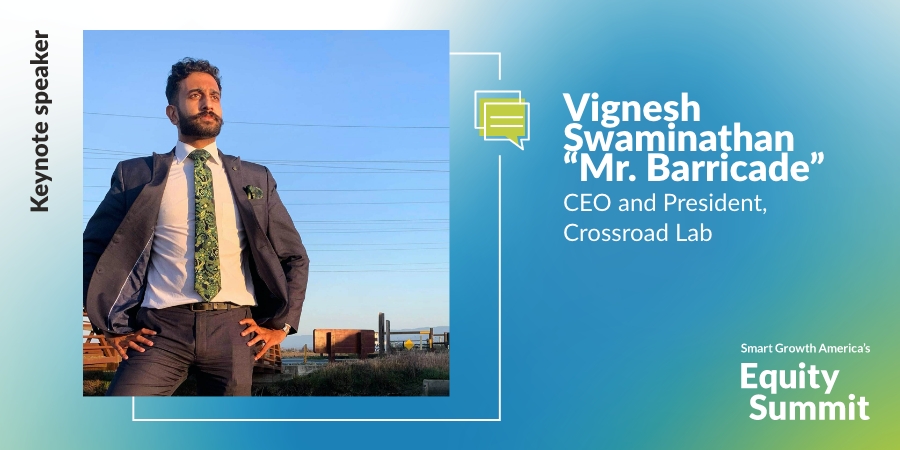 Vignesh Swaminathan
Vignesh Swaminathan is Principal in Charge and Project Manager at Crossroad Lab and has over 10 years in municipal and transportation engineering. He has worked with municipalities, resource agencies and Caltrans to plan, design, and deliver much needed bridge, roadway and infrastructure improvements throughout California. Vignesh is the president of the firm and specializes in all aspects of transportation projects ranging from transportation studies to construction documents. He has formed a reputation in the industry for developing complex intersection geometrics to solve difficult transportation challenges. Vignesh's career focuses on designing transportation projects such as bike paths, protected intersections, bridges, corridors and interchanges. He maintains a thorough understanding of the transportation project delivery process, planning and capital improvement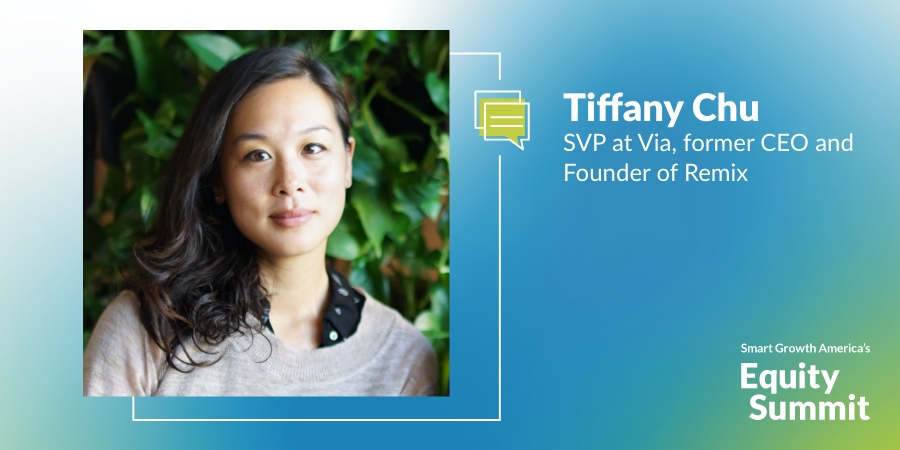 Tiffany Chu
Tiffany Chu is a designer and a planner. She is the former CEO & Co-founder of Remix (remix.com) and now SVP at Via (ridewithvia.com). Remix is the collaborative software platform for transportation planning used by 500+ cities globally, and has been recognized as a Tech Pioneer by the World Economic Forum and BloombergNEF (New Energy Finance) for furthering sustainability and equity in the field. Remix was acquired by Via in March 2021, the leading transportation technology company powering public mobility systems worldwide.
Tiffany served as Commissioner of the San Francisco Department of the Environment, and sits on the city's Congestion Pricing Policy Advisory Committee. Previously, Tiffany was a Fellow at Code for America, the first UX hire at Zipcar and is an alum of Y Combinator. She has been named in Forbes' 30 Under 30, LinkedIn's Next Wave of Leaders Under 35, Curbed's Young Guns, and featured at SXSW, Helsinki Design Week, the New York Times Cities for Tomorrow Conference and more. Tiffany has a background in architecture and urban planning from MIT.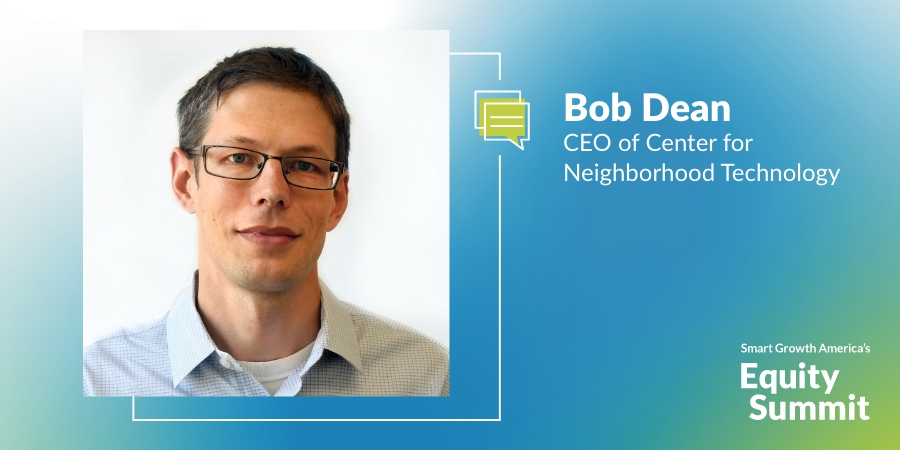 Bob Dean
​​Bob Dean joined the Center for Neighborhood Technology (CNT) in 2018 as its Chief Executive Officer. CNT is a nationally recognized 501(c)(3) nonprofit organization whose mission is to deliver innovative analysis and solutions that support community-based organizations and local governments to create neighborhoods that are equitable, sustainable, and resilient. CNT works where urban form – the built environment and infrastructure of our cities – intersects with disparities by race and income. We work across sectors, on topics including climate resilience, environmental justice, healthy housing, transportation equity, community-based planning, and nature-based solutions.
Prior to CNT, Bob served as the Deputy Executive Director for Planning for the Chicago Metropolitan Agency for Planning (CMAP), where he created and then oversaw the Local Technical Assistance program, which has offered planning assistance to local governments across the region through over 200 local planning projects. Before initiating the LTA program, Bob managed GO TO 2040, the award-winning comprehensive plan for the Chicago metropolitan area that was adopted in October 2010. After leaving CMAP in 2017, he consulted for Chicago's Metropolitan Planning Council (MPC) and RW Ventures on local governance and economic development projects during 2018. Prior to CMAP, Bob worked in municipal government for five years in suburban Chicago. Bob holds a Master of Regional Planning from Cornell University and a Bachelor of Arts in American History from the University of Delaware.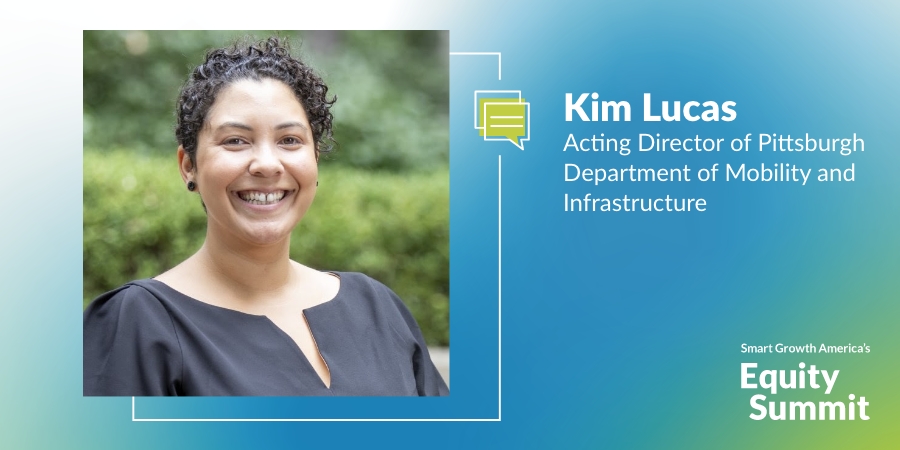 Kim Lucas
The Acting Director of Pittsburgh's Department of Mobility and Infrastructure, Kim Lucas chose her career out of a desire to sustain the environment and improve the quality of life for people through enhanced transportation choices. She has over 15 years of professional transportation experience, beginning with her stint as a student bus driver at the University of Virginia, with experience across the public and private sectors, advocacy, and research. These experiences have informed her perspective as a planner and enlightened her to the intimate and reciprocal relationship between these areas.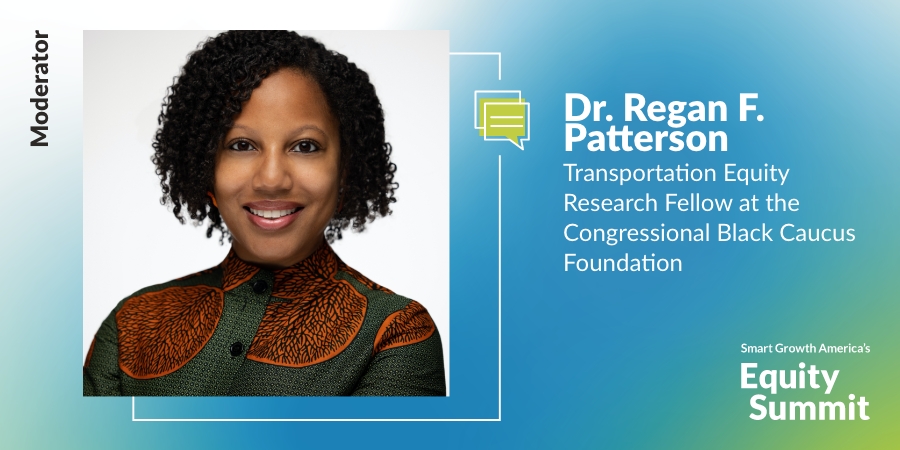 Dr. Regan F. Patterson
Dr. Regan F. Patterson is the Transportation Equity Research Fellow at the Congressional Black Caucus Foundation (CBCF), where she conducts intersectional transportation policy analysis and research. Prior to joining the CBCF, Dr. Patterson was a postdoctoral research fellow at the University of Michigan Institute for Social Research. She earned her PhD in Environmental Engineering at the University of California, Berkeley. Her dissertation research focused on the impact of transportation policies on air quality and environmental justice. Dr. Patterson holds a B.S. in Chemical Engineering from UCLA and an M.S. in Environmental Engineering from UC Berkeley.
Economic development
Special guests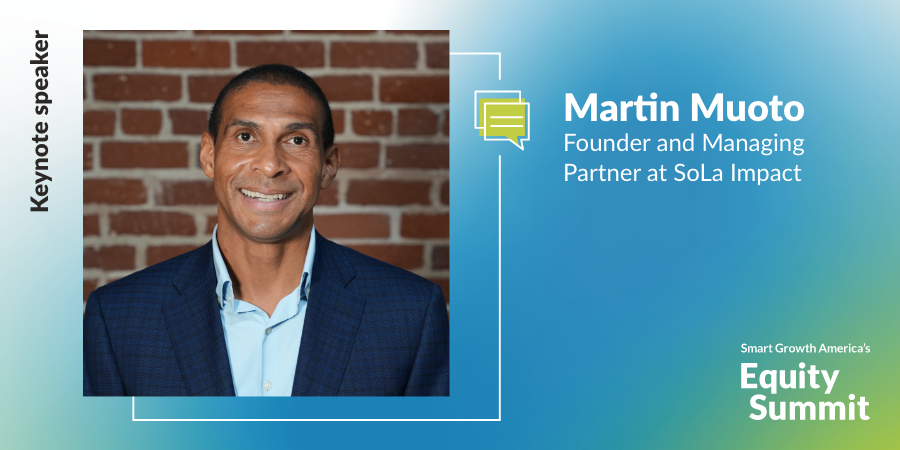 Martin Muoto
Martin began personally investing in real estate in South Los Angeles, Compton, Watts, and other neglected communities a decade before these areas became designated Opportunity Zones. Along with Gray Lusk, Martin launched SoLa Impact's first fund in 2014. His early vision and leadership in creating Opportunity Zone funds that deliver true social impact has led to Martin being featured in Forbes, Black Enterprise, the WSJ, the New York Times, and other leading publications.
Prior to founding SoLa Impact, Martin was operating executive at Walz Group, LLC, a business services company selling to large mortgage servicers and law firms, which Martin helped grow from approximately $5 million to $30 million in revenue in his first four years with the company. As a result, Walz was rated the #4 Fastest-Growing Business Services Company in the United States by Inc. 500 in 2008 and was sold in 2014 for over a 500% gain to its investors. From 1996 to 2004, Martin was with leading venture capital firms and private equity firms, including as a founding principal of Accretive Partners, LLC ($200 million venture capital fund) and as a Principal and head of research for General Atlantic Partners ($10 billion late-stage private equity fund). Martin started his career as a technology analyst at Gartner Group (NYSE: IT) covering enterprise software companies.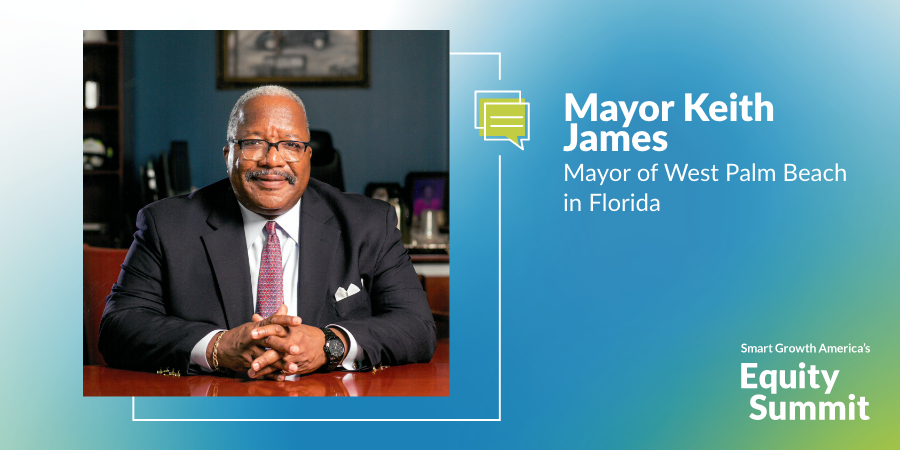 Keith James
Keith James was elected Mayor of the City of West Palm Beach on March 12, 2019. Focused on creating a community of opportunity for all, Mayor James has a vision for West Palm Beach that is resident-driven. Mayor James is committed to creating a customer friendly culture in City Hall that focuses on neighborhood initiatives, regional collaboration, and community partnerships. Mayor James is the City's first African-American "strong mayor," whereby the Mayor is the City's Chief Executive Officer directing the administrative structure, and the City's fourth African-American Mayor. 
Prior to being elected Mayor, Keith James served as the District 4 City Commissioner from 2011 – 2019, serving as President of the Commission twice. During this time, Mayor James helped create West Palm Beach's strategic plan, finance plan, water plan and mobility plan. Mayor James has been a part of the leadership that has led West Palm Beach from the depths of the recession to the booming metropolis we have today. Mayor James is the Past President of the Palm Beach County League of Cities, where he championed a collaborative approach to solving regional and state issues on equality, home-rule, health and addiction challenges, and transportation. 
Born in Wichita, Kansas to a teenage single mother, Mayor James learned at an early age the value of hard work, service and education. As a young man, Mayor James overcame the challenges of segregation and inequality to become accepted and then graduate from Harvard College and then Harvard Law School. Mayor James has served in numerous leadership positions to address a range of issues in the community. Mayor James was the former Chair of the West Palm Beach Citizens' Ethics Task Force, a position to which he was appointed by then-Mayor Lois Frankel. Mayor James is a former Board Member of the Florida League of Cities and Palm Beach County League of Cities. A trailblazer in his own right, Mayor James was the first African American Chair of Leadership Florida and the Quantum Foundation. 
Mayor Keith James has been a West Palm Beach resident for more than 30 years. It is where he raised his two children and has dedicated his life to public service. Mayor James and his wife Lorna are proud to call West Palm Beach home.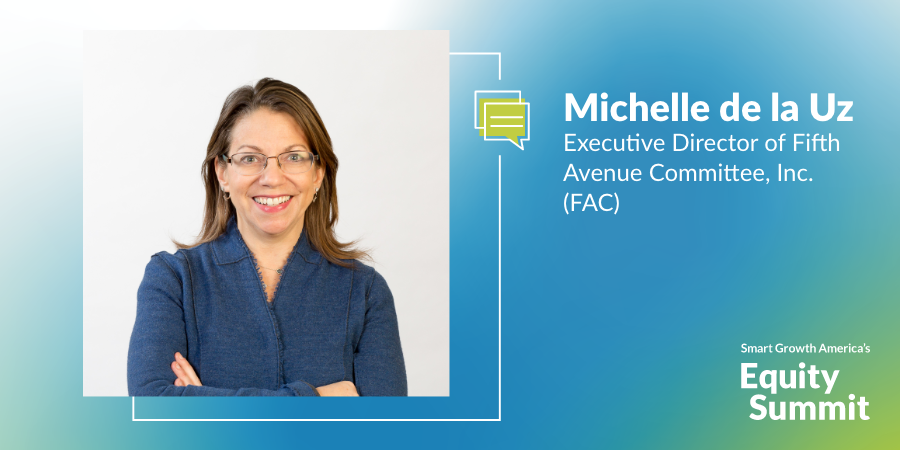 Michelle de la Uz
Michelle de la Uz has over twenty years experience in public and community service and became Executive Director of Fifth Avenue Committee (FAC) in January 2004, after serving as Co-Chair of FAC's Board of Directors. Michelle oversees the organization's mission of advancing economic and social justice and comprehensive programs serving more than 5,000 low and moderate income people directly through the Fifth Avenue Committee and its non housing affiliates which have combined budgets of more than $10 million, real estate assets of over $100 million and a housing development pipeline of nearly 1000 units representing total development costs of more $400 million.
Under Michelle's leadership, the number of multi-family, mixed use housing and commercial spaces under FAC's management has more than doubled; the agency completed NY State's first LEED Platinum supportive housing project and Brooklyn's largest affordable LEED Gold project and the agency's real estate development pipeline has increased by more than five fold.  Additionally, FAC has been awarded the 2011 NY and National Non Profit Developer of the Year Award, 2010 American Planning Association NY Metro Paul Davidoff Award for Leadership in Housing and Equal Opportunity and 2009 Bank of America Neighborhood Excellence Award, among many other awards.
Prior to FAC, Michelle was Program Director for the Center for Urban Community Services in Washington Heights and Harlem and oversaw social services in supportive housing for 400 low-income tenants with special needs. From 1995-99, Michelle was Congresswoman Nydia Velázquez' first Director of Constituent Services and directed her South Brooklyn District Office. She was active in advancing transportation, environmental justice, waterfront/port development, immigration reform and employment policy initiatives.  Michelle is the first in her working-class immigrant family to graduate from college, is a product of bi-lingual education, a former trustee of Connecticut College, and recipient of the Ford Foundation's Leadership for a Changing World award. She is a Board member of the Local Initiative Support Corporation (LISC) National Board, New Partners for Community Revitalization, Inc. and the former Chair of the Association for Neighborhood and Housing Development, among others.
Michelle is an alumna of Connecticut College, Columbia University and of Harvard Kennedy School's Executive Education Program.  She lives in Brooklyn with her husband, Michael Hermann, and daughter Eliana Pilar.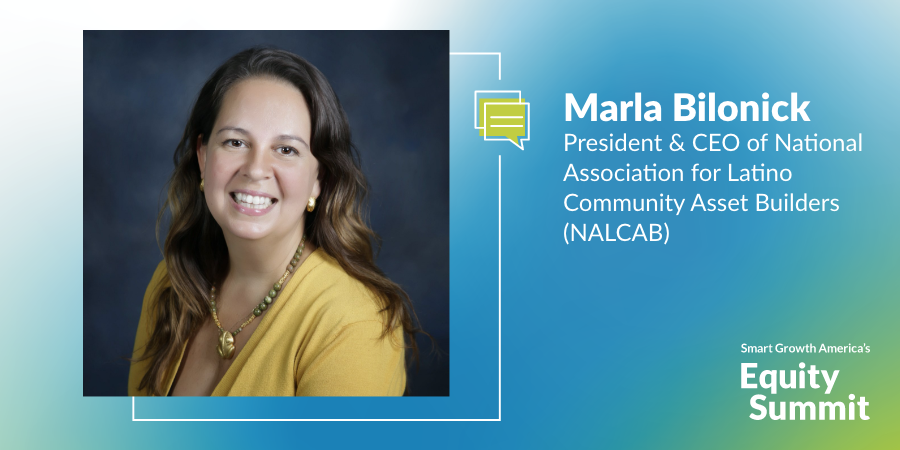 Marla Bilonick
Marla Bilonick serves as NALCAB's President & CEO and also serves as CEO of NALCAB's subsidiary asset management company Escalera Community Investments.
A seasoned veteran in the arena of economic and community development, Marla brings over 20 years of expertise in small business development, community-based financial services and international aid with an emphasis on Latin America and the US Latino population. Prior to joining NALCAB, she served as the Executive Director of the Latino Economic Development Center in Washington, DC leading regional efforts to drive the economic and social advancement of low- to moderate-income Latinos by equipping them with the skills and tools to achieve financial independence. She also served as a NALCAB board member from 2016-2020.
Marla is a graduate of the University of Wisconsin at Madison with a BA in Political Science and she received her MA in International Economics and Latin American Studies from the Johns Hopkins University School of Advanced International Studies.
Prior to her tenure at LEDC, Marla worked for DAI managing multimillion-dollar international development contract opportunities funded by USAID and other donor agencies in countries such as Bolivia, El Salvador, Mexico, Nicaragua, and her native Panama. She also served as the Director of Seedco's Upper Manhattan Business Solutions Center in Harlem – an initiative in collaboration with the New York City government to provide consulting and access to financing to local businesses.  In addition, she helped Seedco develop and implement its long-term small business services approach after they were chosen to participate in the City's September 11, 2001 small business crisis response.
Marla is a board member of the Opportunity Finance Network (OFN), the National Housing Trust and a founding member of the National League of Minority Voters' board. She is a former Aspen Institute Emerging Leaders in Microbusiness-ELM2 Fellow and a graduate of the Citi/OFN Leadership Program for Opportunity Finance at The Wharton School of the University of Pennsylvania. Marla serves on Capital One's Community Advisory Council and was an advisor to Wells Fargo's regional "Where We Live" initiative. She was named a Community Champion for the Washington, DC metropolitan area by Capital One Bank in 2015.
Smart Growth America
Click names to view Smart Growth America bios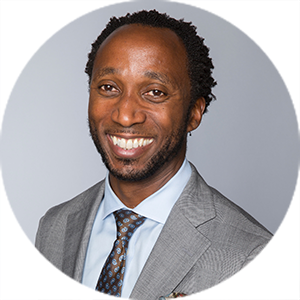 Calvin Gladney
President and CEO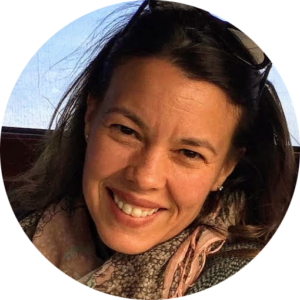 Madeline Fraser Cook
Smart Growth America Board Chair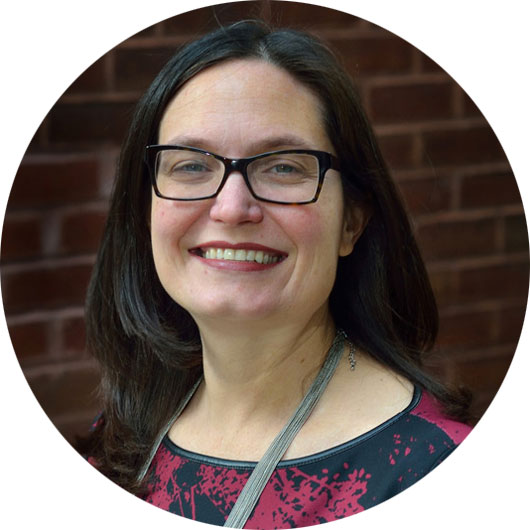 Beth Osborne
Director, Transportation for America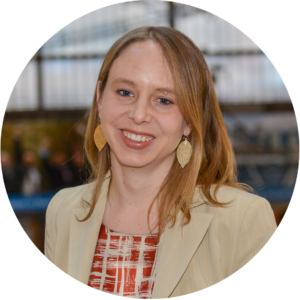 Katharine Burgess
Vice President of Land Use and Development
Chris Zimmerman
Vice President of Economic Development
2022 sponsorships are still available
   Contact us to learn more         Download our sponsorship package   
Thanks to our 2022 Summit sponsors
| | | | | |
| --- | --- | --- | --- | --- |
| | | | | |
| Citi's "Action for Racial Equity" represents unprecedented effort to leverage Citi's core business capabilities and Citi Foundation philanthropy to help address racial equity and justice in the U.S. | | | | |
Get ready for this year with our discussion guides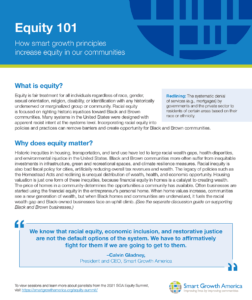 Turn our Equity Summit content into action and tangible change in your community with this set of four discussion guides (plus an extra guide with instructions for using them), based on the 2021 Summit content.
Consider how to improve your smart growth advocacy where you live or work.  You can certainly do this on your own, but to maximize the impact, we recommend doing this with a small group of colleagues, friends, or other people in your community. Think of it like a book discussion group. Listen to last year's Summit content, read the summaries of each session, and then think about the discussion questions together as a group—perhaps over a few weeks. For those of you that are ready to take the next step, you can put together a plan of action.
Download the full set of discussion guides (.pdf)
Watch last year's Summit
Watching last year's summit is a great way to get to know the content in the discussion guides above. In 2021, we spent a lot of time talking about the "why." This year, we are hoping to tackle more of the "how," while continuing to lay a foundation for those who are new to the discussion.