Smart Growth America's Equity Summit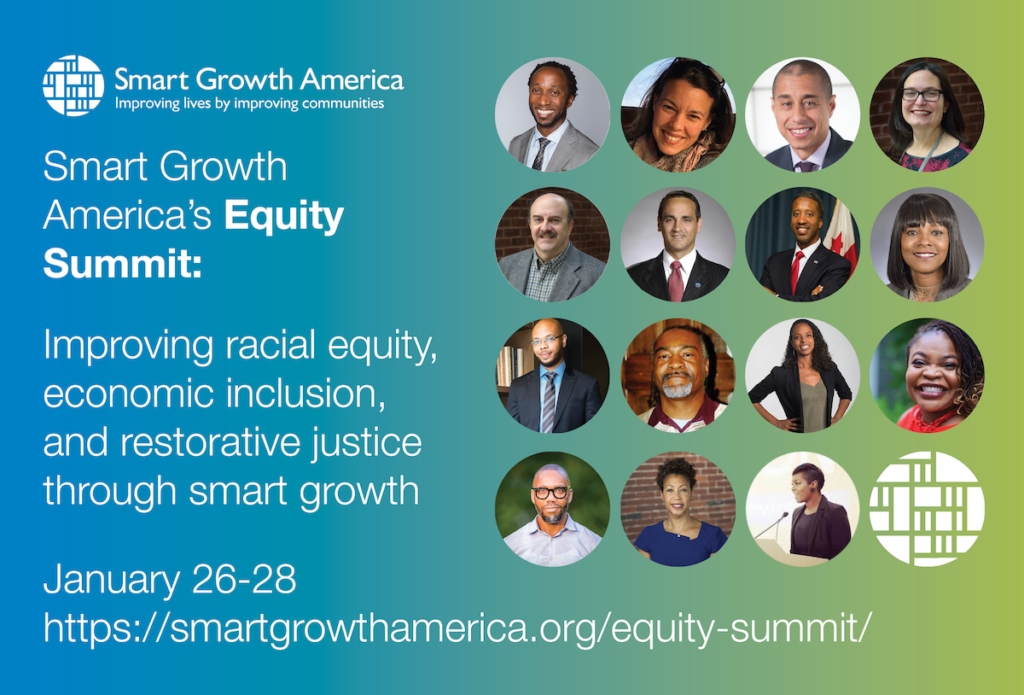 Smart Growth America's Equity Summit:
Improving racial equity, economic inclusion and restorative justice through smart growth
At Smart Growth America, we deeply believe that improving racial disparities is at the core of a smart growth approach. But what does that mean? How does it work in practice? And how can smart growth advocates do it better?
On January 26th-28th, 2021, Smart Growth America held a three-day virtual summit with an exciting group of experts, practitioners and policymakers who discussed how to center improving racial equity in smart growth work, including deep dives on how to promote equity in housing and land use, why strong Black & brown businesses are key to neighborhood vitality, and how to right the wrongs of past damaging transportation decisions and promote restorative justice.
The Equity Summit is over, but you can still watch the full recordings with the links below
---
Support our work with a donation
---
Thanks to our sponsors
Presenting sponsors:

Citi
Citi's "Action for Racial Equity" represents unprecedented effort to leverage Citi's core business capabilities and Citi Foundation philanthropy to help address racial equity and justice in the U.S.
EPA Office of Community Revitalization / EPA Office of Environmental Justice / EPA Conflict Prevention and Resolution Center (CPRC)
The Maryland Department of Planning
Closed-captioning sponsor:

Bronze:
Oregon Department of Land Conservation and Development
Opticos Design
The National Association of Realtors ®
Frontline Solutions
Supporter:
Watch the Summit
Day one
Day two
Day three
Full Summit information
All times Eastern
Day one
Welcome and Summit overview

Madeline Fraser Cook, Board Chair, Smart Growth America,

Calvin Gladney, President and CEO, Smart Growth America.

11:15 a.m - 11:30 a.m.
Keynote address

KEYNOTE: Dr. Andre Perry will kick off our Summit with a thought-provoking discussion of how structural racism in our country's land use, infrastructure and economic development policies has systematically de-valued Black people, their assets, and their communities, and by extension, communities of color around the country.

Through the in-depth studies in his book of six majority-Black cities—Washington, DC, Atlanta, New Orleans, Detroit, Birmingham and his own hometown of Wilkinsburg, PA outside of Pittsburgh—Dr. Perry will provide us with a new paradigm for how our smart growth work can better promote racial equity, economic inclusion, and environmental justice.

Andre Perry, Fellow, Brookings Institution Metropolitan Policy Program, scholar-in residence at American University, and author of Know Your Price: Valuing Black Lives and Property in America's Black Cities.


11:30 a.m - 1:00 p.m.
Panel discussion


Panel: Dismantling exclusionary power structures that challenge smart growth and perpetuate inequity

The U.S. needs a top-to-bottom reset of its development, investment, and land use paradigms to not only prevent displacement, but to include all Americans in our economic future. Expert panelists will discuss dynamic approaches for dismantling exclusionary power structures that withhold access to live-work-play communities, attainable housing, and wealth-building opportunities for millions of Americans. The panel will also explore how communities can leverage systems-wide change to plan for success, build equity, and create value in their built environment and lived experience.

1.5 AICP CM credits are available for this panel, if viewed live.


Moderator: Jair Lynch, President, LOCUS

Mayor Joseph Curtatone, Somerville, MA

Chase Cantrell, Executive Director, Building Community Value

Sekita Grant, Vice President of Programs, The Solutions Project
Day two
Chris Zimmerman, Vice President, Economic Development, Smart Growth America

11:05 a.m - 12:30 p.m.
Panel

Panel: Prepare, Prioritize and Promote - How supporting Black and Brown businesses is a key to smart growth

Directly supporting Black and brown businesses is vital for truly achieving smart growth in our communities. The panel will explore how Black and brown businesses directly contribute to the vibrant, livable and resilient communities that the smart growth movement aims to create, and how the success of these businesses are key to achieving racial equity and economic inclusion. The panel will also discuss the supportive infrastructure and tools needed to better support Black and brown-owned businesses, including access to capital, better municipal and ecosystem support, and policy reforms needed among various federal and local incentives including Opportunity Zones. The panel's thought leaders, elected policy makers, and experts in business capital will bring unique perspectives to the conversation and highlight how the preparation, prioritization and promotion of Black and brown-owned businesses is not just smart business, but is key for bringing smarter growth to the places we love.

1.5 AICP CM credits are available for this panel, if viewed live.


Moderator: Calvin Gladney, President and CEO of Smart Growth America

Councilmember Kenyan R. McDuffie, District of Columbia Council.


Andre M. Perry, Fellow in the Metropolitan Policy Program at the Brookings Institution, scholar-in residence at American University and author of Know Your Price: Valuing Black Lives and Property in America's Black Cities.
Day three
Brief opening and welcome

Calvin Gladney, President and CEO, Smart Growth America.

11:15 a.m - 11:30 a.m.
Presentation

Presentation: Transportation for America and Third Way's proposal to reverse the damage of "urban renewal" highways

Beth Osborne, Director of Transportation for America (T4America), will present T4America and Third Way's recent policy proposal on how the federal government can start to undo the damage of "urban renewal" projects, like the construction of the Interstate Highway System that displaced millions of Americans and especially harmed communities of color and continues to do so today.

11:30 a.m - 1:00 p.m.
Panel discussion


Panel: The role of government in undoing the harm caused by the Interstate Highway System


This discussion with local, state, and national experts will focus on transportation equity and governments' responsibility in repairing the harm it caused to communities—especially historically Black neighborhoods. Panelists will speak to how communities are addressing disparities caused by highways and how to select and design transportation projects today to ensure it never happens again. We'll discuss the inequitable impacts for current transportation approaches and procedures; how to work alongside community members and identify solutions; how to measure access and use it to inform transportation project selection, investment, and implementation; what highway removal can and should look like; and the new administration's role working with state and local governments.

1.5 AICP CM credits are available for this panel, if viewed live.


Moderator: Mary Skelton Roberts, Senior Vice President for Programs at the Energy Foundation

Dr. Destiny Thomas, Founder and CEO of Thrivance Group

Melvin Giles, community leader and advocate in the Rondo neighborhood in St. Paul, MN.

Minnesota State Representative Rena Moran

Calvin Gladney, President and CEO, Smart Growth America.
Speakers
Smart Growth America
Click names to view Smart Growth America bios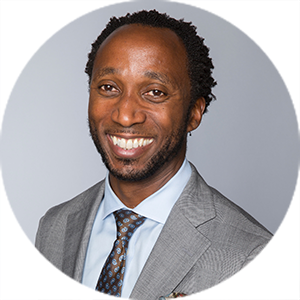 Calvin Gladney
President and CEO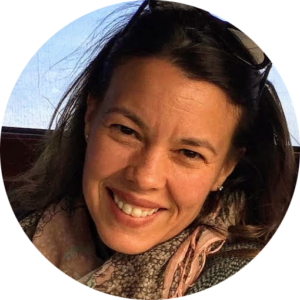 Madeline Fraser Cook
Board Chair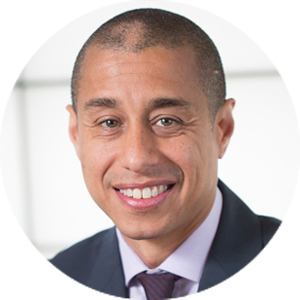 Jair Lynch
President of LOCUS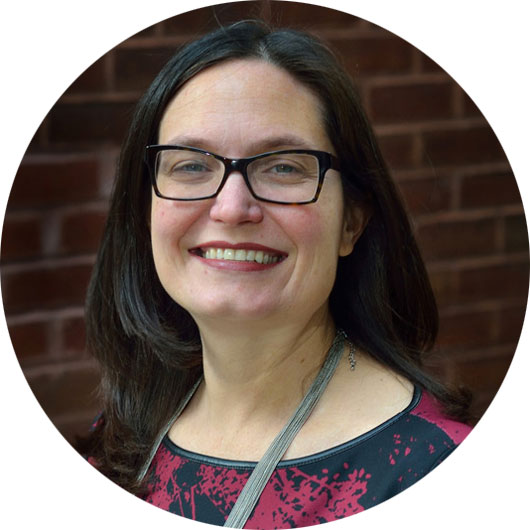 Beth Osborne
Director, Transportation for America
Chris Zimmerman
Vice President of Economic Development
Special guests
Mayor Joseph Curtatone
Mayor of Somerville, MA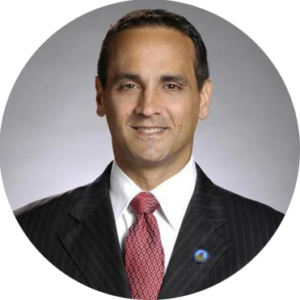 Joseph A. Curtatone was first inaugurated in 2004, becoming at age 37 the second-youngest Mayor in Somerville's history. Now in his eighth term, he is the City's longest-serving chief executive. Curtatone had previously served for eight years as Alderman-at-Large. As Mayor, he has implemented a wide range of reforms and new programs that have earned both him and the City widespread recognition. Somerville consistently tops lists of the "Most Walkable" and "Most Bikeable" cities in the United States. Mayor Curtatone is spearheading the city's effort to bring the MBTA's Green Line Extension through Somerville, which when completed will have 85 percent of the city's residents within walking distance of mass transit. In addition, Mayor Curtatone led a successful effort to end years of delay in the development of Assembly Square as a transit-oriented, mixed use, Smart Growth project on the banks of the Mystic River. He also created Neighborhood Impact Teams that combine fire, health and building inspectors—along with representatives of the Council on Aging and the city's environmental office—in a coordinated effort to monitor and improve the health, safety and appearance of Somerville's businesses and residential neighborhoods.
---
Councilmember Kenyan R. McDuffie
District of Columbia Council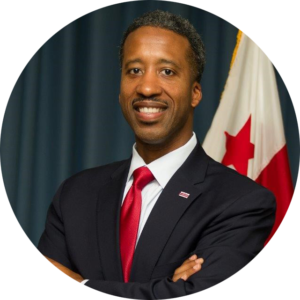 Kenyan R. McDuffie, Councilmember for Ward 5, was first elected to the Council of the District of Columbia in a 2012 special election, and re-elected to full four-year terms in 2014 and again in 2018. Since 2013 he has served as the Chairman Pro Tempore of the Council.
Since 2017, Kenyan has served as the Chairperson of the Committee on Business and Economic Development where he has championed efforts to make the District's economy more inclusive and support minority- and women-owned local businesses. Previously, Kenyan served as Chair of the Committee on the Judiciary, where he oversaw sweeping updates to the District's criminal justice law. Kenyan successfully passed comprehensive juvenile justice reform and also passed the innovative Neighborhood Engagement Achieves Results Act (NEAR Act) which reforms the District's criminal justice system by incorporating behavioral and mental health professionals to perform tasks that previously fell to law enforcement officers. Prior to joining the Council, Kenyan worked extensively in the legal and public safety fields. Kenyan served as a trial attorney for the Civil Rights Division of the U.S. Department of Justice. He has also worked as an Assistant State's Attorney in Prince George's County and as policy advisor to the District of Columbia's Deputy Mayor for Public Safety and Justice. Kenyan graduated summa cum laude from Howard University and went on to receive his Juris Doctor from the University of Maryland School of Law. Nationally, Kenyan has been featured on NewsOne Now, MSNBC, and National Public Radio. Kenyan and his wife, Princess, live in his childhood home in Ward 5 with their two daughters, Kesi and Jozi.
---

Rep. Rena Moran
Minnesota State Representative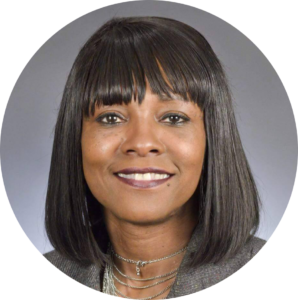 Representative Rena Moran is the Chair of the Health and Human Services Policy Committee and Co-Chair of the Select Committee on Racial Justice of the Minnesota House of Representatives. In 2010, Rep. Rena Moran became the first African American to represent District 65A. She represent the St. Paul communities of Rondo, Frogtown, Summit-University, Thomas-Dale, Midway, a portion of the North End and Cathedral Hill. As a legislator, she has focused on protecting children in the child welfare system, strengthening schools, reducing educational disparities, and fighting for affordable housing, economic opportunity for all, and women's rights. 
Rep. Moran formerly served as House Deputy Minority Leader and is the current Chair of the People of Color and Indigenous (POCI) Caucus and the United Black Legislative Caucus. She holds a B.S. in Early Childhood Education from Southern Illinois University and was recently the Director of Prevention Initiatives and Parent Leadership at Prevent Child Abuse MN dba Minnesota Communities Caring for Children. Rep. Moran is a graduate of the Bush Foundation Fellowship, Humphrey Policy Fellowship, and Henry Toll Fellowship. On a national level, Moran serves as Executive Secretary of the National Black Caucus of State Legislators (NBCSL), Midwest Region Coordinator for the National Organization of Black Elected Legislative Women (NOBEL), and as the Minnesota State Director for both the Women Legislators' Lobby (WILL) and the National Foundation for Women Legislators (NFWL). She is a proud mother of seven and grandmother of eight.
---
Chase Cantrell
Executive Director, Building Community Value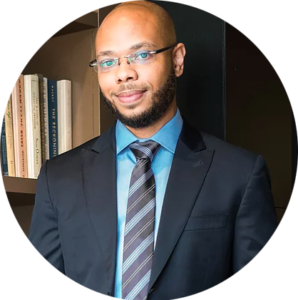 Chase L. Cantrell is the Executive Director of Building Community Value (BCV). In this role, he leads a diverse team of experts in implementing BCV's training, technical assistance, and consulting programs. Chase is a critical voice in Detroit's policy making and revitalization efforts, playing a crucial role as an advocate for residents who work hard to restore and improve the physical infrastructure of Detroit's neighborhoods. Observing a gap in Detroit's real estate ecosystem, Chase founded BCV in 2016 as a bridge between the resources accessible to traditional real estate actors and Detroit residents and nonprofits who wish to make a positive impact within their communities. He has positioned the organization to be laser-focused on providing meaningful technical assistance to small-scale developers. Chase's leadership has been recognized in Detroit and nationally. Crain's Detroit Business honored Chase as "Best in Class: Real Estate – Young Gun of the Year," and he has participated in numerous national and international fellowships, including the Salzburg Global Forum for Young Cultural Innovators, Next City Vanguard, NEI Detroit Innovation Fellowship, American Express Leadership Academy (Aspen Institute), Crain's Leadership Academy, BMe Vanguard Fellowship, Mackinac Future Leaders, and Harvard Business School's Young American Leader Program. Chase serves on the boards of New Detroit, Inc. and Citizens Research Council. He also serves the State of Michigan as a governor-appointee to the Board of Real Estate Brokers and Salespersons. Chase has a Juris Doctor from the University of Michigan Law School and a Bachelor of Arts in Political Science from the University of Michigan College of Literature, Science, and the Arts.
---
Melvin Giles
Community leader and advocate in the Rondo neighborhood in St. Paul, MN.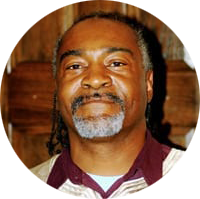 Melvin Giles is a veteran peace, diversity, and dismantling racism educator and artist. He incorporates Peace Bubbles, Peace Messages and the International Peace Pole to create places/spaces of peace. He is known for his signature style of blowing and sharing peace bubbles. He started using bubbles to bridge a gap and distrust between the Black community and the Saint Paul Police Department in the late 1990s by offering police officers bubbles for their domestic calls to give kids when investigating domestic violence in residential settings, in order for the children to have a healthier perception of police officers in general. 
He has extensive experience working with youth, academia, government agencies, nonprofit agencies and neighborhood groups. Notable accomplishments include serving as an adjunct community faculty instructor in Bethel University's Anthropology Department, a member of AfroEco and the Growing Food and Justice All Initiative, advisor to the Diversity Committee of Ramsey County Master Gardeners, certified facilitator of Racial Sobriety workshops, anti-racism trainer for the Minnesota Tri-Council Commission of the Council of Churches, and founding member and key organizer of the St. Paul Pluralism Circle. Melvin received the Martin Luther King "Dream Keeper" Award in 2003, the McKnight Foundation "Virginia McKnight Binger Awards" in Human Service in 2005, the "Outstanding World Citizen" Award in 2008, Bethel University's "George K. Brushaber Reconciliation Award" in 2009, and the Morrill Hall/Rachel Tilsen Social Justice Award in 2011.
Giles recently worked with two other artists on an exterior face-lift of the Rondo Library and received a 2020 Forecast Messages of Hope Mini-Grant to promote hope in his community during Minnesota's COVID-19 sheltering-in-place.
---
Sekita Grant,
Vice President of Programs, The Solutions Project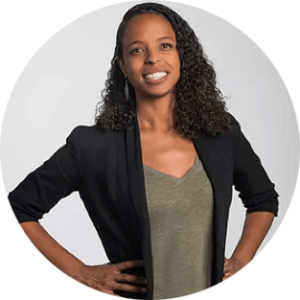 Sekita Grant is an environmental policy and social justice strategist and joins The Solutions Project as the VP, Programs overseeing our grantmaking, policy research, and impact strategy support for more than 100 frontline leaders innovating in models for a regenerative economy across the country and in Puerto Rico. She has been a consultant supporting change-makers in equitable climate policy and narratives and worked previously as a Climate Justice Fellow with the Emerson Collective and recently completed a fellowship with the Florida Sea Grant and University of Florida Law Conservation Clinic. Prior to that, Sekita worked as the Policy and Impact Strategy manager for Emerson Elemental. In that capacity, Sekita helped to catalyze new approaches to scaling environmental and social good through climate and environment policies and projects. Prior to Emerson Elemental, Sekita worked at the Greenlining institute as Legal Counsel for their Environmental Equity team. In that role, she worked to make energy and climate policies in California equitable and beneficial to communities of color. She came to Greenlining from Business for Social Responsibility, a California nonprofit where she worked as a climate and energy sustainability consultant to large corporations. Prior to that, Sekita worked as a policy advisor at the California Energy Commission in Sacramento. There she served as lead advisor to the chair on climate, transportation, and legal matters.  She lives with her partner between her hometown of Oakland CA and his in San Juan, Puerto Rico.
---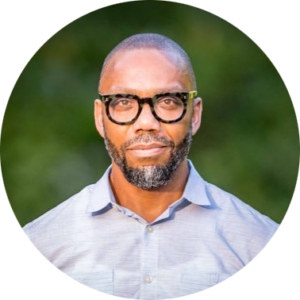 Andre M. Perry
Senior fellow in the Metropolitan Policy Program at Brookings, a scholar-in-residence at American University, and a columnist for the Hechinger Report.
He is the author of the book Know Your Price: Valuing Black Lives and Property in America's Black Cities, which is currently available wherever books are sold. A nationally known and respected commentator on race, structural inequality, and education, Perry is a regular contributor to MSNBC and has been published by The New York Times, The Nation, The Washington Post, TheRoot.com and CNN.com. Perry's scholarship has been featured on HBO, ABC, CNN, PBS, National Public Radio, NBC and in the Wall Street Journal. His research focuses on race and structural inequality, education, and economic inclusion. Perry's recent scholarship at Brookings has analyzed Black-majority cities and institutions in America, focusing on valuable assets worthy of increased investment. Since the COVID-19 pandemic began, Perry has documented the underlying causes for the outsized number of coronavirus-related deaths in Black communities. His Brookings research has illuminated how certain forms of social distancing historically accelerated economic and social disparities between Black people and the rest of the country. Perry also mapped racial inequities in housing, income, and health to underscore how policy discrimination makes Black Americans more vulnerable to COVID-19.
---
Mary Skelton Roberts
Co-Director of Climate, Barr Foundation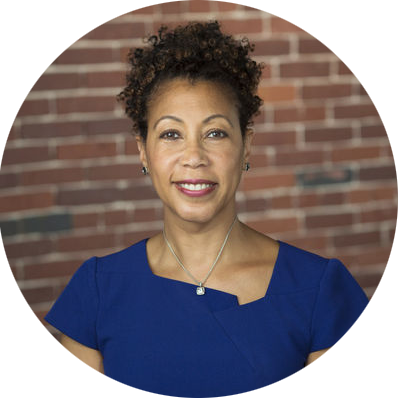 Mary Skelton Roberts is a co-director for Climate, focusing on transportation and land use—two critical levers for reducing greenhouse gas emissions. Her portfolio aims to modernize our transit systems and to help communities transform themselves into more walkable, connected places where all residents have attractive alternatives to driving and spend far less time and money traveling by car.  Prior to joining Barr in 2009, Mary was a consultant specializing in problem-solving and dispute resolution of complex corporate, environmental, and public-policy issues. She has worked extensively with nonprofit, government, and private-sector clients in the United States and internationally. She currently serves on the national boards of Hispanics in Philanthropy and the Funders' Network for Smart Growth and Livable Communities. In Boston she volunteers her time with organizations focused on preventing child homelessness, improving animal welfare, and supporting cultural enrichment for Latino children. Mary holds a master's degree in city planning with concentrations in consensus-building and environmental policy and planning from the Massachusetts Institute of Technology. She also holds mediation and facilitation accreditations from the Program on Negotiation at Harvard Law School and from the Center for Dispute Resolution in London, England, where she served as lead faculty. She is bilingual, bi-cultural, and a native Spanish-speaker. During her spare time Mary delights in mothering her rambunctious 11-year-old, preventing her dog, Scooter, from catching the squirrels at the Arnold Arboretum, and, when she's feeling really adventurous, practicing her salsa moves.
---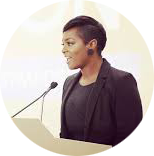 Dr. Destiny Thomas
Founder and CEO of Thrivance Group
Dr. Destiny Thomas is a change agent and an anthropologist planner. She is the founder and CEO of Thrivance Group and was recently featured on Good Morning America for her leadership in the urban planning sector. At Thrivance Group, Dr. Thomas works to bring transformative justice into public policy, urban planning and community development. With over 15 years of experience shaping key policy initiatives, Dr. Thomas believes race, place, and joy define individual and community outcomes.
---
Jasmine Thomas
Senior Vice President of US Business Partnerships, Citi.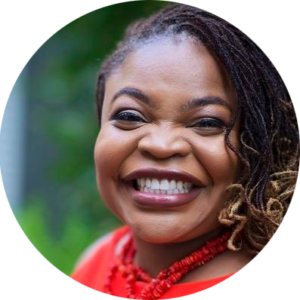 Jasmine Thomas is the Senior Vice President for US Business Partnerships within Community Investing & Development at Citi. Jasmine leads corporate and national engagements supporting solutions and initiatives designed to close the racial wealth gap, including Citi's Action for Racial Equity. Jasmine joined Citi in 2011 as the International Program Officer for Citi Foundation, managing grants to local nonprofits across nearly 100 countries. Prior to Citi, she was a program officer at the Surdna Foundation and launched the Strong Local Economies program. Jasmine began her career in philanthropy at The New York Community Trust, where she helped administer a range of high-profile initiatives, including closing grants and reporting for The September 11th Fund, Hurricane Katrina Relief Fund, as well as the New York City AIDS Fund, a collaboration with Vogue magazine and the Council of Fashion Designers of America (CFDA).