Smart Growth America's Equity Summit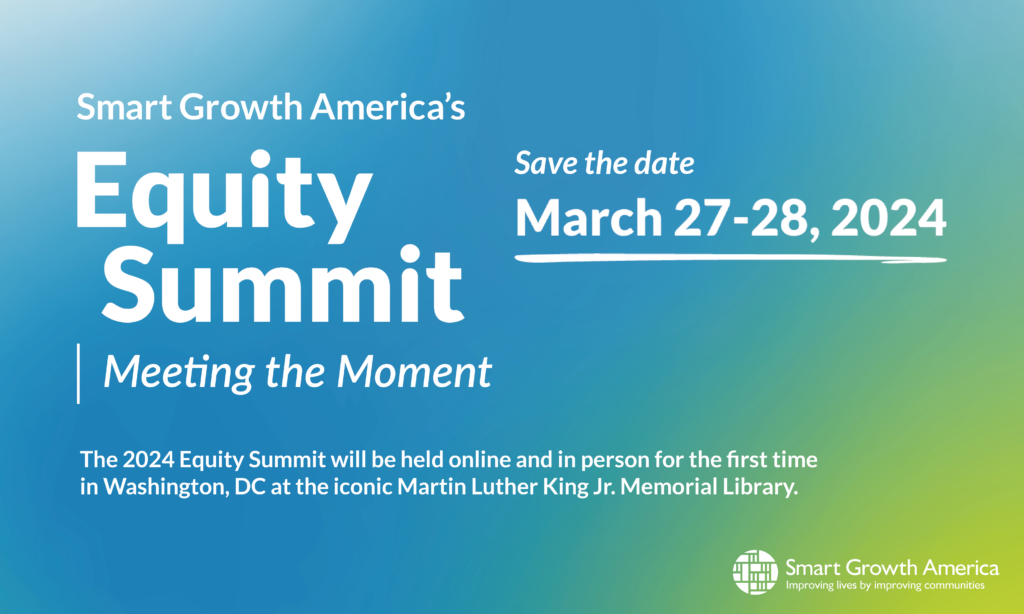 Save the date for the Equity Summit
Save the date for the 2024 Equity Summit: Meeting the Moment. The Summit gathers housing, transportation, and community development advocates and leaders to learn from one another and identify tools to advance racial equity through smart growth. The dynamic two-day program will be held in person for the first time on March 27-28, 2024, in Washington, DC, at the iconic Martin Luther King Jr. Memorial Library.
The Equity Summit will uplift strategies to advance racial equity in smart growth amidst growing political uncertainty in 2024 and beyond, as well as a shift away from explicit equity initiatives by elected officials, state agencies, and the private sector.
Meeting the Moment: Advancing smart growth in the face of resistance
Smart growth practitioners must proactively integrate strategies to advance racial equity into their planning, transportation, and land use work, especially at the current moment. Over the last several years there has been increased attention and investment targeted at inequitable planning systems, but to date, these efforts have fallen short of our stated goals. In the face of capacity concerns, surface-level interventions to systemic challenges, and the recent Supreme Court decision effectively ending affirmative action, our movement is at a critical inflection moment.
What to expect
The Equity Summit aims to connect movement leaders, identify key needs within the field, and build a community of mutual support and encouragement among practitioners who may be discouraged by resistance to meaningful progress. At the Equity Summit, we'll present keynotes, panel discussions, small group sessions, and local organization "field trips." These activities will allow participants to gain insights into the successes and challenges of racial equity projects in the smart growth space, emphasizing cultural organizing, lived experience integration, and inclusive wealth building.
---
Learn more about our past Equity programming
At Smart Growth America, we deeply believe that advancing racial equity is at the core of a smart growth approach. But what does that mean? How does it work in practice? And how can smart growth advocates do it better?
The Equity Summit—SGA's largest event of the year—is a gathering of thought leaders and practitioners who work to ensure that racial equity is a key priority in any smart growth approach. Since the Equity Summit's inception in 2021, our annual event has brought together an amazing lineup of speakers to discuss the intersections of racial equity and the smart growth movement,  making the case that smart growth without a focus on equity isn't smart growth at all.  Learn more about our past Equity programming: