Smart Growth America's Equity Summit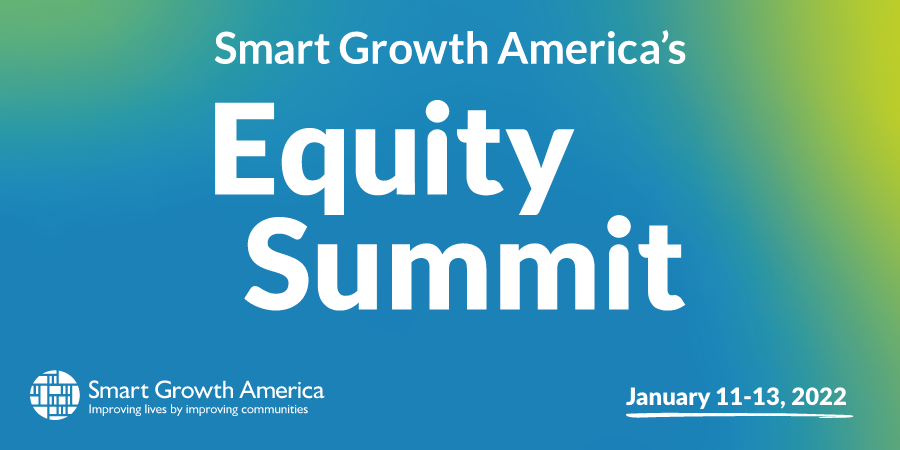 At Smart Growth America, we deeply believe that improving racial disparities is at the core of a smart growth approach. But what does that mean? How does it work in practice? And how can smart growth advocates do it better?
In 2021, Smart Growth America (SGA) hosted our first-ever Equity Summit to bring a discussion of racial equity to the smart growth movement and make the case that smart growth without a focus on equity isn't smart growth at all. Speakers discussed how to promote equity in housing and land use, why strong Black and brown businesses are key to neighborhood vitality, and how to right the wrongs of past damaging transportation decisions and promote restorative justice. 
The 2022 Equity Summit was held from January 11-13, 2022. Over three days, we heard keynotes on equitable development and panels curated by our economic development, transportation, and land use teams.
Closed-captioning was provided during the Summit, thanks to the support of AARP
Questions? Read our FAQ. If you don't find your answer there, send an email to [email protected]
Join Smart Growth America for more Equity Summit programming on upending cultural displacement on July 13, 2022! Learn more here. 
---
2022 Summit information
The Summit will begin at 11 a.m. Eastern each day.
Majora Carter will give the Equity Summit primary keynote during the first half of day one (January 11, 2022). Majora Carter is a real estate developer, urban revitalization strategy consultant, MacArthur Fellow, and Peabody Award-winning broadcaster. Read her full bio in the "speakers" tab.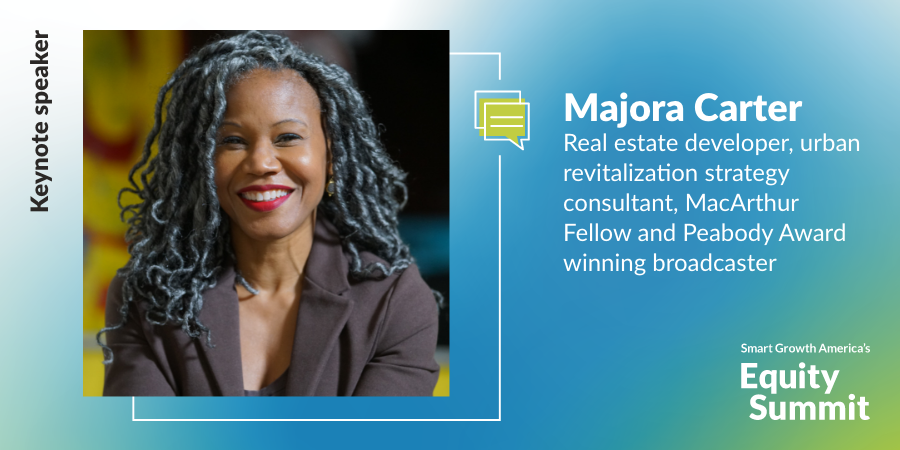 Day 1: Tuesday, January 11

Land use and development


Day 2: Wednesday, January 12





Transportation and thriving communities

Day 3: Thursday, January 13

Economic development


Theme: Historic injustices in land use and development have led low-income communities and communities of color to be disproportionately impacted by climate change. Learn about the science behind understanding climate and community vulnerability, and discover how leading practitioners are advancing racial and social equity through land use strategy and climate adaptation.

Theme: Transportation planning continues to use decades-old models and tools that contribute to a legacy of harm for communities of color, whether by directing limited resources away from them, bisecting and destroying those communities, or failing to connect them to opportunities to build wealth. Join a conversation about ways technology can be used to replace those outdated tools to better identify and address racial inequities and elevate community voices in transportation decisions.

Theme: The decades-long rise in demand for living and working in walkable places—especially with good access to transit—is good news for the fight against climate change, our health, and our economy. But too often, current residents of these neighborhoods are left behind—or pushed out. For future growth and development decisions, how can these mistakes be avoided and instead support economic mobility, wealth-building, and shared prosperity?

11:15 a.m. - SUMMIT KEYNOTE presentation by Majora Carter

11:08 a.m. - Keynote presentation by Vignesh Swaminathan ("Mr. Barricade"), CEO and President at Crossroad Lab. This will be followed by a fireside chat with Beth Osborne, Director, Transportation for America

11:08 a.m. - Keynote presentation by Martin Muoto, Founder and Managing Partner of SoLa Impact

12:15 p.m. - Keynote presentation by Dr. Marshall Shepherd, Distinguished Professor, University of Georgia Atmospheric Sciences

12:00 p.m. - Panel discusssion, moderated by Dr. Regan F. Patterson, Transportation Equity Research Fellow, Congressional Black Caucus Foundation, featuring:




Tiffany Chu, SVP at Via, CEO and Co-Founder, Remix

Bob Dean, CEO, Center for Neighborhood Technology

Kim Lucas, Acting Director of Pittsburgh Department of Mobility and Infrastructure


Day ends at 1 p.m Eastern

12:00 p.m. - Panel discussion, moderated by Calvin Gladney, President and CEO of Smart Growth America, featuring:

Michelle de la Uz, Executive Director, Fifth Avenue Committee, Brooklyn, NY

Mayor Keith James, Mayor of West Palm Beach Florida

Marla Bilonick, President & CEO, NALCAB


You'll also be hearing from The Hon. Chris Zimmerman, Vice President of Economic Development, Smart Growth America


Day ends at 1 p.m. Eastern

1:00 p.m. - Panel discussion, moderated by Camille Manning-Broome, President and CEO, Center for Planning Excellence

Zelalem Adefris, VP, Policy and Advocacy, Catalyst Miami

Gary Gero, Chief Sustainability Officer, Los Angeles County

Sharai Lewis-Gruss, Lead Adaptation Specialist, First Street Foundation

Throughout the day, you'll also hear from:

Calvin Gladney, President and CEO, Smart Growth America

Katharine Burgess, Vice President of Land Use and Development, Smart Growth America

This day ends at 2 p.m. Eastern
More agenda info
Detailed information on all confirmed speakers can be found under each day's respective tab. 
Sign up for email updates
Get ready for this year with our discussion guides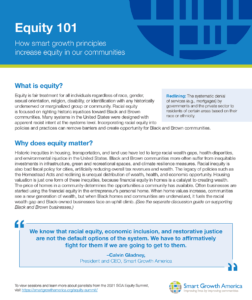 Turn our Equity Summit content into action and tangible change in your community with this set of four discussion guides (plus an extra guide with instructions for using them), based on the 2021 Summit content.
Consider how to improve your smart growth advocacy where you live or work.  You can certainly do this on your own, but to maximize the impact, we recommend doing this with a small group of colleagues, friends, or other people in your community. Think of it like a book discussion group. Listen to last year's Summit content, read the summaries of each session, and then think about the discussion questions together as a group—perhaps over a few weeks. For those of you that are ready to take the next step, you can put together a plan of action.
Download the full set of discussion guides (.pdf)
Watch last year's Summit
Watching last year's summit is a great way to get to know the content in the discussion guides above. In 2021, we spent a lot of time talking about the "why." This year, we are hoping to tackle more of the "how," while continuing to lay a foundation for those who are new to the discussion.
[/tab]
Interested in sponsoring a future Summit? 
   Contact us to learn more         Download our 2022 sponsorship package (not guaranteed for future Summits)  
Thanks to our 2022 Summit sponsors
| | | | | |
| --- | --- | --- | --- | --- |
| | | | | |
| Citi's "Action for Racial Equity" represents unprecedented effort to leverage Citi's core business capabilities and Citi Foundation philanthropy to help address racial equity and justice in the U.S. | | | | |