Many rural communities in America have struggled as the economy has changed dramatically over the last few decades, but some of these communities are evolving and finding new ways to adapt. This is a story of how one small mountain town in northeast Tennessee is finding new economic opportunity by investing in reliable, high-speed broadband internet to catalyze new growth and development focused in their walkable, historic downtown.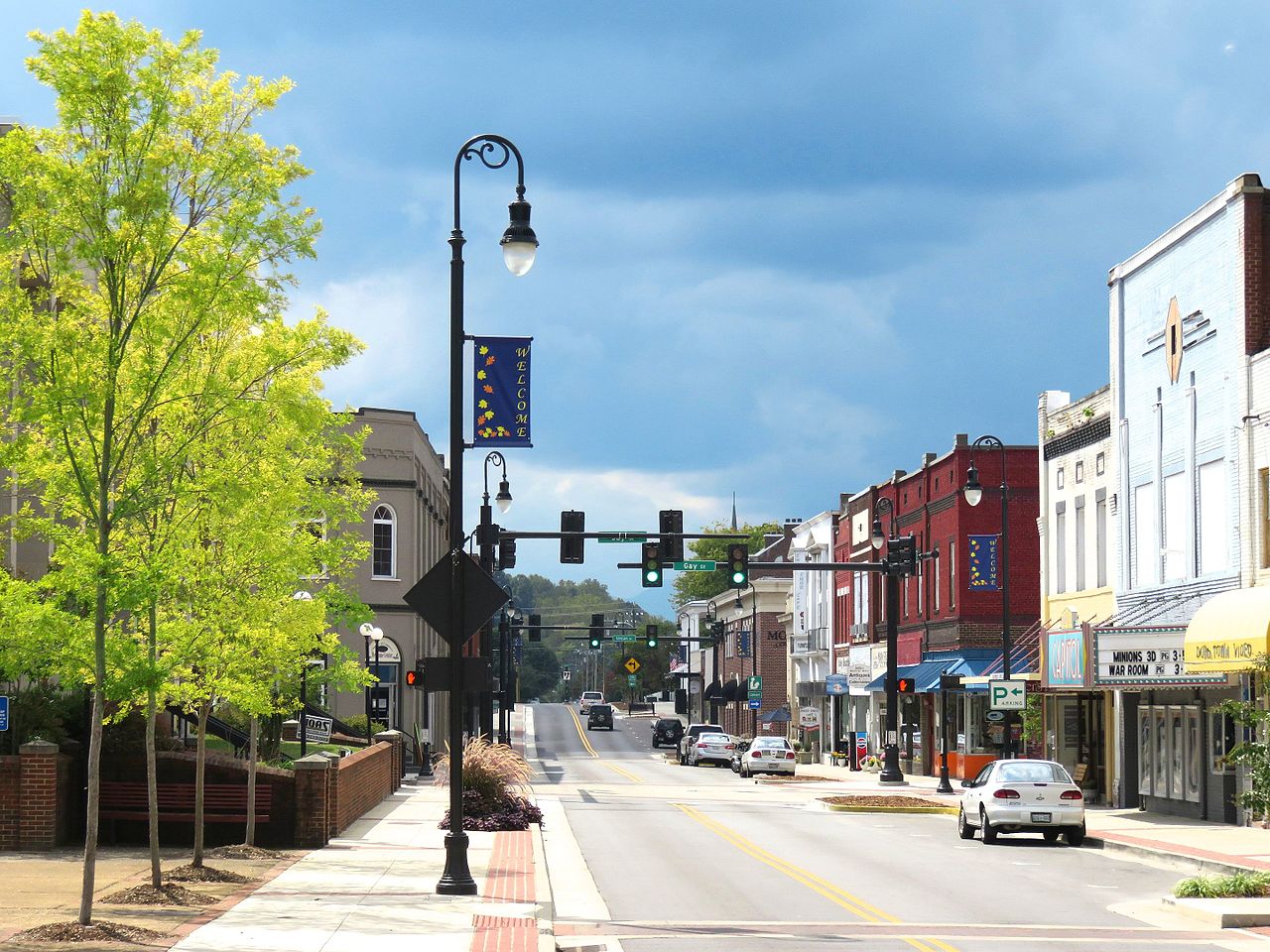 Main Street in Downtown Erwin, TN. (Photo by Brian Stansberry)
Smart Growth America partnered with the U.S. Department of Agriculture, U.S. Environmental Protection Agency, and the Appalachian Regional Commission to offer Cool & Connected Workshops to provide guidance and assistance to rural communities looking to use broadband to catalyze redevelopment.
We recently caught up with community leaders from one such town, Erwin, Tennessee, where we held a Cool & Connected workshop in April 2017. In the audio (and written transcript below), they talk about Erwin's experience with broadband, downtown redevelopment, and what's happened since the Cool & Connected workshop. Senior Policy Advisor for Smart Growth America, John Robert Smith helps narrate the story.
LISTEN—Erwin, TN: evolving from railroads to fiber optic cables
Audio transcript

Some edits made for clarity
Tyler Engle: Erwin is located in northeast Tennessee between Johnson City, TN and Asheville, NC on the Interstate 26 corridor, population of about 6,200 in the city and about 18,000 in the county. Like a lot of cities in Appalachia it's densely built so there's a really fine quality of place, a really fine downtown with good sidewalks and good walkability to neighborhoods and set down in a valley amid beautiful, beautiful mountains and as you drive down from Asheville into Erwin you just get vista after vista.
John Robert Smith: That's Tyler Engle, one of three residents from Erwin who are part of this effort and participated in our workshop.
Engle: I'm Tyler Engle, the Executive Director of the Unicoi County Joint Economic Development Board and the Chairman of the Unicoi County Board of Education.
Smith: And another member of the Joint Economic Development Board is joined us as well.
Lee Brown: Lee Brown, General Manager of Erwin Utilities, Erwin Fiber, Chairman of the Joint Economic Development Board of Unicoi County, lifelong resident of Erwin and Unicoi County.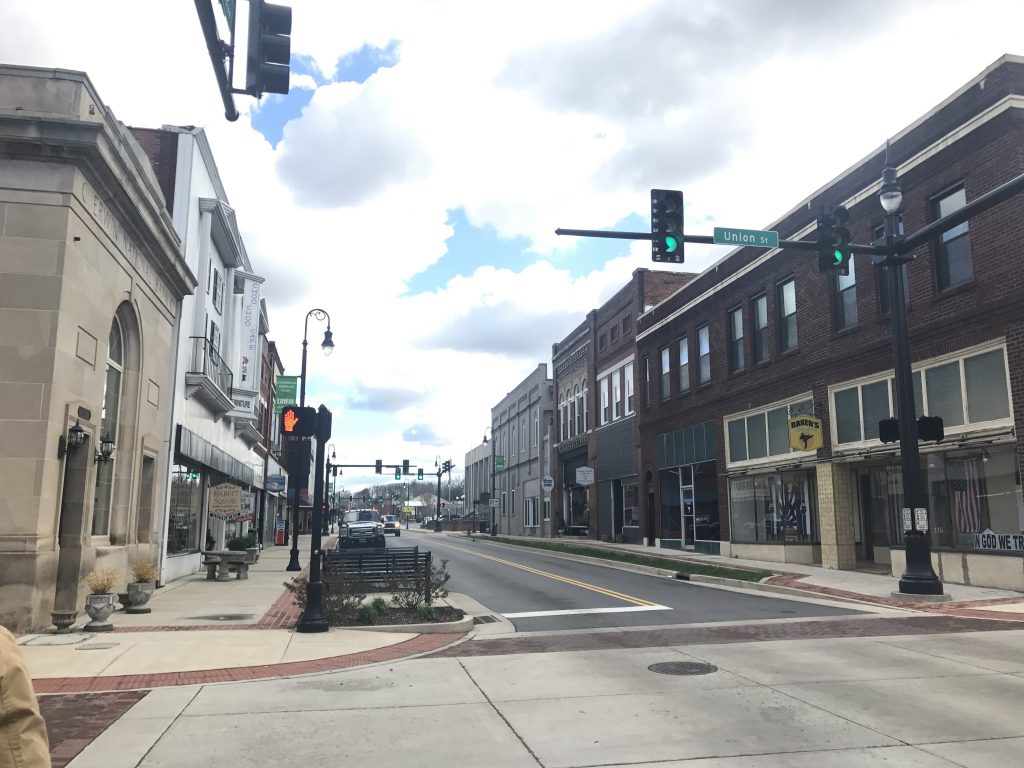 Smith: Local leaders in Erwin like Lee and Tyler have been figuring out how broadband internet—fast, reliable internet—can be a vital piece of encouraging smart, sustainable, downtown development. But first, they had to get the technology right.
Brown: It's something that we've studied for probably the last 20 years and there was a community outcry years ago that really was pushing us into the cable TV business and a study was conducted at that time and the outcome of that feasibility study was investment in traditional copper cable was a bad investment and it would be hard to make the money back to pay for itself. Also, it was too early to make an investment in fiber, that the cost was too high. And the recommendation was to wait for technology to improve and the price of fiber to come down.
But early on we realized that broadband is as important to rural America as electricity was 70 years ago. The incumbent providers were not going to provide a true broadband experience for our community. And if we're going to remotely try to stay above the bar in our community, broadband is essential for future economic growth. Things have changed dramatically in industrial recruitment and we feel like if we don't have access to broadband our community's just gonna be left behind.
So we at Erwin Utilities—a municipal electric system that has an independent board from the city council—made the decision to invest in fiber to provide broadband to our community. In March of 2015 we connected our first customers to Erwin Fiber and we have built four phases and we have about two remaining phases to build out.
Smith: The build out of this broadband internet in Erwin has allowed the community to spur new development. Tyler explains:
Engle: We're able to tell an industrial user that any given site within our industrial portfolio has gigabit connectivity to the entire world which is something that no other—in our region of upper east Tennessee no other community can offer and few other communities in Tennessee can offer and very few communities in the southeast can say. But more than that—and, you know, this goes along with our mission of advancing the prosperity of every person in Erwin and Unicoi County—we can encourage folks to start a small business in their home. So if someone has a fabric business he or she could start an online business and be sure that they're always connected with a reliable high-speed connection and transact world class commerce right from their little den or wherever in their house.
It goes time and time again to transitioning to a data centered economy where we're able to focus on the commodities of the future, where it's not so much going to be grain and coal and oil that are moving in and out on railroad tracks, but blocks and packets of data that are moving on fiber optic cables. We had rail in the 20th century and new we have fiber optic cable in the 21st.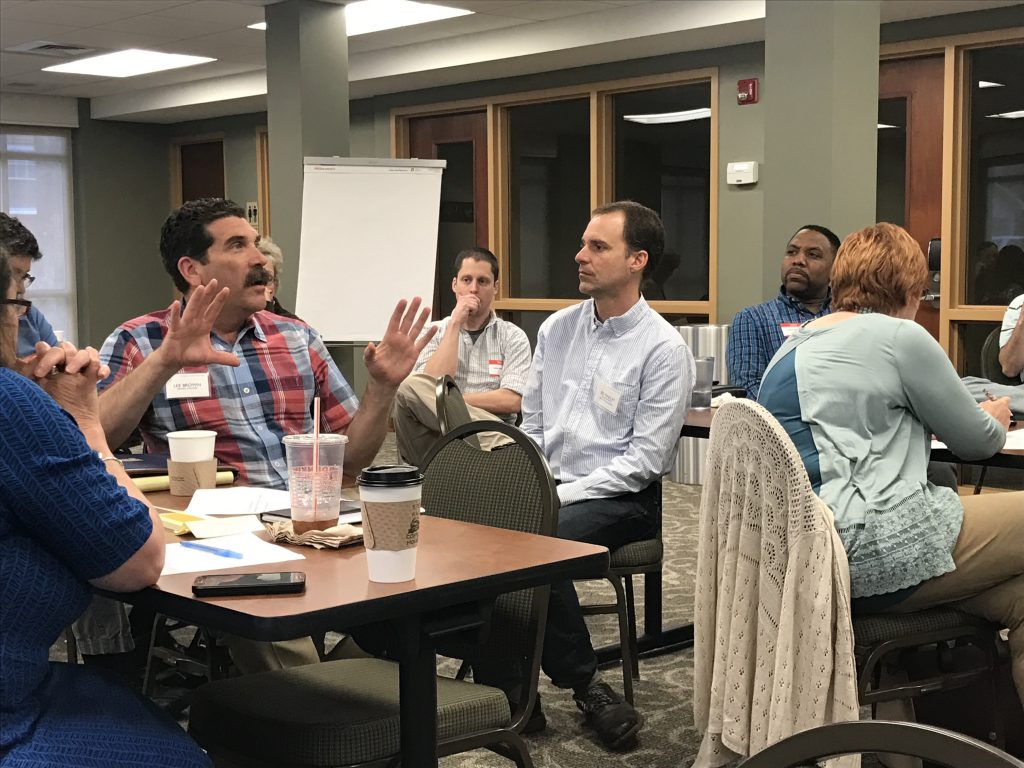 From the 2017 Cool & Connected workshop in Erwin, TN
Smith: Beyond just county and municipal officials, Erwin has also involved a lot of community members and organizations. One such group begun with a focus on making Erwin more attractive to younger residents.
Jamie Rice: My name is Jamie Rice. I am a downtown business owner of a wedding venue. And I am president of a grassroots organization called RISE Erwin. RISE Erwin consists primarily of young professionals and millennials but honestly has been so successful it's really grown into different age brackets so we're really excited to have all these different points of view and perspective.
Smith: Jamie's group, RISE Erwin, has been involved with Erwin's redevelopment, particularly in the downtown.
Rice: Very early on in our strategic planning phases of our group, we really identified that the downtown is really the heartbeat of every community and that's where the small businesses are, that is the personality and what makes you different from everyone else. So our group really took hold of that theme and our focus has been on how can we use our talents and abilities and limited resources that we have to make our downtown a very livable and thriving community that so many of our grandparents talk about but that we've never really experienced. So we felt like Erwin fiber was such a huge asset in marketing our downtown. You know, you could have a storefront fill one of our empty, vacant buildings and have a great internet business as well right out of that same location.
Downtown living, it really creates and ecosystem for all of the businesses on street level. We have a hotel right in the heart of our downtown, three floors, about 15,000 sq. feet and we have an interested party who's wanting to create this beautiful living space with I think maybe eight condos in the upper floors with a restaurant on the lower level. And that's just a way of repurposing this historic hotel into something new. Same with an old structure in one of our neighborhoods, used to be an old elementary school built in the 20s I believe and for several years the town of Erwin was really scratching their heads as to what to do with this building because it was falling into disrepair. But the character that it brought to the neighborhood was something that no one could let go of. Luckily, an investor from Atlanta purchased that property. He restores old buildings and he fell in love with the character that this building has. So 2018 will start official construction and there will be 10 or 12 new living spaces in that elementary school.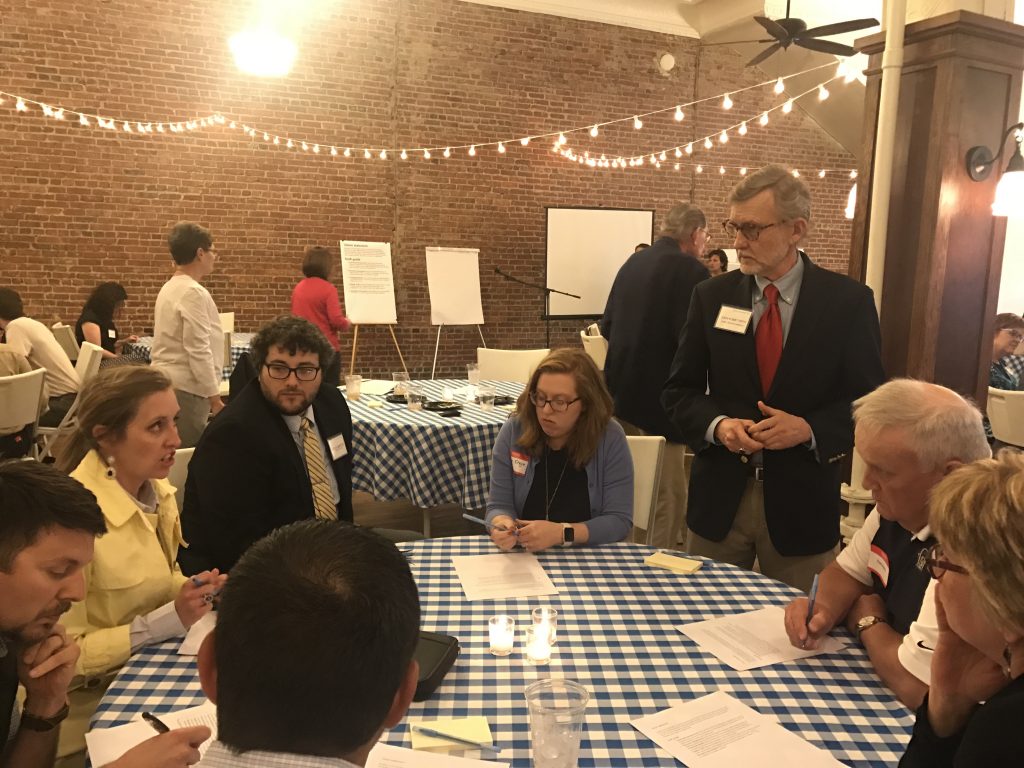 From the 2017 Cool & Connected workshop in Erwin, TN
Smith: In many ways, Erwin was ahead of the curve, investing in a growing fiber optic network, and having forward-looking groups like RISE Erwin focused on reinvigorating downtown. Smart Growth America's Cool & Connected workshop had a strong foundation to build upon:
Brown: The Cool & Connected planning assistance grant really helped us further solidify the things that we need to focus on as a priority in downtown Erwin. It helped to raise awareness to a lot of different stakeholder groups in the community and was another shot in the arm to help push us and reenergize us and push us towards our destination of trying to make our downtown great again and to encourage the use of broadband and make that available and affordable to every resident of our community.
Engle: And I would just say we have a lot of folks who are looking forward to the last leg of the Cool & Connected process where we're going to help people get training through co-starters—a nine week course where they can formulate a basic business plan. We're going to get them plugged into the Tennessee Small Business Development Center and then they're gonna have the opportunity to pitch to an independent panel and win a year of Erwin Fiber connectivity, a year of free membership in the Unicoi County Chamber of Commerce and up to $4,000 for point of sale or connected equipment. So we feel like that grant is going to really help folks get started in their new business downtown.
Smith: Erwin is one of many rural communities across the country using broadband to help spur infill development and reinvent their economies for the 21st century without compromising the historic nature of their town. We're grateful for the generosity of Tyler Engle, Lee Brown, and Jamie Rice in telling a little bit of Erwin's story. And we want to thank the EPA, USDA, and the Appalachian regional commission for their support in this project and thank you for listening.