LOCUS worked with the City of Fitchburg to market their Opportunity Zones to responsible developers and investors to further enhance their existing community and economic development initiatives.
This post is part of a series summarizing the experience and outcomes of the inaugural class of Smart Growth America and LOCUS's  Massachusetts Opportunity Zones Academy. Read about Fitchburg, and be sure to check out the posts for Barnstable-Yarmouth, Salem, and Greenfield-Montague.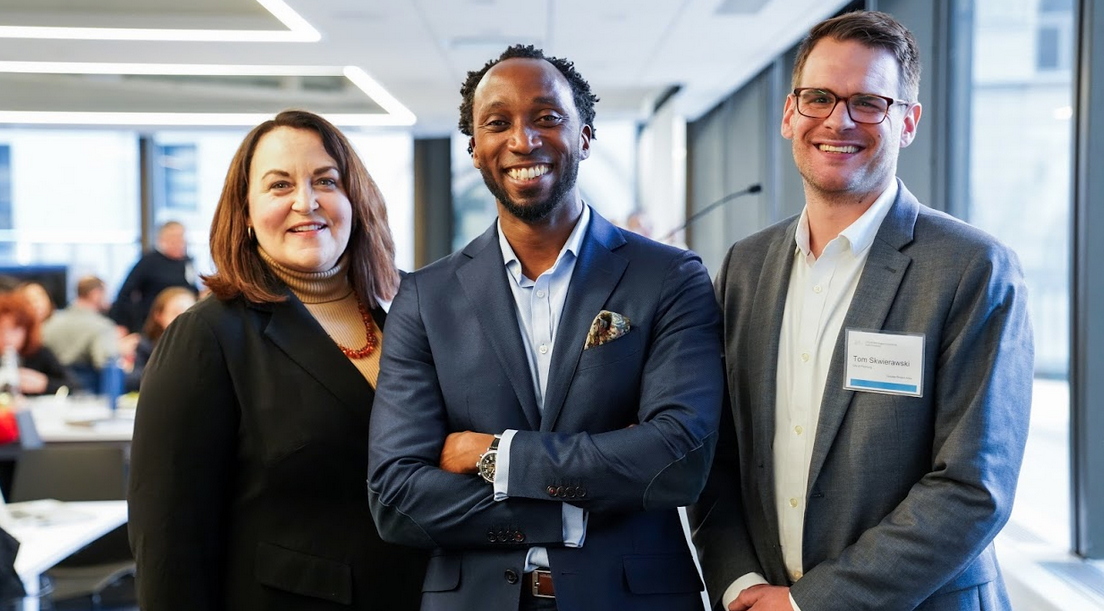 Left to right: Mary Jo Bohart, Director of Economic Development, City of Fitchburg, Calvin Gladney, President & CEO at Smart Growth America, and Tom Skwierawski, Executive Director of Community Development for the City of Fitchburg at the Massachusetts Opportunity Zones Convening in November 2019.
In May 2019, LOCUS selected the City of Fitchburg in north-central Massachusetts as an inaugural participant in the Massachusetts Opportunity Zones Academy. The city is committed to supporting smart growth outcomes within its two Opportunity Zones, and already has a spate of equitable and economic development incentives, including its Urban Renewal Plan, ReImagine North of Main partnership, and participation in Massachusetts' Transformative Development Initiative.
To start, representatives from Fitchburg's city government and development and business community worked with the LOCUS technical assistance team to identify development "hot spots" within the city's two Opportunity Zones. Identifying these "hot spots" showed the city optimized areas for development in terms of gaining traction. A hot spot analysis visualizes geographically where a higher density or cluster of activity occurs; this is a way of describing the relationship a development pattern has upon the land value around it. Higher clusters of activity and density lead to an increase in surrounding property value.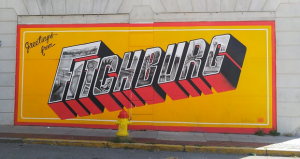 Fitchburg's hot spot analysis found that the city's highest-value parcels and properties are located along its Main Street and within its downtown, with an average value of $1 million per acre within its hot spots, compared to $619,000 across the city. Adding to these findings, the city wanted to determine where future Opportunity Zone development should be focused. LOCUS conducted a site suitability analysis of the hot spot parcels within the city's two Opportunity Zones. The site suitability analysis used the city's tax assessment data to identify clusters of high-value land within the two Opportunity Zones. Working with the city, LOCUS created a set of equitable development criteria to layer onto Fitchburg's Opportunity Zone hot spots; this criteria measured hot spot parcels' proximity to existing community assets and infrastructure, presence of pipeline projects and recent private investments, and vacant land and buildings.
In early October 2019, LOCUS traveled to Fitchburg to present the findings from the site suitability analysis to over 50 city officials, including Mayor Stephen DiNatale. From this meeting, participants identified key areas that they felt were best suited for the city's equitable Opportunity Zone development project vision. The key areas identified were the Waterfront, Arts District, Main Street, Rail Trail, and the University.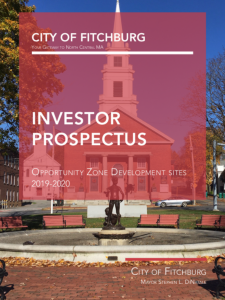 Following October's meeting, SGA worked with the city to come up with Fitchburg's own Opportunity Zone Investor Prospectus. The Prospectus presents five shovel-ready projects in Fitchburg. It was presented to over 40 members of the city's real estate, business, and government community during LOCUS' Fitchburg Link-Up event in early November. The Link-Up included a brief walking tour, showcasing the five shovel-ready projects included in the prospectus, along with other key features within the community.
Tour-goers were able to see a successful example of Fitchburg's downtown revitalization efforts when they stopped at the Activate Mill Street site, between Main Street and Boulder Drive. Funded by MassDevelopment and the crowdfunding platform Patronicity, the formerly forgotten alleyway has been transformed into a contemporary urban park, boasting public art in the form of murals along the park's perimeter.
Moving forward, Fitchburg plans to continue to market its Opportunity Zones for responsible, equitable development across the city, state, region, and nation. Fitchburg checks a lot of boxes when it comes to the components that make a great city: connectivity via commuter rail, attractive architecture within their downtown, a thriving university, an abundance of parks offering a wide array of amenities, and developers and investors who have a stake in the community. It is just a matter of time—and continued community development efforts—before more people realize the exciting renaissance that Fitchburg is experiencing and want to be a part of it too.
---
The Massachusetts Opportunity Zones Academy was a six month technical assistance program led by Smart Growth America and LOCUS to educate cities and towns in Massachusetts with designated Opportunity Zones on how to best take advantage of the new tax incentive to stimulate equitable development, responsible real estate investment, and community engagement. In 2019, as part of the inaugural Massachusetts Opportunity Zones Academy, LOCUS worked with six communities: Barnstable-Yarmouth, Fitchburg, Greenfield-Montague, and Salem.