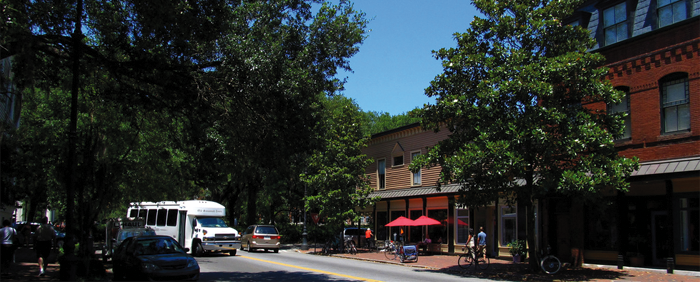 The corner of Bull and Perry Streets in Savannah, Georgia, features several Complete Streets features. Photo by Ken Lund, via Flickr.
September 20, 2012 marked a significant day for the Complete Streets movement: the day the Georgia Department of Transportation (GDOT) adopted a Complete Streets policy.
That policy is the product of years of work done by the state's Complete Streets supporters, including Georgia Bikes, the Atlanta Bicycle Coalition, the Atlanta Regional Commission, the cities of Atlanta, Decatur, and Roswell; several transit agencies, and leaders within GDOT. Gerald Ross, GDOT's Chief Engineer, coordinated a policy task force and collaborated with several stakeholder groups. The comprehensive final policy calls for the Department to "routinely incorporate bicycle, pedestrian, and transit (user and transit vehicle) accommodations into transportation infrastructure projects as a means for improving mobility, access, and safety for the traveling public."
Last Thursday morning the Georgia State Transportation Board, GDOT's governing body, unanimously adopted a resolution in support of the the agency's policy. An official unveiling of the new policy will occur during the Georgia-Lina Bike Summit on October 20, 2012 in Augusta.
The GDOT policy is a remarkable achievement for many reasons. Between 2000 and 2009, over 1500 people died on Georgia roadways while walking. By committing to Complete Streets, the Department will be able to prevent many of these deaths.
Considerations for public transportation are a major component of the policy, something only a handful of other state Complete Streets policies can claim. Special emphasis is given to the need for transit users to be able to safely and conveniently cross roadways to access bus stops and train stations, as well as development of safe streets for people who walk or bicycle to these transit facilities.
Though Georgia's Complete Streets policy will be incorporated in the State's Design Policy Manual, the policy itself does not identify tangible steps for implementation action. With such strong support from high-level leadership within GDOT, we expect as much care to go into the policy's implementation as did its development.
Read more: