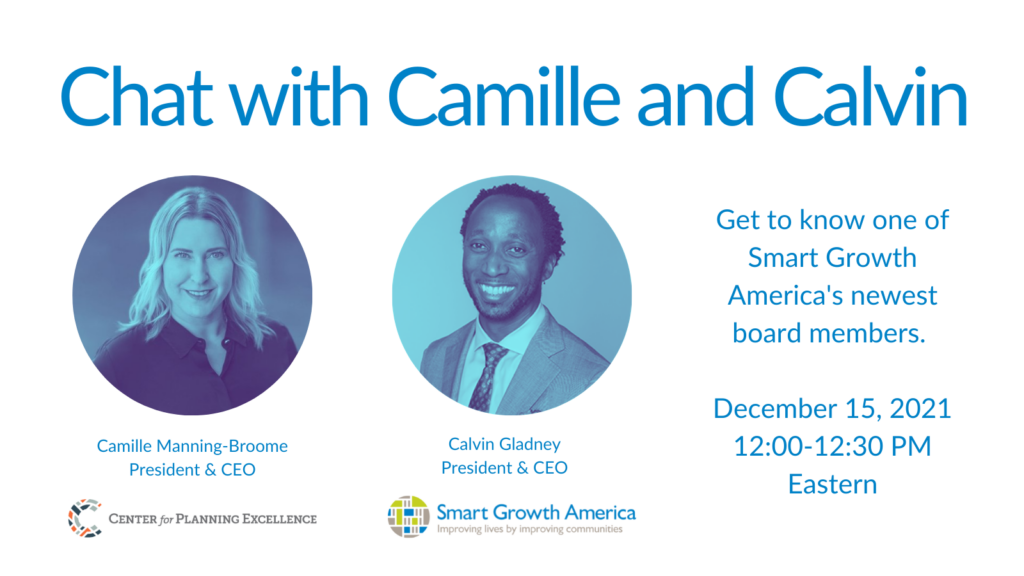 Smart Growth America's newest board member brings expertise in resilience and adaptation planning to the smart growth movement. Join us next week for a 30-minute chat between Camille Manning-Broome and SGA President and CEO Calvin Gladney over coffee (or lunch) next week on 12/15.
I am excited to introduce our newest board member to the world next week with a short chat over coffee (or lunch, depending on your time zone!) To give you just a small preview of what Camille and I are going to be talking about next week, check out our short back and forth below. If you're not registered yet, please sign up to join us next week on Wednesday, December 15 at noon (Eastern).
Calvin: Why were you most interested in joining the board of Smart Growth America?
Camille: I was first introduced to SGA around 20 years ago when I was in graduate school. I was in the thick of learning about the historic lack of planning in Louisiana, and how before the hurricanes of 2005, fewer than 10 parishes had master plans or hazard mitigation plans. In doing a deep dive into what implementing smart growth principles would look like in Louisiana, I became an avid supporter and have relied on SGA's thought leadership and research in my work with CPEX.
CPEX and SGA now have an extremely productive long-term partnership. As you know Calvin, I've been a big admirer of yours since we first met in 2018 when you presented your work at CPEX's annual Smart Growth Summit and challenged our state to improve transit systems and improve mobility for all residents. It was a great privilege when you invited me to join the SGA board, and I'm so excited for the opportunity to learn from other planning experts and gain new ideas for bringing about necessary change in Louisiana. The principles you advocate for are completely aligned with our state- and community-level goals, and I look forward to working together to build a more equitable, more resilient future for all people.
Calvin: What parts of Smart Growth America's work were you most familiar with before joining the board?
Camille: CPEX has been working closely with SGA since our founding in 2006, and over the years this partnership has been instrumental to our work in Louisiana, particularly the Dangerous by Design publication, which has helped to shape our Complete Streets and people-first mobility work in communities across the state. Louisiana is now rated by the Department of Transportation as being a Top Performer in Complete Streets policies, which lays an excellent foundation for continuing to enhance smart growth principles at a local level. The tools, data, and resources provided by SGA are so important to CPEX's advocacy efforts in this space, and I know that this partnership has been crucial to our progress here in Louisiana.   
Watch the chat: