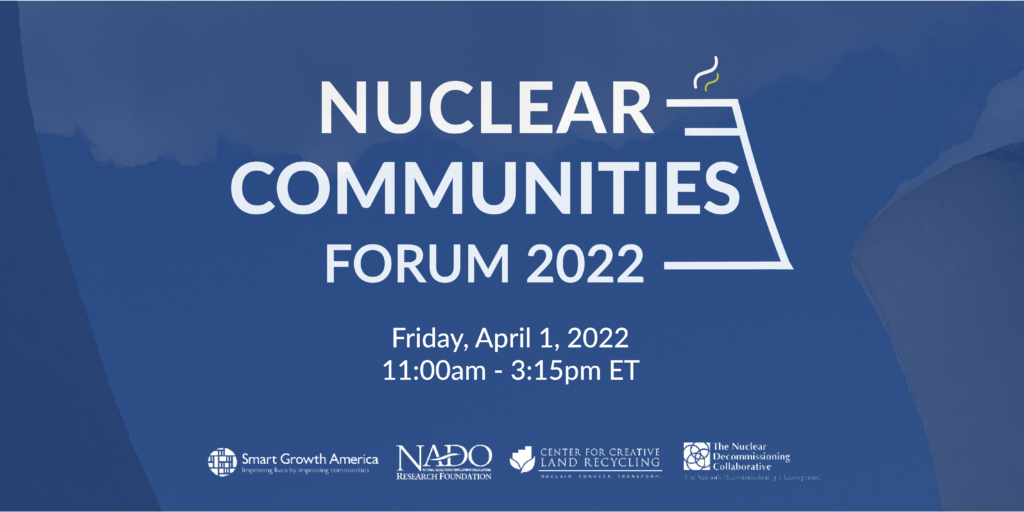 On April 1, the Nuclear Communities team virtually hosted the first Nuclear Communities Forum which sought to amplify knowledge-sharing between nuclear host communities on a national level and set a guiding footprint for those experiencing the impacts of decommissioning across the country. Read on for insights from communities who were able to plan early—and those who weren't.
Jim Hamilton of the Nuclear Decommissioning Collaborative kicked the program off by highlighting that decommissioning is not about economic development, ribbon cutting, ground breaking, or job creation—it is a detailed technical and regulatory process with clear outcomes:, however those outcomes often don't resonate with host communities. Shutting a nuclear power plant down affects the very fabric of the host community, so how can we get that process to become an economic development engine? The Forum's speakers shared their experiences doing just that: understanding the impacts, organizing people, and taking action to strengthen their communities and their economies.
The power of coalition-building in Zion, Illinois
For example, when Mayor Billy McKinney was elected in 2019 in Zion, IL, the city had lost dozens of businesses, thousands of jobs, and about half of its tax base. What was the cause? The decommissioning of the Zion Nuclear Power Plant in 1998. After arriving in office,  Mayor McKinney assembled a team at City Hall tasked with developing creative ways to address the city's crushing financial gaps "through means which [they] can control." The team started connecting with other nuclear decommissioning convenings around the country, their federal elected representatives, and eventually, their representatives from the utility company to pursue financial compensation for hosting the remaining nuclear storage facility that closed over twenty years prior. Mayor McKinney didn't keep these solutions siloed in Zion—he connected with mayors from surrounding communities to collaborate on addressing their shared challenges. In 2019, an energy bill was passed through the Illinois House and Senate granting Zion $15 million per year to support its nuclear storage facility. 
Multigenerational economic planning in Vernon, Vermont
Nuclear closure takes many years, and we need to continue to think about it in both regional and multi-generational terms. Dr. John Mullin Emeritus Professor of Regional Planning at the University of Massachusetts Amherst and author of "The Closing of the Yankee Rowe Nuclear Power Plant," reinforced Zion's example that closing power plants influences virtually every community in the region. These commercial nuclear reactors aren't simple business endeavors – as Dr. Mullin said, "nuclear power is a patriotic activity … [It] is part of the national military industrial complex and deserves the same attention as military complexes." These closures aren't just an energy issue; they need to be addressed just like the departure of any dominant employer and tax payer from an industry-dependent town.
"Don't wait for permission–make it a coalition of the willing. Invite those who really care about the issue and want to do something about it."

Jennifer Stromsten
During the Impact Analysis and Mitigation Panel, Jennifer Stromsten of the Brattleboro Development Credit Corporation shared how the region responded to the closure of the Vermont Yankee plant through an economic adjustment plan. Although decommissioning is largely prescribed and host communities have virtually no role in the process, Jennifer, like Mayor McKinney, stressed that they should stay focused on the factors they can influence: coalition-building, democratizing information, and focusing on long-term economic planning. Like too many communities that "can't afford to be over reliant on any one thing," the towns and regions that host nuclear power plants must define the plant's role and model the eventual closure in order to start exploring mitigation and diversification strategies. They can—and should– start preparing to mitigate these impacts by gathering data to assess the potential impact on the local workforce and public budget.
Chris Campany, Executive Directorof the Windham Regional Commission, summed it up well by saying: "As a community, it is almost taboo to speak of the plant closing…
Translating technical talk to the community
Among a range of factors that led to the success of the Maine Yankee Community Advisory Panel (CAP), Hon. Marge Kilkelly, former Senior Advisor to Senator Angus King and former Maine State Senator and State Representative, highlighted the key role of involving a diverse membership that was committed to the work in the long term—including some of the same people who petitioned to shut the plant down. While supporting the Maine Yankee CAP in Wiscasset, ME, the first year was spent mainly on developing literacy on the topic. The plant staff who were immersed in jargon had to learn how to communicate with those less familiar, which strengthened the relationship between leadership and the community.
Over time, the Maine Yankee CAP expanded its scope to provide nontechnical reviews of proposals and democratize information through virtual reports and resources, which kept the issue in front of lawmakers and fueled much of the regional response action.
Proactive community education in Van Buren County, Michigan and Grundy County, Ohio
It is difficult to raise awareness or get folks interested in addressing the impacts of closure until closure is right on their doorstep. In the Outreach and Coalition Building panel, Nancy Norton, President & CEO, Grundy County Economic Development, encouraged participants to think bigger than the initial reaction and consider the regional impact—including things like the community hospital, real estate values, trade labor, and more.
"How do you bridge people who don't want to talk about it? The fear that if you talk about it you are acknowledging or encouraging it. Just because you have homeowners insurance doesn't mean you want your house to burn down. Think of it as an insurance policy."

Nancy Norton
Even if closure has not been announced yet, the key for long-term economic resiliency is in early planning and awareness. All nuclear plants will close eventually, whether due to NRC's standard decommissioning guidelines or the utility company deeming it unprofitable. Beginning a proactive conversation about your community's future is the responsible thing to do.
Another proactive step that local leadership can take early is to educate the community on how the future closure could impact their sector of the economy. When Entergy announced the closure of the Palisades plant in Van Buren County, MI, local regulators were not aware of the far-reaching economic impact in their districts. As part of their resiliency planning journey, they did 'boots on the ground' engagement and partnered with adjacent counties and communities to find ways to support a regional workforce transition. Even though they didn't have time or money to do a comprehensive study at the time, the creation of a regional coalition was key in paving a successful path forward. Other early approaches recommended by John were to engage directly with the utility company, get performance metrics from the federal government, and incorporate economic development strategies like the Comprehensive Economic Development Strategy (CEDS) into their plans. Van Buren County took proactive steps to get state and public decommissioning documents, so by the time the plant closed, they knew where employees lived, their wages, philanthropic contributions, and how the plant intended to decommission.
Creating a shared vision for a community's future
Julie Sinton Pruniski outlined her experience at REACH Central Coast partnering with San Luis Obispo County, CA to mitigate the closure impacts of the Diablo Canyon nuclear facility—the single largest economic loss in the county's history. REACH's approach was to create a broad and ambitious regional economic development strategy that spans two counties called REACH 2030. A major component of the plan has been to create a collective of stakeholders to establish a vision for the 585-acre industrial site known as Parcel P to provide new innovative opportunities for economic benefit to the region. Clear priorities for the site including higher educational uses, clean energy research & development, battery storage, repurposing its marina, and cultural heritage education have come from the collaboration of representatives from State, Federal and County elected leaders, Cal Poly University, the ytt Northern Chumash Tribe and the local land conservancy. Next on their agenda is sharing the vision broadly to foster the support and investment for a higher education-led future for the site.
The Forum concluded with two national perspectives on nuclear decommissioning. First, Councilor David Moore, Chair of Nuleaf, the UK's Nuclear Legacy Advisory Forum highlighted the need for a "social license to operate"—that a commitment to cleanup is required for operation. In addition, the UK's Energy Act 2004 was a sea change, shifting the focus to the cleanup of sites and a commitment of socioeconomic responsibility to communities that host power plants. In addition, Scott Morris, Region IV Administrator at the U.S. Nuclear Regulatory Commission (NRC) shared his agency's commitment to the stakeholder engagement process. With over 1,000 community meetings per year, the NRC aims to understand all community concerns and while not all concerns can be addressed—as many are diametrically opposed—when decisions are made, the basis is clear.
---
The Forum and future programming is aimed at what Jim Hamilton, Director of the Nuclear Decommissioning Collaborative described as "a safe, supportive, and constructive environment to share observations, lessons, experience from the field." The day included a series of discussion rooms and networking opportunities —a critical activity to support connections and idea exchange between practitioners. If the community you live or work in has been or is currently a nuclear host community, we encourage you to reach out to SGA's Nuclear Communities Technical Assistance team to learn about the range of ways we can provide support at no cost.