This week the House will consider the Moving Forward Act, a $1.5 trillion infrastructure bill that reflects many of Smart Growth America's core priorities, including a new kind of transportation bill, billions to invest in new or rehabilitated affordable housing, and support for more inclusive and equitable development around transit to help give more Americans access to opportunity.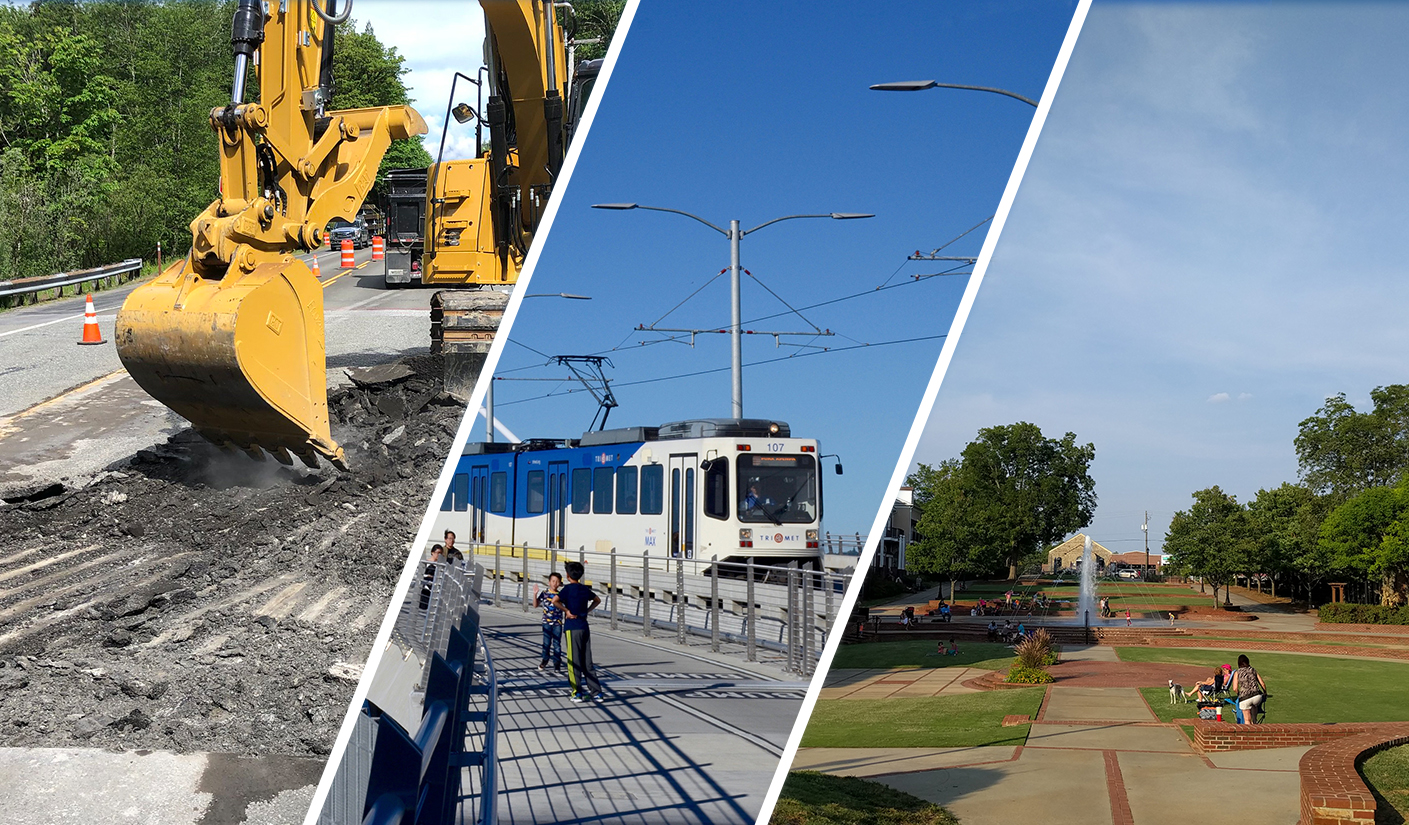 The Moving Forward Act (HR 2) is the legislative version of the broad framework for infrastructure that the House released back in January. We're encouraged, as we were then, by the House's unified approach to transportation, climate, water, land use, and community development. These issues are inextricably connected and we should absolutely be trying to address them all at once.
We're also in the midst of a national pandemic that has sent unemployment skyrocketing, shuttered businesses, cratered municipal budgets, and placed the heaviest burden on the Americans who were already under the most pressure before COVID-19 ever appeared on our shores.  
As Congress continues to keep one eye on further emergency actions to stabilize the economy, the House is starting to turn an eye toward rebuilding and reinvesting with the Moving Forward Act. In the early days of the pandemic, we released a report with 20 recommendations for how Congress could steer funds to investments that build lasting economic prosperity and ultimately help all Americans have the opportunity to live in a place that is healthy, prosperous, and resilient. Many of these recommendations were included in the House's bill, others are still missing, and in other areas—absent some changes—the House's good intentions could end up fueling more sprawl and inequity. 
Here's a look at some of the encouraging provisions that Smart Growth America is excited to see in the House's infrastructure bill, and a few ways that we'd like to see it improved.
Housing and land use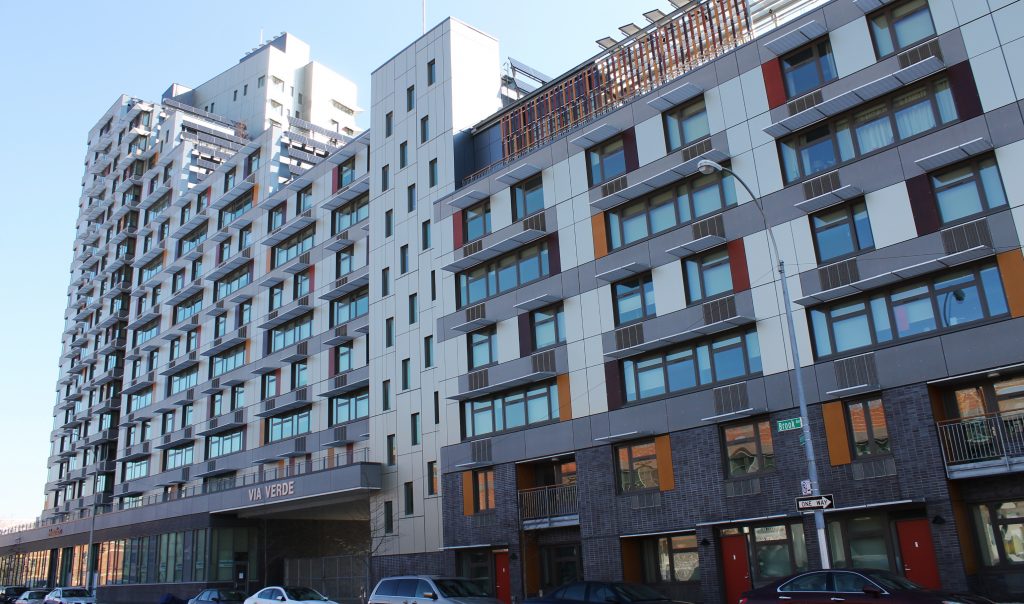 The pandemic is exacerbating a housing shortfall that was already in crisis mode before COVID-19, as middle-class Americans struggled to find affordable housing without "driving to qualify" out in the exurbs or in other locations where transportation costs are exorbitant, and lower-income Americans still struggled to find affordable housing. As lower-income families and individuals especially face the looming prospect of evictions on top of unemployment, we desperately need a national infrastructure policy to build more market-rate and affordable housing in places where residents will have good, affordable access to jobs and services by a range of transportation options.
When it comes to investing in the nation's housing, the Moving Forward Act proposes to invest $100 billion in affordable housing, make the New Markets Tax Credit permanent, temporarily increase the Historic Tax Credit, and increase funding for the Low Income Housing Tax Credit—the most frequently used mechanism to help the public and private sector partner to build new affordable housing.
The housing crisis is especially acute in scores of large metro areas where housing supply is constrained by any number of factors, whether outdated zoning codes or neighbors regularly opposing all new development. The Moving Forward Act creates a new $10 billion fund (within the existing Community Development Block Grant program) to help applicants streamline the approval of, and remove local barriers to, affordable housing development, like outdated zoning requirements. This could be an interesting preview of a more robust federal strategy to address this local issue through incentives and federal funding.
Transportation: The INVEST Act
Back in January, SGA President and CEO Calvin Gladney wrote that "we can't address our mounting affordable housing challenges if we don't address how federal transportation policy prioritizes the needs of wealthy commuters over improving access to jobs and opportunity in areas that are affordable." The transportation portion of the Moving Forward Act would finally start to do exactly this—prioritizing access for everyone, by any and every mode of travel, instead of trying (in vain) to speed up car commutes through costly road widening or expansion projects, which privileges drivers, often cuts neighborhoods in half, and leaves everyone else behind.
The biggest share of the Moving Forward Act's cost is actually a separate bill: The INVEST Act, a $500 billion, five-year proposal to update the nation's transportation policy which just passed the House Committee on Transportation & Infrastructure last week. The INVEST Act starts the work of updating our broken federal transportation program by prioritizing maintenance, safety, access, climate, and equity. Our Transportation for America program has been leading our analysis and coverage of the bill from nearly every angle, including how it radically outperforms the Senate's status quo proposal on reauthorization that they released last year.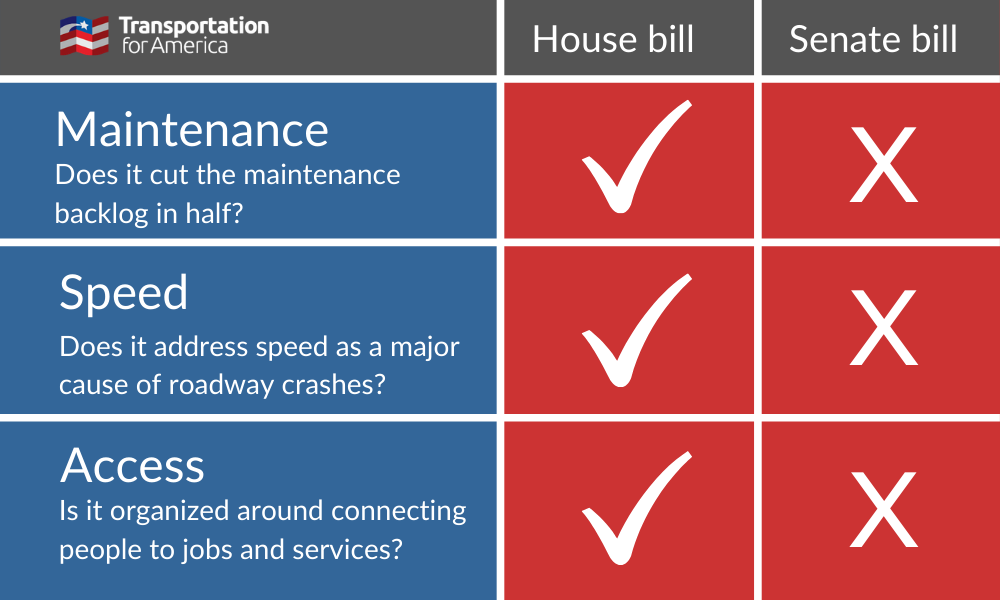 In addition to addressing T4America's core principles of repair, safety, and access, there are also some other smart transit and land-use provisions worth noting. The INVEST Act starts to standardize the process of using any increase in property values that results from expanding transit service to fund new affordable housing. It also creates a new office for Transit Supportive Communities that will coordinate land use and transit plans, allows passenger rail loans to help finance transit-oriented development projects around stations (and increase ridership), and rewards transit capital projects that preserve or encourage higher density affordable housing around their stations. 
With its inclusion in the Moving Forward Act, the INVEST Act will be considered as part of this larger bill, rather than with a separate vote like reauthorization proposals typically receive. But no matter what happens in the final outcome on the whole big package of HR 2, the INVEST Act represents the starting point for one-half of Congress on updating the country's transportation policy. That's why we're calling on everyone who cares about overhauling the nation's transportation policy to weigh in with your representative:  Make sure your rep knows that the INVEST Act is Congress' best chance to finally move the needle.
SUPPORT the INVEST ACT
What the House missed in the Moving Forward Act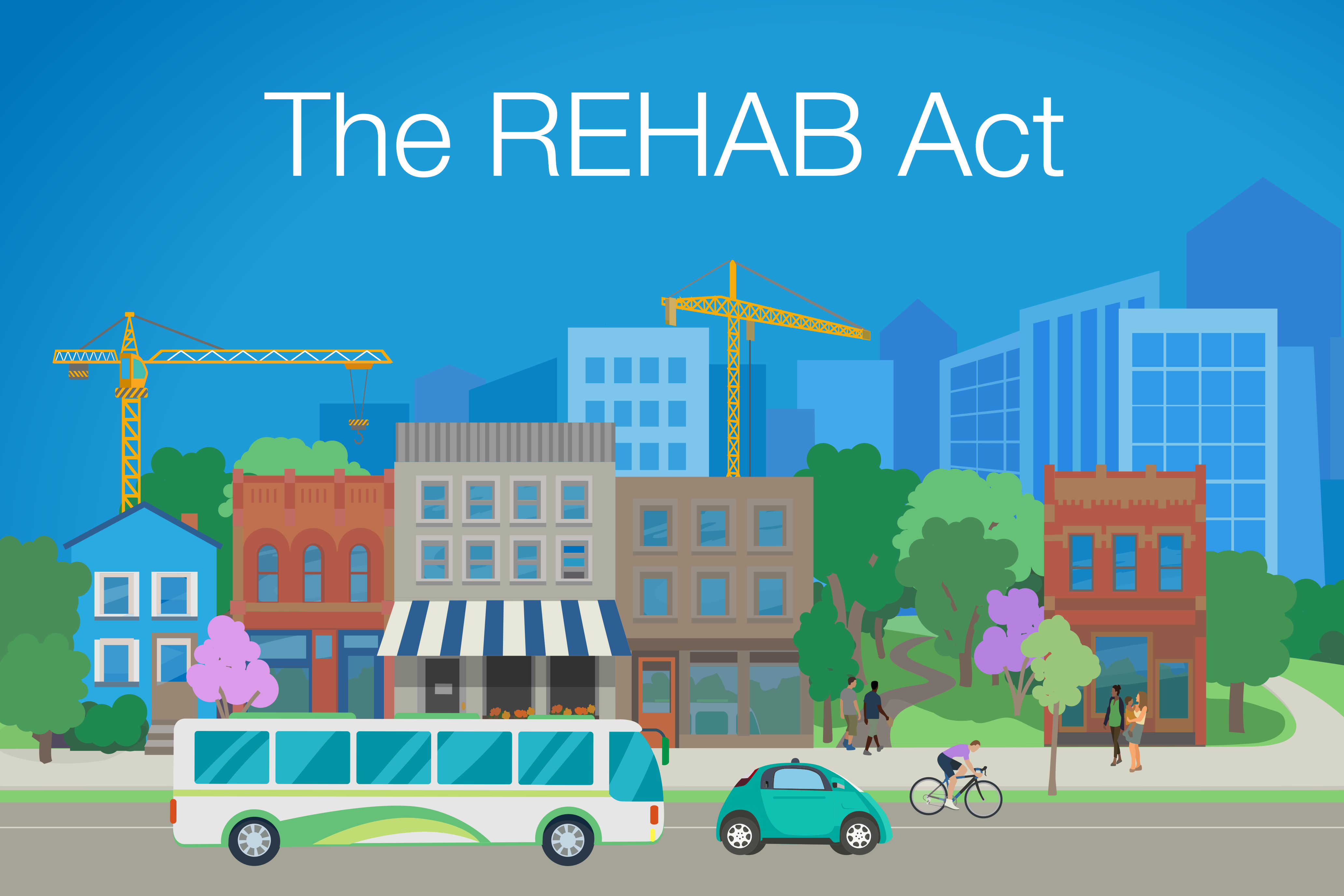 The REHAB Act—Revitalizing Economies, Housing, And Businesses Act—is a bipartisan proposal to create a federal tax credit to support redeveloping old (but non-historic) buildings near public transportation, helping more people live or work in a walkable area with good transportation options. It's designed to encourage more affordable housing or investments in public infrastructure—like better bus stops, new street lighting, sidewalks, bike lanes, rain gardens, street repaving—by rewarding them with a bigger tax credit. The House Ways and Means committee (which handles all tax provisions) left this out of their contribution to the Moving Forward Act, but we are optimistic about seeing the REHAB Act introduced as an amendment or revived in the Senate's proposals for infrastructure.
There was an amendment to the INVEST Act from Rep. Steve Cohen (D-TN) to make commercial and residential development that's part of a transit-oriented development (TOD) project eligible for TIFIA financing, which could then be repaid with profits from the project, encouraging more TOD and private sector investment. (TIFIA is the Transportation Infrastructure Finance and Innovation Act.) Unfortunately the amendment was withdrawn in committee before a vote. The Senate's transportation proposal from last summer was not a good one, but it did include this provision and we're hopeful that it would be included in any final infrastructure bill that Congress approves.
Wrapping up
There's also funding for many other types of infrastructure within this bill, like broadband (good!) and water infrastructure (it depends!), but some of our concerns from January still stand when it comes to how those dollars get spent (and where!).
We can take a step forward with this bill, but we need to change more about how we use and develop our land than the current federal paradigm allows. Even if the Moving Forward Act passes,  this large infrastructure bill approach does not provide a long-term strategy to ensure that communities' infrastructure needs are met in an ongoing manner. A sudden one-time burst of funding—without a strategic vision—is no guarantee of any particular outcome, nor does it provide a sustainable or equitable approach to ensure that needs are addressed after this big influx of money is spent. We will still need a more fundamental rethink of  the federal government's national policy to fuel more sprawl everywhere, which is incredibly expensive, inequitable, polluting, and unsustainable.
Smart Growth America has a higher standard for investing in infrastructure, and while there's a lot to praise about this bill, we will hold Congress to meet that standard.